This post is brought to you by OXO.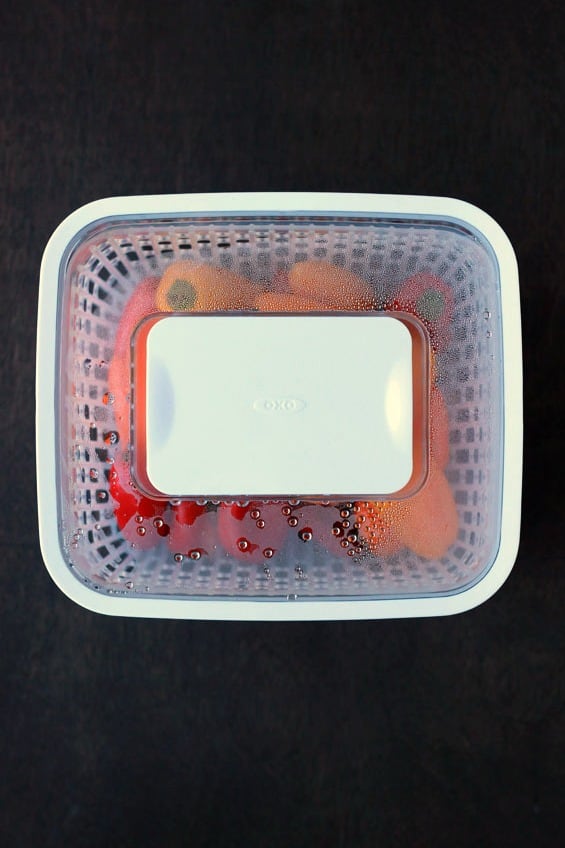 Good news! I totally forgot about this post. I should have had it up weeks ago but somehow this one slipped through the cracks. I was so worried that the produce I stored in the back of the fridge (sweet peppers courtesy of Mellissa's Produce) would be bad and panicked a bit realizing I've got too much going on to make it to the store. I decided to peek in and see what I'd have to work with and was pleasantly surprised at what I found.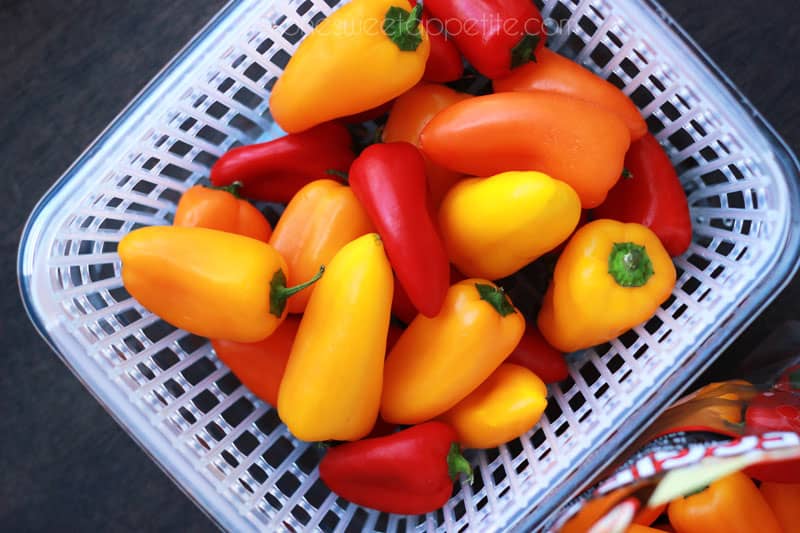 I slowly peeled back the lid and couldn't help but jump for joy when I saw fresh crisp peppers staring right back at me. I stored these bad boys in one of OXO's new products, the GreenSaver. More than 25% of the fresh fruits and vegetables purchased by U.S. consumers are wasted annually before being consumed. That equates to more than 226 pounds per the average U.S. family! OXO swooped in to save the day with these handy containers that tackle the tree common causes for quick produce spoiling.
But enough of my sales pitch. I want to show you a quick example of what you get when you store these peppers in just a plain ol' bag. I got my shipment of peppers on May 12th. I opened the container and took the photo above and below yesterday (the 28th). That is 16 whole days that they sat in the back of my fridge.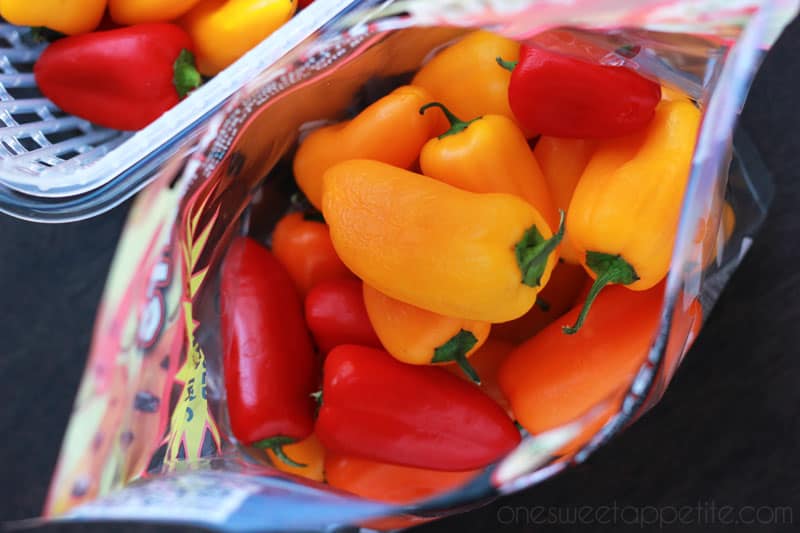 Ew, right? Shriveled up yuck throughout the entire bag. Enough to prove this skeptic wrong and make me want to run out and buy 50 more of those babies. So are you ready to see what I whipped up??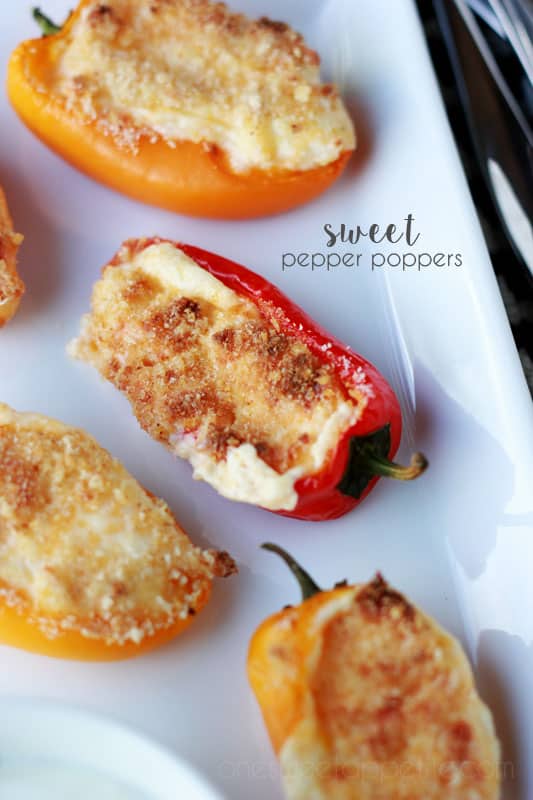 These cheesy appetizers are packed with bacon goodness. You can't help but eat one (or ten) before you serve them up and will love how easy they really are.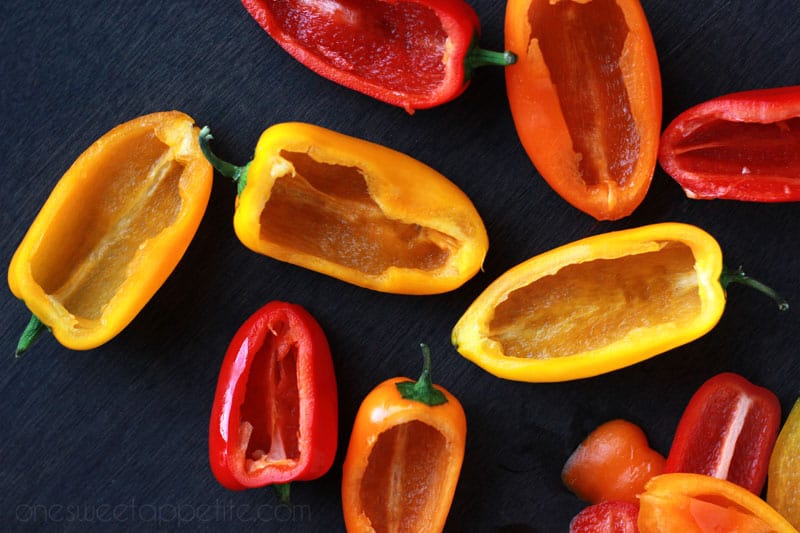 Start by washing your peppers and carefully slicing one side off of each. Use a spoon to scoop out the centers and create a cute little boat. Fill them with a cream cheese mixture and bake until soft and slightly crisp on top. You just can't go wrong with bacon and cream cheese.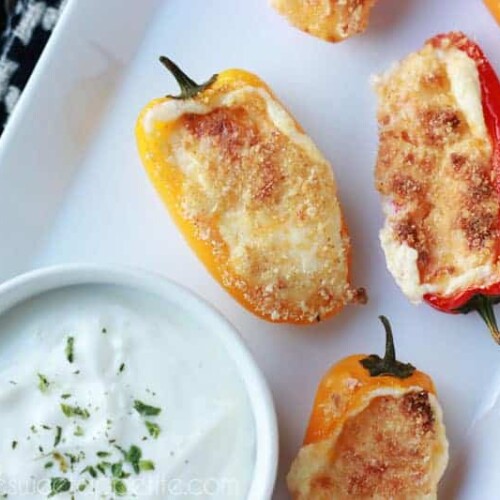 Sweet Pepper Poppers
Ingredients
8 oz cream cheese
1 cup cheddar cheese
1 cup white garlic cheddar or pepper jack cheese
1/2 cup bacon cooked and crumbled
1/4 teaspoon salt
peppers
1/2 cup bread crumbs
Instructions
Preheat your oven to 325 degrees. Line a baking tray with tin foil and set aside.

Combine the cheeses, bacon, and salt in a small bowl. Scoop the centers from your peppers and fill with the mixture. Dip into the bread crumbs covering the cheese.

Bake 25 minutes or until cheese is melted and peppers are slightly softened.
Nutrition
Serving: 1Servings
Reader Interactions