This post was updated on by Jesseca
This easy Almond Boscotti recipe is the perfect addition to any cup of coffee. With only 8 simple ingredients you can have homemade biscotti in under 1 hour!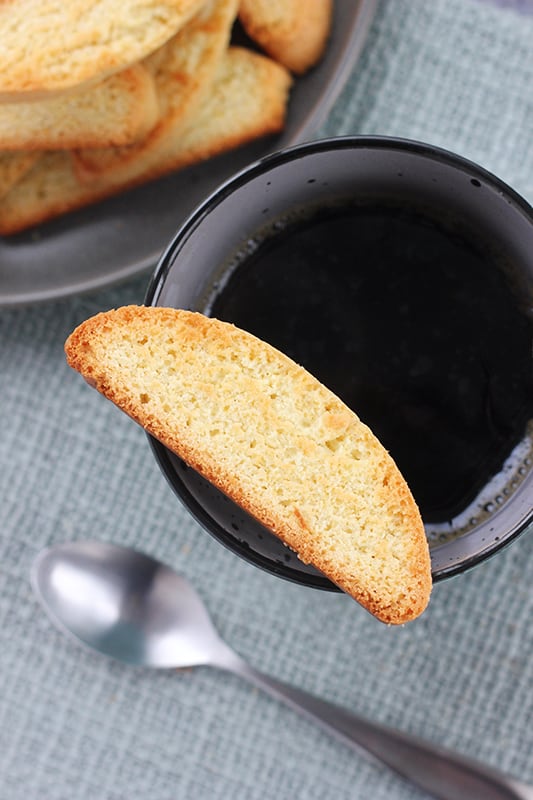 Any Gilmore Girl fans out there? I can honestly say I wish I was living in Stars Hollow.
There are so many great things about the show. The fast paced dialog… the witty conversations… The COFFEE.
My husband jokes that the line "Coffee, coffee coffee!" was written by me. I looooooove a good cup of Joe.
What goes great with a cup of coffee? Biscotti. Especially this recipe.
Almond Biscotti Recipe

There are so many reasons to love this recipe. It is so beautiful and impressive, packages well for gifts, and can even be dipped in chocolate!
All of the magic starts with the dough.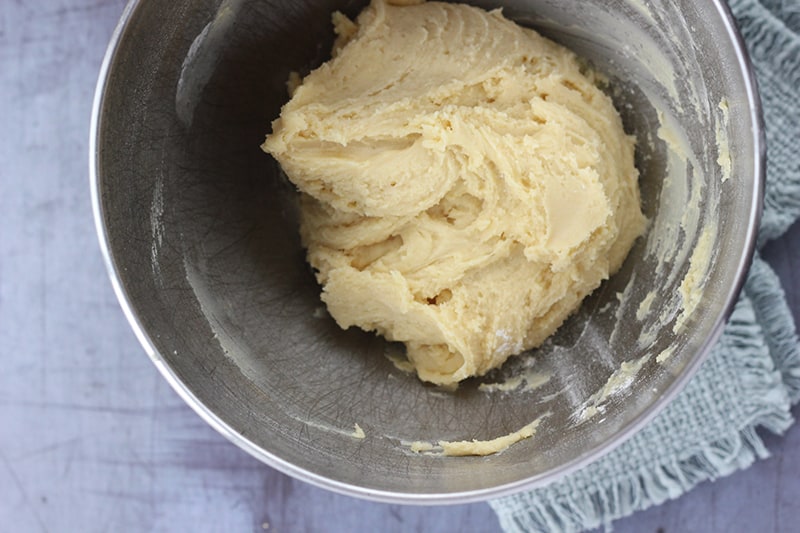 Disclaimer: I consider this an intermediate recipe. It is not necessarily difficult but there are a few tips you should follow.
Tips for making biscotti:
This dough is sticky. That is OK. It is supposed to be. The key is to make sure you chill it for at least 30 minutes before forming your loaves.
 Wet your hands before forming your loaves. This will help keep the dough from sticking to your hands.
Use a ruler. When you are ready to slice into the cookies you can use a ruler to keep the size uniform.
It is a little more time consuming, but well worth the effort. The almond and vanilla combination is out of this world!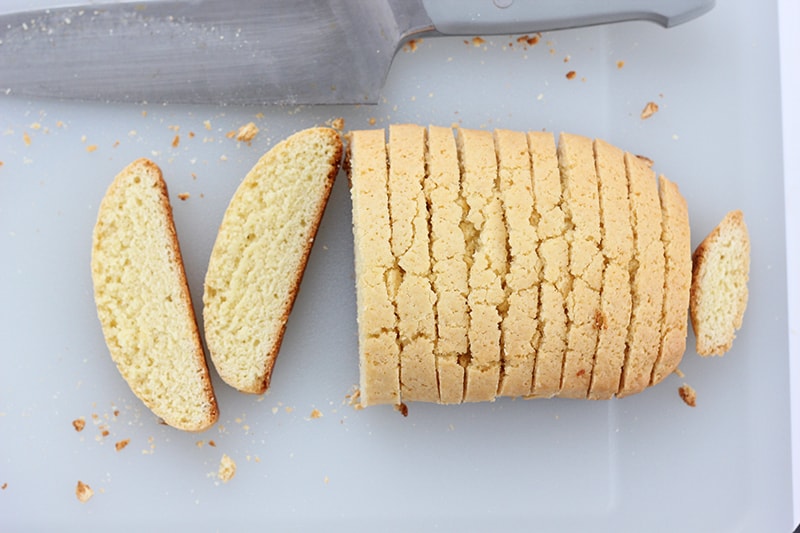 How do you cut biscotti?
Great question. This is actually one of the FIRST things I am asked when I teach classes on how to make biscotti.
I like to use a sharp knife. If you use a dull knife your loaf will crumble instead of giving you that beautiful cut.
You can cut straight across or at a slight angle. I have seen it done both ways. Make sure you keep the sizes of each cut relatively close.
Is biscotti supposed to be hard?
Yes. It definitely is supposed to be crunchy. Baking the cookie twice gives it that crisp texture. That is what makes it ideal for dipping into cocoa or coffee.
How do you store biscotti? How long does biscotti stay good for?
Once you have cooked and cooled your biscotti, place it in an air tight container at room temperature. Your cookies should stay fresh for at least two weeks. It also freezes well. Store in a zip top bag and keep it in the freezer for up to three months.
I love, love, loved this biscotti and you will too!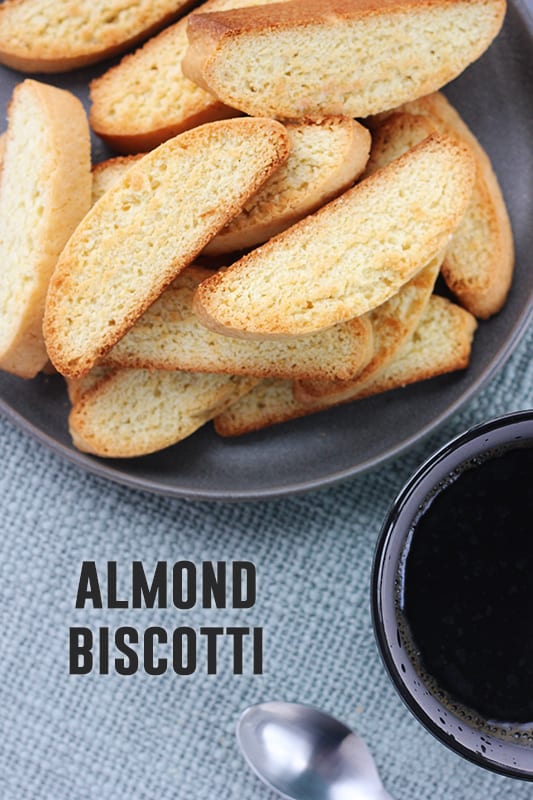 Like this recipe? You will love my Gingerbread Biscotti, Candy Cane Biscotti, and Cake Mix Biscotti! 
Almond Biscotti Recipe
Total Time:
1 hour
30 minutes
This easy Almond Boscotti recipe is the perfect addition to any cup of coffee. With only 8 simple ingredients you can have homemade biscotti in under 1 hour!
Ingredients
2 3/4 cups flour
1 1/2 teaspoons baking powder
1/4 teaspoon salt
1/2 cup butter, melted and cooled slightly
1 cup sugar
3 large eggs
2 teaspoons pure almond extract
1 teaspoon pure vanilla extract
Instructions
Whisk together the flour, baking powder, and salt in a medium sized bowl. Set aside. 
Combine the butter and sugar in the bowl of an electric mixer. Stir until combined. Add the eggs and extracts and continue to mix until incorporated. 
Add the dry ingredients to the wet ingredients. Mix on low until your dough forms.
Cover dough and chill for 30 minutes.
Preheat your oven to 350 degrees. Line a baking sheet with parchment paper and set aside.
Divide your dough into two equal pieces. Shape each dough half into a loaf that is 16x2 inches. Place on your prepared baking sheet and bake for 30 minutes. *See note
Cool for 15 minutes then slice into 3/4 inch pieces. Place, cut side down, back onto your cookie sheet and cook for 10 additional minutes.
Notes
This dough is rather sticky. Run your hands under cool water when forming the loaves to help keep it from sticking to your hands.
Recommended Products
As an Amazon Associate and member of other affiliate programs, I earn from qualifying purchases.
Nutrition Information:
Yield:

24
Serving Size:

24 cookies
Amount Per Serving:
Calories:

180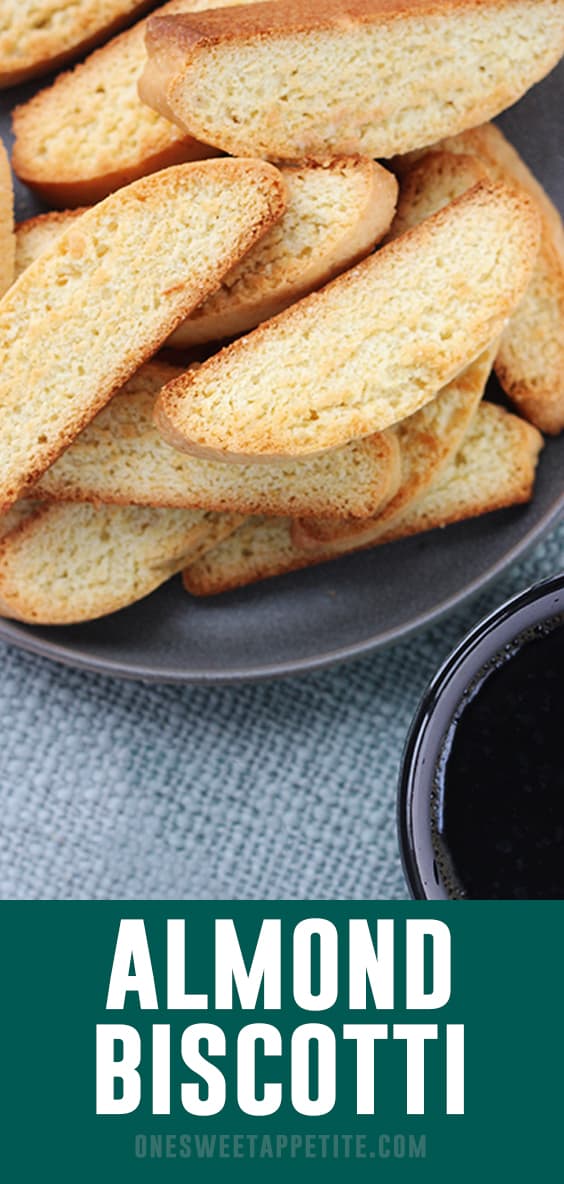 Still hungry? Follow One Sweet Appetite on Facebook, Instagram and Pinterest for more great recipe ideas!
(Visited 41,337 times, 11 visits today)
119