This Starbucks Copycat Coconut Milk Latte is simple to make with just 3 simple ingredients and ready in 10 minutes! My personal favorite way to start the day with the perfect amount of added sweetness!
Searching for even more ways to play barista at home? I've got you! Try my easy chai latte, butterbeer latte recipe, and my snickerdoodle latte for more fun flavor variations!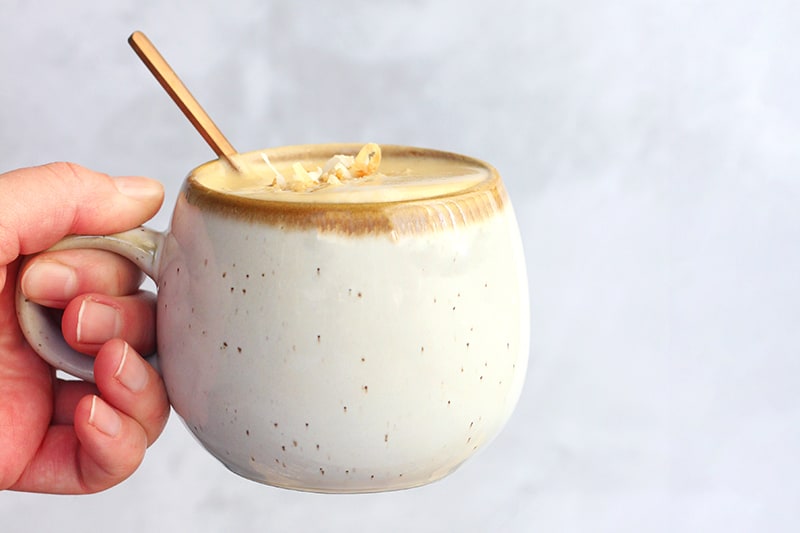 Why You'll Love This Latte Recipe
Minimal Ingredients: This latte takes only THREE ingredients.
No Special Equipment: While this is best with espresso, you can also use strong coffee. I will also teach you how to froth milk with a mason jar!
Dairy-Free and Plant Based Recipe: Total accident but awesomely delicious.
This is my all-time favorite coffee recipe. I can honestly say that I have made this over 100 times since I originally posted back in 2021, and it is still just as tasty as the first time! It can be made with espresso or strong brewed coffee and takes just minutes to prepare. You don't even need any special ingredients!
I should also mention this is an accidentally plant based/dairy-free coffee recipe, which means everyone can enjoy a cup! Even if you don't have a dietary restriction, you are guaranteed to fall in love with latte.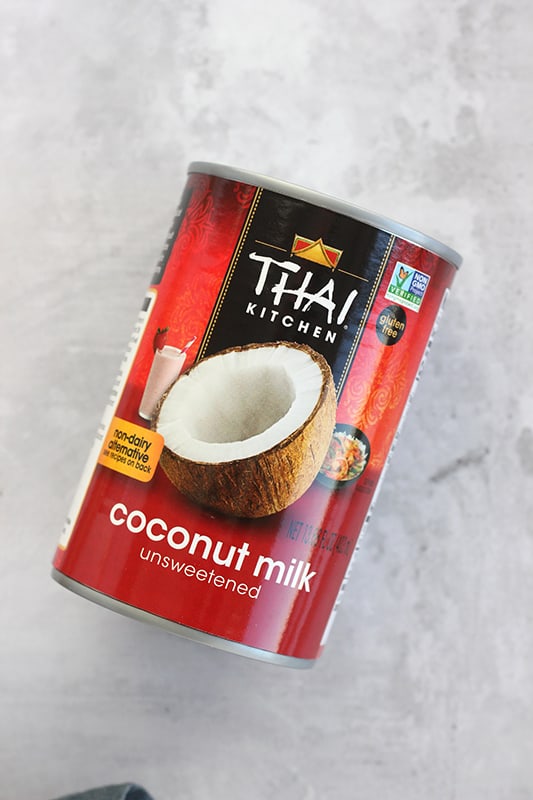 Coconut Milk Latte Ingredients
I'm going out on a limb and saying this is the best coconut milk latte. While I am going to include the EXACT way to make yours taste like the Starbucks classic, I will also give you a few tips on how to level up. Here is what you need to get started
Coffee or Espresso: Starbucks uses Blonde Espresso Roast in their coconut milk latte. I found that any espresso, or strongly brewed coffee, will work for a homemade version.
Coconut Milk: You will want to use a full-fat canned coconut milk. This will get you a lovely froth and rich creamy flavor.
Cinnamon: This is an optional ingredient, but a delicious addition.
Sweetener: I've always used either brown sugar or pure maple syrup. However, it was recently pointed out that honey is a great substitution.
Vanilla extract: Just a touch to balance the flavors.
For a more authentic Starbucks flavor- Skip the cinnamon and vanilla. OR for a flavor explosion coconut vanilla latte recipe– Add them in!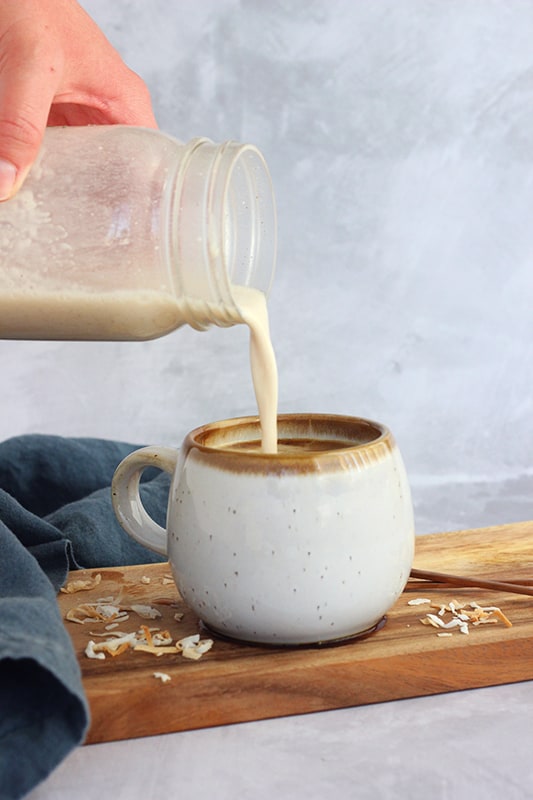 How To Make A Coconut Milk Latte At Home
Ready to learn how easy this recipe is? Let's dive into how you can make a latte at home with a mason jar.
PREP: Prepare your coffee or two shots of espresso. Divide between two mugs.
MILK: Combine the coconut milk with the cinnamon and vanilla, if using, and 1 teaspoon brown sugar in a tall cup or jar.
WHIP: Heat in the microwave for 20 to 30 seconds, or until it has warmed. Use a handheld frother to whisk the milk until foamy, about 20 seconds.
ENJOY: Pour or spoon the milk over the top of your espresso and enjoy.
How To Froth Milk In A Mason Jar
MEASURE: Add milk to a mason jar. Fill it only half full to make sure you have a lot of room for froth to build. Add any sweetener or spices you like.
SHAKE: Secure the lid and shake that jar as hard as you can for one full minute.
HEAT: Remove the lid and microwave for 30 seconds. This helps bring the foam to the top and stabilize it.
ENJOY: Pour the milk into your coffee and spoon the foam on top.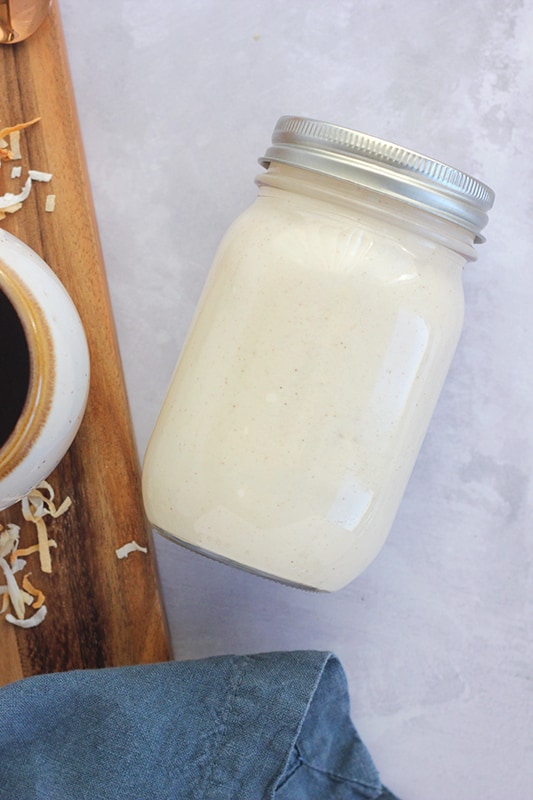 Recipe Notes:
What is cascara sugar?
If you browse the menu at Starbucks you'll notice that their latte uses cascara sugar. Cascara has a dark brown sugar and maple flavor. Since cascara isn't widely available where I live I substitute it with brown sugar or pure maple syrup.
Can I use any type of coconut milk for the latte?
Canned coconut milk tends to be thicker and richer in texture, making it ideal for creating a creamy and indulgent latte. It typically contains higher fat content and is commonly used in recipes that require a thicker consistency.
Ultimately, the type of coconut milk you choose for your latte depends on the desired texture, richness, and flavor profile you're aiming for. Experimenting with different options can help you discover your perfect coconut milk latte combination.
Can I substitute coconut milk with another non-dairy milk?
Yes, you can absolutely substitute coconut milk with other non-dairy milk options in your latte. Try almond milk, soy milk, oat milk, or even cashew milk.
Remember to consider the flavor and texture of the non-dairy milk you choose to ensure it aligns well with the coffee and your personal preferences. It may take some experimentation to find the perfect substitute that matches your desired taste and latte experience.
Is it possible to make a hot and iced version of a coconut milk latte?
Yep! For an iced version of this drink:
Brew a strong cup of coffee or a shot of espresso. Allow it to cool to room temperature.
Fill a glass with ice cubes.
In a separate container, mix your desired amount of coconut milk and sweetener, if desired.
Pour the cooled coffee or espresso over the ice cubes.
Slowly pour the coconut milk mixture over the coffee.
Give it a stir to combine the flavors.
Optionally, you can add additional ice cubes or even a splash of cold water to dilute the coffee if needed.
Sip and enjoy your refreshing iced coconut milk latte!
What kind of coffee works best with coconut milk?
Ultimately, the best coffee choice for a coconut milk latte is subjective and depends on your personal taste preferences. Feel free to experiment with different coffee beans and roasts to find the combination that brings out the flavors you enjoy most when paired with coconut milk.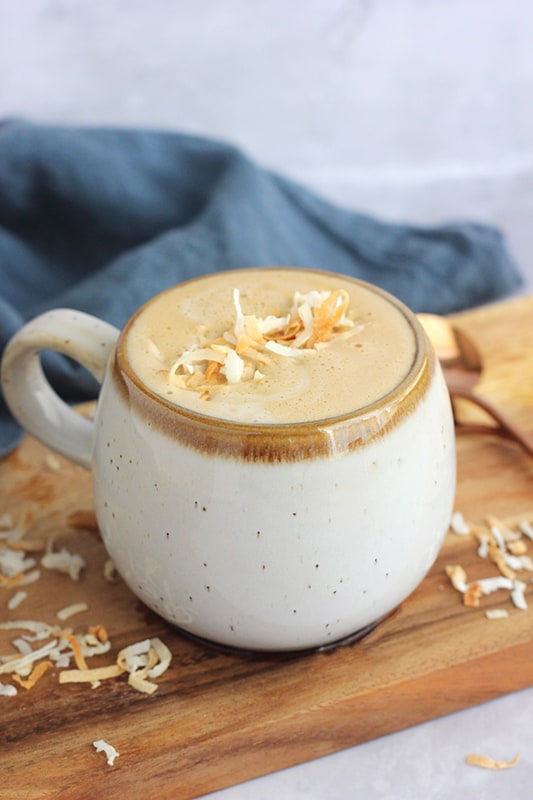 More Coffee Recipes To Try
More Favorites from One Sweet Appetite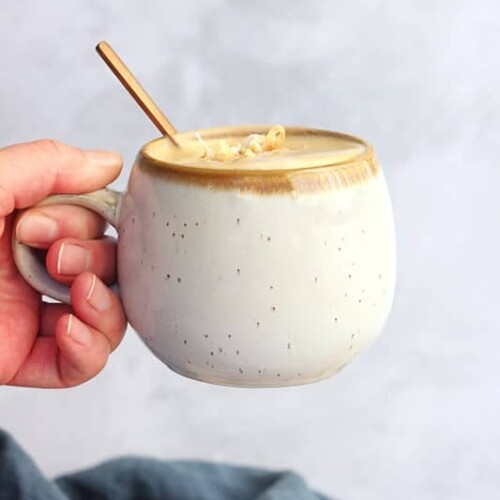 Coconut Milk Latte
This Starbuck's Copycat Coconut Milk Latte is simple to make with just 3 simple ingredients and ready in 10 minutes!
Ingredients
8 oz strongly brewed coffee or 2 shots of espresso
1 cup coconut milk- from a can
1 tablespoon brown sugar or maple syrup optional
1/8 teaspoon cinnamon optional
dash of vanilla extract optional
Instructions
Prepare your coffee or two shots of espresso. Divide between two mugs.

Combine the coconut milk with the cinnamon and vanilla, if using, and 1 tablespoon brown sugar in a mason jar.

Secure the lid and shake vigorously for one minute.

Remove the lid of the jar and microwave for 30 seconds.

Pour or spoon the milk over the top of your espresso and enjoy.
Notes
Add more or less sugar to taste.
Nutrition
Serving: 1g | Calories: 276kcal | Carbohydrates: 16g | Protein: 2g | Fat: 24g | Saturated Fat: 21g | Polyunsaturated Fat: 1g | Sodium: 26mg | Sugar: 11g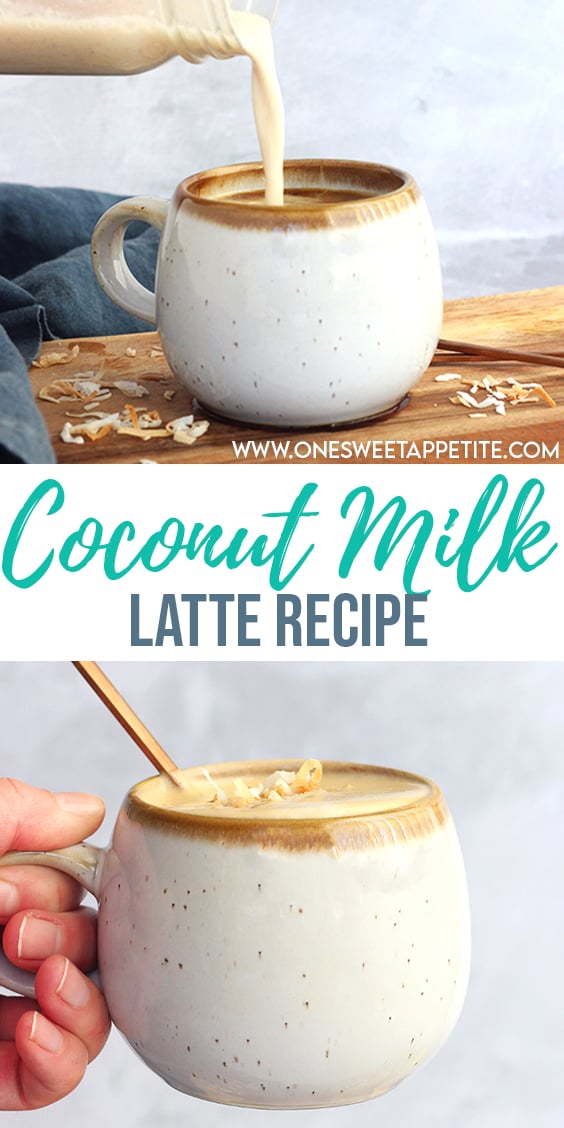 Reader Interactions