These Caramel Apple Cupcakes start with a cake mix and give you bakery worthy results! The light and moist spiced cake is filled with apple pieces and topped with a silky smooth caramel buttercream. This is a melt in your mouth treat and a delicious apple dessert idea.
Searching for more delicious fall dessert recipes? Try my Peach Cobbler Bars, Pumpkin Lazy Cake, and Pumpkin Pie Truffles!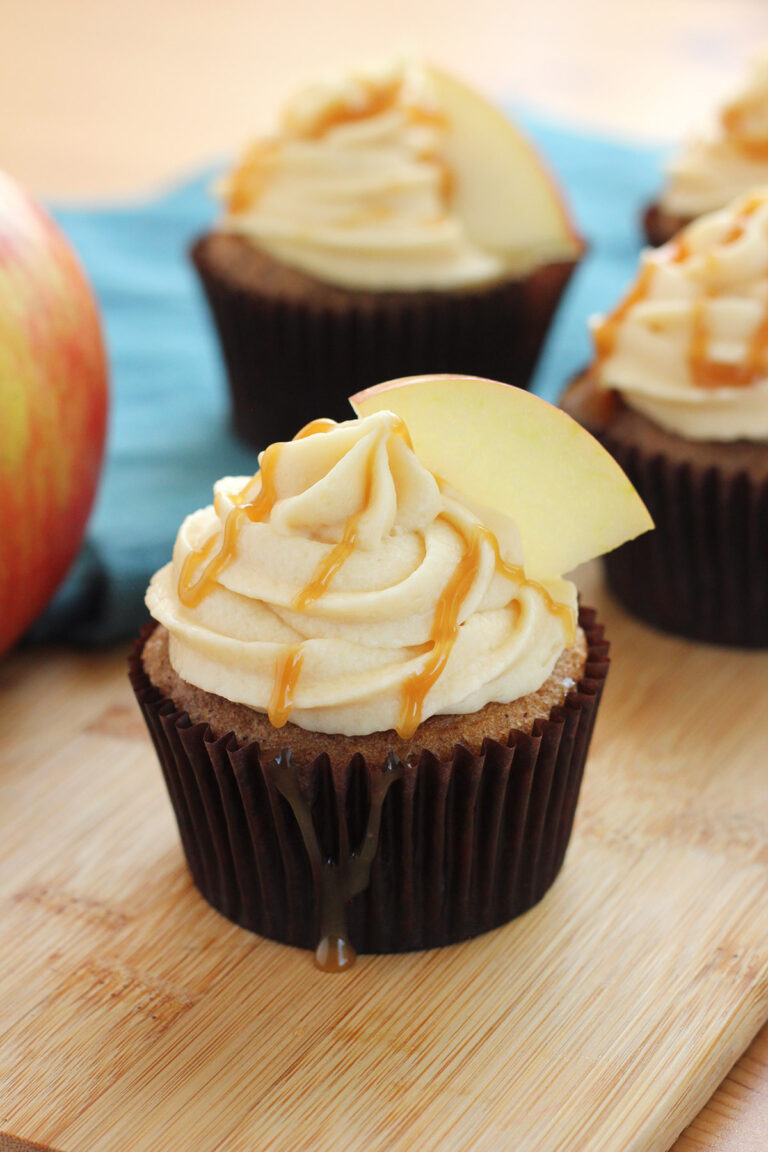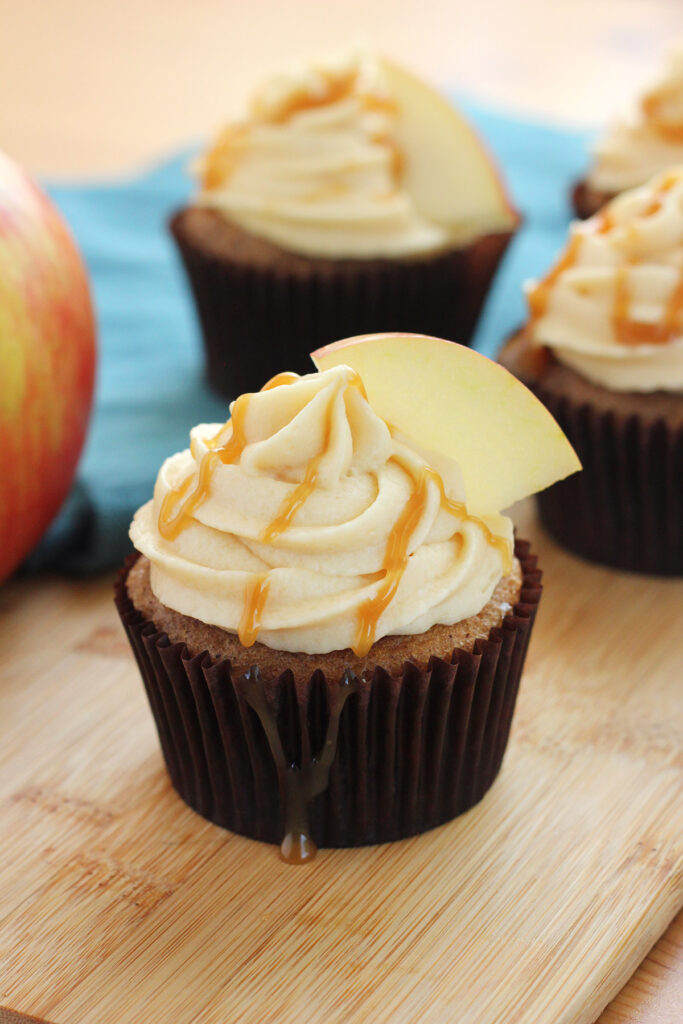 Recipe Features
Cake Mix Hack: I love taking cake mixes and turning them into bakery worthy cupcakes! This recipe is a star.
Customizable: While this is dreamy as an apple cupcake, it is delicious with peaches too!
Make Ahead: Did you know you can bake cupcakes in advance and freeze them? They stay fresh and ready for any occasion.
There are just so many things about these apple cupcakes to love. First of all… They start with a cake mix. Who doesn't love a good ol' cake mix hack?! Fill them with some apple pie dip, top with a salted caramel buttercream, and you've hit the cupcake lottery. You just can't lose with these caramel apple cupcakes!
I kid you not… These cupcakes lasted two days in our house. TWO. DAYS. Even my sister, who was completely turned off by the idea of apples inside a cupcake, ended up taking home half a dozen. The spice cake along with the delicious apple filling form an apple pie… in cake form.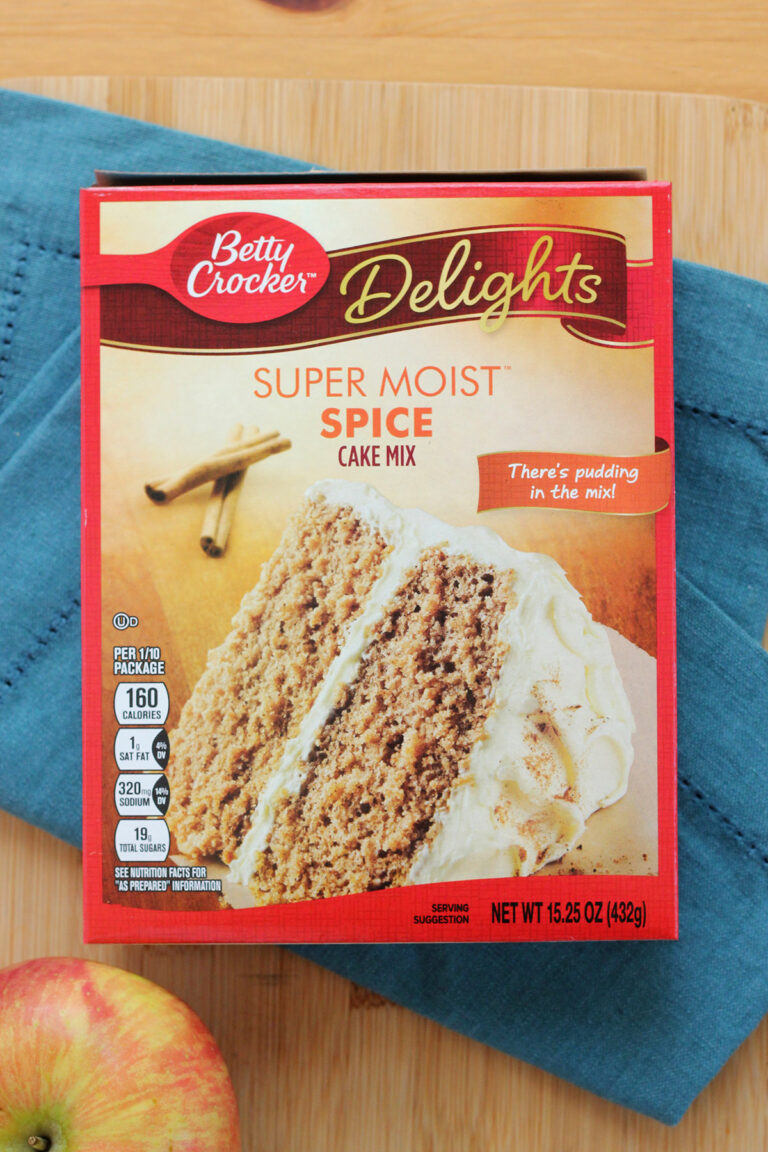 Apple Cupcake Ingredients
You can always drizzle a little extra caramel onto the top of your cakes for a fun look. My caramel sauce was on the thinner side so I think I would use a thicker version to decorate next time. However, that didn't stop us from gobbling up a few extra. No one believed me when I told them this started out from a box. It's amazing how just adding a few extra ingredients can change the entire flavor of the cake!
Cake Mix: I LOVE spice cake mix. It has all of the fall flavors, like cinnamon and nutmeg, and taste like homemade with the substitution of just a few ingredients called for on the box.
Apples: I find that any apple works with the filling in this recipe. Cooking it down with a little sugar and spice makes this the perfect cupcake filling.
Sugars: Brown sugar for the filling and powdered sugar for the frosting.
Cinnamon: The ultimate fall spice. Just a dash goes a long way in the apple filling.
Butter: I use salted butter in the frosting. This gives the caramel frosting a salted finish that is perfection. However, you can swap this for unsalted butter with equally delicious results.
Milk: Just a touch to thin the frosting.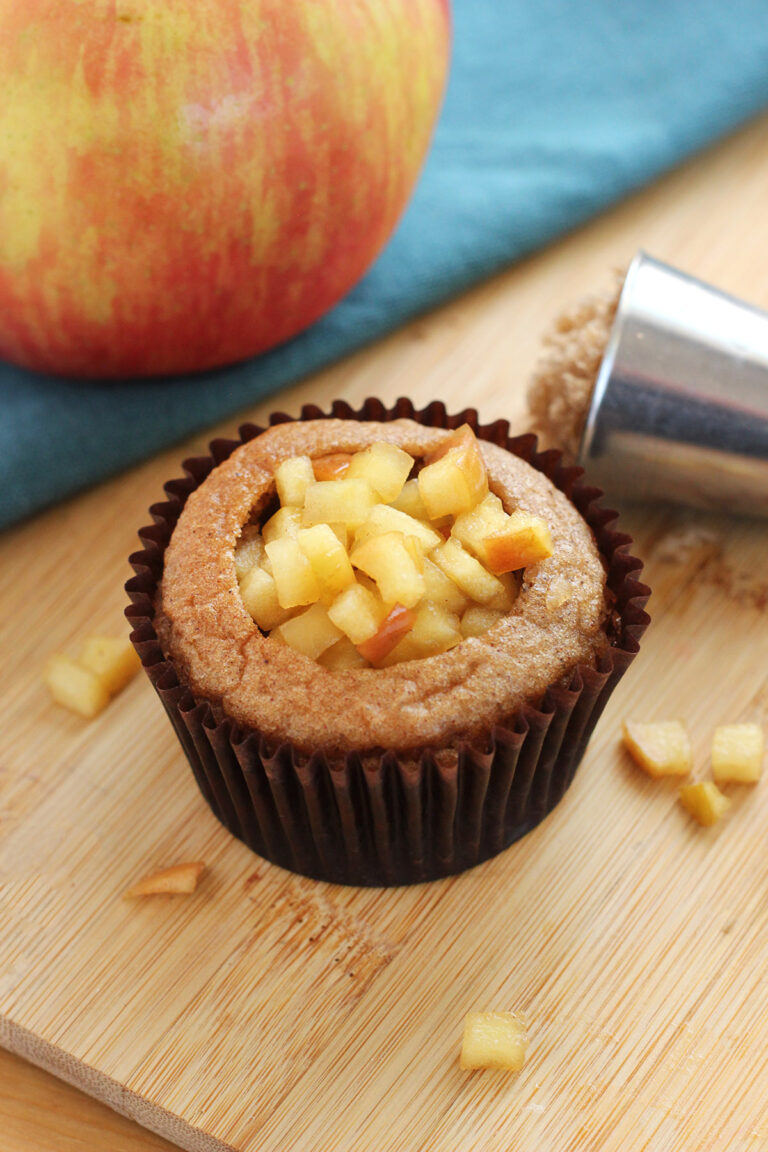 How To Make Caramel Apple Cupcakes
PREP: Line two muffin tins with paper liners and preheat the oven to 350 degrees.
MIX: Mix the cake mix with the ingredients called for on the box, with the substitution of milk for the water. Fill the prepared cupcake liners 2/3 full.
BAKE: Bake the cupcakes for 12 to 15 minutes, or until a toothpick inserted into the center of the cupcakes comes out clean.
FILL: While the cupcakes are cooling, combine chopped apples with brown sugar, lemon juice and cinnamon in a pot. Simmer until the apples are soft. Remove from the heat and allow to cool slightly. Core the cupcakes and fill with a heaping spoonful of the apple pie filling.
FROST: Follow the directions for my caramel buttercream and frost each filled cupcake. Top with a slice of apple and a drizzle of caramel syrup for the perfect finish.
Helpful Tools
Cupcake Liners: I'm a big fan of neutral cupcake liner (affiliate) colors. I feel like the star of the show should be the cake itself, but you can find dozens of color options (affiliate).
Scoop: I'm obsessed with my cookie scoop (affiliate). I use it for cookies BUT I also use it to evenly fill cupcake liners. This ensures perfect sized cupcakes every single time.
Cupcake Corer: These cupcakes are filled with a dreamy key lime pie filling. Using a cupcake corer (affiliate) can make this process super quick and easy.
Recipe Notes:
How long do these cupcakes last?
Fully assembled cupcakes will last 2 to 3 days if stored properly at room temperature. I highly recommend looking into a cupcake container. Most fit 24 cupcakes and come with a lid that securely fits over top.
Can I make these in advance?
Yes. However, I suggest assembling just before eating. The cupcakes will last up to three days if stored at room temperature. However, they will freeze for up to three months. The filling can be made up to two weeks in advance and stored covered inside the refrigerator.
How do you keep apple slices from turning brown?
I love the added apple slice on top of the frosting. It adds the perfect finish and is such an easy decorating idea. To keep the apples from turning brown, dip or brush each slice in lemon juice before adding to the frosting. Pat dry.
Should I refrigerate apple filled cupcakes?
No need. These cupcakes can be stored covered at room temperature.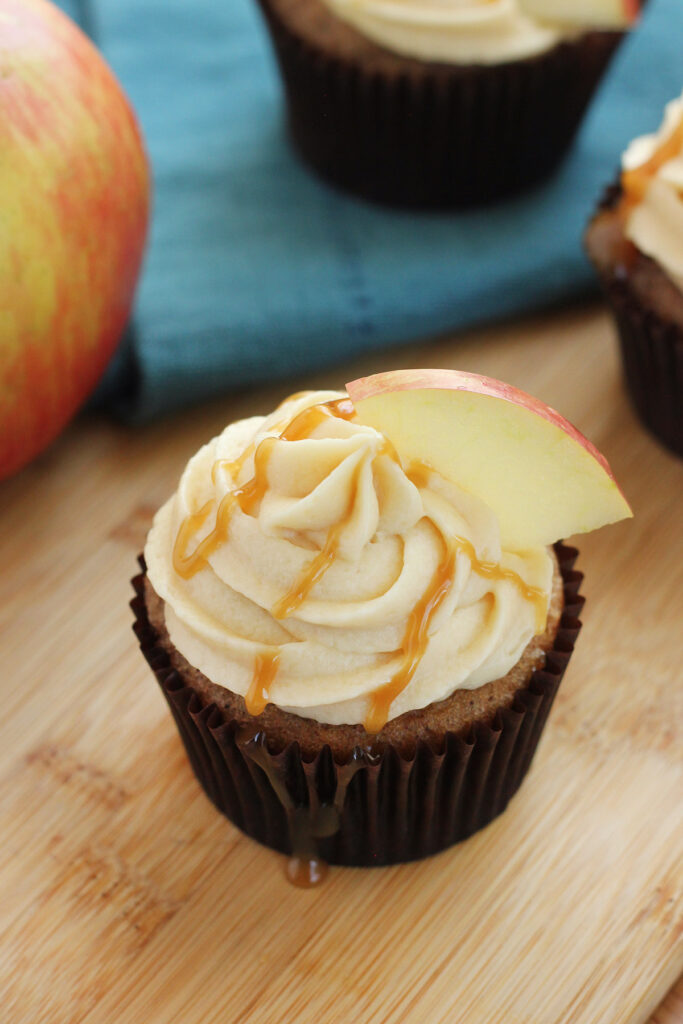 MORE MUST-TRY APPLE RECIPES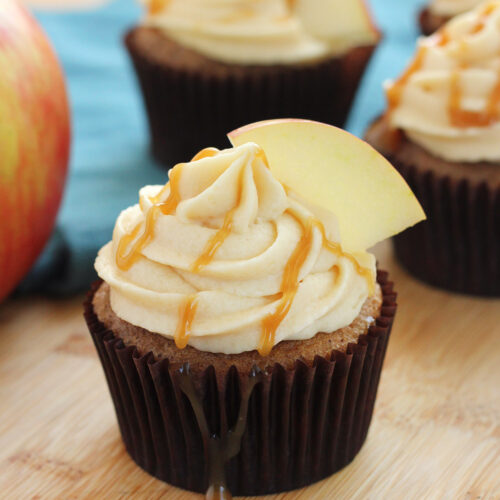 Caramel Apple Cupcakes
These Caramel Apple Cupcakes start with a cake mix and give you bakery worthy results! The light and moist spiced cake is filled with apple pieces and topped with a silky smooth caramel buttercream. This is a melt in your mouth treat and a delicious apple dessert idea.
Ingredients
Cupcakes:
1 (15.25 oz) spice cake mix
3 large eggs
1/2 cup vegetable oil
1 cup milk
1 teaspoon vanilla
Apple Filling:
1 large apple diced
2 teaspoons lemon juice
2 tablespoons brown sugar
1/8 teaspoon cinnamon
Salted Caramel Buttercream
1/2 cup butter
1 cup brown sugar
1/4 cup milk
2 cups powdered sugar
Instructions
Cupcakes:
Preheat the oven to 350 degrees. Line two, 12 cup, muffin tins with paper liners and set aside.

Combine the cake mix, eggs, oil, milk, and vanilla in a mixing bowl. Whisk until combined and smooth, about 2 minutes.

Spoon the batter into the prepared cupcake tin, filling each muffin cup 2/3 full. Bake 15-18 minutes or until a toothpick comes out clean.

Allow your cupcakes to cool completely.
Apple Filling:
Combine the diced apples, lemon juice, brown sugar, and cinnamon to a small pot.

Place the pot onto a burner set to low/medium heat. Bring to a boil, stirring constantly.

Cook for 5 minutes, or until the apples are tender. Allow to cool slightly.

Remove the center of each cupcake using a paring knife or cupcake corer. Spoon 1-2 tablespoons of the apple filling into each cupcake and replace the removed top piece.
Caramel Frosting:
Combine the brown sugar and butter in a small pot. Heat to a boil and allow to cook 2 minutes, whisking constantly.

Slowly add the milk to the caramel mixture, being sure to whisk to mix fully. Cook until the mixture comes to a boil.

Remove the pan from the heat and allow the caramel to cool slightly.

Using a hand mixer, add in the powdered sugar and beat until smooth.

Frost the cooled cupcakes.
Nutrition
Serving: 1cupcake | Calories: 231kcal | Carbohydrates: 23g | Protein: 1g | Fat: 9g | Saturated Fat: 4g | Polyunsaturated Fat: 2g | Monounsaturated Fat: 3g | Trans Fat: 1g | Cholesterol: 12mg | Sodium: 39mg | Potassium: 50mg | Fiber: 1g | Sugar: 12g | Vitamin A: 145IU | Vitamin C: 1mg | Calcium: 35mg | Iron: 0.2mg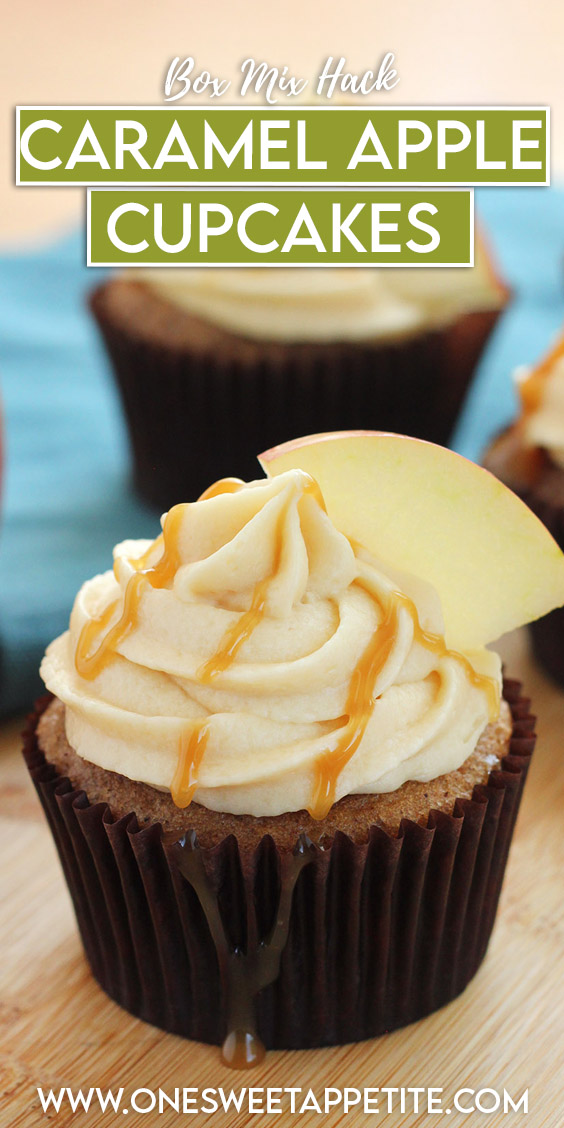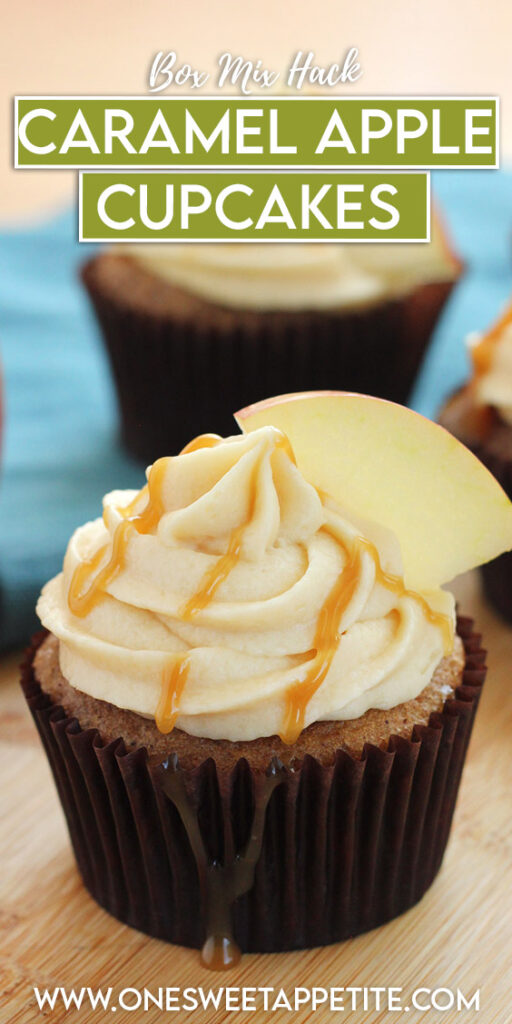 Reader Interactions