This creamy No-Churn Banana Pudding Ice Cream is made without a machine making it the perfect summer treat! Small bits of vanilla wafer cookies add a perfect crunch to every bite!
Summertime is my favorite. The warm weather is perfect for outdoor time. We spend days at the pool, run through sprinklers, and eat our weight in ice cream.
Banana Pudding Ice Cream
My favorite ice cream flavor is by far banana pudding. It is SO creamy, filled with that classic banana flavor, and sprinkled with vanilla wafer cookies. The perfect southern treat.
Imagine my disappointment when we moved back to Utah from North Carolina and I found out my beloved frozen treat was not sold west of the Rockies. Honestly could not believe it and was determined to create a homemade ice cream that matched its pudding flavor.
Enter this no-churn ice cream recipe. It is so simple to make, calls for only a handful of ingredients, and produces rich and creamy ice cream WITHOUT a mixer!
What does no-churn ice cream mean?
Let's start with the basics. Ice cream is typically made in a mixer that simultaneously freezes and agitate or turns the mixture to keep ice crystals from forming. This process is known as churning and gives you that super creamy ice cream we all love.
No-churn ice cream recipes do not use a mixer and tend to come together a little quicker, but do have a more pronounced sweetened condensed milk flavor.
How does no-churn ice cream work?
The secret is whipped cream. Heavy cream is whipped to stiff peaks and folded into your batter. This gives the ice cream the air it needs to be lighter and less dense. It allows us to skip the churning process all-together.
Sweetened condensed milk is the second MVP of the recipe. It is high in sugar and has been cooked down and is what will provide the creamy texture we are looking for. Combine these two ingredients with flavor mix-ins of your choice and your flavor options are endless.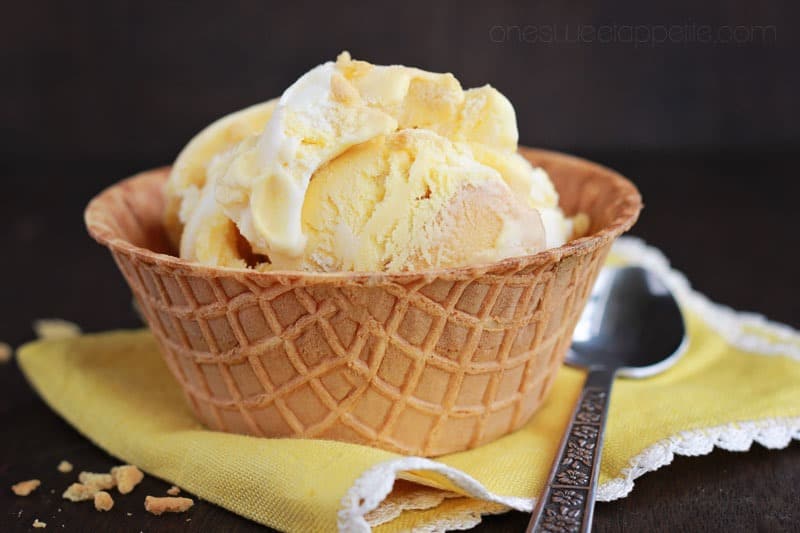 How to make ice cream without an ice cream maker:
Pour 1 can of sweetened condensed milk into a large bowl.
Add any flavor mix-ins you would like. We generally start with 2 teaspoons of vanilla extract and add more from there.
Whisk heavy cream until stiff peaks form.
Fold the whipped cream into your sweetened milk until just combined.
Pour into a freezer container and freeze 4 hours or until solid.
What can you mix into no-churn ice cream?
The one thing I truly love about this recipe is that it has endless possibilities. Here are a few of our favorite mix-in items:
Crumbled Cookies
Pudding Mixes
Chocolate Sauce
Caramel Sauce
Fresh Fruit
Lemon or Lime Zest
Liquor (This also lowers the freezing temperature giving you a softer ice cream)
Pie filling
Extracts
Espresso Powder
Like this recipe? You will love my:
How to make banana pudding ice cream:
No Churn Banana Pudding Ice Cream
Total Time:
4 hours
5 minutes
This creamy No-Churn Banana Pudding Ice Cream is made without a machine making it the perfect summer treat! Small bits of vanilla wafer cookies add a perfect crunch to every bite!
Ingredients
2 cups heavy cream, whipped to stiff peaks
14 oz can sweetened condensed milk
1- 3oz box banana pudding mix
1/4 teaspoon vanilla extract
1/2 cup mini vanilla wafers
Instructions
Combine the sweetened condensed milk, banana pudding mix, vanilla and wafers in a large bowl. Fold in the whipped cream. I liked mine with a swirl effect so I didn't worry too much about fully mixing all of the white into the sweet milk.
Pour into an air tight container and freeze until solid.
Pin for later:
Still hungry? Follow One Sweet Appetite on Facebook, Instagram and Pinterest for more great recipe ideas!