This is the best homemade sausage gravy. You'll never believe how simple a homemade country gravy from scratch can be. Made with only 4-ingredients and perfect over buttermilk biscuits.
Make sure you try some of our other popular breakfast recipes! Taco Bell Breakfast Crunchwrap, Easy French Toast Casserole, and Homemade McGriddle are all irresistibly delicious!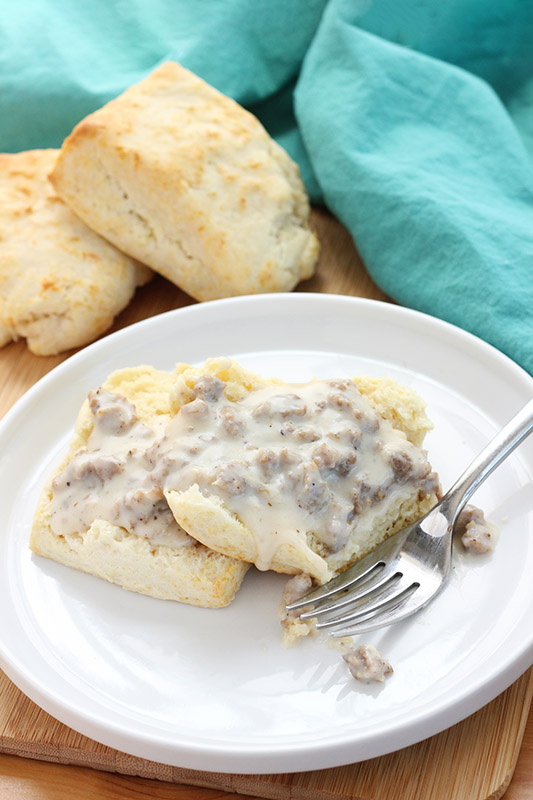 This recipe was originally published October 17, 2013. It has since been updated to include fresh photos and helpful tips.
RECIPE FEATURES
Quick and Easy– From start to finish, you can have this easy biscuits and gravy on the table in 30-minutes.
4-Ingredients– You need 2 kitchen staples and sausage to make this breakfast gravy.
Family Favorite– Made dozens of times and voted a top 3 family favorite recipe.
This is the BEST sausage gravy recipe. A breakfast staple, that is typically served spread over homemade biscuits, and one of the best morning comfort foods. I LOVE this dish.
You just cannot beat the rich sausage flavor paired with a buttery biscuit. Top with a fried egg or two and you have got a belly filling breakfast that everyone is going to love. I have made this for YEARS, which means I can truly say it is the best sausage gravy.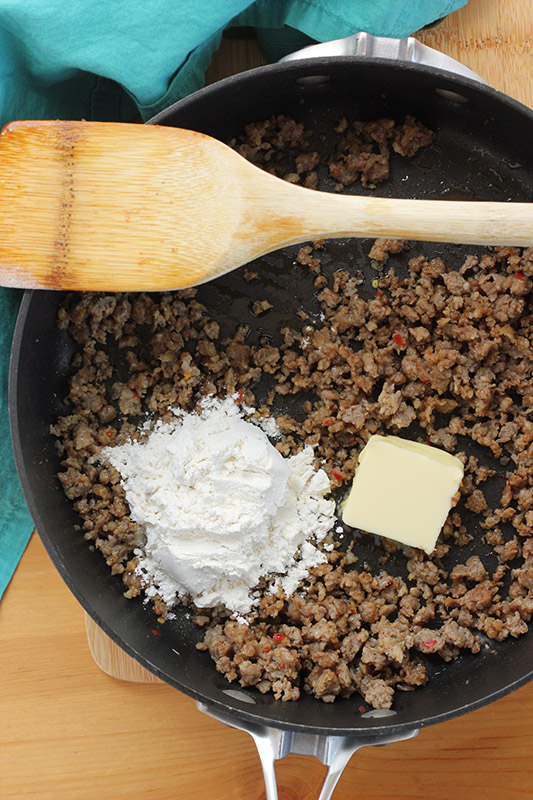 SAUSAGE GRAVY INGREDIENTS
This is the ultimate comfort food breakfast. The added sausage and rich gravy give you a hearty stick-to-your-ribs kind of meal. It is perfect served with my buttermilk biscuits or as a topping to diced breakfast potatoes. Here's a list of what you need to get started:
Breakfast Sausage– I highly recommend spicy sausage. Once you add the milk you'll hardly notice any added spice and it elevates the flavor to an entirely new level. That being said, traditional or sage breakfast sausage is equally delicious!
Flour and Butter: These two ingredients mix together creating a roux. A roux is the secret to giving you a sauce that is not too thick, but not thin. The secret is equal parts fat (sausage grease and butter) to flour.
Milk– I recommend using a milk that is 2% fat content or higher. Whole milk gives you the BEST rich and delicious gravy, if you have it.
Pepper: I keep things simple, and for good reason. A hefty dash of pepper is what makes this dish. If you'd like to venture beyond the traditional S+P, you can sprinkle some garlic powder and dried sage too.
Biscuits: Homemade, canned, or store bought.
HOW TO MAKE SAUSAGE GRAVY AT HOME
PREP: Make your biscuits, or at least have them ready for the oven. Gather the remaining ingredients.
BROWN: Cook and crumble the breakfast sausage until browned and cooked through in a large skillet.
ROUX: Add the butter to the skillet, with the meat, and let it melt. Stir in the flour until no white bits remain.
MILK: Whisk the milk with the sausage and bring to a simmer. Cook for 5 minutes, stirring frequently, or until the sauce has thickened.
SEASON: Season with pepper to taste. Remember, you'll need about 1 teaspoon or more.
SERVE : Spread over fresh baked biscuits and serve.
Can you believe how ridiculously easy that was? Bust open your warm biscuits, top with your gravy, and enjoy. The only complaint I have gotten over this recipe is that there are never any leftovers!
HELPFUL TOOLS
Skillet: I have a set of Calphalon skillets (affiliate) that are GOLD. But they can be pricy. Are they worth it? Definitely. I have never had anything stick to them and cleaning is a breeze.
Meat Chopper: I got a meat chopper (affiliate) as a gift and honestly never thought I would use it. Boy, oh boy, was I wrong. This baby is magic for crumbling beef!
Measuring Cup: If you don't own an angled measuring cup (affiliate), get ready for it to CHANGE YOUR LIFE. Measuring liquids has never been easier.
Recipe Tips and FAQs
If you have a large family I really recommend doubling the recipe. This is a great base and feeds 4.
What is sausage gravy?
Homemade sausage gravy is a traditional Southern breakfast in the US. Pork sausage is cooked and added to a roux of flour, butter, and milk. This dish is typically served over biscuits or potatoes.
Can I make biscuits and gravy the night before?
Technically, yes. We have made this gravy the day before and it has worked fine as a reheated option. Make sure you reheat it slowly in a pot vs the microwave.
Can you freeze sausage gravy?
Yes, however this recipe tastes much better when made fresh. After frozen you loose a little bit of flavor and texture.
What's the best way to serve biscuits and gravy?
Sausage gravy is best served on top of biscuits. Add a fried egg for a hearty filling breakfast meal. You can also use this as a gravy for breakfast potatoes or hash.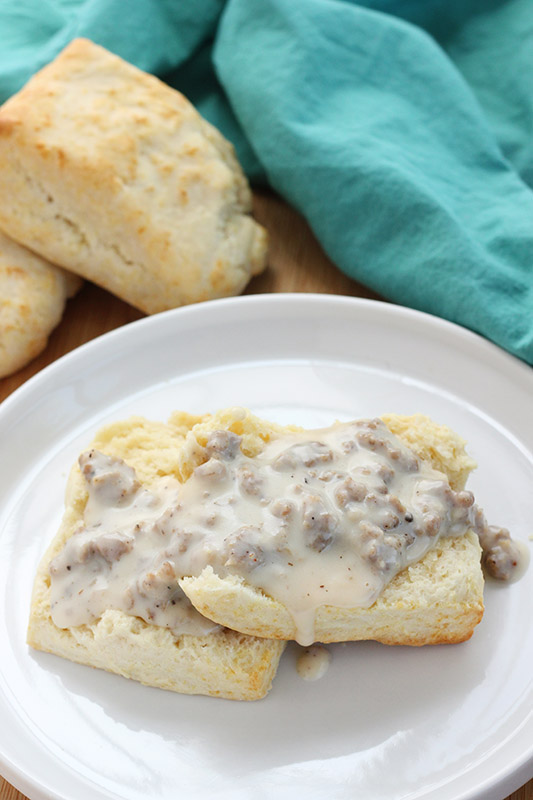 MORE MUST-TRY BREAKFAST RECIPES
Still Hungry? Follow One Sweet Appetite on Instagram, Pinterest, and Facebook!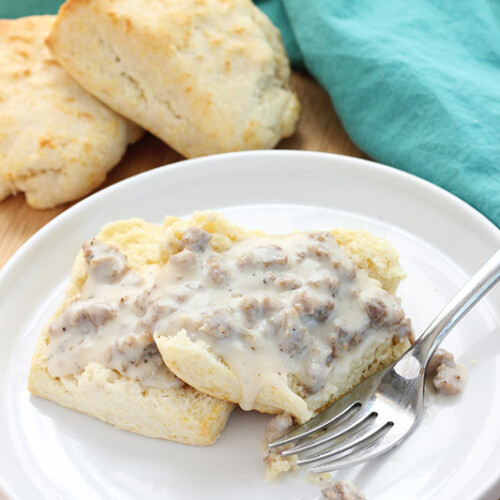 Three Ingredient Sausage Gravy
This is the best homemade sausage gravy. You'll never believe how simple a homemade country gravy from scratch can be. Made with only 4-ingredients and perfect over buttermilk biscuits.
Ingredients
1/2 pound spicy breakfast sausage
2 tablespoons salted butter optional
1/4 cup flour
2 cup whole milk
pepper to taste
Instructions
Heat a large pan over medium heat.

Add the breakfast sausage and cook until crumbled and browned, about 5 minutes.

Stir in the butter and stir until melted.

Sprinkle the flour over the top of the sausage. Stir with a spatula until the flour has combined fully with the meat.

Pour in the milk and stir well.

Cook until slightly thickened.

Season with pepper and serve over biscuits.
Nutrition
Serving: 1Servings | Calories: 339kcal | Carbohydrates: 13g | Protein: 15g | Fat: 25g | Saturated Fat: 11g | Polyunsaturated Fat: 12g | Cholesterol: 76mg | Sodium: 560mg | Sugar: 7g
Equipment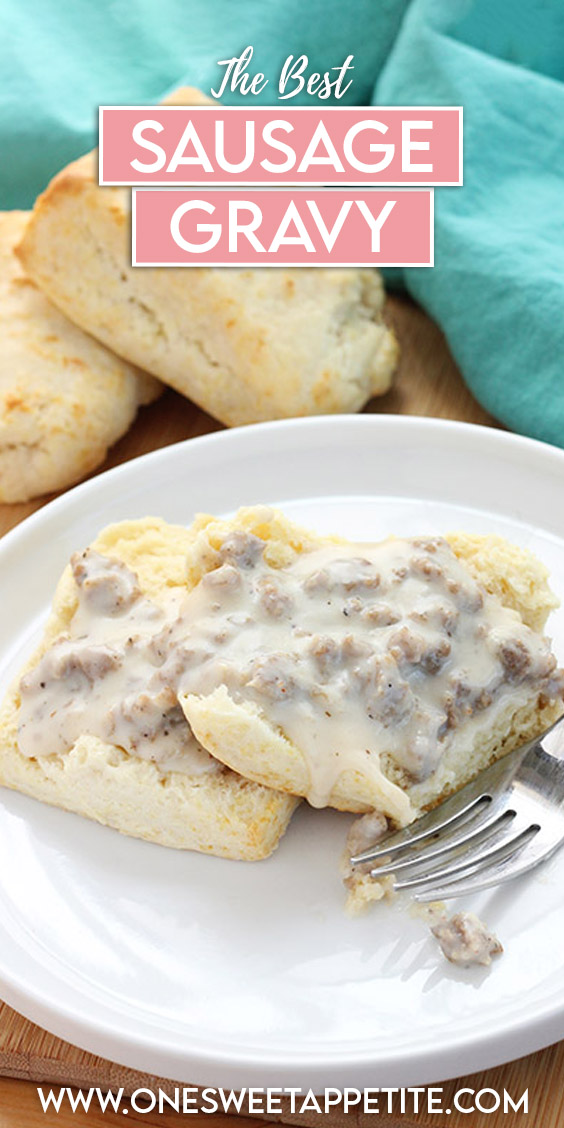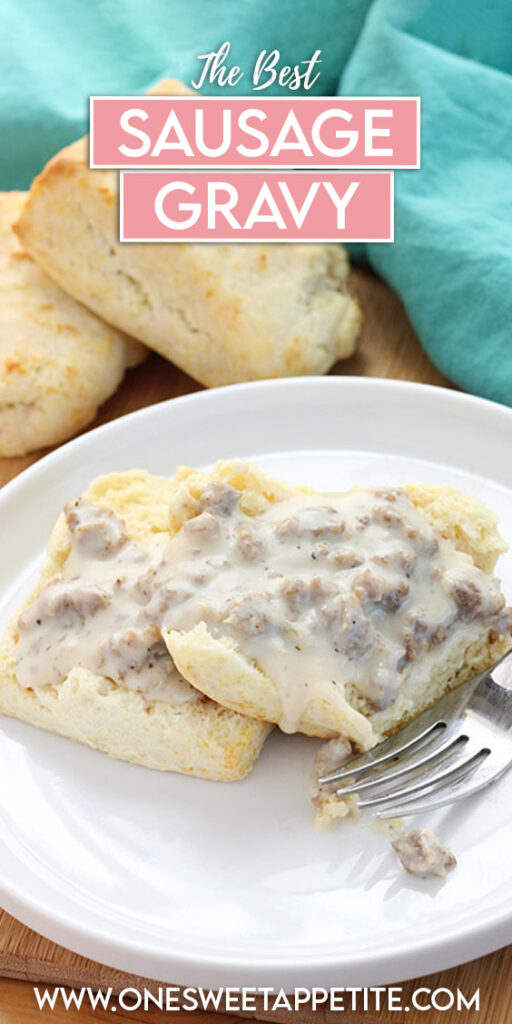 Reader Interactions