Cheesy Dutch Oven Potatoes are loaded with bacon and cooked to perfection over hot coals or in the oven! Ideal for camping or an everyday side!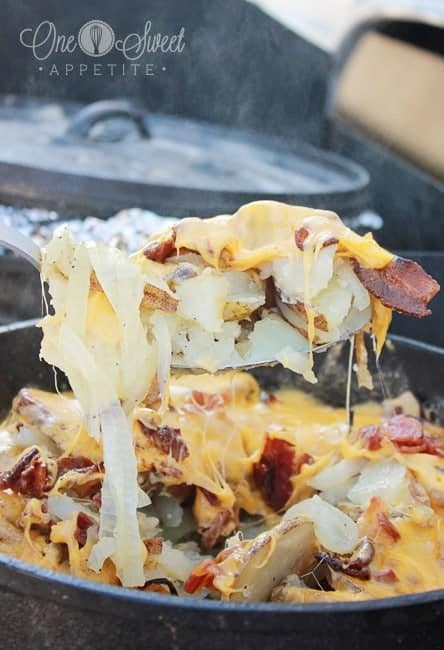 Show of hands, who here loves camping??
I am going to guess that every single one of you raised your hand because this recipe is as camping-ish as it comes.
The truth is I had absolutely no hand in prepping this one. All of the credit goes to my in-laws who are the King and Queen of cooking outdoors. Their recipes are easy and delicious which is the perfect combo. No need to sacrifice flavor just because you are not cooking in the comforts of your kitchen!
So let's dive right in to this cheese packed side dish.
Cheesy Dutch Oven Potatoes with Bacon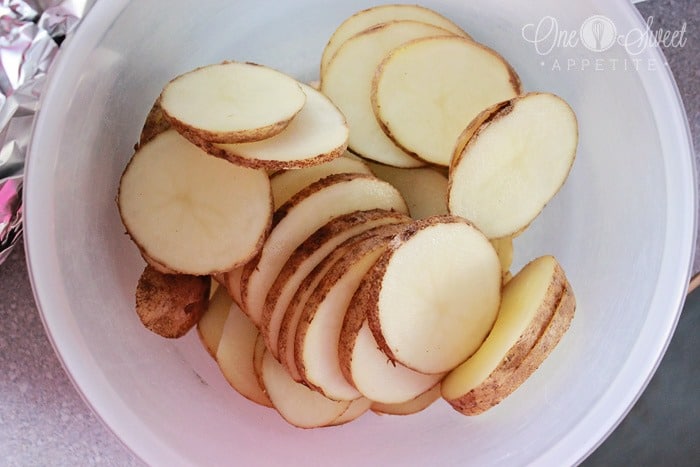 There are so many wonderful components to this dish but the best has got to be BACON. That is where a majority of your flavor is going to come from.
TIP: DO NOT DRAIN THE BACON GREASE!
You will thank me for this later. Leaving the grease in the bottom of the pan really adds to the crisp flavor of the potatoes.
With only 5 ingredients, you really cannot go wrong with this easy camping recipe!
After cooking your bacon you layer the rest of the ingredients and cook until your potatoes are done! In about one hour you have a drool worthy meal that everyone will be raving about!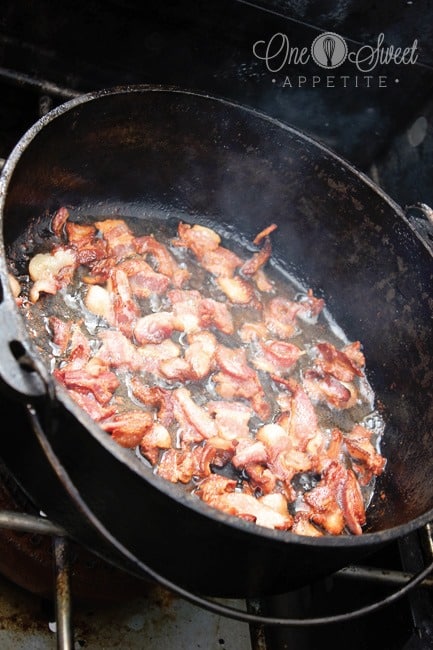 Side note, cleaning your cast iron while you are out can be a challenge. Here are a few good tips for how we keep ours in tip top shape!
Tips for cleaning cast iron while camping:
Add clean water to your cast iron pan. Place over a fire or grill and bring to a boil.
Use your spatula to gently break loose any larger food pieces.
Remove from the fire. Scrub gently with a nylon bristle scrub brush.
Rinse and dry completely (this is super important!! You do not want rust to form). We stick ours back over a grill or fire.
Rub with oil.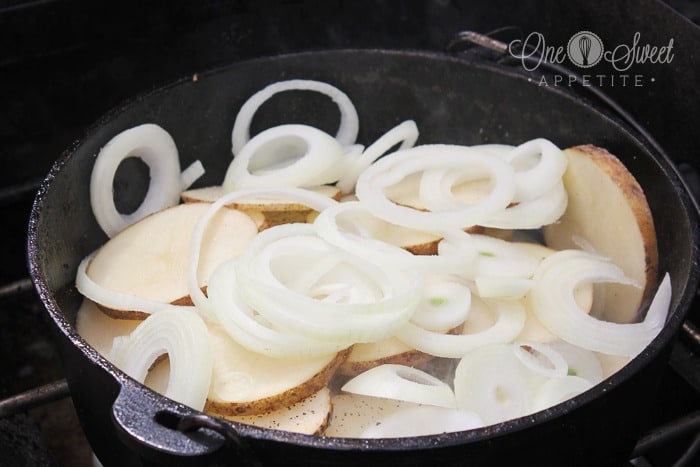 This camping recipe is easy, tasty, and perfect for all of your outdoor adventures! It also ranks as our:
TOP CAMPING RECIPE
Like this recipe? You will love my Camping Breakfast Burritos, Camping Peach Cobbler, Tips for Camping with Toddlers!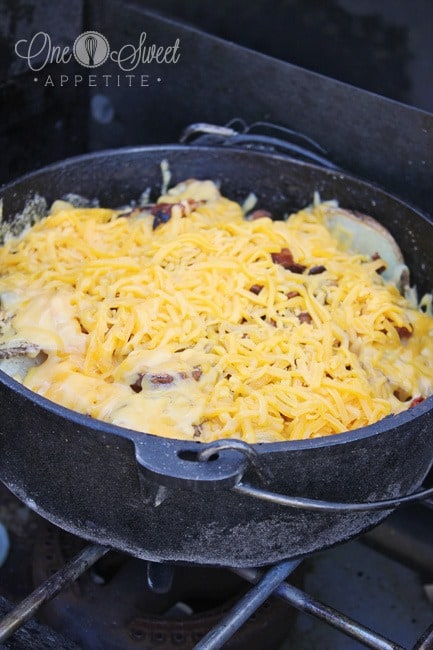 We love that it is so customizable.
If you do not like onions you can leave them out.
Add different spices to give them a little kick.
Or just make them as my in-laws did and enjoy all of that cheesy bacon goodness!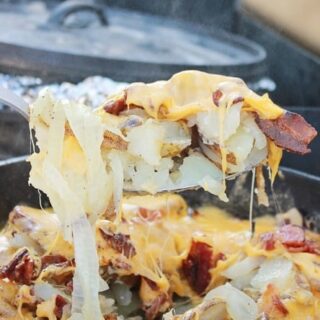 Cheesy Dutch Oven Potatoes
Cheesy Dutch Oven Potatoes are loaded with bacon and cooked to perfection over hot coals or in the oven! Ideal for camping or an everyday side!
Ingredients
Potatoes, cleaned and sliced
Bacon, diced
Cheese, shredded
Onions, sliced
Salt and pepper
Instructions
Start by slicing your potatoes and onion and set aside. Chop up the bacon and add it to your warm dutch oven.
Spoon out the cooked bacon. Leave the grease in the bottom of the pan.
Add a layer of potatoes. Sprinkle with salt and pepper to taste.
Add a layer of onions followed by a layer of cheese. Top with bacon.
Repeat the layers.
Cook for 45 minutes on a grill or with hot coals until the potatoes are soft.
Notes
(The amounts will vary depending on your dutch oven size)
Pin for later:
Still hungry? Follow One Sweet Appetite on Facebook, Instagram and Pinterest for more great recipe ideas!