45 Easy Camping Recipes. Browse this large list of great camping recipes and help inspire your menu!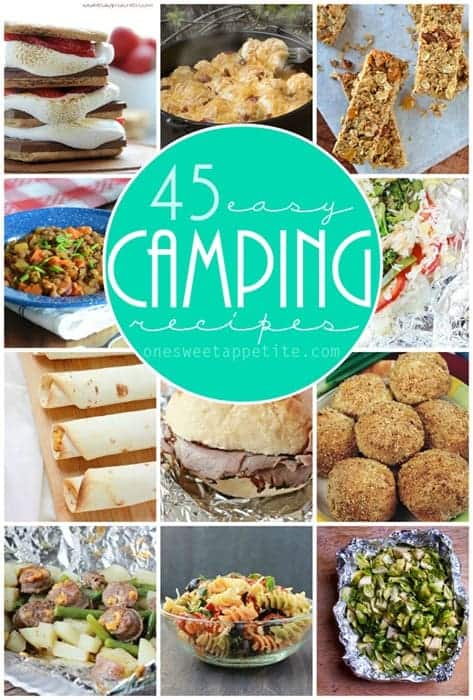 When I ran my camping series two years ago you went crazy for it!
Apparently you love camping recipes and you really love camping tips with toddlers! I am excited to continue sharing some of our favorite camping recipes with you! This list will update as we find more great ideas so be sure to check back frequently!
Tips for preparing a camping menu:
Find recipes you can prep in advance. The more you can get ready at home the better. This will make cooking outdoors so easy and leave you with more time to enjoy your vacation!
Pick EASY meals that also taste great. While we do take cereal, we also try to serve eggs or other filling dishes. Mix things up and take a variety of options.
Don't forget the snacks! It seems like everyone is hungrier while out and about. Make homemade granola bars, trail mix, or keep a veggie tray handy.
Easy Camping Recipes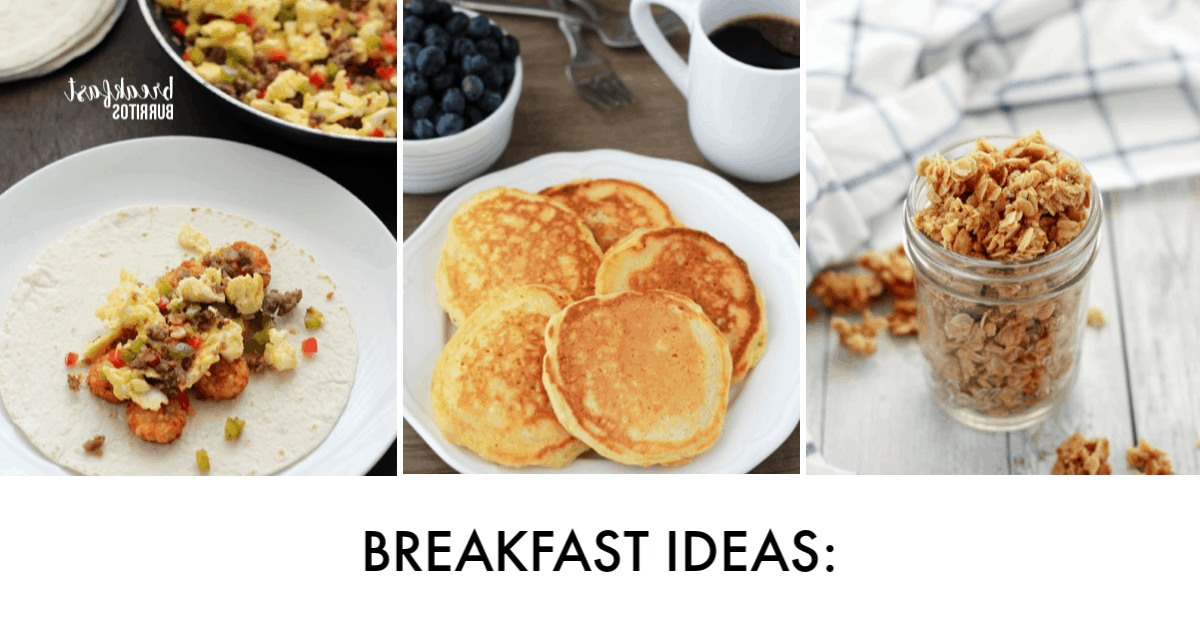 Breakfast Burritos *Make ahead recipe- Freeze and wrap in foil
Cornmeal Pancakes
Vanilla Granola *Make ahead recipe
Fried Scones *Great in cast iron
Breakfast Sandwich *Make ahead recipe – Freeze and wrap in foil
Sweet Potato Hash *Great in cast iron
Pumpkin Granola *Make ahead recipe
Buttermilk Pancakes
Banana Bread Granola *Make ahead recipe
Cinnamon Brown Sugar Oatmeal Bars *Make ahead recipe
Breakfast Casserole *Great in cast iron
Blueberry Muffins *Make ahead recipe (heat wrapped in foil for a fresh baked taste)
3 Ingredient Sausage Gravy *Great in cast iron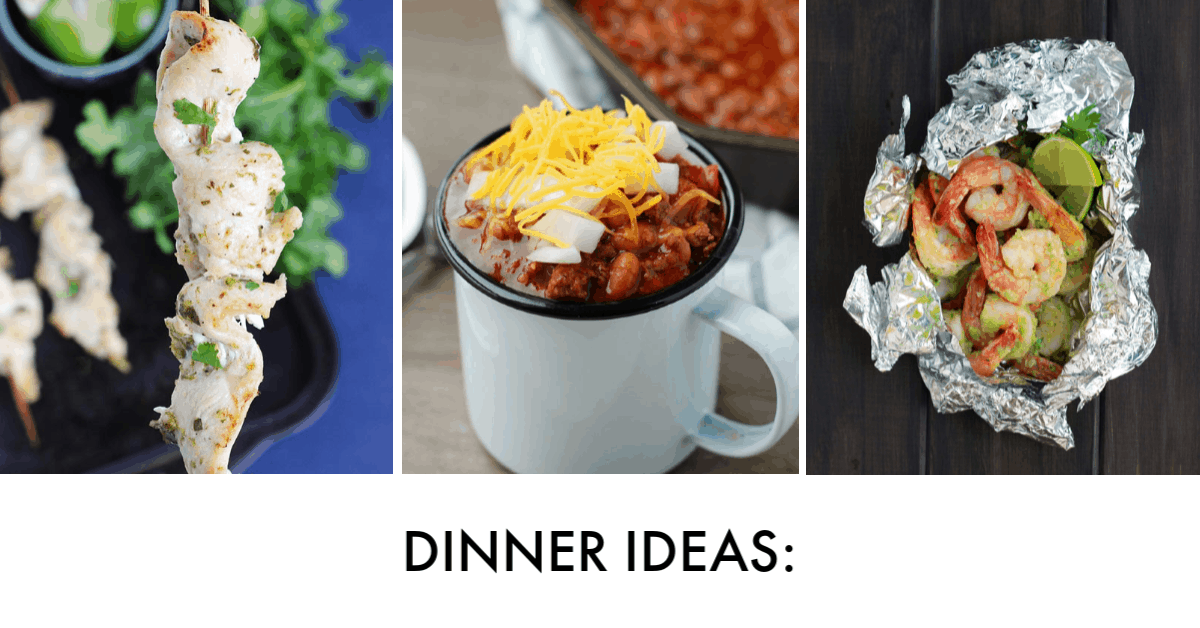 Cilantro Lime Chicken Skewers
Baked Bean Chili *Great in cast iron
Tin Foil Spicy Coconut Shrimp
Black Bean Burritos *Make ahead recipe
Margarita Chicken *Prep before you leave
Chicken Caesar Pasta Salad
Southwestern Chicken Tin Foil Dinner
Taco Stuffed Peppers
Chicken Caprese Pasta Salad
Peach Pork Chops *Great in cast iron
Rosemary Salmon Kabobs
Campfire Sandwich
Tin Foil Meatball Sub Sandwich
Tin Foil Chicken Fajitas
Tomato Feta Pasta Salad
Lasagna Stuffed Shells *Make ahead recipe
Avocado Salsa
Classic Hobo Tin Foil Dinner
Dutch Oven Fries
Cheesy Dutch Oven Potatoes
Camping Pork Chops
Easy Trail Mix
Hawaiian Chicken Stack Tin Foil Dinners
Italian Sausage and Potato Tin Foil Dinners
Easy Dutch Oven Ham
Homemade Lunchable
Chicken Taquitos
What are your favorite camping tips?
If you are looking for some great inspiration on what kind of meals to add to your camping menu make sure to check out my cookbook! Foiled! Easy, Tasty, Tin Foil Meals is packed with great ideas from breakfast to desserts! Make sure to give me a shout out on social media if you give any of them a try! I'd love to feature you and your cooking adventures!