This easy two ingredient fudge recipe is a quick treat that is perfect for the holiday season! All you need are chocolate chips and a can of frosting!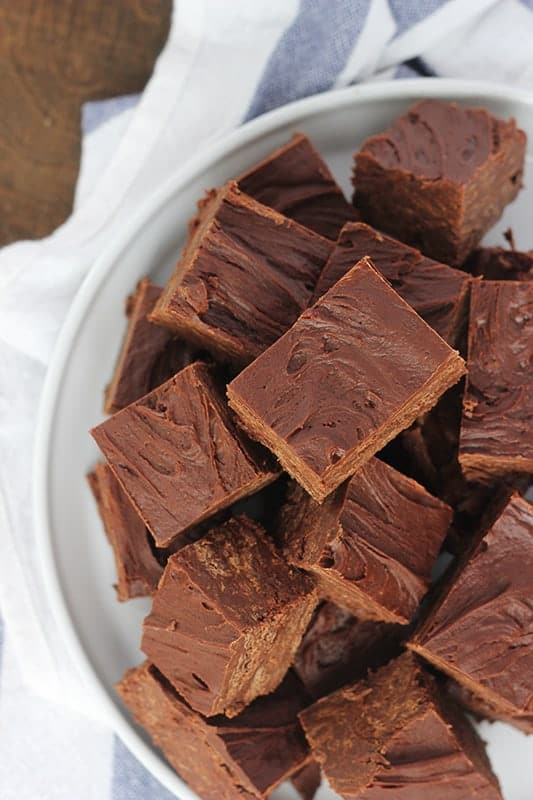 Fudge is a holiday treat staple. My grandma made batches and batches of fudge every year. I remember putting on an apron and helping her cook away until we had trays and trays of different flavored fudges cooling on the counter.
To this day, those memories are my absolute favorite. I treasure those moments, but also dread the idea of cooking fudge. Or, at least I used to dread it. Now I look forward to my holiday fudge creating thanks to THIS very easy recipe.
Recipe Features:
2-Ingredients: Can't get any better.
10-Minute Recipe
Perfect Holiday Treat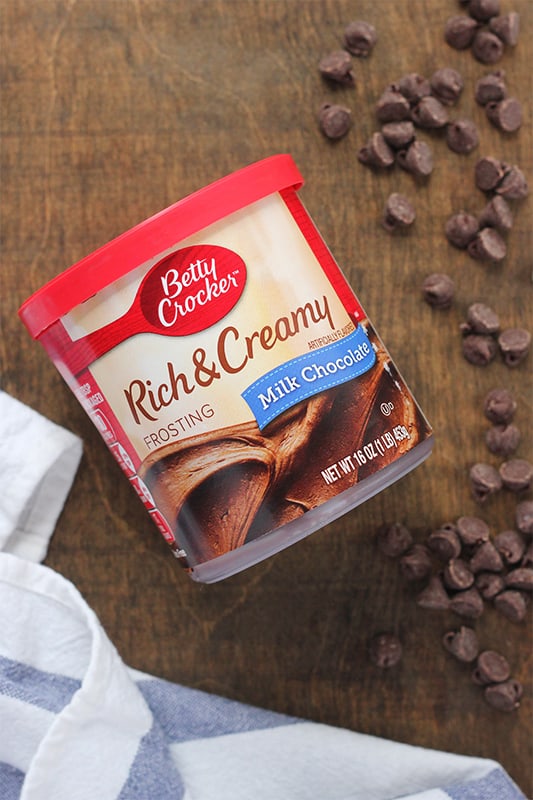 What You'll Need:
Ready for the most insanely short list of ingredients? You will not believe what you'll need to make this 2 ingredient fudge without condensed milk!
Chocolate chips, either semi sweet or milk chocolate will do
Canned frosting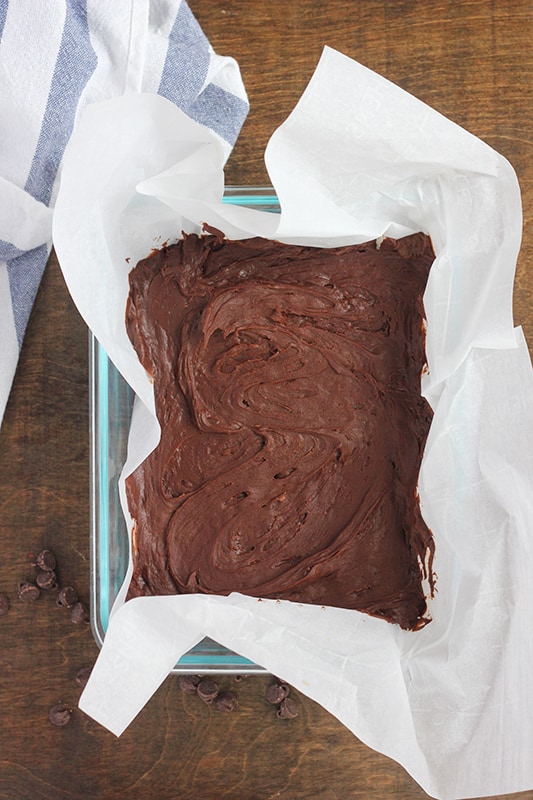 Step by Step Instructions:
If you thought the minimal ingredients was impressive, check out how simple the how-to is! All you need is a working microwave, mixing bowl, and spatula. In under ten minutes you will have incredibly easy chocolate fudge ready to be shared.
Line an 8×8 pan with parchment or wax paper.

Place the chocolate chips in a glass bowl and melt in the microwave according to the package directions.

Fold in the chocolate frosting. Spread into your prepared dish and refrigerate for one hour or until firm.

Tips and FAQs:

THE most popular comment I get on this recipe is "Mine turned out lumpy" or "This was hard as a rock! What went wrong??"

I'm here to answer your question! The simple truth is that you most likely over heated your chocolate causing it to seize. Here's a quick walk through on how to melt chocolate and get perfect fudge every single time.

Tips for melting chocolate chips:

Use a double boiler. This is the safest way to avoid your chocolate melting too quickly or getting too hot.
Melt the chocolate slowly in the microwave. Heat for 30 seconds. Remove from the microwave and stir. Continue to heat in 15 second segments, stirring between each, until the chocolate chips are fully melted.

2 Ingredient Fudge Variations:

Like this recipe? You will love my:

This recipe was originally posted on November 21, 2014. Since then, I have updated the recipe to include new photos and troubleshooting tips.

Two ingredient fudge




This simple two ingredient fudge recipe is a quick and easy treat perfect for the holiday season! All you need are chocolate chips and a can of frosting!

Ingredients

12 oz chocolate chips semi sweet or milk
16 oz chocolate frosting

Instructions

Line an 8×8 square pan with wax or parchment paper.

Place the chocolate chips in a glass bowl and melt in the microwave according to the package directions.

Fold in the chocolate frosting. Spread into your prepared dish and refrigerate for one hour or until firm.

Notes

Be sure not to over heat your chocolate. Heating too quickly could cause the chocolate to seize when adding the frosting.  I usually add the chocolate to a glass bowl. Heat for 30 seconds, stir, and continue heating in 15 second intervals, being sure to stir between each heating, until fully melted. 

Nutrition

Serving: 2pieces | Calories: 297kcal | Carbohydrates: 43g | Protein: 2g | Fat: 16g | Saturated Fat: 7g | Polyunsaturated Fat: 7g | Cholesterol: 2mg | Sodium: 83mg | Fiber: 2g | Sugar: 37g

Pin for later:

Still hungry? Follow One Sweet Appetite on Facebook, Instagram and Pinterest for more great recipe ideas!

Reader Interactions