50 of the BEST tips for Camping with a Toddler — A quick guide on how to keep your camping trip worry free.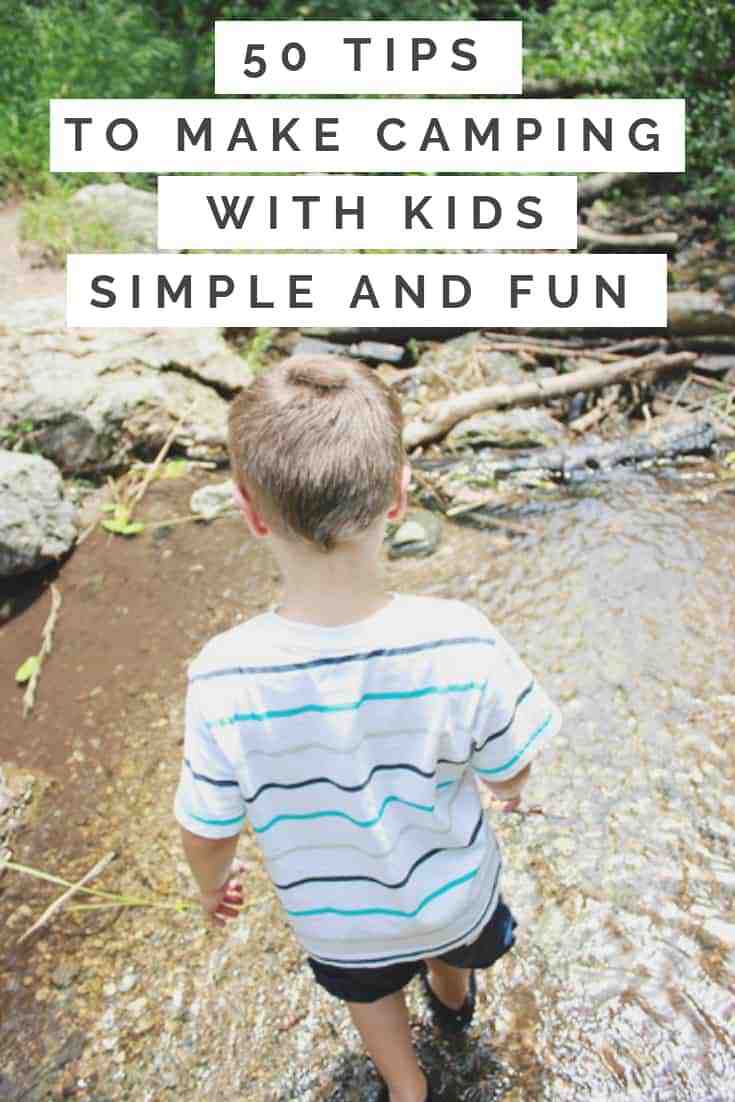 Tips for Camping With a Toddler
We have been taking my little guy camping since he was 3 months old.
Building a love for the great outdoors was not too difficult. He immediately took to the fresh air and became more and more delighted each time we announced our next adventure.
The older he got the more difficult it became to pack up and leave home. It seemed like we had to pack extra bags and ALWAYS forgot something important.
This post is written as a quick guide on some things we have found super helpful and a lot of ideas shared from YOU. My readers are the best source for camping tips and tricks and I encourage you to take a second and read down in the comments for more useful information!
Tips and tricks for camping with kids
1. Freeze your juice boxes or water bottles. Toss them into your cooler and they should stay cool until you are ready to use. Double bonus? They act as ice packs!
2. Glow sticks. These are a MUST for little fingers. We get them out when it starts to get dark and wrap a few of the bracelet varieties around his wrist and belt loops. He loves to keep one in hand while running through the dark and thinks of it as a game and I feel more better at the idea of being able to quickly find him as he wanders the site.
3. Don't Forget the favorite blanket. No matter what you call it (blanket, blanky, woobie) make sure it's in your suitcase. Kids like to have something from home to comfort them when it's time for bed. They will appreciate the familiar item and you'll appreciate the help getting them to bed.
4. Keep your routine. This one is always hard for us. We are always tempted to let our little guy stay up late and enjoy the fire or company. The problem? That makes for a grouchy kid in the morning. They need their sleep otherwise you're trip will start off on the wrong foot.
4. Stay excited. If you are happy and excited about the trip your kids will pick up on that energy.
5. Baby wipes have a million and one uses. If you think you packed enough… pack more.
6. Embrace the fact that your child is going to get dirty. It's ok and that's why you packed the baby wipes!
7. Little ones not quite walking? Bring the pack and play! We used this as a way to keep tabs on our little guy when we were prepping dinners. It's especially useful for crawlers or newbie walkers.
8. Pack snacks. Everyone tends to eat more while outside. Keep fruit (fresh or dried), trail mix, granola, or cheese sticks handy.
9. Keep a first aid kit handy. We have this one in our car at all times. It's small and has all of the essentials for minor cuts and scrapes.
10. Let them take a small box of toys. Think cars, army men, balls, or kids meal toys. These are great for during the day BUT also handy if you have an early riser. Let them play with the toys in bed while everyone else gets a little more shut eye.

11. Take Permanent Markers. Write your campsite number on their hand or arm that way if they do get separated from the group you'll have a head start.
12. Bubble Machines. These are fairly inexpensive and super entertaining for kids of all ages. We have one we keep on our deck all summer long and every little visitor loves watching them fill the air.
13. Scavenger Hunt. We stash our plastic Easter eggs in our camping gear. I hide little treats or coins in them and create a quick treasure hunt for all of the kiddos to take part in.
14. The dollar store is your friend. If you are worried about letting them take toys from home head in and give them $5. If you forget or leave them at the site it won't be too much of a disappointment.
15. Be willing to call it quits. If you have spent one (or two) nights awake with an unhappy little person it might be time to throw in the towel.
16. Plastic water jugs. One of my favorite tips from a reader is to keep one of these on the picnic table with a nail or golf tee pushed through the side. Slide the nail out for a quick wash station.
17. OR use a cleaned out laundry soap dispenser. If you have an empty one handy (the ones with the spigot) clean it out and fill with water.
18. "Special Toys." Keep one or two toys in the camping stash. Only let your children play with these when you are out.
19. Set up a tent in the yard. A few days before the trip set up a tent in your backyard. Let the kids play (or even sleep) in it to get the excitement out of their system.
20. Solar Power Patio Lights. Line a walkway with these for quick night time lighting.
21. Keep a travel potty outside of the tent. Night bathroom visits are made sooooo much easier.
22. Bring a battery operated sound machine or CD player to play music to drown out the camp noises while the kids are settling down for the night.
23. Bring a second tent. Worried that your kids will trample in and out of your sleeping space? Set up a second tent for the kids to keep their toys. They can run in and out all day long keeping your sleeping bags free of dirt.
24. Make your first meal an easy one. You are likely going to be tired from setting up camp. Try this campfire sandwich.
25. Speaking of meals, make as many recipes in advance as possible.
26. Pack each days outfit in a large Ziploc. That way you can reach and go!
27. Be prepared for the weather. It seems silly but remember to check the forecast!
28. Reader suggestion: One of the best things I have continued to use is a plastic milk jug filled with water with a nail pushed through the side near the bottom. This sits on the edge of a table and any time someone needs to wash their hands, they simply pull out the nail causing the water to flow. Replacing the nail stops the flow of water. A towel attached to the table is also handy!
29. You know all of those plastic Easter eggs you have left over? Why not stash them away in your camping gear and have a little scavenger hunt during your next trip? Fill the eggs with candy, small toys, or glow sticks!
30. Bring a friend. Children older than 4 tend to get bored with adults only. Let them bring a friend or camp with another family to give them playmates.
31. Check fire restrictions before you leave. The last thing you want is to find out those meals you planned cannot be cooked on an open flame. Hungry kids are never a fun experience.
32. Reader suggestion: My son takes a small lunchbox filled with little toys. It's filled with cars, figurines, kid meal toys, really anything stuck between the seats of the van! He tends to wake up first in the tent. We've told him that is his special box to play with on his bed. He'll sit there and play quietly for at least 20-30 min, allowing mommy and daddy to wake up slowly and relaxed.
33. Establish one location for essentials. We keep the hand washing station, tissues, flashlights, and snacks on the picnic table. That way they are all easy to find in a pinch.
34. Let the kids help. Have them help you collect firewood, find the best hiking trails, or gather skipping stones. Busy work keeps kids happy and fulfilled.
35. Give your kids a whistle. You might hate me for this at first, but listen… If your kiddo gets lost or turned around the best thing they can have is a whistle.
36. Remember to check the weather. Pack those coats if you thing you will need them! Rain boots will save your sanity as they stomp through the mud.
37. Reader Suggestion: Two things… for little ones put your camp space number on their hand in permanent marker so if they are lost they can be found!
38. Pack a treat for mom and dad. Seriously. If you love chocolate, wine, beer… Treat yourself.
39. Take notes! When you leave the trip make sure to note down items you forgot or ideas for the next trip.
40. Reader suggestion: We camp with three toddler grandchildren. We make sure to bring FOUR trikes so everyone gets a choice. I color coded the kiddos when they were babies. Now everyone knows which cup towel plate chair is theirs.
41. Reader suggestion: An automatic bubble machine (there's great ones for around $15 and can be used at home too) is great for entertaining kids. We had 18 months old to 7 year old kids and all of them had a blast with this for a good couple of hrs.
42. Let them have screen time while you unpack. Hand over your smart phone or tablet and let them watch their favorite show (preferably in the car). This allows you enough time to get the tent set up and everything organized without worrying about the kiddos.
43. Pack away the screens. Once you have everything set up ditch the screens. You are out there to spend quality time with your family. Don't let your devises take away from your fun!
44. Plan for naps. We always forget this one and inevitably end up on a hike or out on the lake at nap time. This leads to massive tantrums and meltdowns. Plan around their schedule and make sure they get the rest they need.
45. Keep them moving. Once you have the campsite set up, get them moving. The more they move the better they will sleep at the end of the day.
46. Remember the bug spray! It is the worst to have little ones covered in bug bites. The itch can ruin their day, and your night.
47. Reader suggestion: Glow sticks are the best!!!
48. Know your plants. Make sure no one gets into a not-so-great plant that will ruin your trip.
49. Reader suggestion: I was at a campground in the Sleeping Bear Dunes National Lakeshore (Michigan), and chuckled as a couple of moms and cousins had their own "parade." Each of them had some kind of toy or handmade instrument, and come early evening, they walked around one of the campground loops tooting their horns, strumming their drums, clanging their bells, etc. What a wonderful memory for the kids!
50. Have fun. 
The idea of heading into the great outdoors a smidge overwhelming? Try camping at home with some of these fun ideas.
Pin for later:
I try to update this list periodically with other great tips and tricks. If YOU have an idea that is great and should be added, leave it in the comments below!
Like this post? You will love my post 30 Camping Tin Foil Dinners, 45 Easy Camping Recipes, and More Camping with Toddlers Tips and Tricks