This post was updated on by Jesseca
This is the Best Ever Chocolate Cake. Seriously.
Alrighty. I've got some good news and I've got some bad news. Which would you like first?
How about the good? I think 2017 is my year. I've got a clear path on what I want to do with this little bitty blog of mine and it includes a lot of good. Like this cake. Which brings me to the bad. I'm here today to ruin your New Years resolutions (if they include a diet).
This cake is BOMB. Er, is that what the kids are saying now? No? How about delicious? A-FREAKEN-MAZING? Basically it is the best chocolate cake I have ever had. Ever. In my entire life.
Which is saying a lot since I actually don't really care for chocolate.
This little baby came around one day when I got the baking bug after watching "Because I said so." That movie is seriously a little hidden gem of wonderful. I'm on a huge Mandy Moore kick ever since This is Us started (uh, BEST show ever) and always seem to find myself reaching for that romantic comedy.Diane Keaton and Mandy Moore make the absolute best mother daughter duo and huge bonus? It's got Lauren Graham!!! Please tell me there are some Gilmore Girl fans out there reading???
Any-who, they own a bakery and at some point in the movie they share a tangerine cake. Tange-freaken-rine. Can you even imagine what a slice of that would taste like? I'd assume something like citrus heaven but after a quick vote my two boys slammed the idea and opted for chocolate.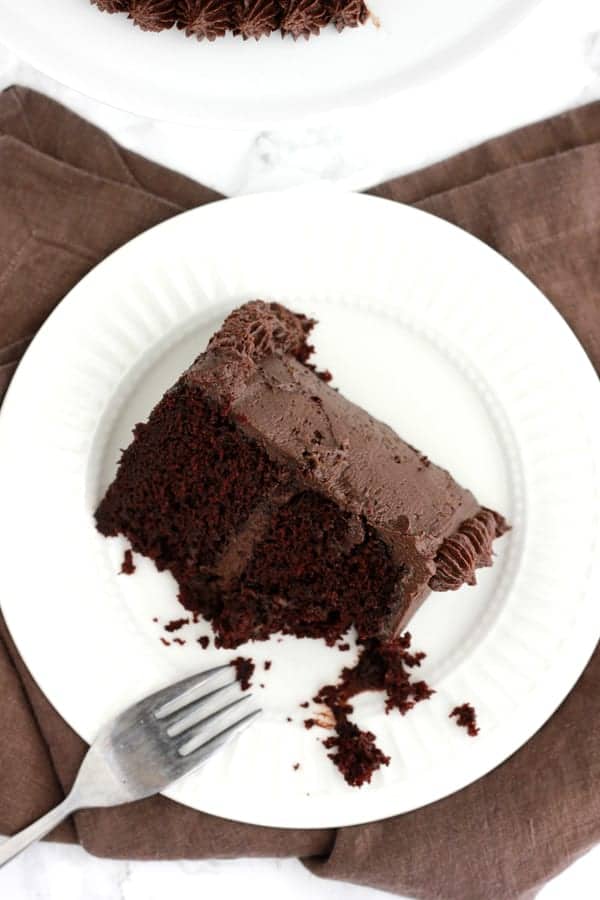 I can't complain. I started with the basic recipe on the back of the Hershey's can, altered it just a bit, added some amazing buttercream and the result is a rich moist cake perfect for every occasion.
Best Ever Chocolate Cake
Ingredients
2

cups

granulated sugar

1-3/4

cup

all-purpose flour

1

cup

good quality cocoa

1-1/2

tsp

baking powder

1-1/2

tsp

baking soda

1

tsp

salt

2

large

eggs

1

cup

whole milk

1/2

cup

oil

1

Tbsp

pure vanilla extract

1

cup

fresh brewed coffee

your favorite chocolate frosting
Instructions
Preheat the oven to 350 degrees. Grease 2- 9" cake pans and set aside.

Combine the sugar, flour, cocoa, baking powder, baking soda, and salt in a large bowl. Whisk to combine.

Add the eggs, milk, oil, and vanilla to a large measuring cup. Stir with a fork and mix into your dry ingredients until just combined. Fold in the coffee.

Divide your batter between your two prepared pans and bake 30 minutes or until a toothpick comes out clean.

Cool completely, frost, and enjoy!
You might like:
This post may contain affiliate links. I include these links to help you find specific products that are used in my recipes. If you purchase an item from the link on One Sweet Appetite, I will receive a small commission helping keep my recipes free for you.
One Sweet Appetite is a participant in the Amazon Services LLC Associates Program, an affiliate advertising program designed to provide a means for sites to earn advertising fees by advertising and linking to amazon.com
(Visited 1,506 times, 1 visits today)
9