These Easy Cilantro Lime Chicken Skewers are tender, flavor packed, and a delicious way to grill chicken. Made with fresh lime juice, cilantro, and a touch of honey for a family approved dinner recipe.
Make it a meal! We like to serve these chicken kabobs with Pasta Salad, Cucumber Greek Salad and even Cheesy Potato Casserole!
RECIPE FEATURES
Easy: This is what I like to consider a beginner grilling recipe. The hardest part is remembering to soak the skewers.
Adaptable: Add your favorite veggies, adjust the seasonings, or even add fruit (pineapple)!
Summer Staple: All honesty, this is a summer staple. I like that I don't have to turn on the oven and everyone loves how tender these turn out.
I am ready for grilling season. It's one of my favorite times of year. I get deliciously grilled food every day, the oven stays off which keeps our home cool, and everyone is happy with whatever I decide to make.
Skewers, or kabobs, are always a hit. They are incredibly convenient, can be made in advance, and the flavor is always 100. The chicken marinades for a few hours, which leaves you with the most incredibly moist and tender chicken and it takes little prep. Win win.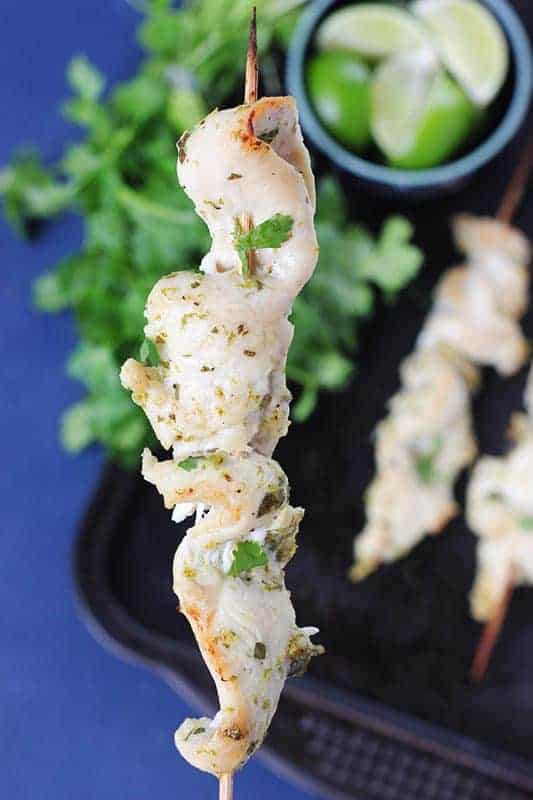 WHAT YOU NEED TO MAKE CHICKEN SKEWERS
Chicken: We use breasts most of the time, mainly because it is my husbands preference. However, I really enjoy this recipe with thighs. If you're a fan of dark meat be sure to give that cut a try.
Oil: Avocado oil is what we always have on hand and it works well in this recipe. That being said, Olive oil or vegetable oil will work too. Be sure to use an oil variety that does not have too bold of a flavor so it won't overtake the chicken.
Lime: FRESH is best. It may be tempting to use bottled juice, but trust me when I say a fresh squeezed lime will make all the difference. It also helps to tenderize the chicken as it marinades.
Cilantro: Fresh cilantro adds a freshness that pairs amazingly well with the lime. I'm not even a big cilantro fan and I love these skewers.
Honey: Honey adds a touch of sweetness, which tones down the citrus.
Salt and Pepper
HOW TO GRILL CILANTRO LIME CHICKEN SKEWERS
Slice your chicken breast in half lengthwise. Pound each piece thin to get that street food flavor you know and love.
Soak wooden skewers in water for 2-4 hours before adding your meat. This keeps them from burning on the grill.
Remember, it's the perfect way to sneak in veggies! Add your favorite vegetables to the skewers with the chicken for a complete meal.
Try serving these with homemade guacamole and salsa for a quick taco inspired meal!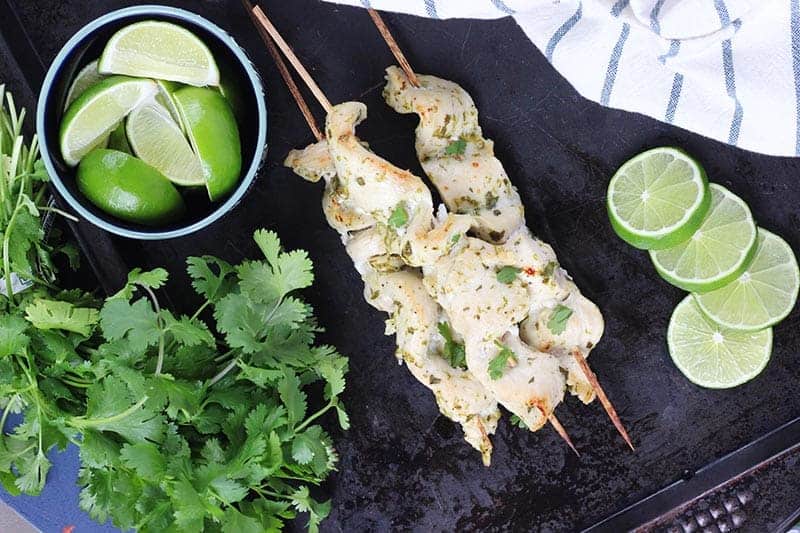 HELPFUL TOOLS
Grill: Ok, this one may seem pretty obvious. We have a smoker and a gas grill, but I LOVE my indoor smokeless grill (affiliate). It's small enough to fit in my cupboard but large enough to whip up a meal in no time.
Skewers: Wooden skewers (affiliate) are relatively inexpensive. You can find a set of 100 for around $6. Just be sure to soak them in water to avoid them burning on the grill.
Tongs: You don't want to reach your hand across the hot grill to turn or pick up your kabobs. Tongs (affiliate) will come a long way in helping with the cooking process.
MORE MUST-TRY GRILLING RECIPES
Still Hungry? Follow One Sweet Appetite on Instagram, Pinterest, and Facebook!
Cilantro Lime Skewers
These Easy Cilantro Lime Chicken Skewers are tender, flavor packed, and a delicious way to grill chicken. Made with fresh lime juice, cilantro, and a touch of honey for a family approved dinner recipe.
Ingredients
4 chicken breasts sliced in half lengthwise
1 tablespoon Olive Oil
1 tablespoon lime zest
1/4 cup lime juice
1/4 cup Cilantro Chopped
1 tablespoon Honey
1/2 teaspoon Salt
1/4 teaspoon Pepper
Instructions
Combine all ingredients in a large container or Ziploc bag. Allow to chill 1-4 hours.

Preheat your grill on medium high heat.

String your chicken onto prepared skewer sticks. Pat dry with a paper towel and spray with Pompeian Organic Extra Virgin Olive Oil Spray.

Lightly spray or brush oil onto your grill grates. Place chicken skewers on the grill. Grill for a few minutes on each side until cooked through.
Nutrition
Serving: 1Servings | Calories: 166kcal | Carbohydrates: 4g | Protein: 25g | Fat: 5g | Saturated Fat: 1g | Polyunsaturated Fat: 3g | Cholesterol: 68mg | Sodium: 236mg | Sugar: 3g
Reader Interactions