This Easy Apple Crisp is a great way to bring a little fall into your desserts!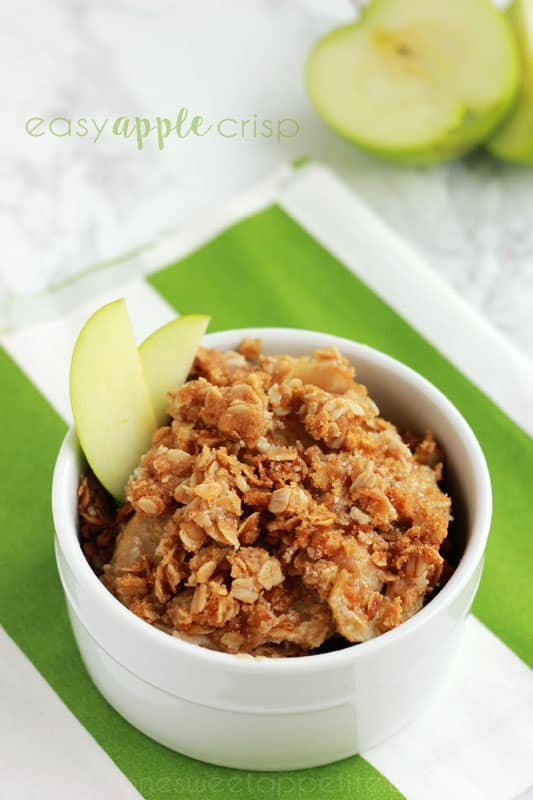 Can we take a second to talk about apples? Lately I've been diving more and more into adding them into my diet. I love that there are sooooo many varieties and each one has it's own unique flavor. Some are sweet and some are tart but each one has a specific flavor profile and each is good for a different type of recipe. I'm going to quickly run down the list of the most popular to help give you an idea of which one to grab at the store.
Red Delicious: This variety is a deep red in color and the one most people gravitate towards. If ripe they tend to have a very sweet flavor and are not recommended for baking.
Fuji: These are the apple (unless Pink Ladies are in season) that you will find in our kitchen about 90% of the time. My son loves the green, yellow, and red blend of colors on the outside and I love the sweet flavor you get on the inside. This variety is extra juicy which doesn't make them ideal for baking but does make them perfect for eating fresh, on a salad, or in an applesauce.
Gala: Close to the Fuji these apples are great to eat fresh, in a salad, or juiced!
Granny Smith: We all know this one, right? Bright green in color and very tart. Believe it or not this variety is perfect for baking, dipping, or in a salad with a super sweet dressing (think strawberry champagne vinaigrette!). If you have these on hand and no one seems to be eating them you can try dipping them in a little caramel or peanut butter. Easy way to take the tartness down a notch and you'll watch them vanish before your eyes.
The 4 I talked about above are only the tip of the iceberg. There are a whopping 7,500 different varieties of apples that are grown around the world but you will only see about 15 of those in the store. Insane, right? Today we are working with granny smith. This easy apple crisp is extremely sweet so I used the baking apple to help cut down on the sugary taste and balance out the flavors. So when you head to the store make sure you stock up because this is a recipe you'll be making throughout the fall!

Like this recipe? You will love my:
Easy Apple Crisp
Prep Time: 20 minutes Cook Time: 45 minutes Yield: 6 servings
Ingredients
1/2 cup sugar
1-1/2 cups flour
1/2 teaspoon cinnamon
1/8 teaspoon nutmeg
5 cups granny smith apples, sliced*
1 cup quick oats
3/4 cup brown sugar
1/4 teaspoon baking powder
1/4 teaspoon baking soda
1/2 cup butter, melted
Instructions
Preheat your oven to 350 degrees. Prep a 9x9 inch pan by lightly misting with cooking spray.
In a large bowl combine the flour, cinnamon, and nutmeg. Toss the apples in the mixture and pour it all into your prepared pan.
In a separate bowl stir together the oats, brown sugar, baking powder, and soda. Stir in the butter until a crumble texture is achieved. Sprinkle evenly over your apple crisp.
Bake 45 minutes and enjoy!
*I didn't peel the apples before but think I will in the future. The crisp was still delicious but the skins made it slightly chewy.
*I didn't peel the apples before but think I will in the future. The crisp was still delicious but the skins made it slightly chewy.