Prepare to be whisked away on a frosty adventure of flavor with our enchanting Frozen Butterbeer recipe! A concoction so magical it would make even the most seasoned wizards trade in their wands for a sip. Picture this: creamy butterscotch meets a blizzard of icy delight, swirling together in a dance of deliciousness that'll leave your taste buds spellbound. Whether you're a Muggle looking for a taste of the wizarding world or a true witch or wizard in need of a frosty fix, this frozen delight will have you feeling like you're right in the Three Broomsticks.
Looking for even more Harry Potter inspired recipes? Try my Hot Butterbeer Recipe, Two Ingredient Butterbeer Fudge, and Harry Potter Butterbeer Cupcakes!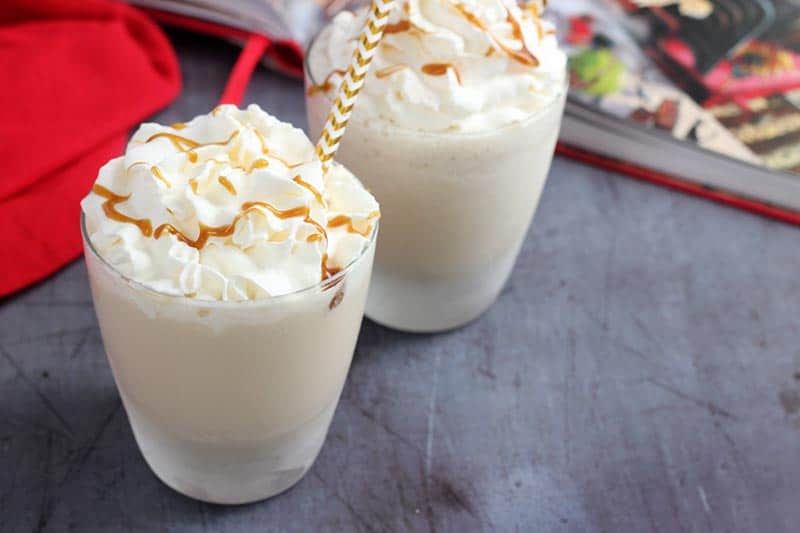 Why You'll Love This Harry Potter Recipe
Easy: This recipe was surprisingly simple to make. With a little prep ahead of time you can have a batch whipped up in no time!
Perfect Copycat: This tastes almost exactly like the version at the Wizarding World! No need to travel to a theme park to enjoy this frozen treat!
4 Ingredients: You only need four very simple ingredients to whip this up!
A few years ago we planned a trip to Harry Potter World. I can honestly say, it was the best family trip we have ever taken. All of us agreed, and that is really saying something since my husband is not a fan of the Potter series. Of course, while we were there we had to drink about a million butterbeer drinks. The frozen version was by far our favorite.

This homemade version tastes so similar to the one we had in the park! It was like taking a trip down memory lane with every sip. Butterscotch sauce is blended with vanilla bean ice cream and topped with a little cream soda. The flavor is unbeatable!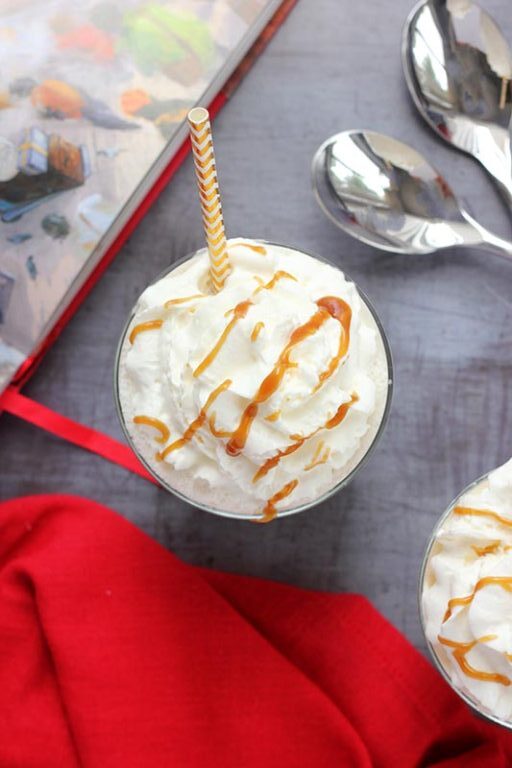 Frozen Butterbeer Ingredients:
We have tried a dozen different versions of this recipe. This one was honestly perfect and super simple. The ingredient list is short and the flavor is bold. Be sure to use quality ingredients for the best results.
Vanilla Bean Ice Cream: I recommend using a high quality ice cream, like Tillamook. This is where a lot of the creamy goodness will come from.
Butterscotch Syrup: I have a great homemade version, or you can find this by the ice cream in the grocery store.
Cream Soda: One bottle is what you will need. Preferably chilled.
Ice: OR, for the best flavor, frozen cream soda! I pour a bottle into an ice cube tray and freeze the day before.
Whipped Cream: Optional, but super fun to top the drink with!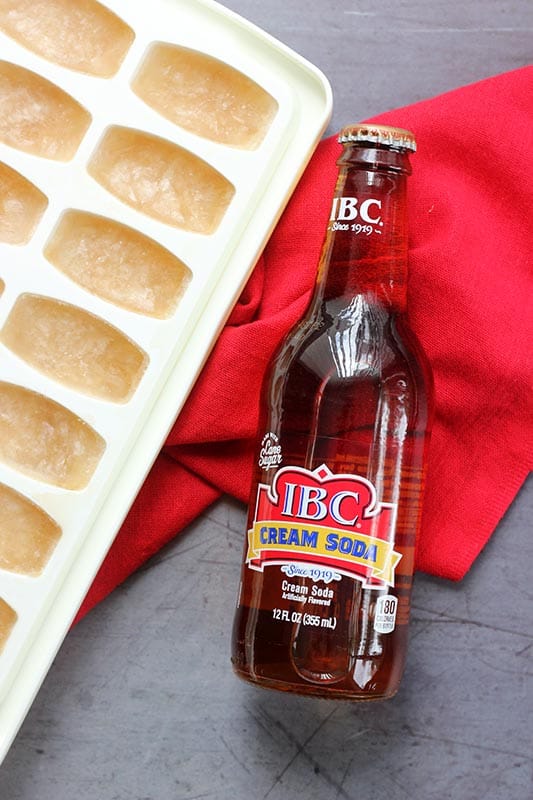 How to make Harry Potter Butterbeer:
Ready for the easiest butterbeer shake of all time? It really is almost as simple as pour and blend!
MEASURE: Measure all of the ingredients into a blender.
BLEND: Pulse and blend 30 seconds to 1 minute, or until milkshake consistency.
ENJOY: Divide between two glasses, top with whipped cream and a drizzle of butterscotch sauce, and enjoy!
Helpful Tools
Blender: I love my blendtec (affiliate), but we tested this with a basic blender (affiliate) that was a smidge more affordable and it worked just as well.
Liquid Measuring Cups: A good set of measuring cups (affiliate) is actually a key piece of equipment for any kitchen. This is the set that I have and it has lasted me more than 15 years.
Silicone Spatulas: If I can only recommend one kitchen tool, it would be a set of silicone spatulas (affiliate). These are so versatile and used daily in our kitchen. Great for baking AND cooking.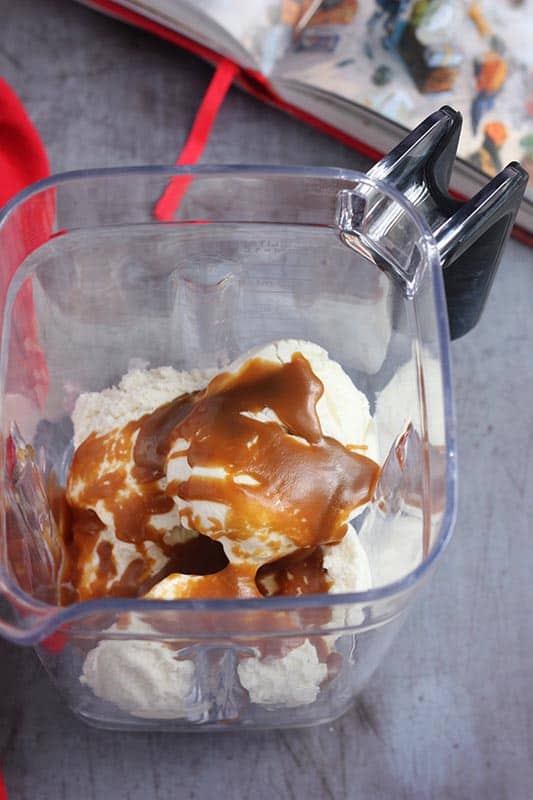 Recipe Notes:
Is Frozen Butterbeer alcoholic?
Not necessarily! This recipe is alcohol-free, making it suitable for all ages. However, if you wish to add a kick of adult magic, feel free to incorporate a splash of your favorite spirit.
Can I use store-bought butterscotch syrup?
Absolutely! If you don't have the time to make your own butterscotch sauce, store-bought butterscotch syrup works just as well in this recipe.
Can I adjust the sweetness level of Frozen Butterbeer?
Of course! The sweetness can be adjusted to your taste. If you prefer it sweeter, add a little more butterscotch sauce or sweetener of your choice. Conversely, if you like it less sweet, reduce the amount of sweetener.
Can I make Frozen Butterbeer ahead of time?
While the best texture is achieved when served immediately after blending, you can make the base mixture ahead of time and store it in the freezer. When ready to serve, blend it again to achieve the desired slushy consistency.
How can I add a frothy topping like in the Wizarding World?
To recreate the frothy topping, whip some heavy cream until stiff peaks form. For a vegan alternative, use coconut cream. Dollop the whipped cream on top of your Frozen Butterbeer, and you'll have that authentic look.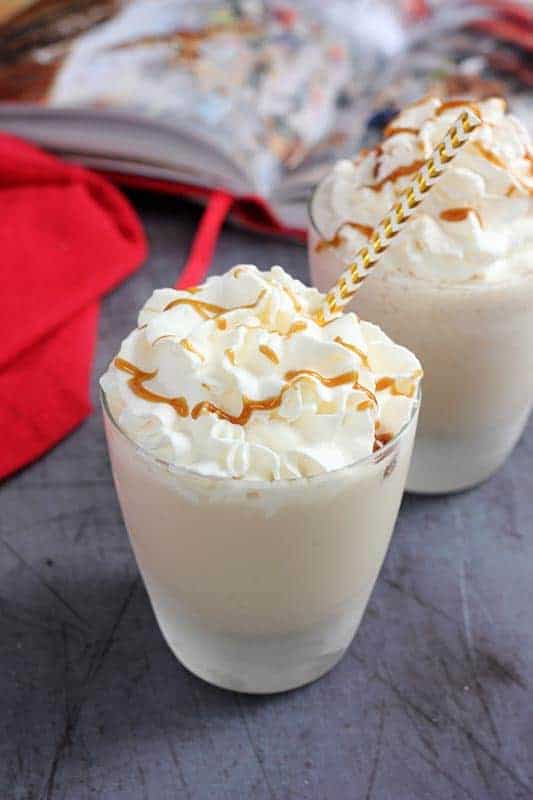 More Harry Potter Recipes
Still Hungry? Follow One Sweet Appetite on Instagram, Pinterest, and Facebook!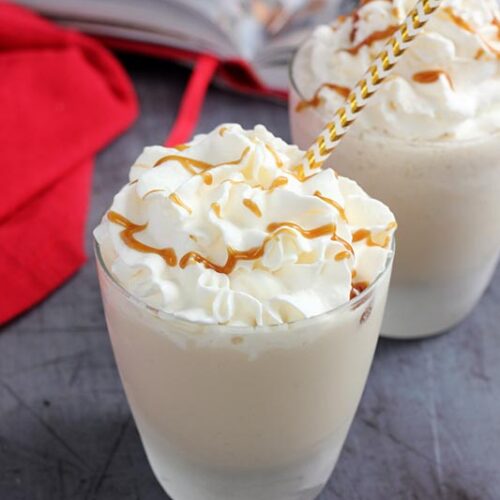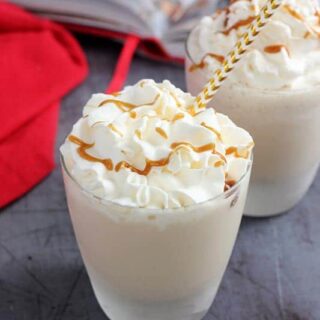 Harry Potter Frozen Butterbeer Recipe
This Frozen Butterbeer Recipe will transport you straight to the Three Broomsticks! Inspired by the frozen drink in Harry Potter!
Ingredients
2 cups vanilla bean ice cream
3 tablespoons butterscotch syrup
3/4 cup cream soda chilled
1/4 cup cream soda ice*
whipped cream + additional syrup for serving
Instructions
Place all of the ingredients into a blender.

Blend 30 seconds to 1 minute, or until milkshake consistency.

Divide between two glasses, top with whipped cream and a drizzle of butterscotch sauce, and enjoy!
Notes
Chill all of the ingredients. Having cold soda and syrup will make this get to the perfect frosty consistency.
In fact, chill your glasses too! Not required, but it adds a great finishing touch.
Try making your own butterscotch syrup. I have a recipe on my site. It can make all the difference.
Instead of using ice, freeze cream soda in an ice cube tray.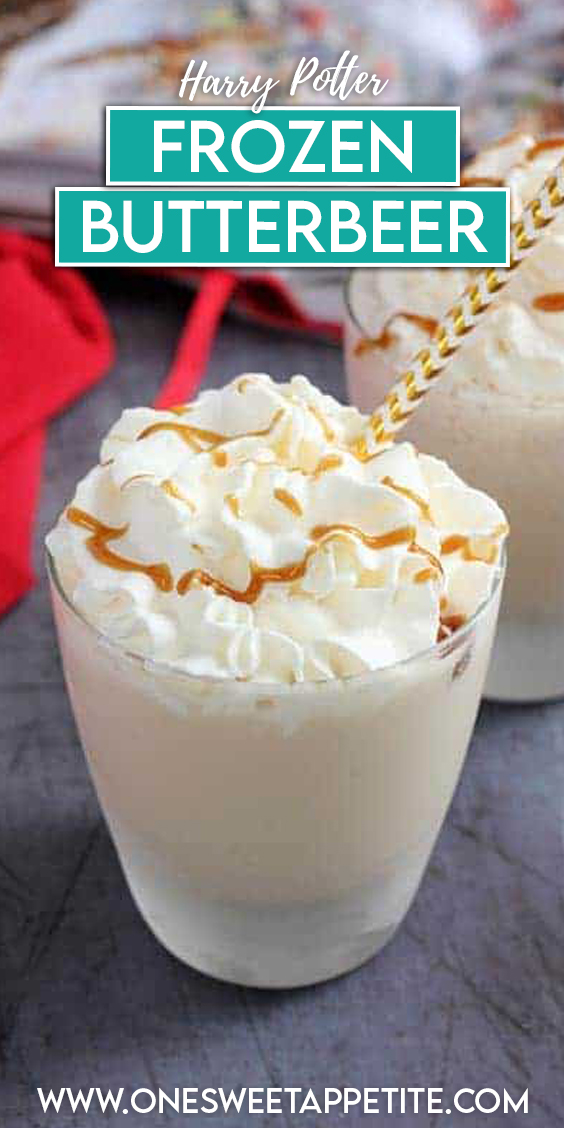 Reader Interactions