These Butterbeer Cookies are filled with sweet butterscotch and vanilla flavor. Soft and chewy center with a golden outside, these Harry Potter inspired cookies are perfect for any witch or wizard!
Looking for more Harry Potter inspired recipes? Be sure to try my Frozen Butterbeer and 2-Ingredient Butterbeer fudge!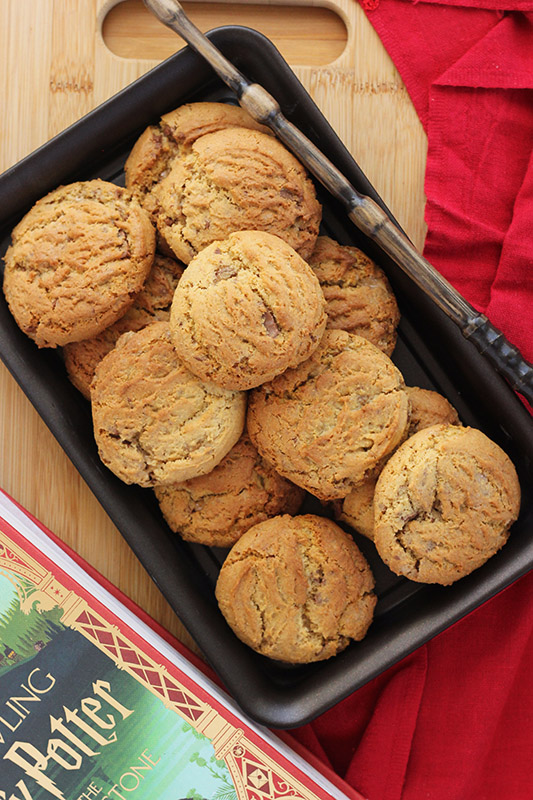 RECIPE FEATURES
Freezer Friendly: Freeze the dough or baked cookies for a long lasting treat!
Soft and Chewy: Nothing wins me over quite like a soft and chewy cookie recipe.
Perfect Wizard Recipe: Serve these for movie night OR as a treat that any witch, wizard, or muggle will love.
I share so many Harry Potter inspired recipes and party ideas, but these cookies are landing firmly in my top three favorites. These would definitely be served on the trolley as students traveled the Hogwarts express on their way to school. Filled with a delicious vanilla and butterscotch flavor, sprinkled with toffee pieces, and baked to a golden perfection. You will fall in love with these cookies and watch them disappear in no time!
BUTTERBEER COOKIES WITH PUDDING
If you've never had the experience of sipping an ice cold butterbeer at Harry Potter World, you're in for a real treat once you do. Butterbeer is a staple flavor throughout the books and movies that is absolutely delightful. Filled with the classic flavor of vanilla that is swirled with rich butterscotch. It is delicious. To match that flavor in cookie form I combined a few of my favorite baking ingredients:
Butter: The base to all cookies! Butter is the fat needed to give you a moist cookie that fluffs to perfection.
Brown Sugar: The rich molasses flavor that comes with brown sugar is the perfect compliment to the butterscotch flavor.
Butterscotch Pudding Mix: This one has been a bit tricky to find in store. IF you can't find it, you can use vanilla pudding in its place. I have tested both instant and cook and serve. Instant butterscotch pudding (affiliate) works best. Do not mix in the ingredients called on the box. You want dry mix.
Eggs: Large eggs, plus the addition of one egg yolk. The extra add in gives you a slightly puffier, cake-like cookie. If you'd prefer something a little less cakey, skip the added yolk.
Extracts: BOTH vanilla extract as well as butter extract. This helps to achieve that beautiful blend of flavor.
Flour: All-purpose flour is what I have tested and know works well.
Baking Soda: Be sure to double check the expiration date of your baking soda. If it has been open for longer than 6 months, I suggest swapping it out for a new box.
Toffee Chips: Also known as Toffee Bits (affiliate), you can find these in the baking aisle of most grocers or online through amazon.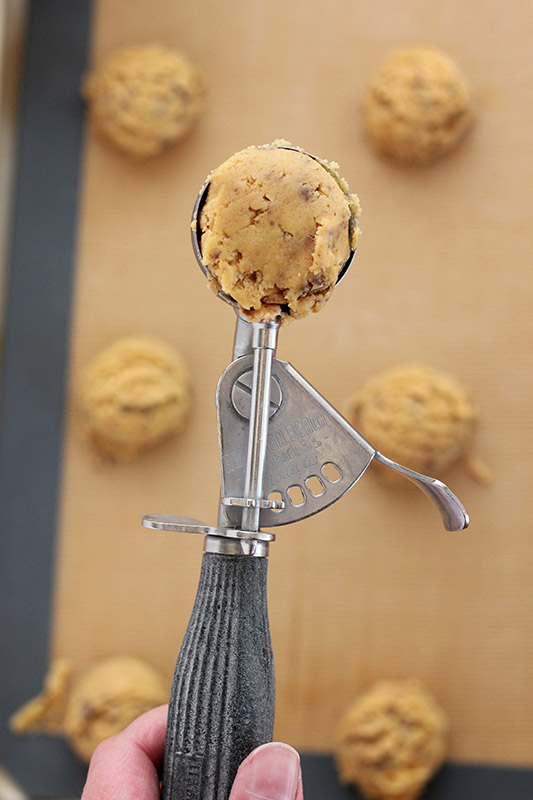 BUTTERBEER COOKIES RECIPE
PREP: Preheat the oven to 350 degrees. Optionally, line two baking trays with parchment paper or silicone mats for easy cleanup.
MIX: Make the dough by whisking the butter and sugar together until light and fluffy, about 2 minutes. Add the eggs, vanilla, and both extracts. In a separate bowl, whisk together the flour, dry pudding mix, and baking soda. Stir into the butter mixture until the dough forms and starts to pull from the side of the bowl. Fold in the chips until incorporated into the dough.
BAKE: Scoop 1-2 tablespoon sized cookie dough balls from the batter. Roll for a clean look, or plop right down onto the tray for a more homemade vibe. Bake 9-10 minutes, or just until the edges begin to brown.
HELPFUL TOOLS
Cookie Scoop: A quality cookie scoop (affiliate) is an amazing addition to your baking supplies. Each cookie comes out the same size every single time.
Baking Trays: I am a big fan of my Nordic Ware pans (affiliate). I have both the half sheet and full pan sizes and they are amazingly easy to clean.
Silicone Baking Mats: Parchment paper is king in my kitchen, but only when both of my silicone baking mats (affiliate) are dirty. They are SO great for so many things and worth the $13 for a set of 3.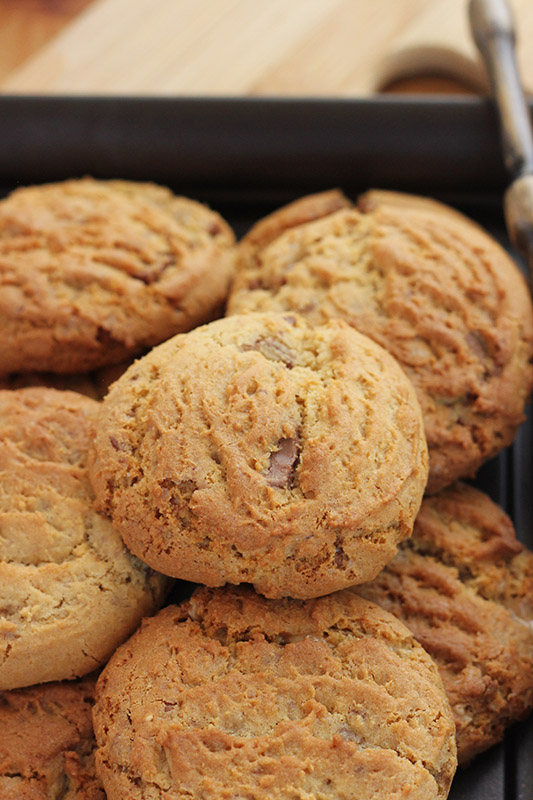 RECIPE TIPS AND FAQS
What do butterbeer cookies taste like?
These simple butterbeer cookies taste like a combination of vanilla and butterscotch! Light and fluffy with a moist and chewy center.
Can you use butterscotch chips in this recipe?
Yes! I use the toffee bits because I had them on hand and they add just a delightful pop of flavor. However, butterscotch chips are a great substitution.
How do you freeze cookies?
I have a post dedicated to freezing cookie dough! It has a full breakdown of how to with extra tips and tricks. For this recipe, I recommend rolling the dough into balls and flash freezing on a cookie sheet for 20 minutes. From there, place the dough balls into a freezer bag and label. When ready to bake, place on a baking tray and follow the cooking instructions inside the recipe card.
How long do these cookies last?
These cookies will last up to 5 days if stored inside an airtight container at room temperature.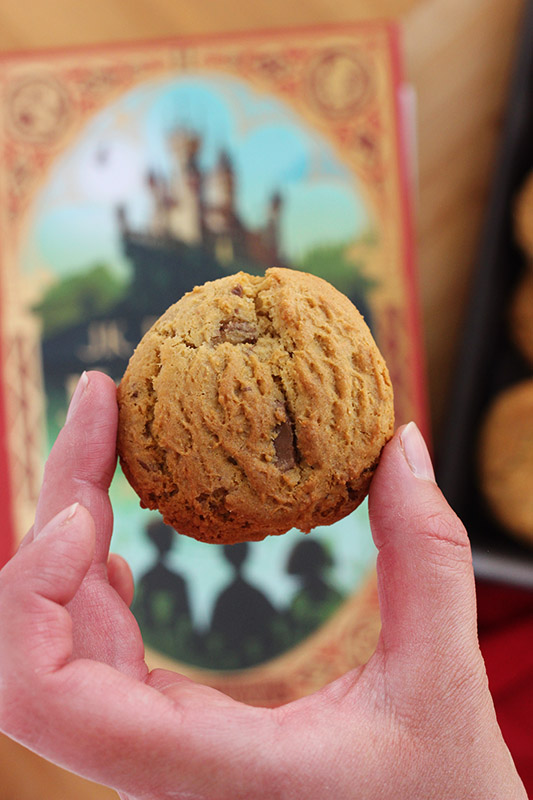 MORE MUST-TRY HARRY POTTER PARTY IDEAS
Still Hungry? Follow One Sweet Appetite on Instagram, Pinterest, and Facebook!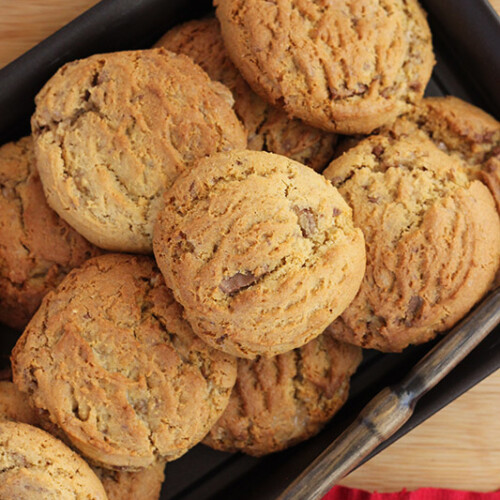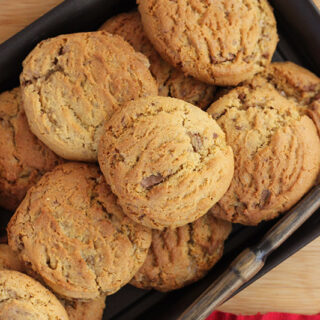 Harry Potter Butterbeer Cookies
These Butterbeer Cookies are filled with sweet butterscotch and vanilla flavor. Soft and chewy center with a golden outside, these Harry Potter inspired cookies are perfect for any witch or wizard!
Ingredients
3/4 cup 12 tablespoons butter, softened
3/4 cup brown sugar
2 large eggs + 1 egg yolk
1 teaspoon vanilla extract
1 teaspoon butter extract
2-1/3 cup all-purpose flour
1 3.4oz Box Butterscotch Pudding dry mix, instant
1 teaspoon baking soda
1-1/2 cups toffee bits OR butterscotch chips
Instructions
Preheat the oven to 350 degrees. Line two baking trays with parchment or silicone baking mats and set aside.

Combine the butter and brown sugar in the bowl of an electric mixer. Beat with the paddle attachment until light and fluffy, about 2 minutes.

Scrape the sides of the bowl and add the eggs and egg yolk. Stir to incorporate fully and then add the vanilla and butter extract.

Whisk the flour, dry pudding mix, and baking soda in a large measuring cup or mixing bowl. Stir into the butter mixture until a dough forms, about 1 to 2 minutes.

Fold in the toffee bits.

Scoop 2 tablespoons of dough, roll, and place on a baking tray. Repeat with the remaining dough, placing 2 inches apart.

Bake 8-10 minutes, or until the edges begin to curl and lightly brown.
Notes
No butterscotch pudding mix? No problem. Try using vanilla pudding instead.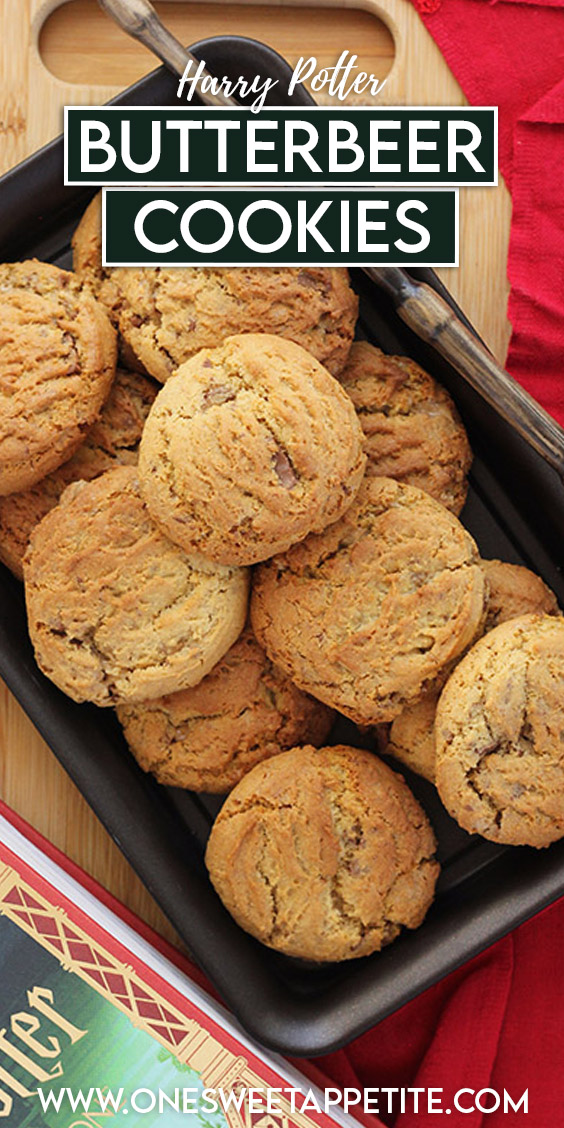 Reader Interactions