This super fun Harry Potter Photo Booth costs $20 and is easy to customize! SO fun and perfect for any Harry Potter Party!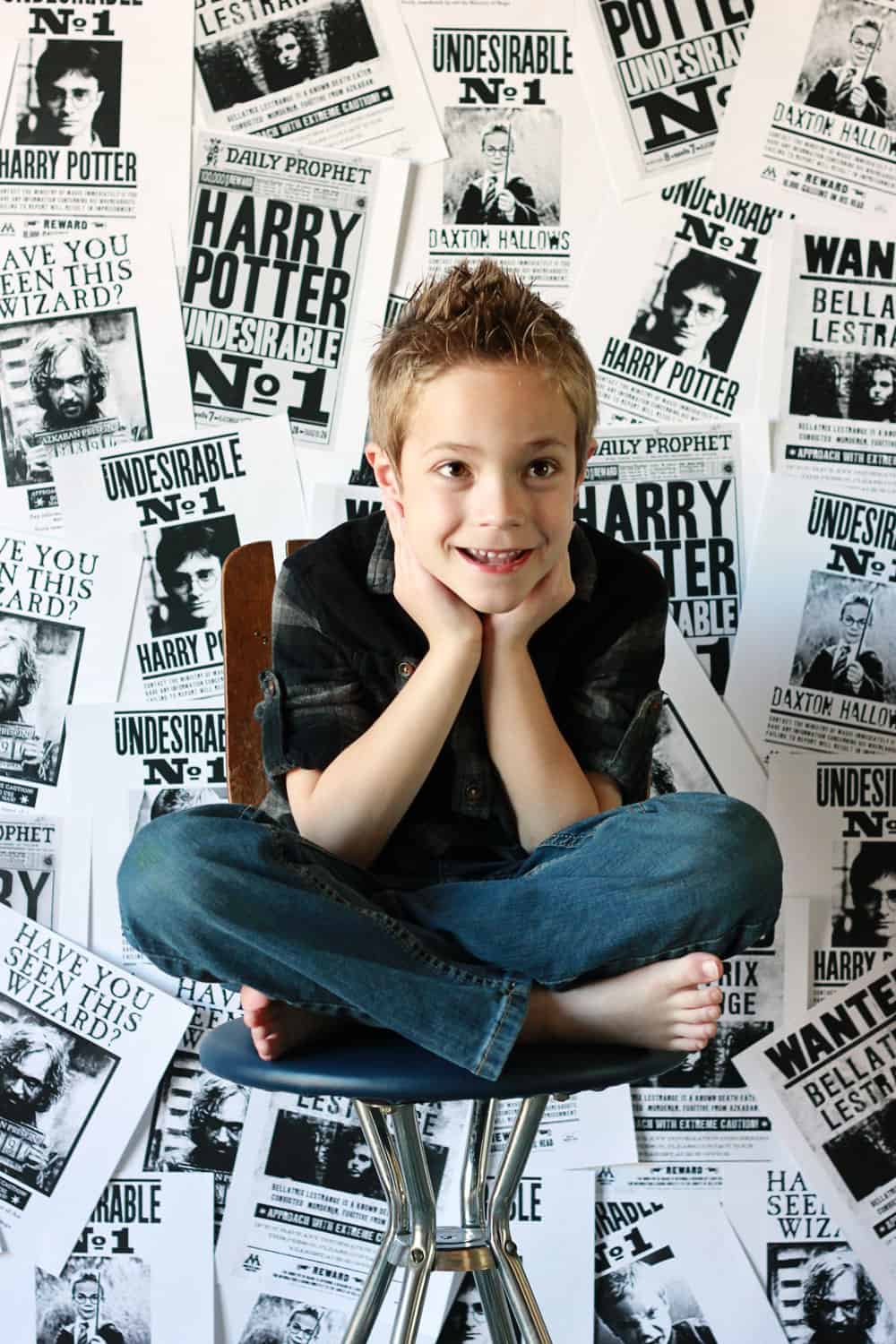 Over the weekend I threw a freaken awesome Harry Potter birthday party for this adorable seven year old.
We happen to be HUGE fans and when he told me this was the theme he wanted to roll with I jumped at the opportunity.
By far this Harry Potter Photo Booth was our favorite piece of the epic celebration!

How to make a Harry Potter Photo Booth for $20:
This idea popped into my head when we were watching on of the Deathly Hallows movies.
Harry, Hermione, and Ron were running through the Ministry of Magic and to help in their escape Harry sent a stack of Undesirable No 1 posters into the air and the face of their chaser.
I thought the basic black and white would create a wonderful base to start with and I could add in some house colors.
After a quick search on the internet I found some posters and was off to the printers. *Note: the posters we originally used for this party are no longer available.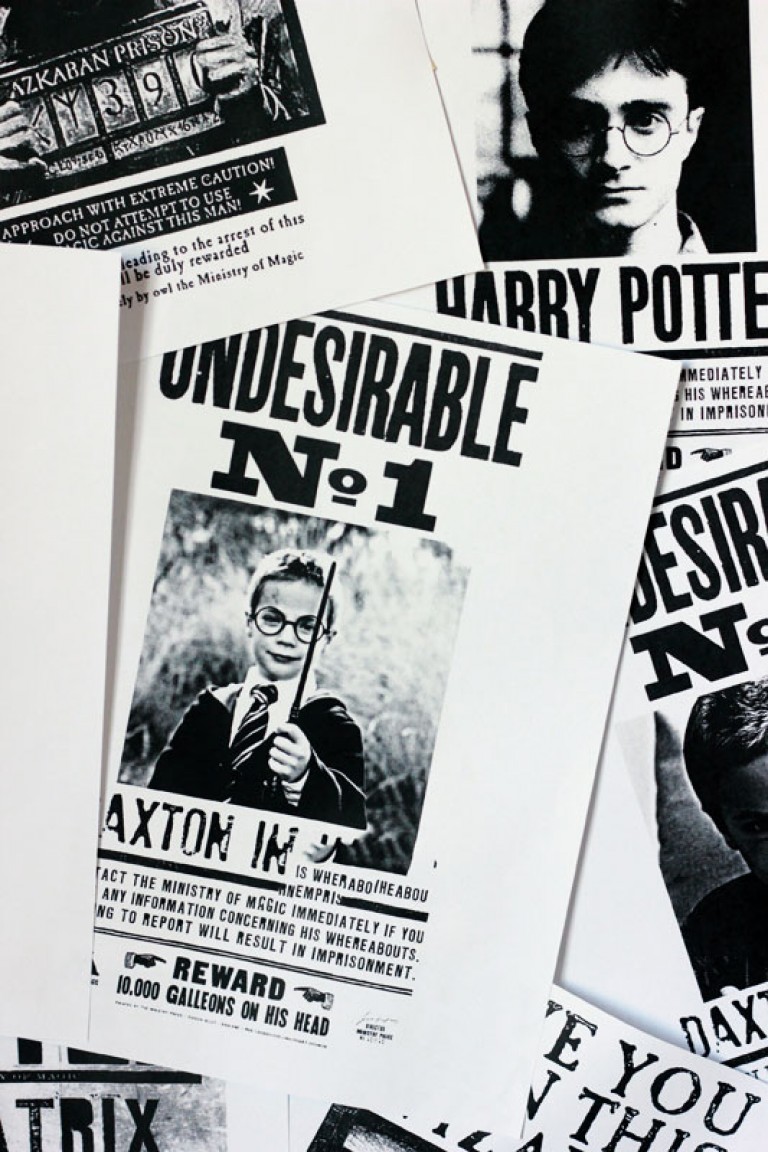 I really wanted to incorporate the birthday boy.
After looking through my archives, I found a few pictures from our last Halloween, he happened to be Harry Potter, and copied them over one of the basic designs.
Painters tape helped to stick the posters up on a wall in random angles without damaging the paint…
And just like that you have got an amazing start to a kick butt backdrop!
All together I spent $5 on prints and tape.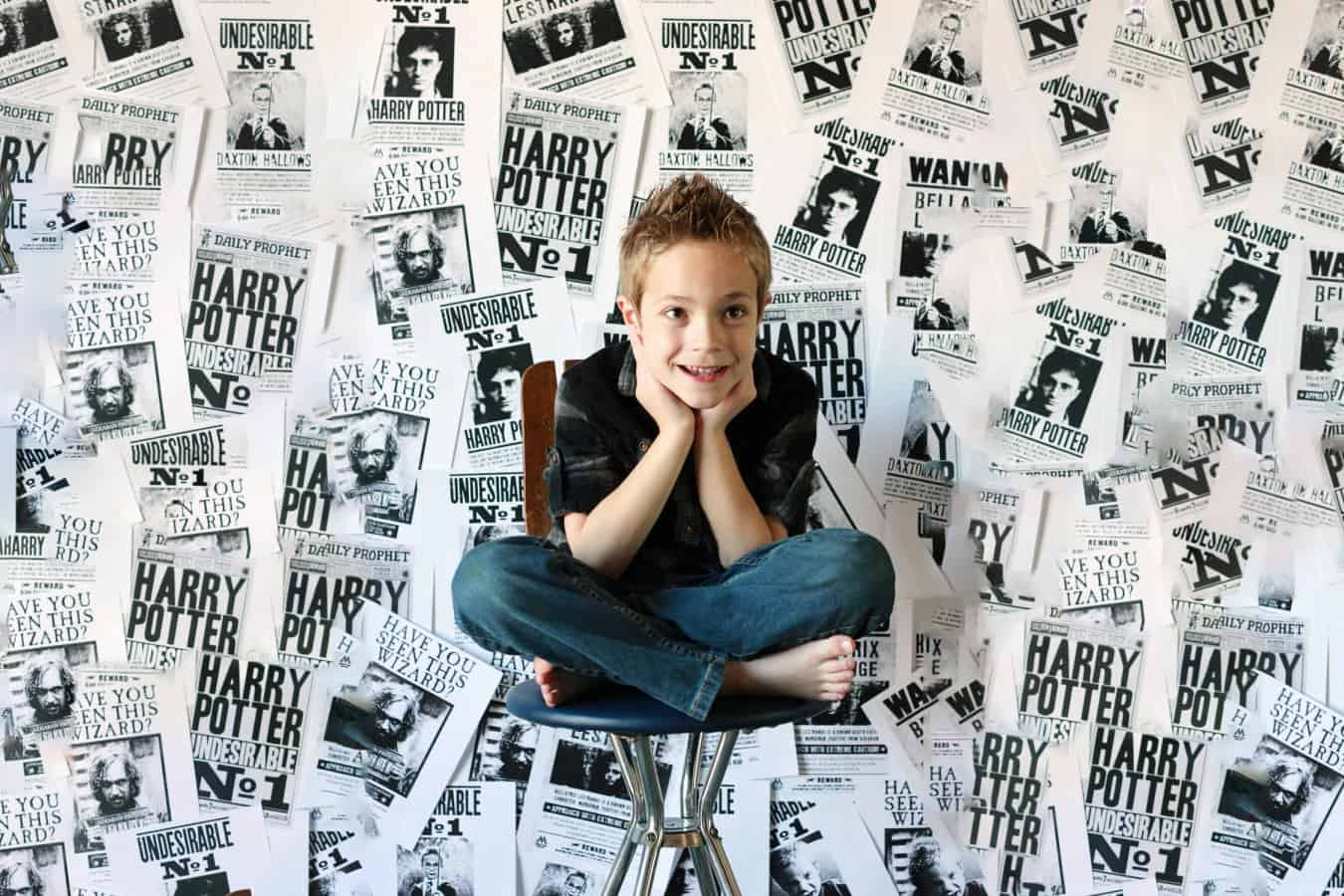 The best props for a Harry Potter Photo Booth:
To stick with the theme I had to create a "Have you seen this wizard" prop.
The ones I found online were white with black writing.
Since the backdrop we created was was mostly white, I thought it would be fun to create an inverted version with white being the text and black as the poster.
I used a Harry Potter font found at Creative Market and my cricut to create the wording.
All you need to do from there is cut out a square for the kids to stick their head through.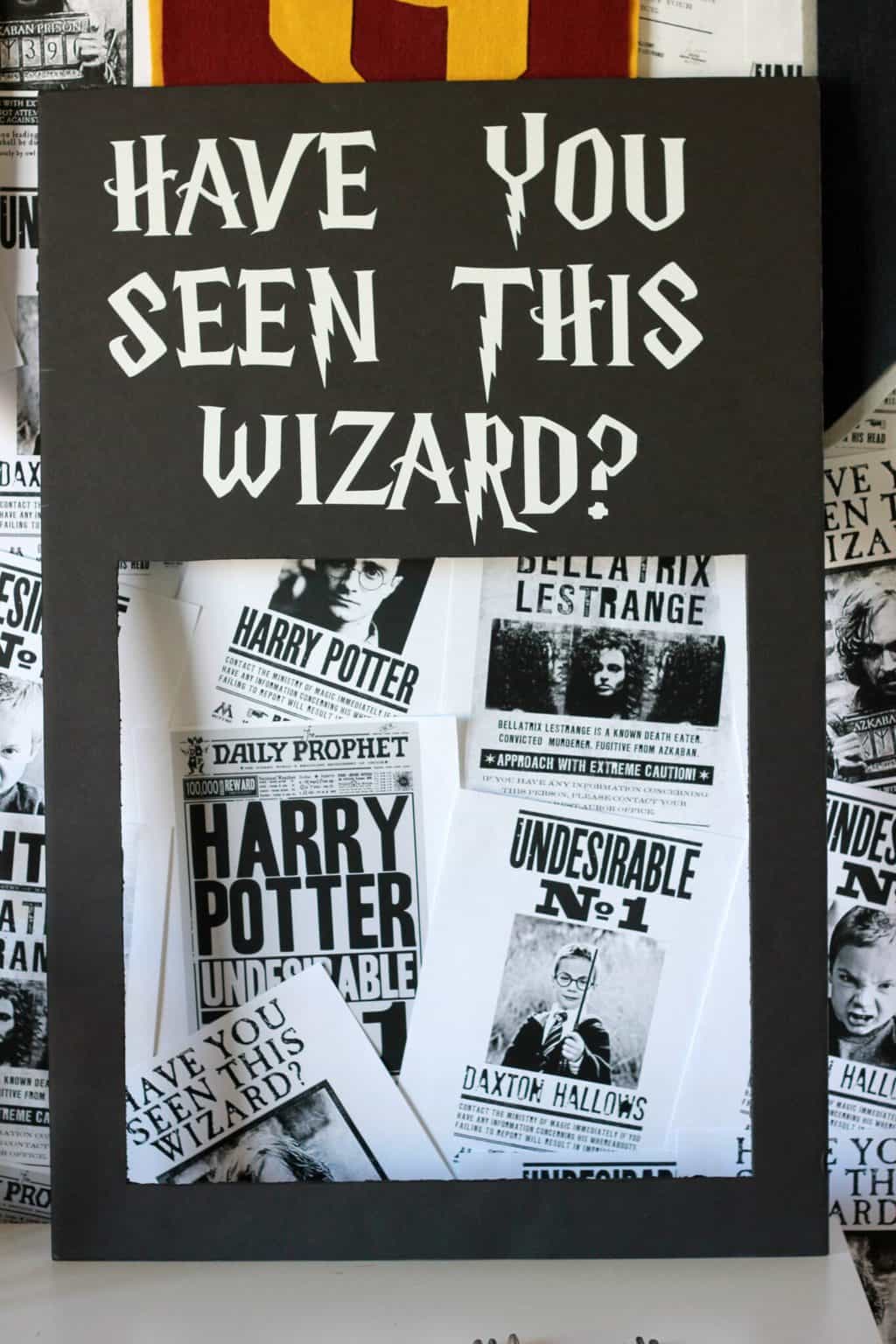 We also had DIY felt house ties, balloons in the house colors, and homemade wands for the kids to pick from.
NEW! I have a step by step tutorial to make the most amazing DIY Harry Potter Wands!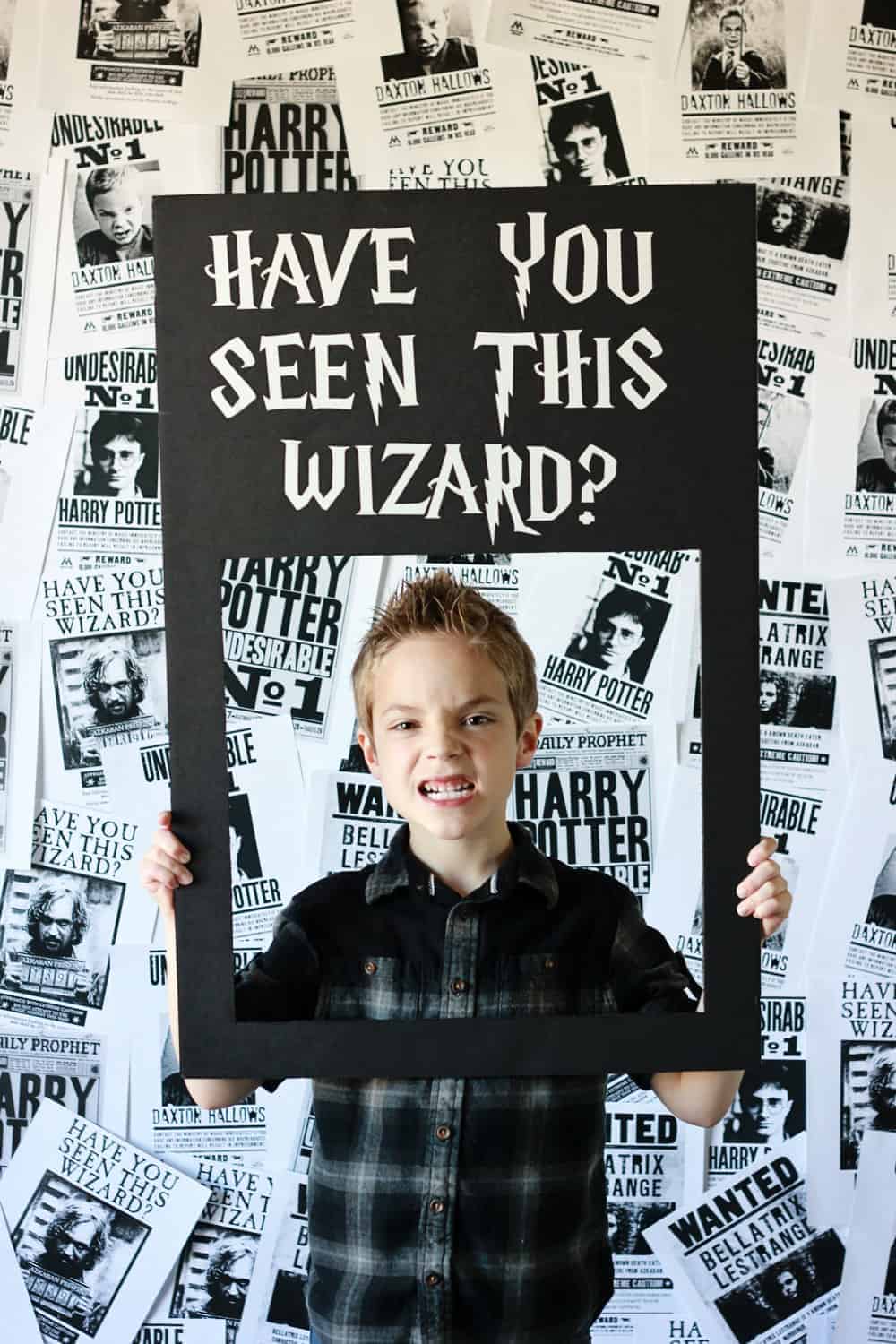 My little guy wants to be a Gryffindor (because… duh.) so we went with a dark red and gold balloons.
Some scrap pieces of felt pieced together with a little hot glue gave us a fun minimalist house flag and a black chair made sure he stayed in the right place not to block all of the fun accessories.
All together you are in about 10-15 dollars and it looks amazing!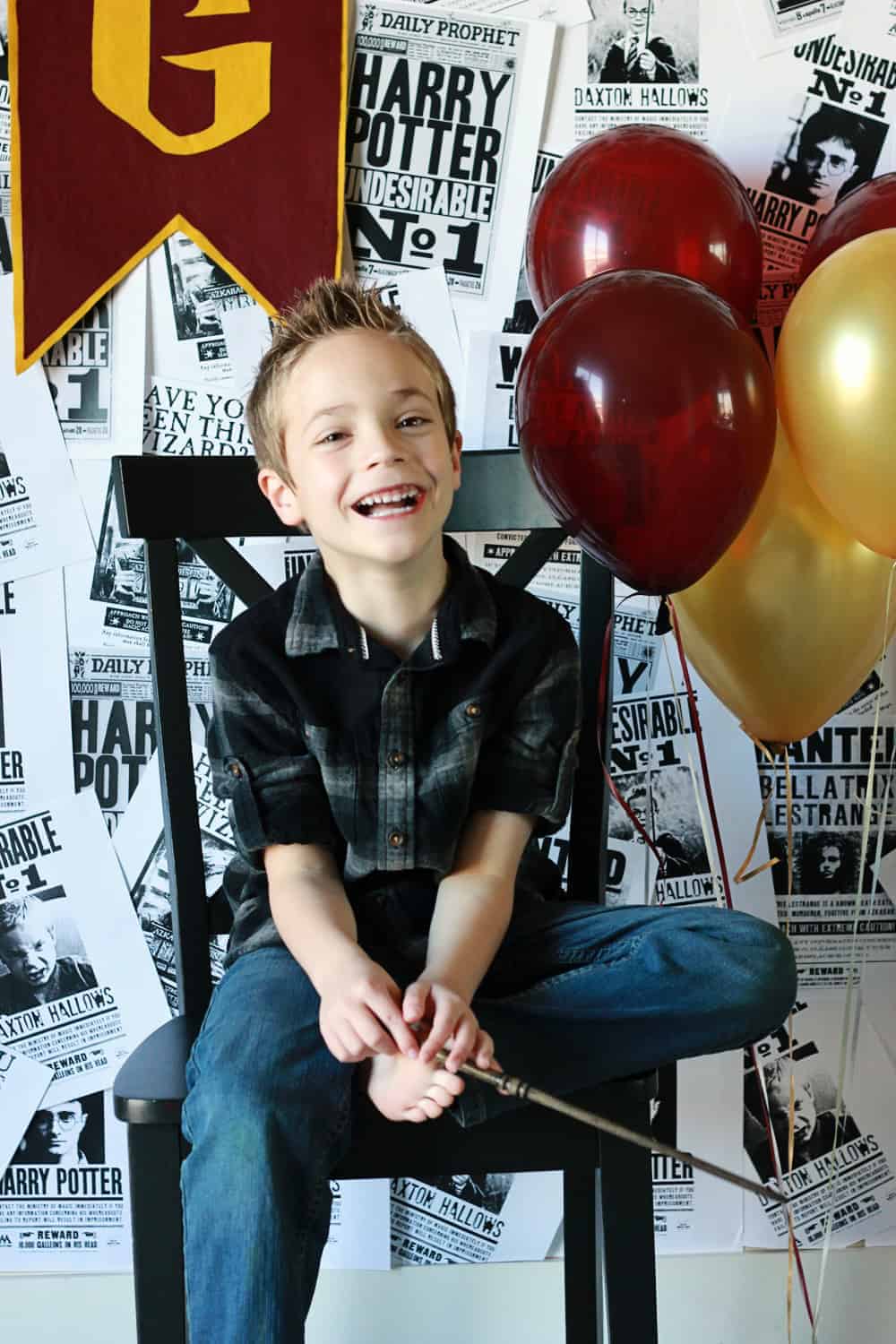 So what do you think? Worth making? Which most wanted character is YOUR favorite?
Like this post? You will love my:
Pin for later: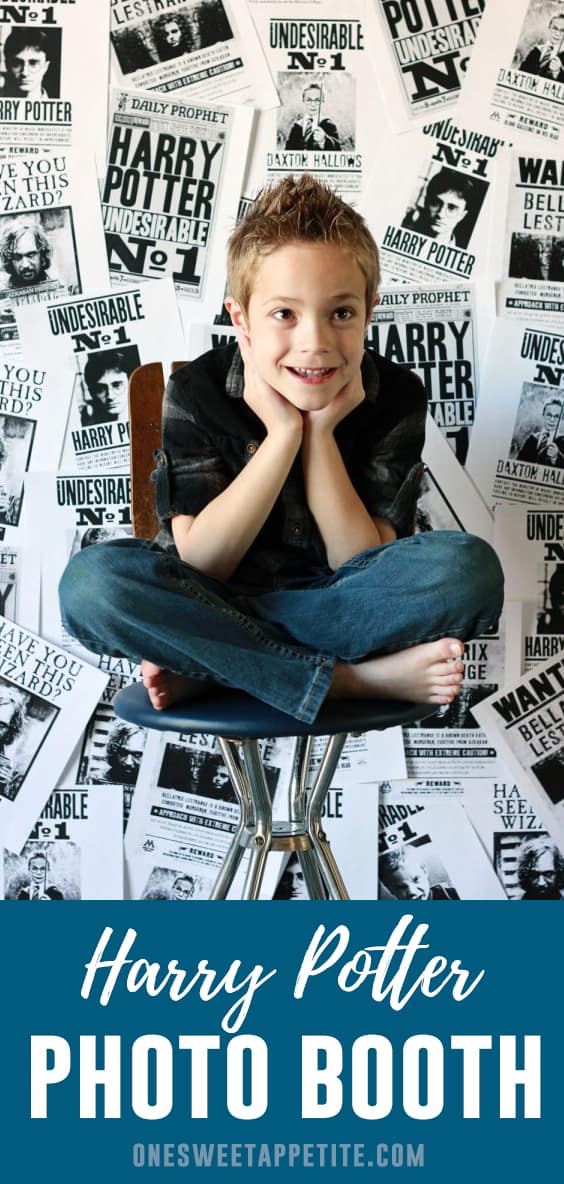 This post was originally published March 2016