This post was updated on by Jesseca
Simple Harry Potter Party Ideas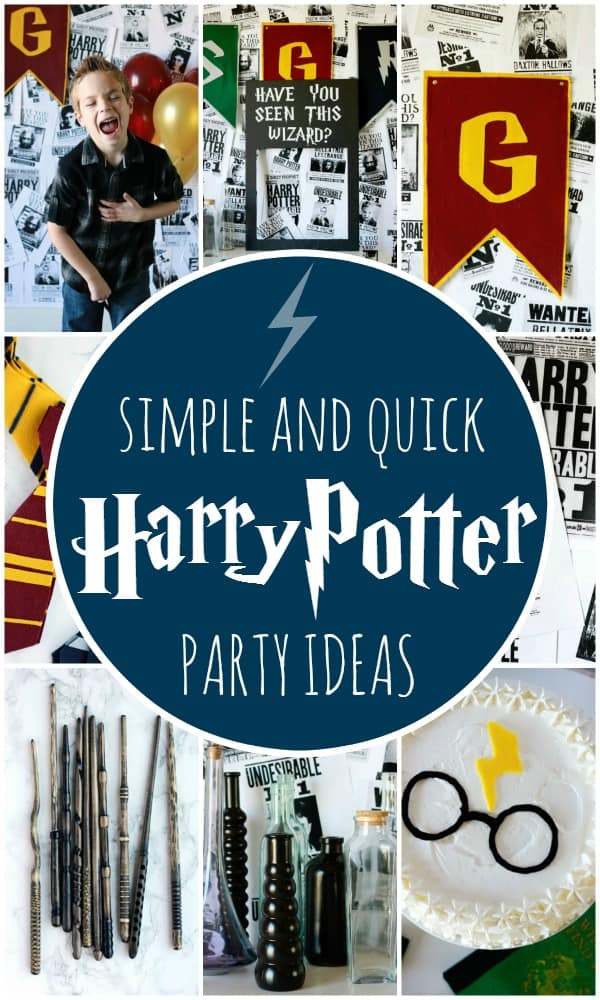 If you know me at all  you have probably realized that I am a bit of a Potter Fan.
J.K. Rowling is seriously my idol and I proudly have passed on my love for the series to my now seven year old. I was over the moon thrilled when he announced to us that he wanted a Harry Potter themed party this year and I quickly took on the task of creating some

I've got a bit of a minimalist style when it comes to my parties. I feel like less is more and if you can keep things neutral with additional pops of color you'll end up with a great display at your gatherings. That's how this party started. I was watching one of the Deathly Hallows movies (part two) when I saw Harry flick his wand sending a mountain of "Most Wanted" posters flying into the air.
That's when I KNEW that I wanted my backdrop to be a simple black and white collage with pops of house colors. Let's start with the table display and I'll walk you through the entire party!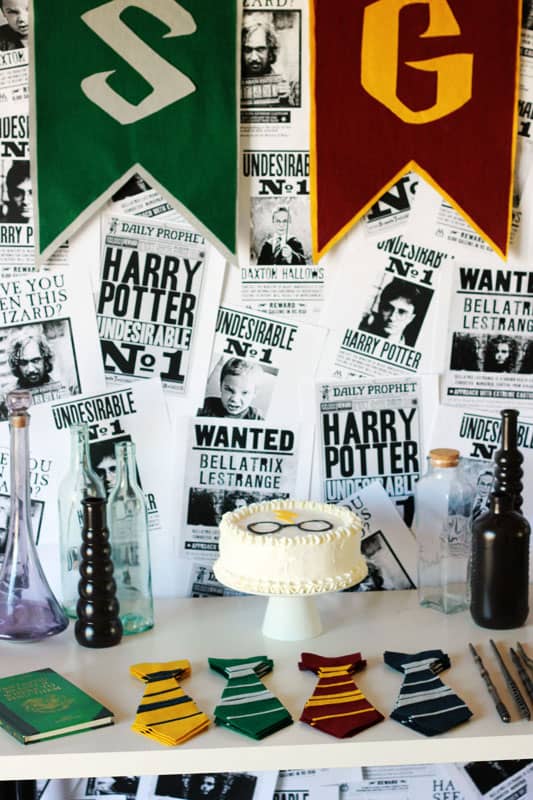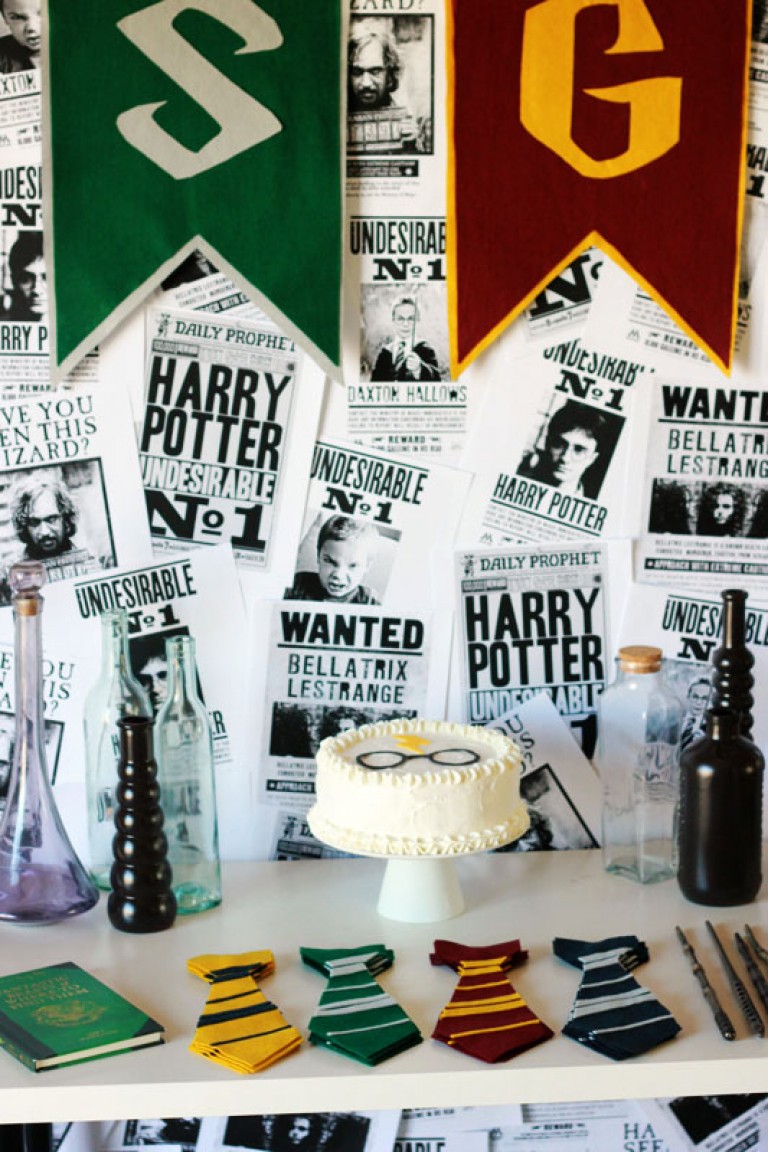 I used a simple white table from Ikea which eliminated the need for a table cloth. The center piece? Well, for part of the party anyway, was a Harry Potter inspired Ice Cream Cake!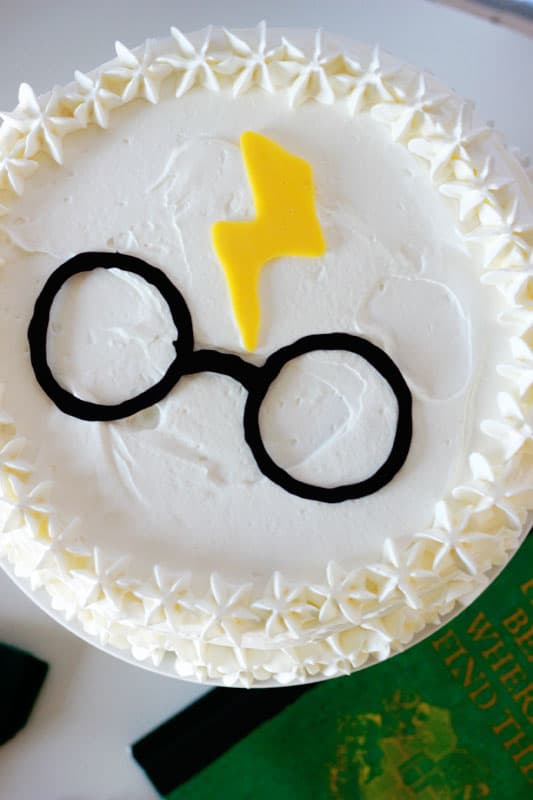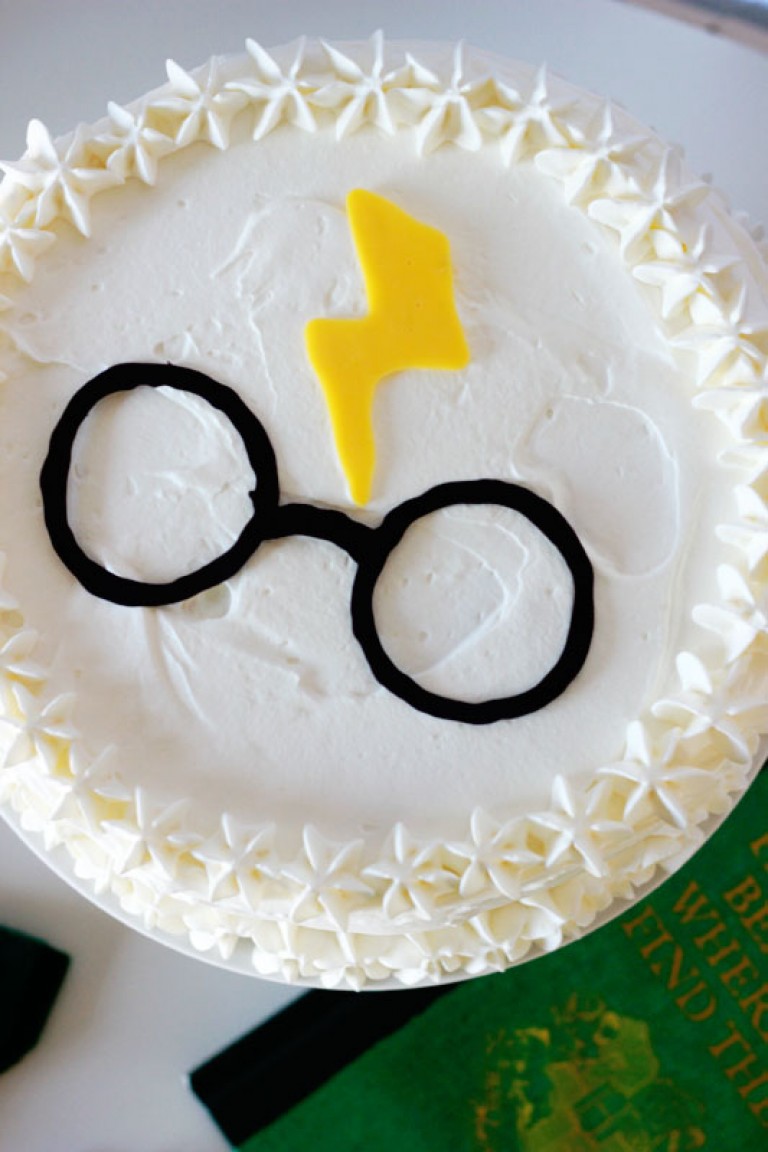 Just a quick breakdown of how I achieved this look. I baked 1 chocolate cake divided into two 8 inch round pans. Let them cool completely, assembled with an ice cream filling (chocolate chip per request of the birthday boy) and frost with fresh whipped cream. The topper is melted candy melts pipped into a simple glasses and lightning bolt shape (Follow this tutorial from la fuji mama for more in depth instructions for the topper). Seriously, this took me under an hour. The best part? It doesn't need to be perfect.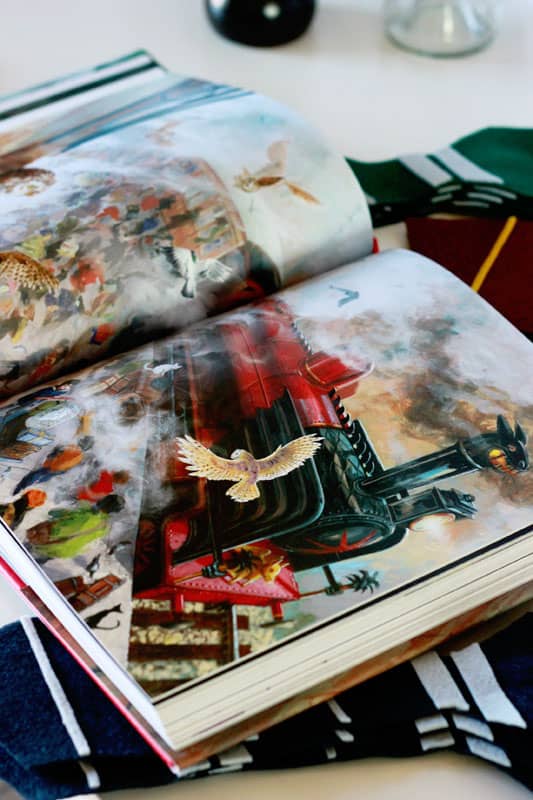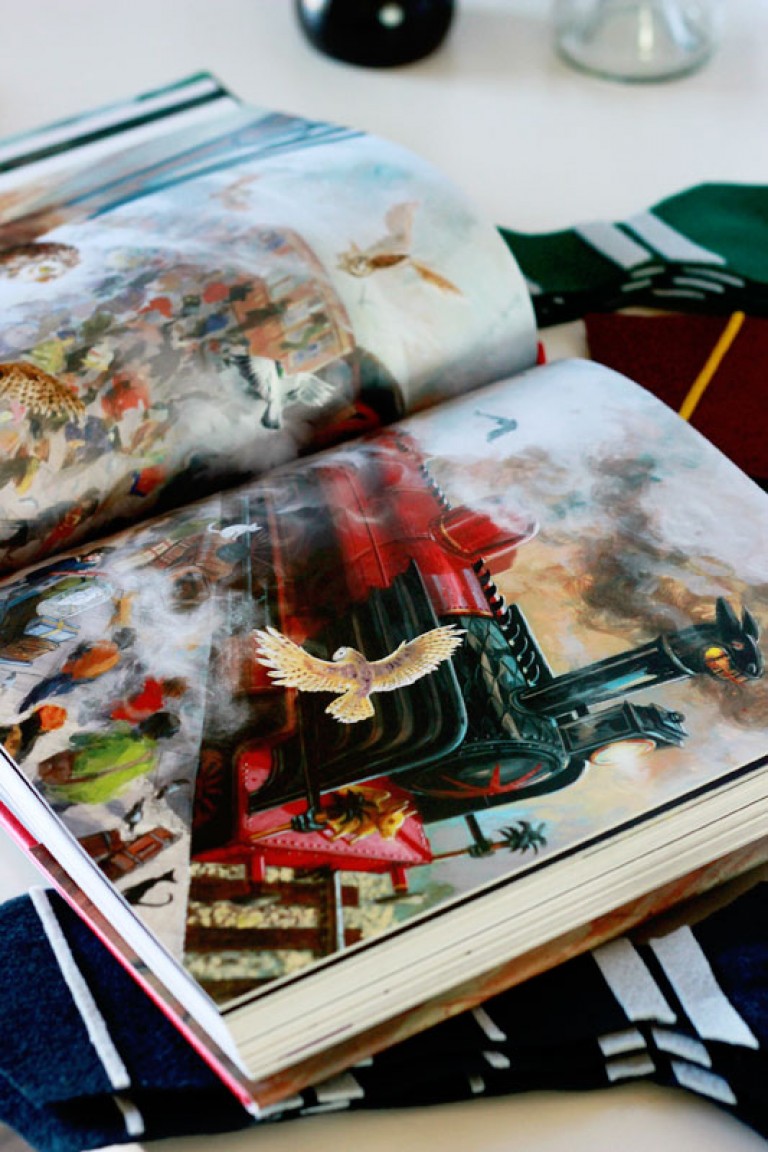 For more table decorations I reached for what we already had on hand… Harry Potter Books. It only makes sense, right? We kept the Illustrated Version as the center piece for most of the party so the cake wouldn't melt into a mess and everyone loved going through the images. It's gorgeous and I highly recommend taking a peek if you haven't already. Reading chapters of this book every night make for great bonding memories with me and my little stud. It also seemed fitting to toss a copy of Fantastic Beasts and Where to Find Them. Anyone else unbelievably excited for this movie to come out??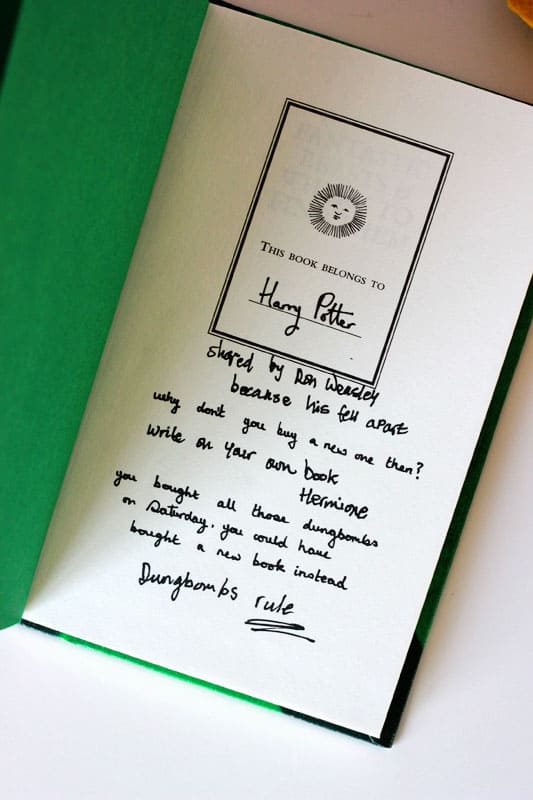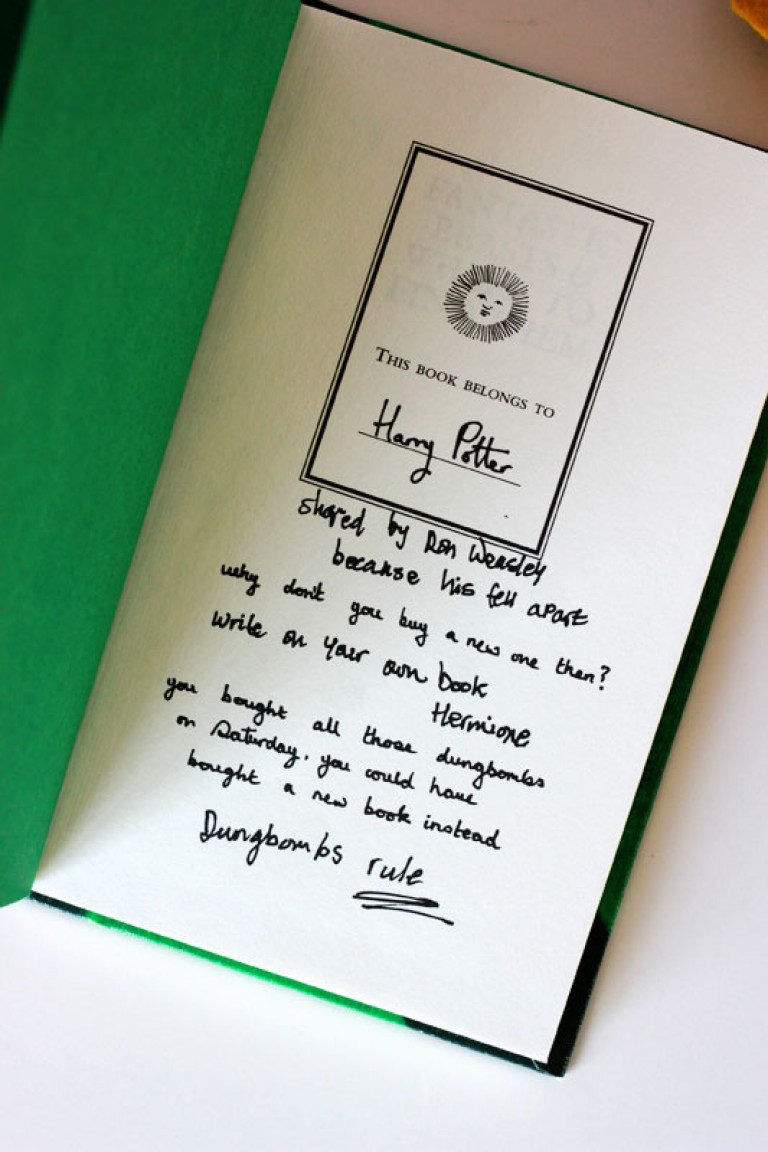 One of my favorite pieces were these "potion" bottles. One trip to the local thrift store (and a few bottles of wine) gave me a great collection. The round and goofy shaped ones were bright oranges and reds so I used a flat black spray paint to help them match our theme a little better. Bonus for these is that I'll pack them away in our Halloween decorations and have one killer display this October!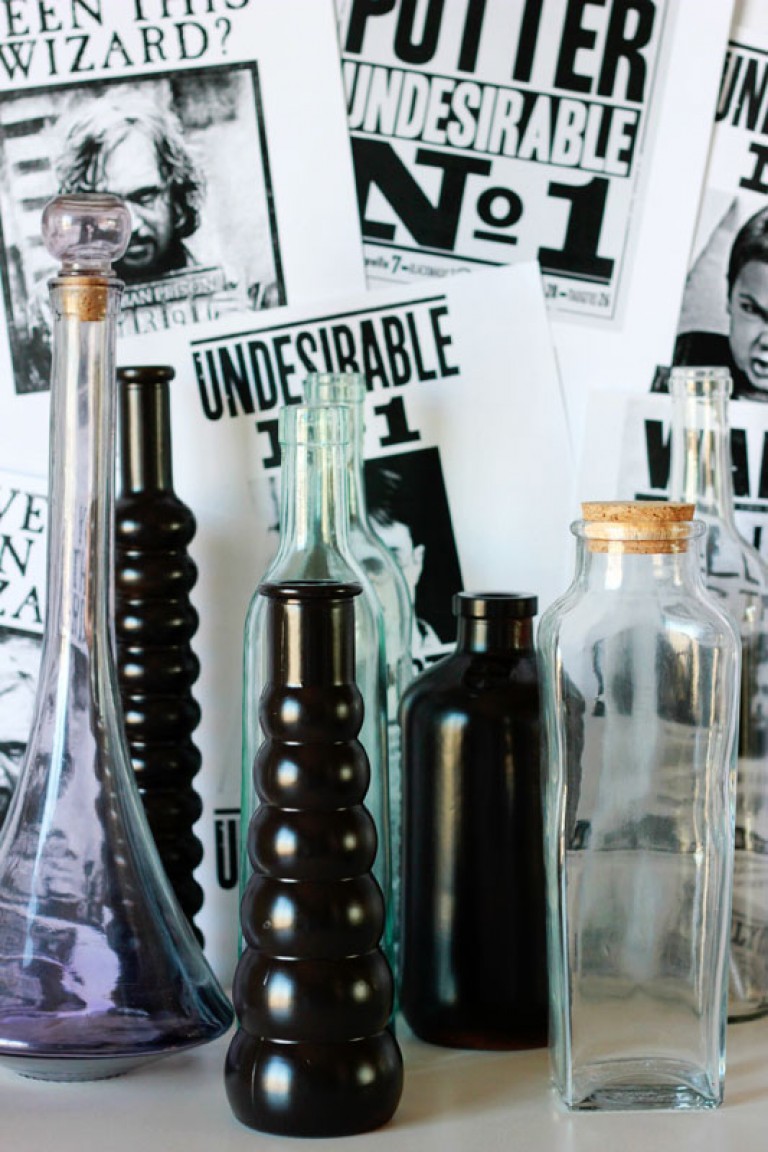 When it came time to make the flags I knew two things… I wanted them to be felt and no way was I patient enough to cut the entire house symbols out. I opted for the house letters in a Harry Potter style font. This seriously took me 30 minutes to make 4. Just trace your shapes out on a large piece of fabric, cut, and glue (full tutorial here). Maybe recruit a friend or spouse to help cut out and save even more time!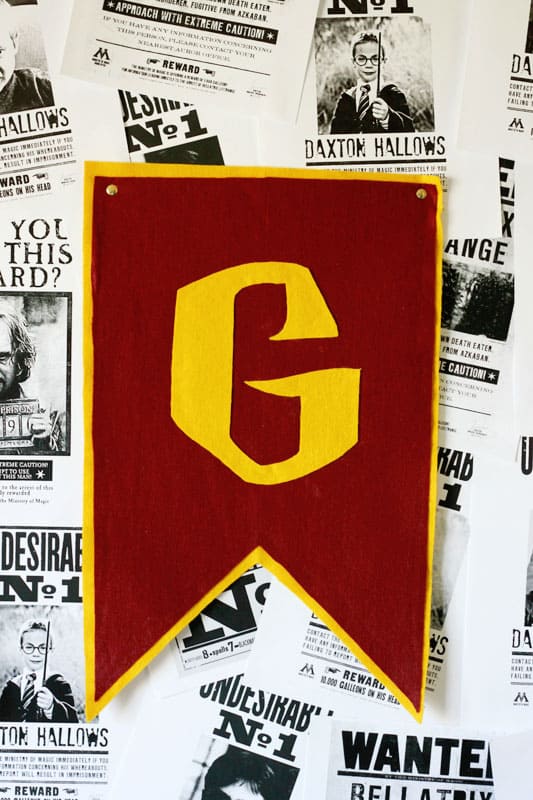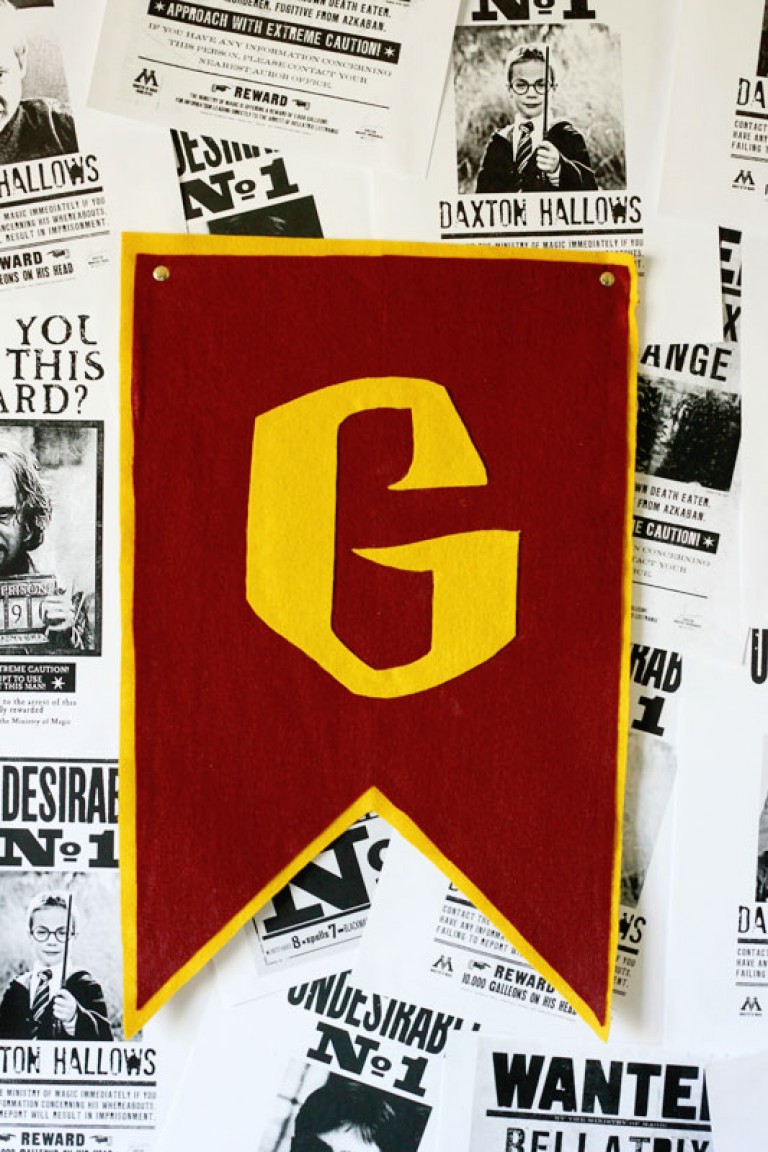 We used the Gryffindor flag with some matching balloons for our photo Shoot because Dax is SO sure that is the house he will get in to when he gets his Hogwarts acceptance letter but you can really chose any of the four. Don't you love how they add a bright pop of color to the black and white background?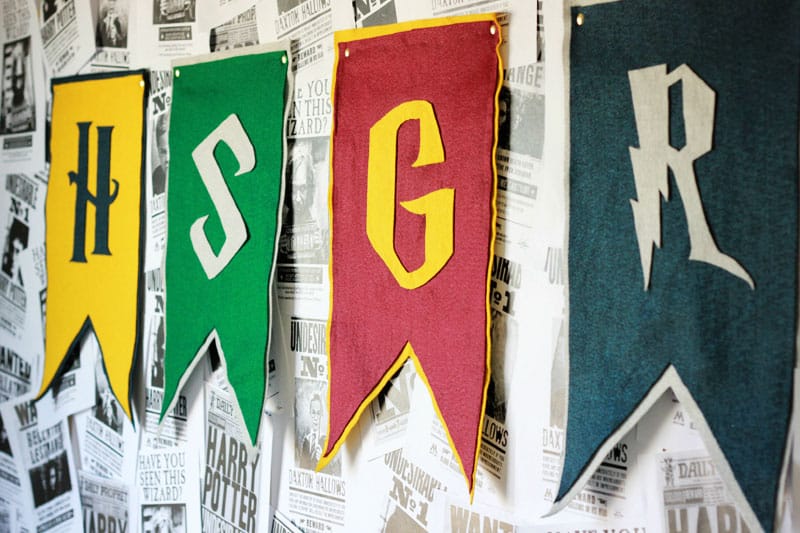 Speaking of background… We were so thrilled with how this one turned out. I did a quick internet search and found a few free printable posters and headed off to the printers. For just $6 I got enough to cover our entire dinning room wall in a messy arrangement behind the table (don't worry, we reused these in his bedroom and plan to recycle in a year or two when he's grown out of his love for the series). I even customized a few to include snapshots of my little guy making mean faces and in his Halloween Costume! All of the party guests thought this was such a fun special touch to the entire event and it took me just a few seconds in PicMonkey.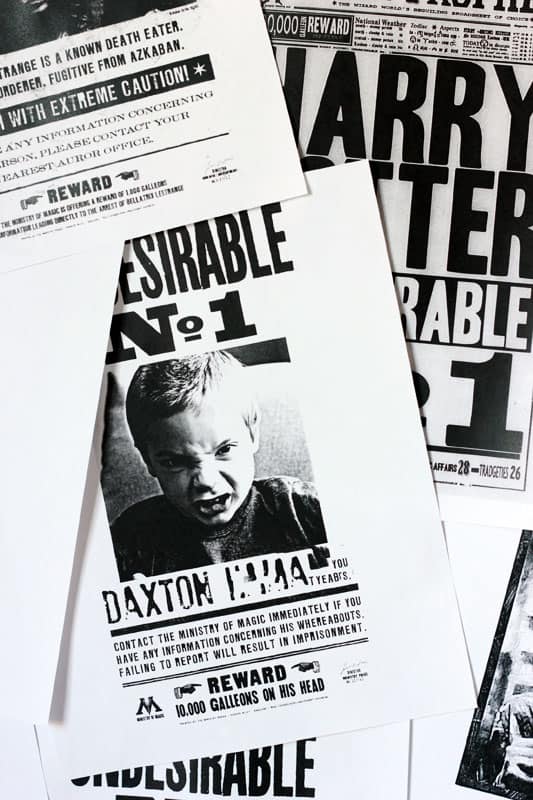 That's a scary wizard if I've ever seen one!
This next piece I am specifically excited about. My super talented husband had a great idea to create custom made wands for our guests. These all started with a 30 cent wooden dowel and came together with a little knife carving and sand paper. I can honestly tell you these were the ONLY thing anyone cared about. We had a few tiny people not able to make it which left us with a few leftover. I never in my LIFE thought I'd see my two grown sisters and mom fight over who got to take one home.
On top of being the creative genius behind each design my hubby even convinced my son that he got special permission from Ollivander (the wand maker) to make each one out of "dragon bones" and special unique centers. When he commits to a project he really commits.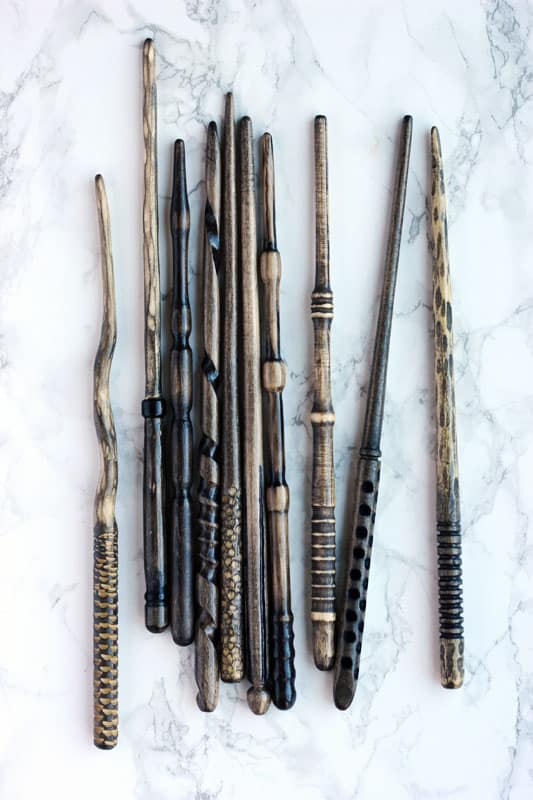 We also made some felt ties (full tutorial here) and sorted everyone into their house by having them pick a paper out of a hat.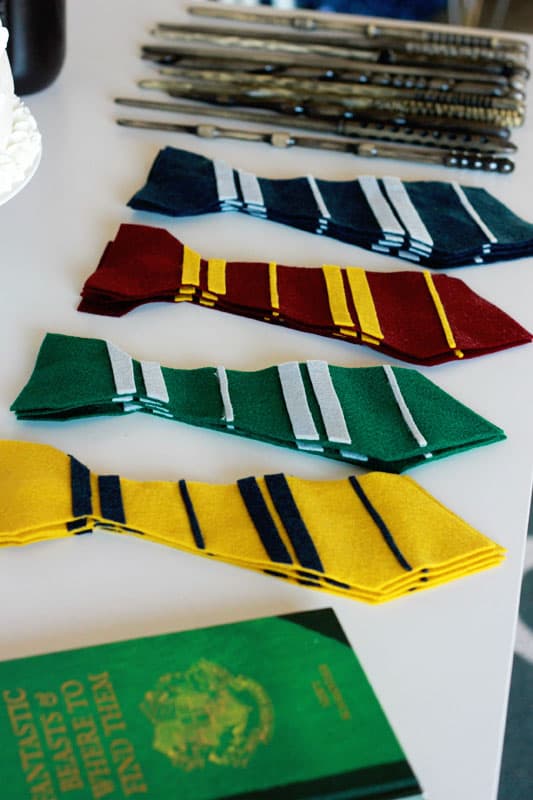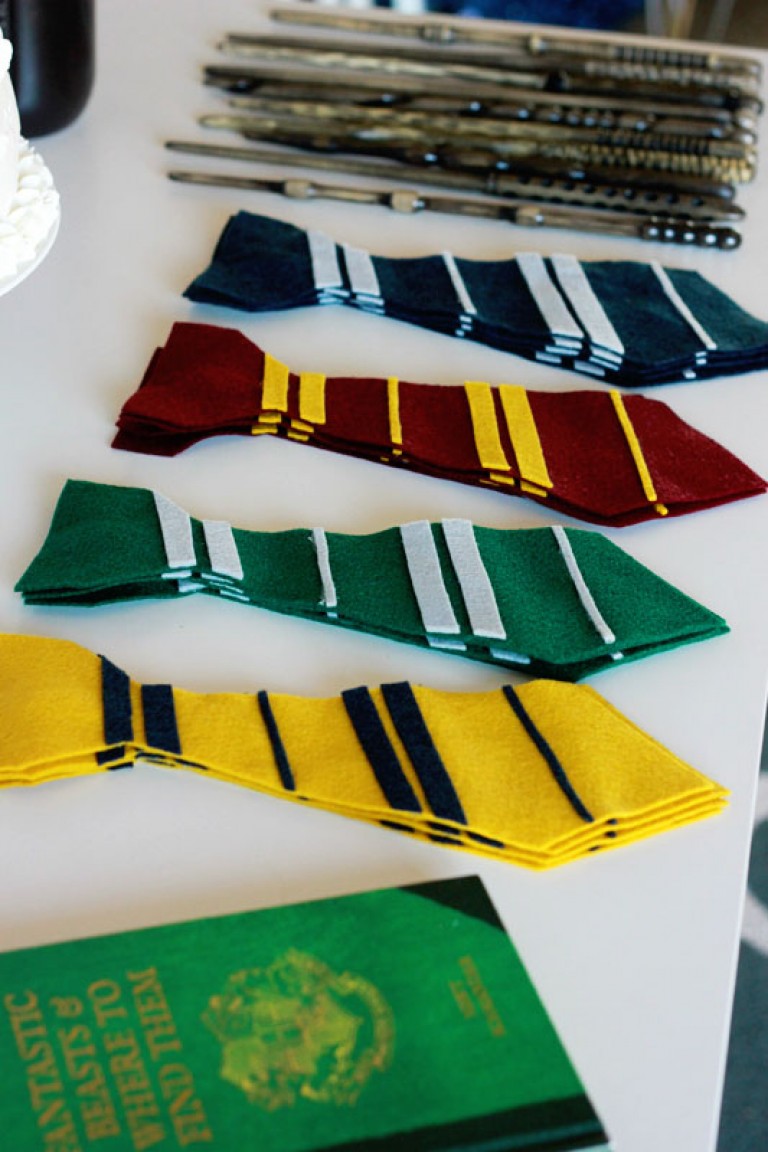 Last, but not least is the photo booth! Black Foam Board created a quick and simple prop along with their ties and wands. I loved that so many of the guests came dressed in character. It really added to the experience. We let them snap a photo or two with a Polaroid camera and added their image to the goody bags!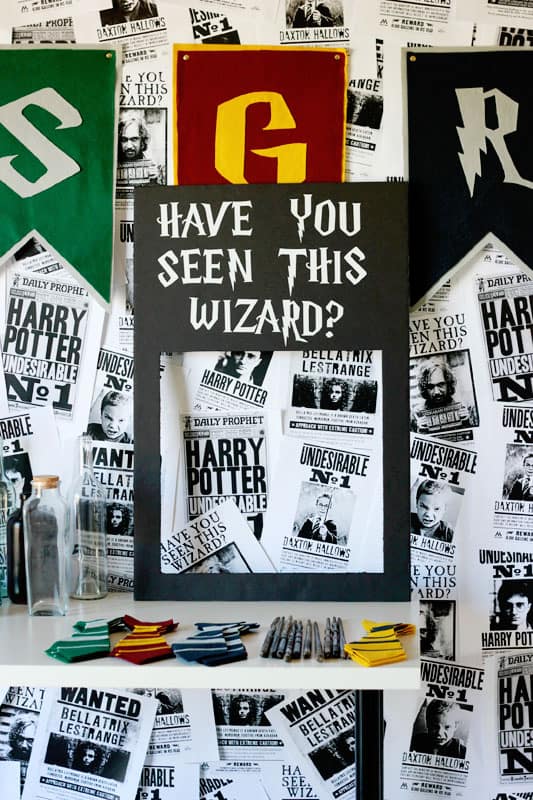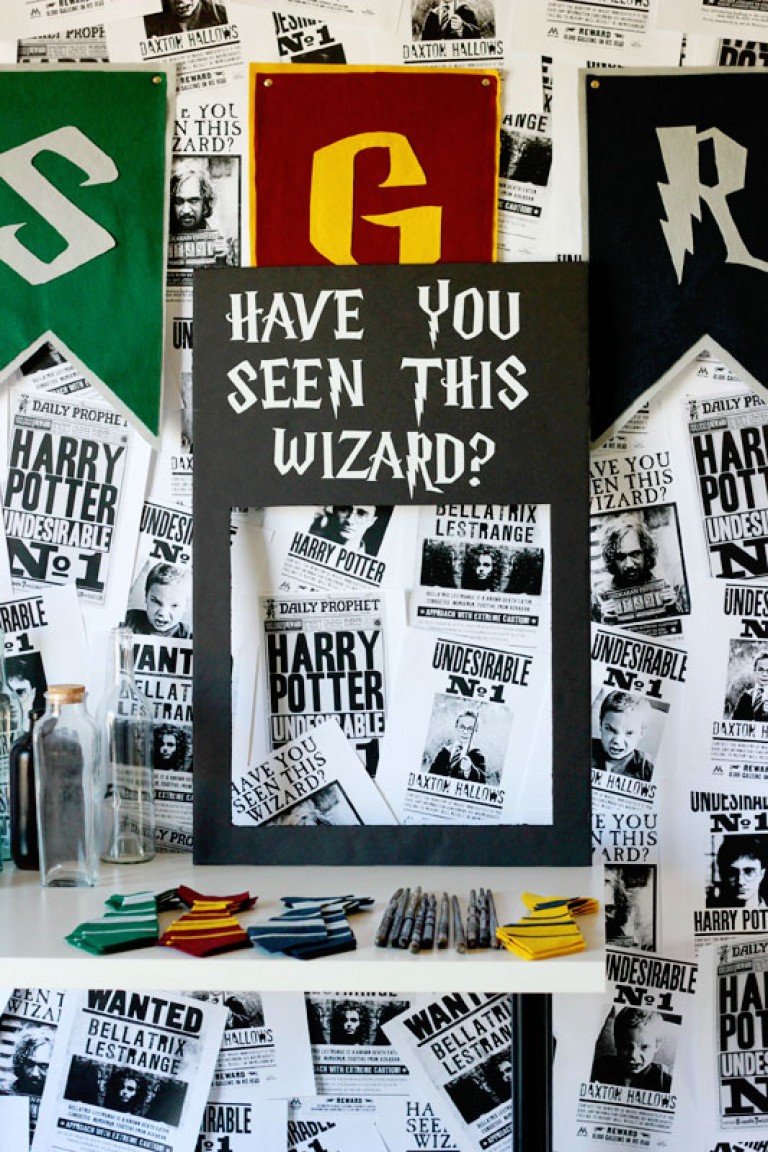 The only thing left to add are the balloons. We grabbed a couple in the different house colors and bundled them around the house for added effect.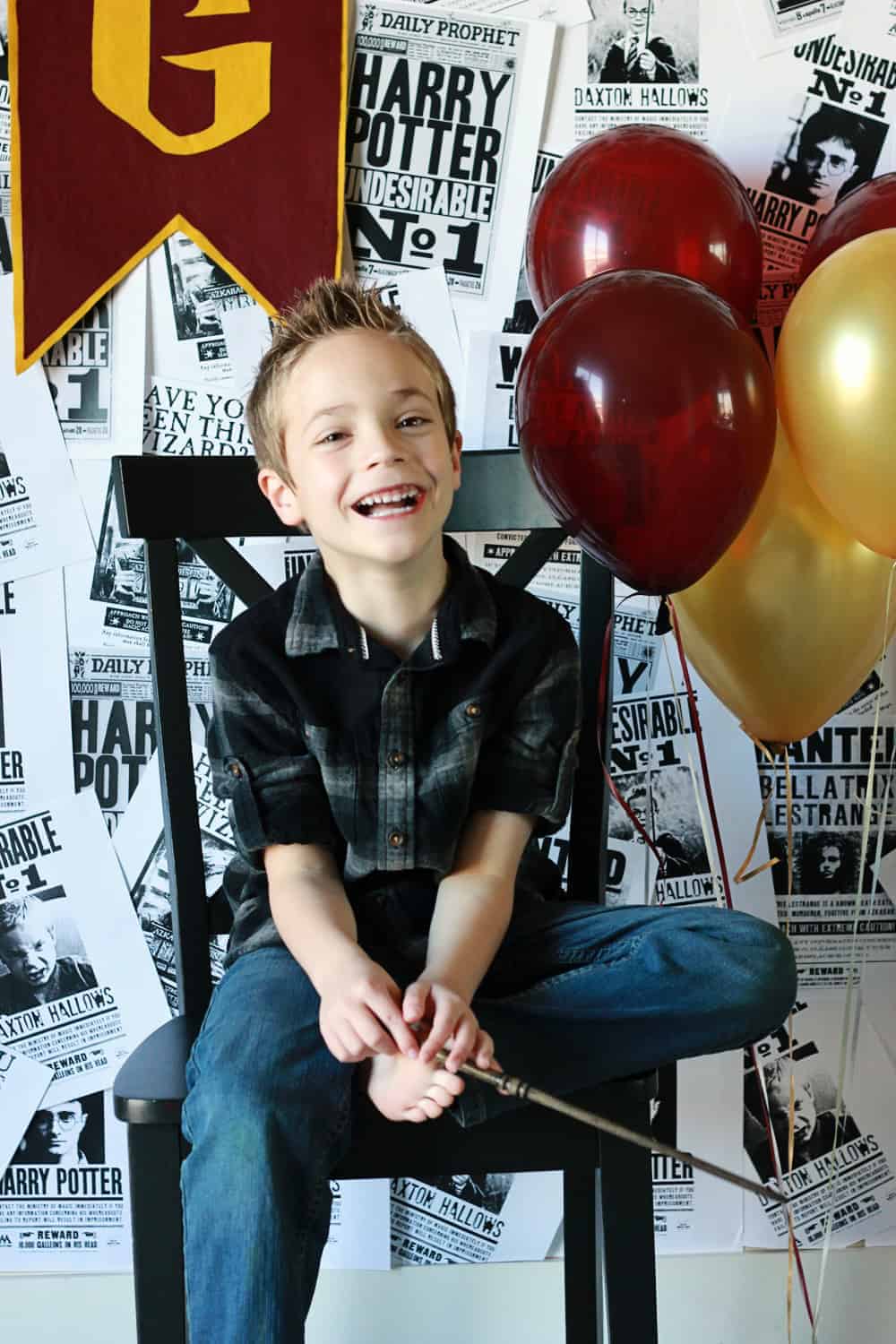 And that, my friends, is how we threw one kick ass Harry Potter Party. It's simple, quick, cheap, and amazing! Leave a link below to your favorite party so I can take a look and share on my social media!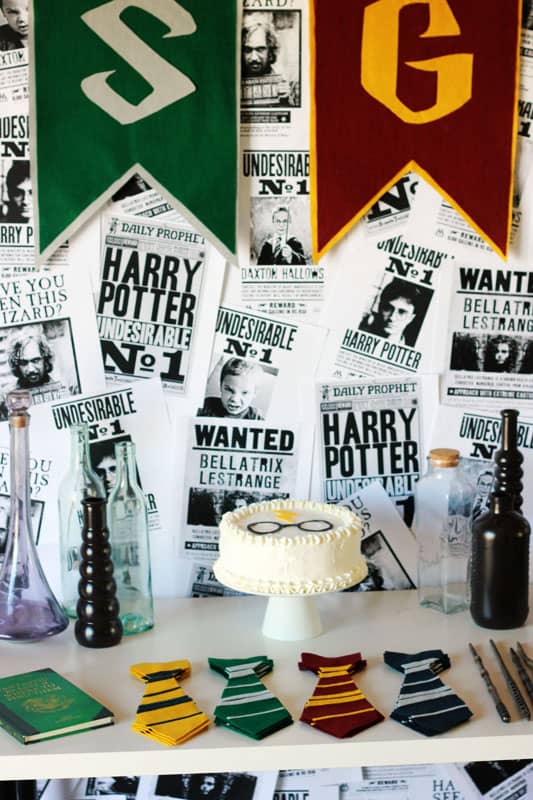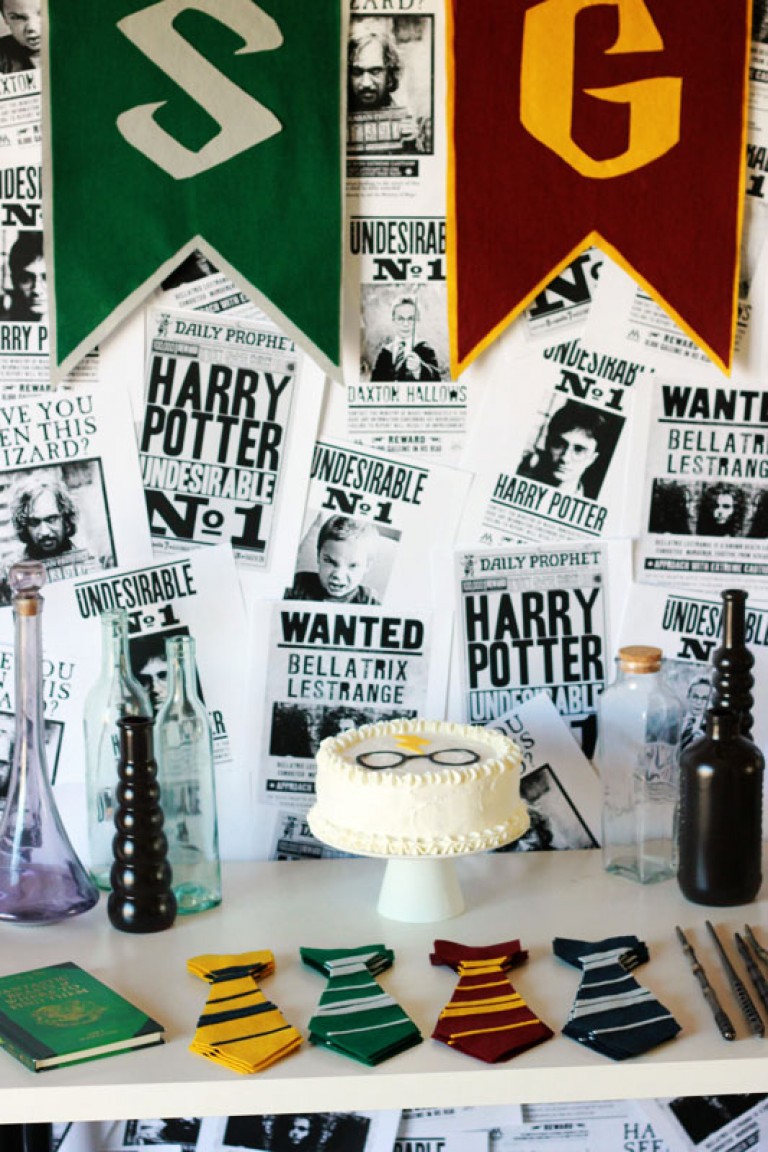 (Visited 109,553 times, 6 visits today)
776