Easy and quick ways to throw the ultimate Harry Potter Party! Travel to Hogwarts for the day, sort party guests into houses, and select your wand from Ollivander's!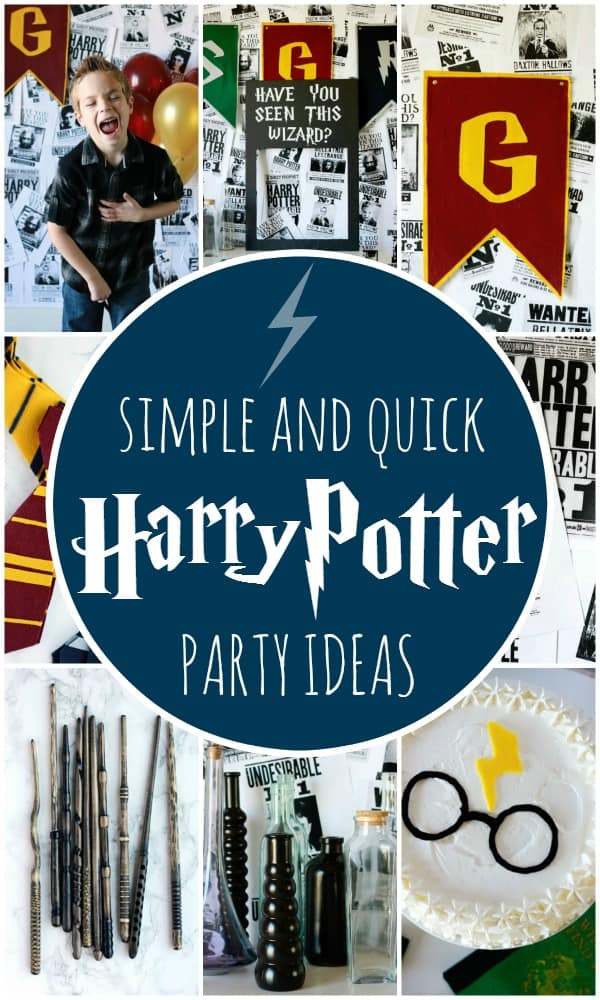 If you know me at all you have probably realized that I am a bit of a Potter Fan.
J.K. Rowling is seriously my idol and I proudly have passed on my love for the series to my now seven year old. I was over the moon thrilled when he announced to us that he wanted a Harry Potter themed party this year and I quickly took on the task of creating a true wizarding world experience!

How to throw the ultimate Harry Potter Party
I decided to use a bit of a minimalist style when it comes to the party decor. I feel like less is more, and if you can keep things neutral with additional pops of color you will end up with a great display at your gatherings.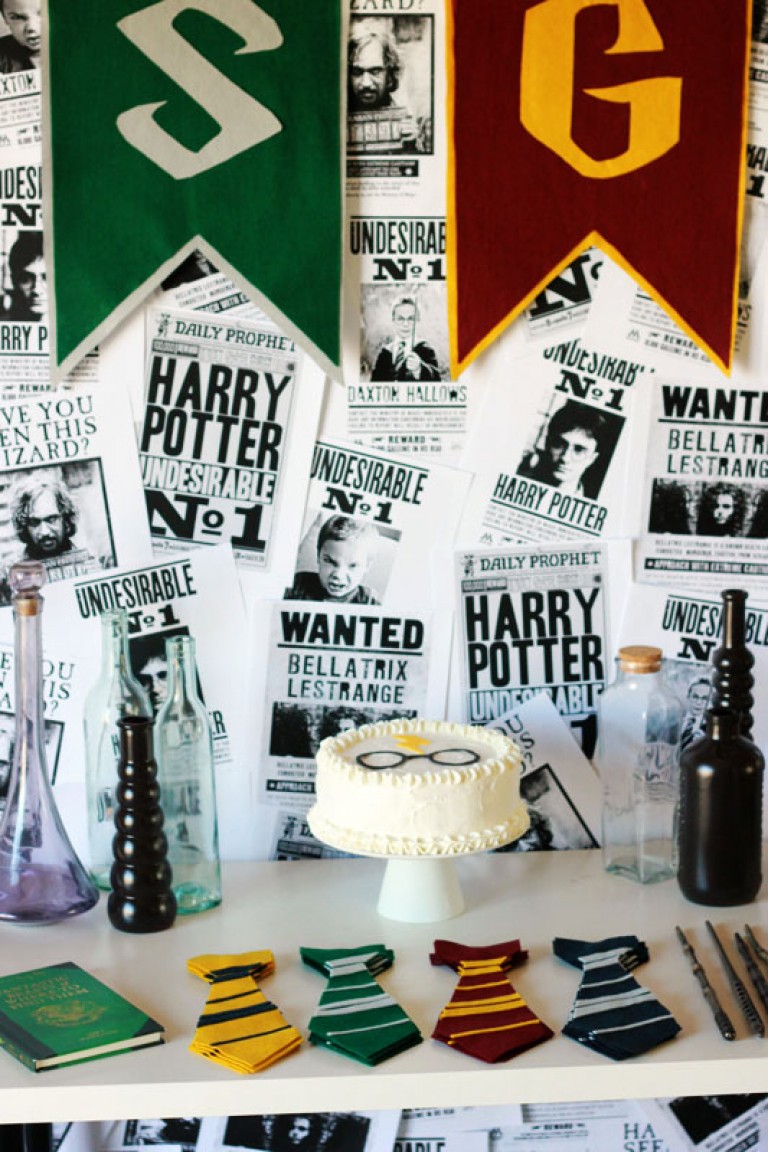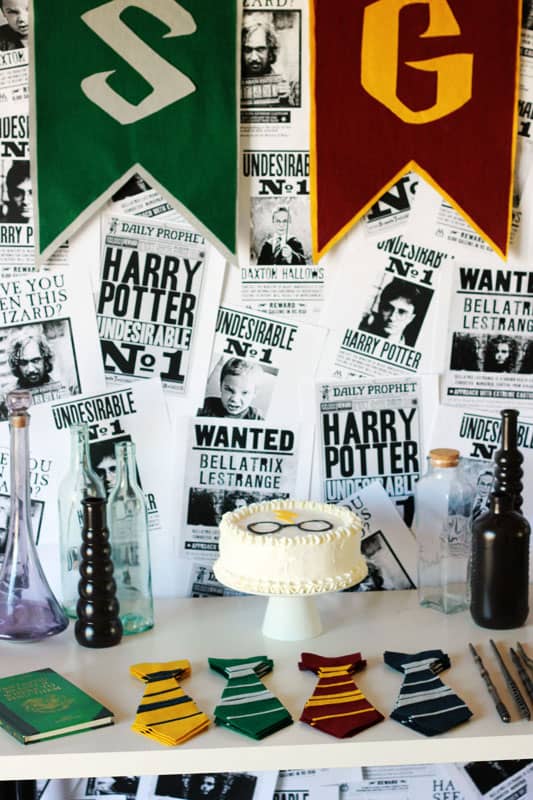 Inspiration for the overall look came to me while watching one of the Deathly Hallows movies (part two)When I saw Harry flick his wand sending a mountain of "Most Wanted" posters flying into the air an idea sparked.
That was when I KNEW that I wanted my backdrop to be a simple black and white collage with pops of house colors.
Let's start with the table display and I'll walk you through the entire party!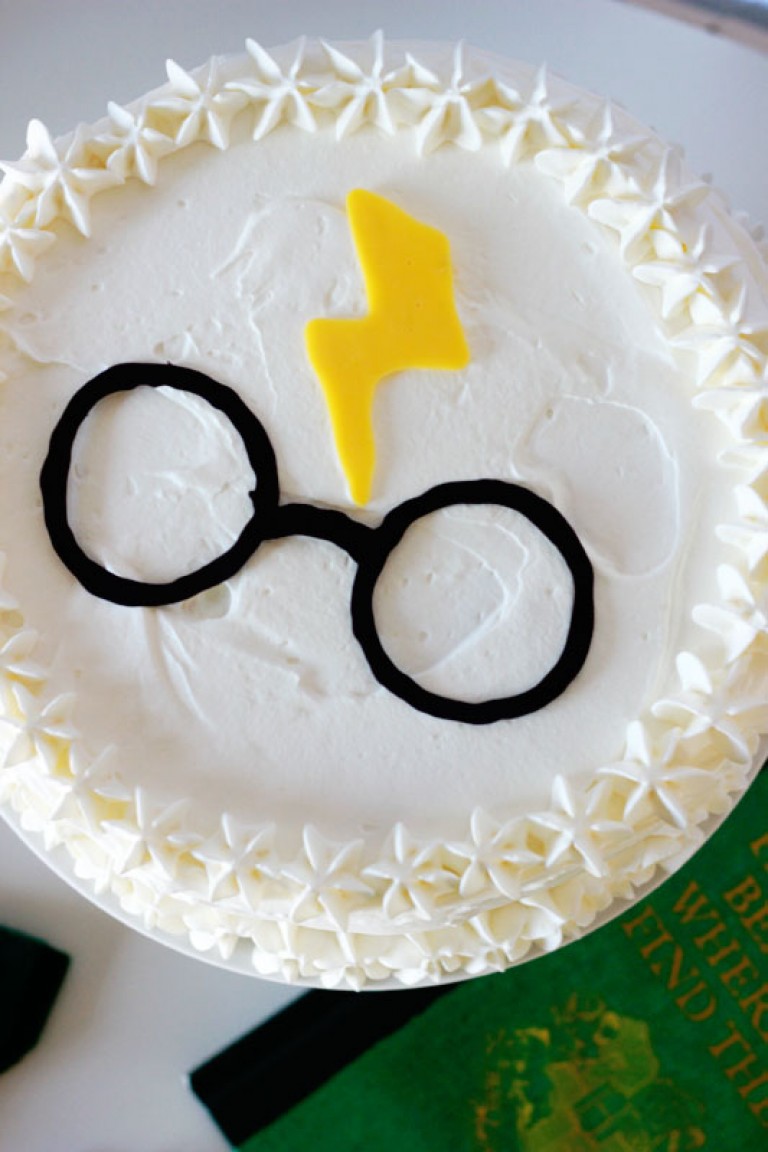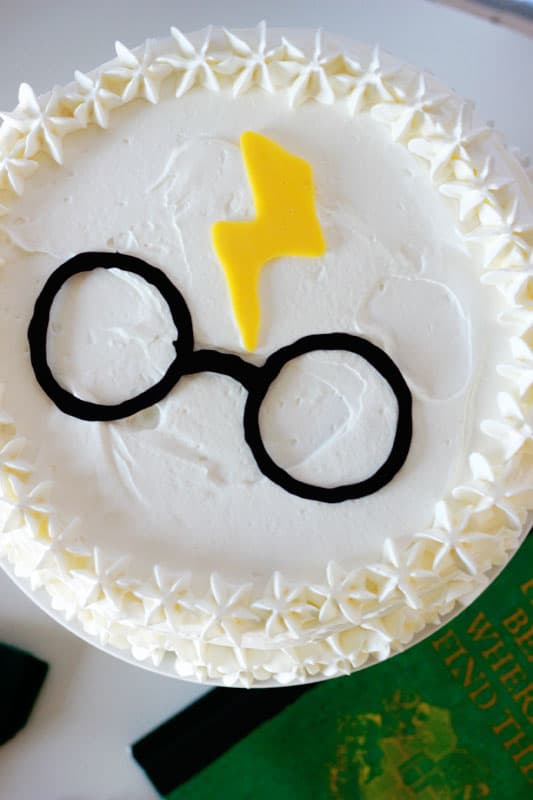 The center piece of the table was the cake. I stuck with my vanilla cake recipe, because that is my kids all-time favorite, and frosted with a dreamy vanilla buttercream. To give it that classic HP look I opted for a DIY Harry Potter cake topper that took me all of five minutes to make.
Looking for more HP food ideas? Try these simple Butterbeer Pudding Cookies!
Five minute chocolate Harry Potter Cake topper:
Draw or print out the popular Harry Potter glasses and scar image onto a white piece of paper.
Lay a sheet of wax paper over your image. It helps to tape everything down to a flat surface.
Melt black candy melts according to the package directions. Pour into a sandwich size zip top bag. Close the bag, making sure to push as much air as possible. Snip a small piece from one corner of the bag and carefully outline the glasses on the wax paper.
Repeat with yellow candy melts for the lightening bolt.
Allow the chocolate to set in the refrigerator for 10-20 minutes.
Carefully remove and place onto your cake.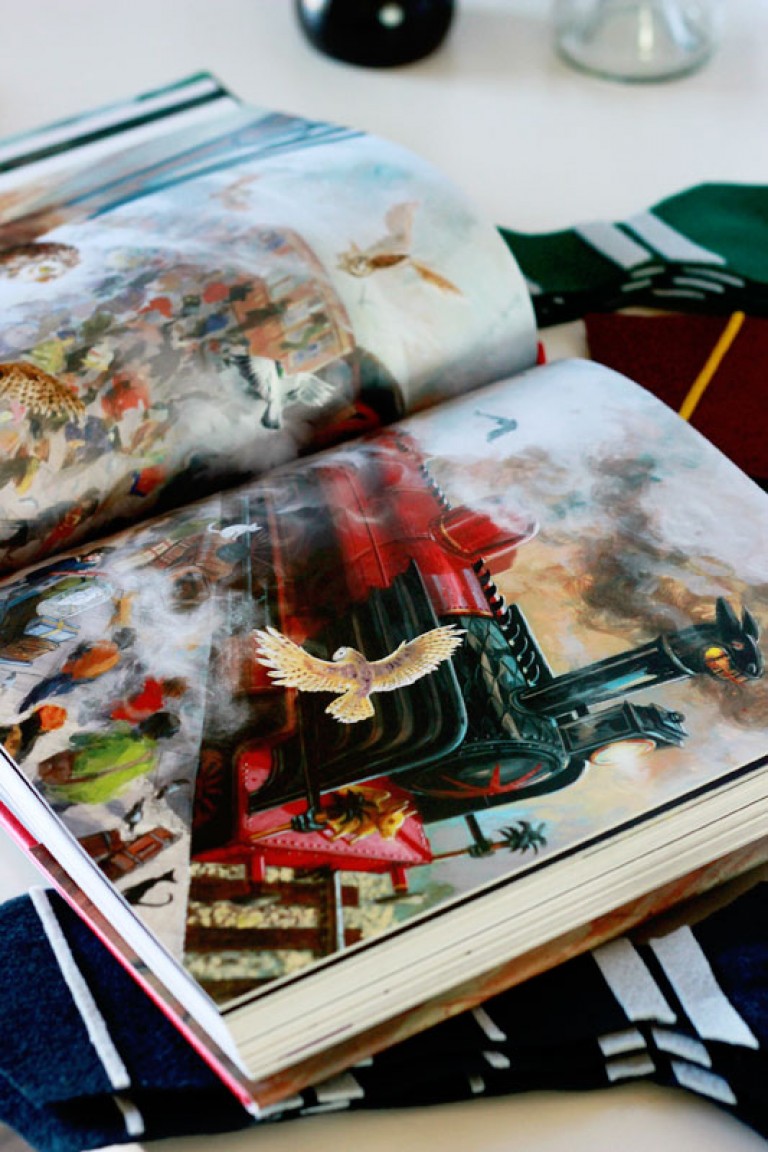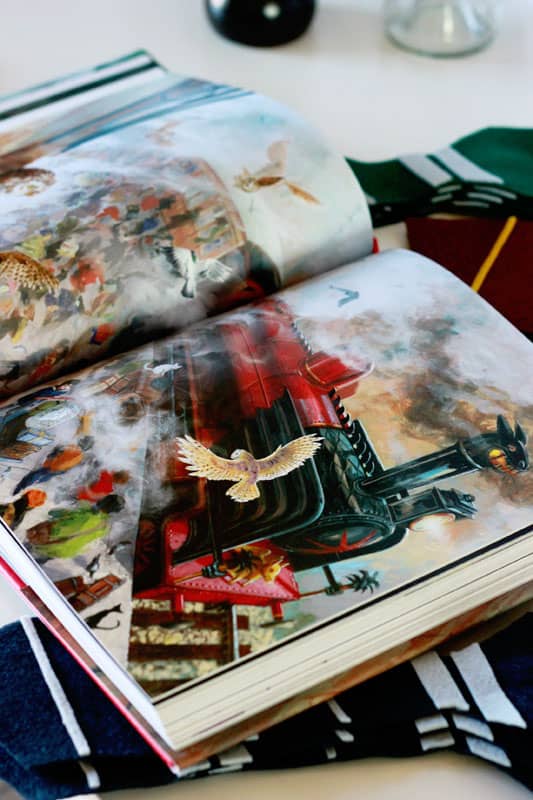 Harry Potter Party Decoration Ideas:
The goal was to keep the cost down. I wanted to use items we already had on hand and maybe spend a few dollars on DIY decorations. A quick look around the house and I had a box full of great pieces that were the perfect compliment to the party table.
The Harry Potter Books – Stack these or place under pieces for add height.
Open illustrated Harry Potter Books – The images are stunning and guests will love to flip through!
Fantastic Beasts and Where to Find Them – or other Harry Potter school books which you can find on amazon for cheap.
DIY potion bottles – More on these later
Felt Ties for the party guests
DIY wizard wants – keep reading for more info on these as well!
$5 photo booth
Play the Harry Potter movies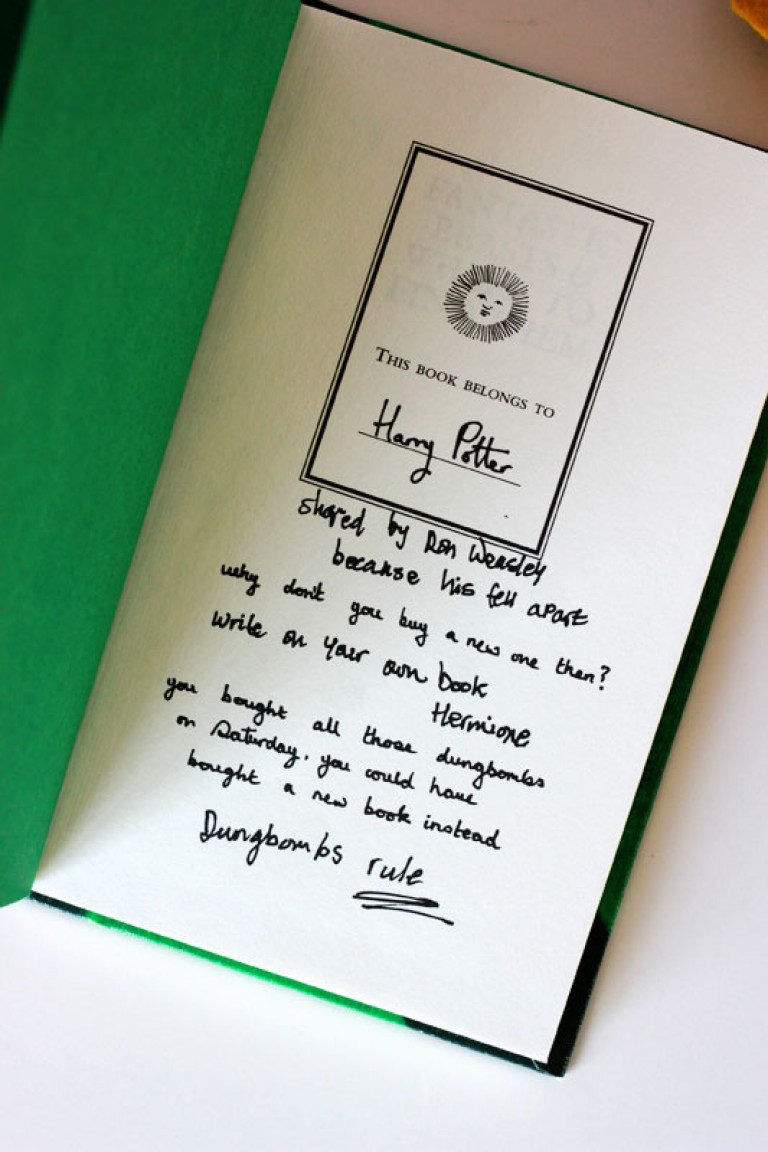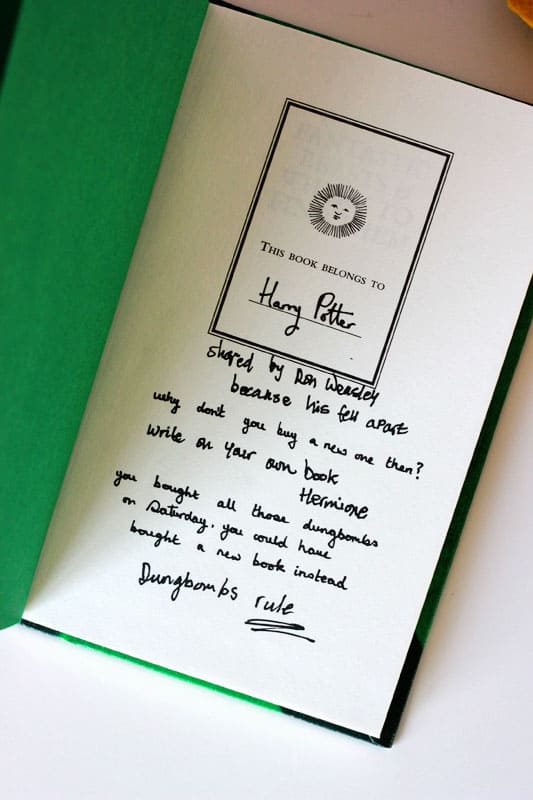 How to DIY potion bottles:
One of my favorite pieces were these potion bottles. They added a little height to the party table and gave a fun finishing look.
Collect empty bottles from condiments, drinks, or thrift stores.
Clean with a glass cleaning solution.
Separate the bottles you want to stay clear from the bunch.
Spray paint the remaining bottles with a matte finish spray paint.
Allow to dry overnight.
You could also fill some of the bottles with water and glitter. Colored water would make a fun addition as well!
Bonus? If you save these they can make a fun display for Halloween!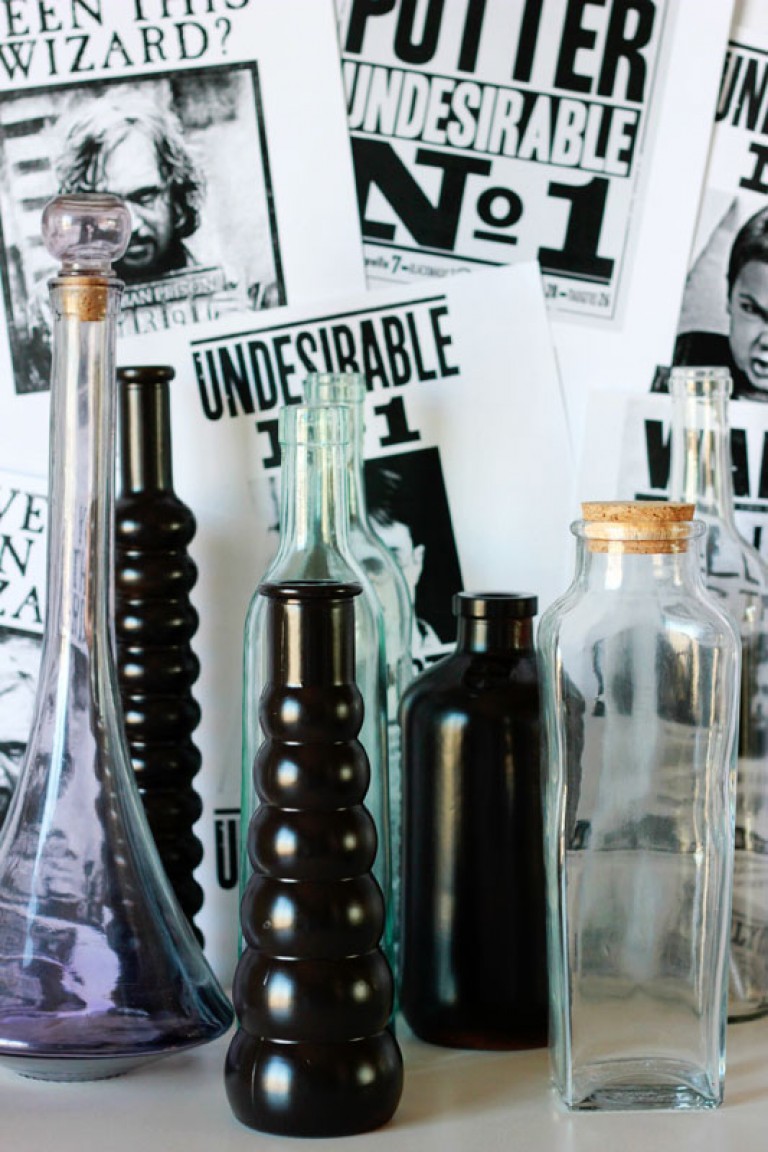 How to make Felt Harry Potter House Flags:
What you will need:
Felt in the house colors – we used dark red, mustard yellow, silver/grey, green, and dark blue.
Fabric glue
Sharp scissors
Markers
Tip: Felt can be purchased by the yard at most fabric stores
Using a marker, draw out one flag shape. Cut out and use as your template for the remaining three house colors (The red in the photo below).
Using that same flag, create a slightly larger flag shape in alternating colors (the yellow back piece in the photo below). Repeat with remaining houses.
Glue flags with backing together with fabric glue.
Draw out the house letters. Cut out and glue onto the coordinating flags with fabric glue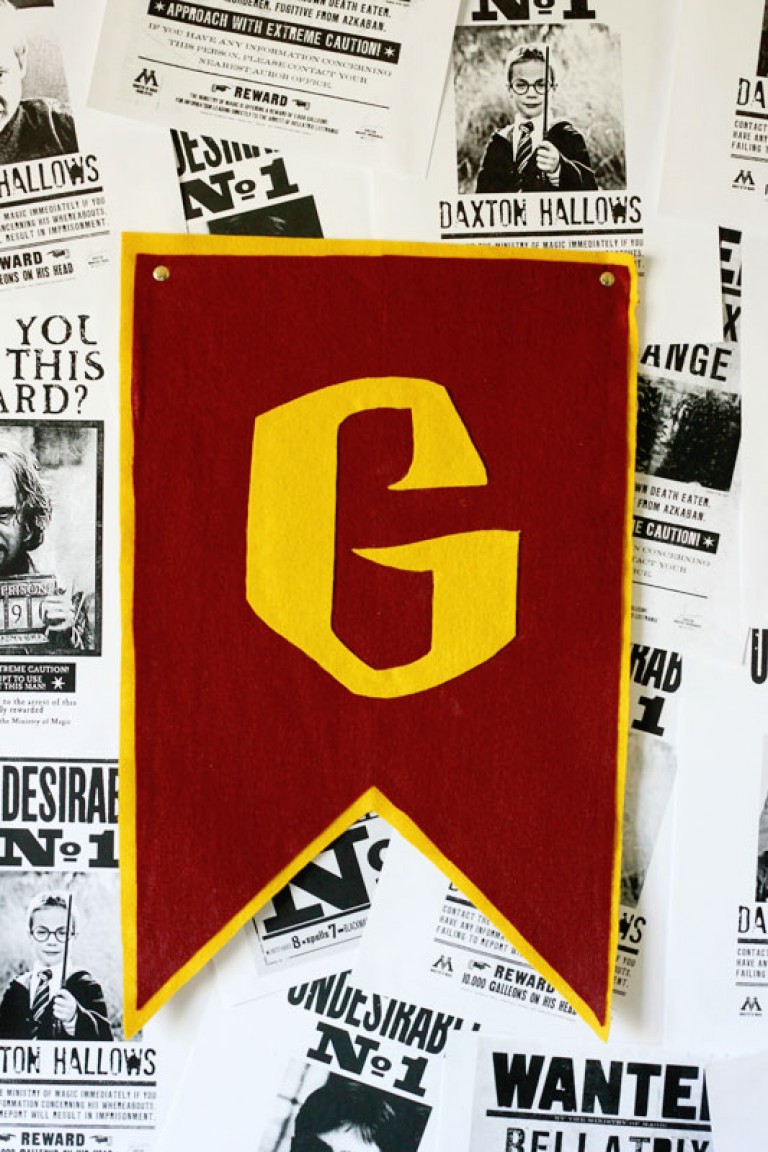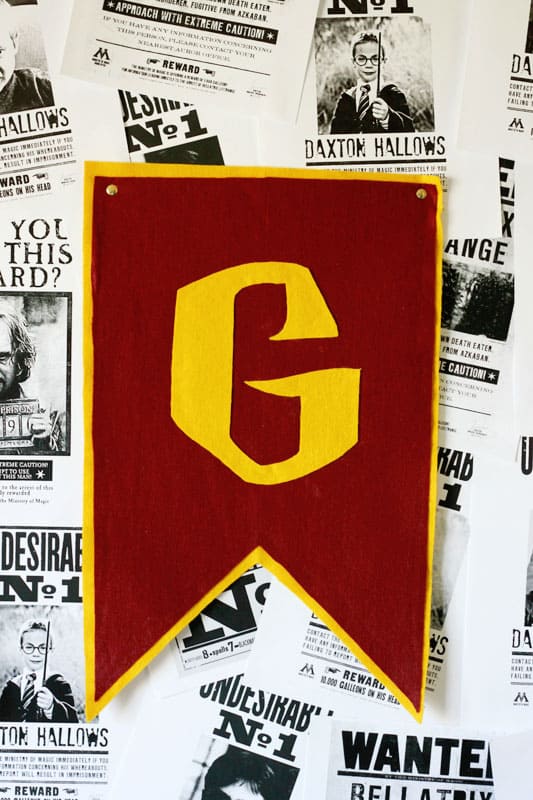 We used the Gryffindor flag with some matching balloons for our photo Shoot, because Dax is SO sure that is the house he will get in to when he gets his Hogwarts acceptance letter, but you can really chose any of the four. Do you not just you love how they add a bright pop of color to the black and white background?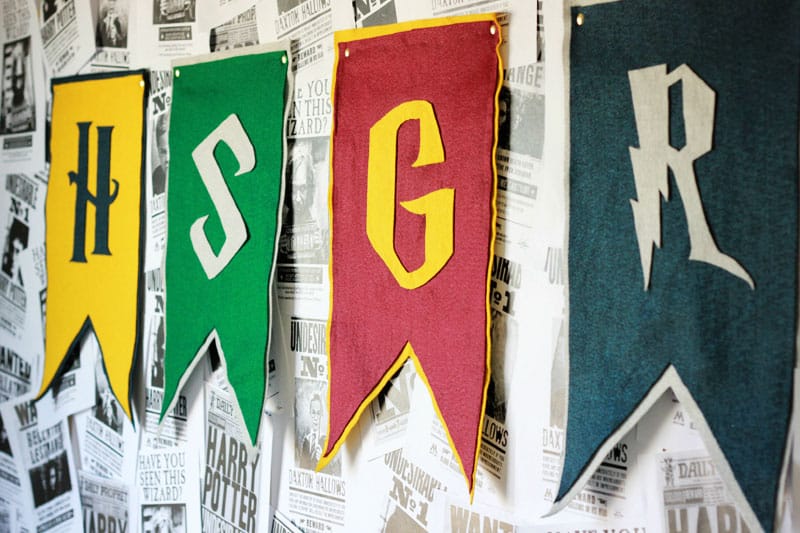 Speaking of background… We were so thrilled with how this one turned out.
How to make a harry potter backdrop:
I get a LOT of requests for this tutorial. Honestly, I did a quick internet search for Harry Potter wanted posters, saved a few of the photos, changed them to black and white in a photo editing tool, and sent them off to be photo copied on the cheapest paper.
I didn't mind if they were a little grainy or out of focus. The main idea was to get that Harry Potter feel and I achieved that effortlessly.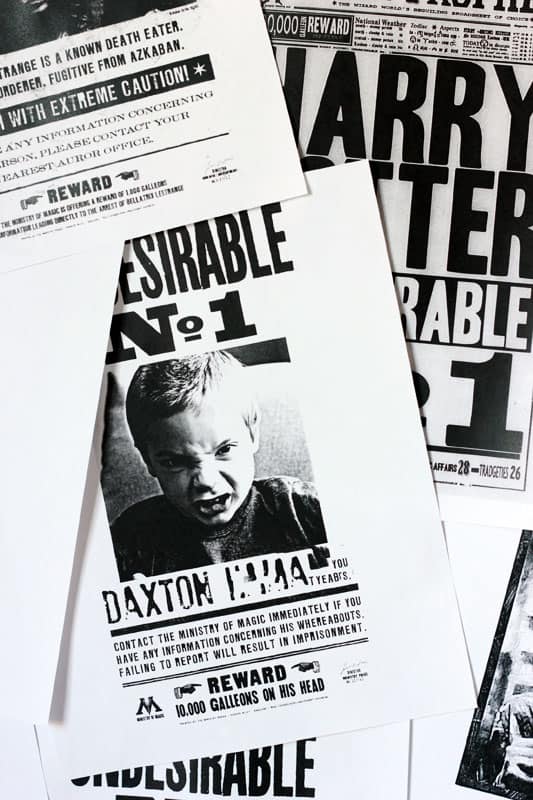 For just $6 I got enough to cover our entire dinning room wall in a messy arrangement behind the table. I even customized a few to include snapshots of my little guy making mean faces and in his Halloween Costume!
All of the party guests thought this was such a fun special touch to the entire event, and don't worry. We reused these in his bedroom and plan to recycle in a year or two when he has grown out of his love for the series.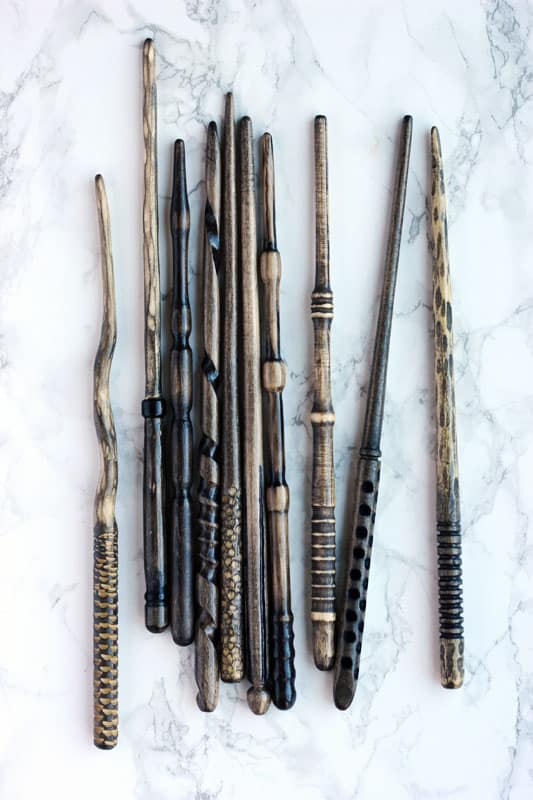 This next piece I am specifically excited about. My super talented husband had a great idea to create custom made wands for our guests. My husband convinced my son that he got special permission from Ollivander (the wand maker) to make each one out of "dragon bones" and special unique centers. When he commits to a project he really commits.
How to make Harry Potter wands out of wooden dowels:
NEW! You asked and I delivered! I now have a step by step tutorial to make the most amazing DIY Harry Potter Wands! Check it out here.
These all started with a 30 cent wooden dowel and came together with a little knife carving and sand paper. I can honestly tell you these were the ONLY thing anyone cared about.
What you need:
Wooden dowel
Carving knife
Electric drill
Sand paper
Black spray paint
Get the full step-by-step for DIY Wizard Wands here.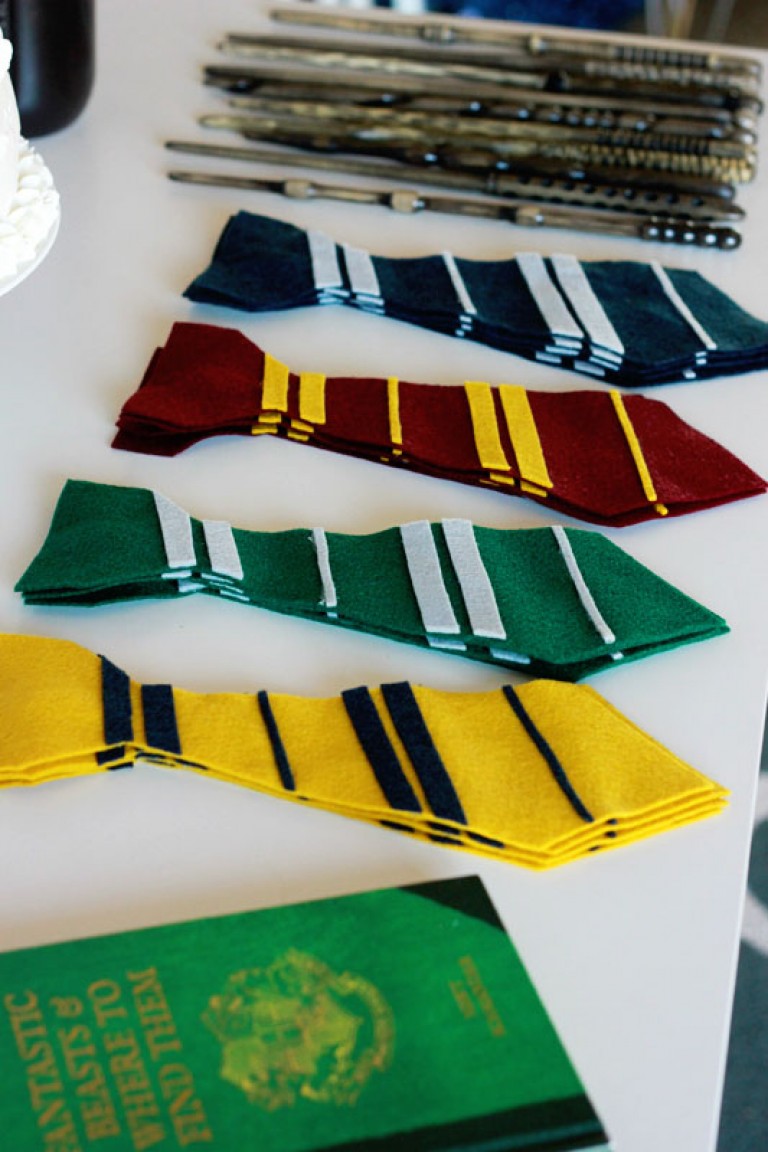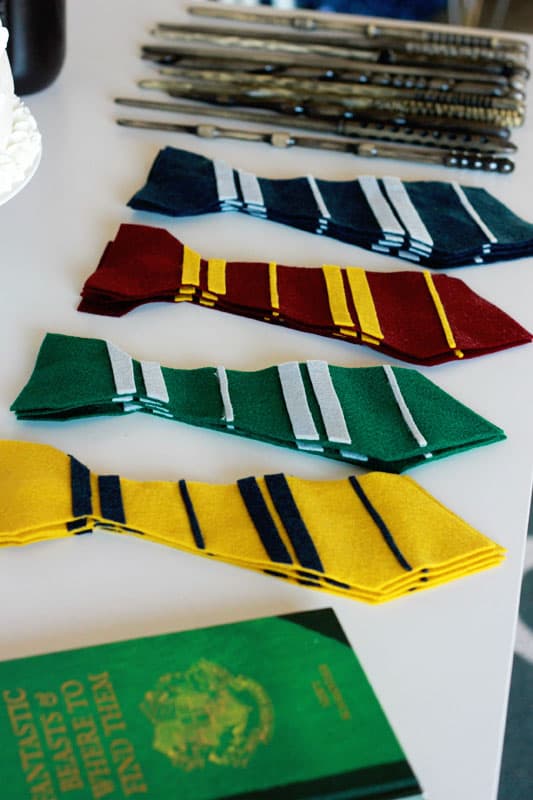 What to do at a Harry Potter Party:
Sort everyone into their house. We placed the h\Hogwart house names into a large hat. Allowed each party guest to select where they would be sorted and attached a DIY felt house tie to their outfit. Felt tie full tutorial here.
Allow guests to pick their wands and let them know what their wands are made of.
Watch Harry Potter – or at least play it in the background.
Play Quidditch. We had a few balls out in the backyard with hula hoops standing as goals. The kids kind of made their own rules which was super fun.
Last, but not least is the photo booth! Black Foam Board created a quick and simple prop along with their ties and wands. I loved that so many of the guests came dressed in character. It really added to the experience. We let them snap a photo or two with a Polaroid camera and added their image to the goody bags!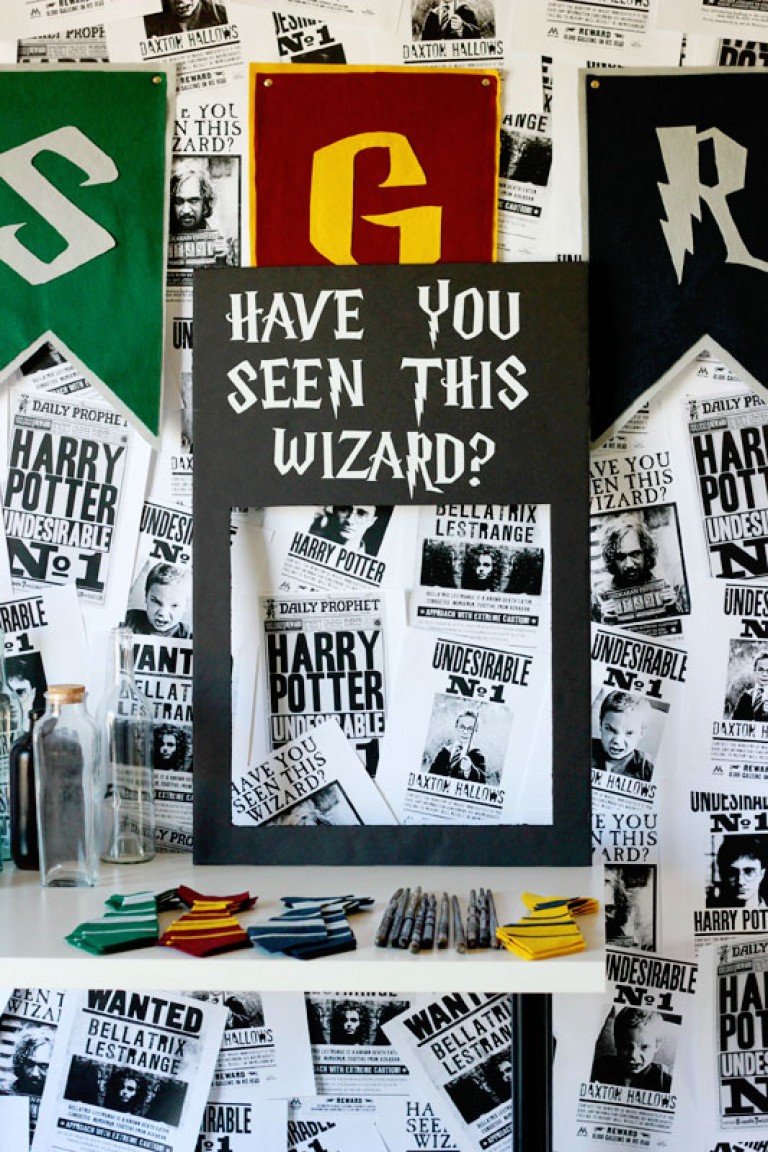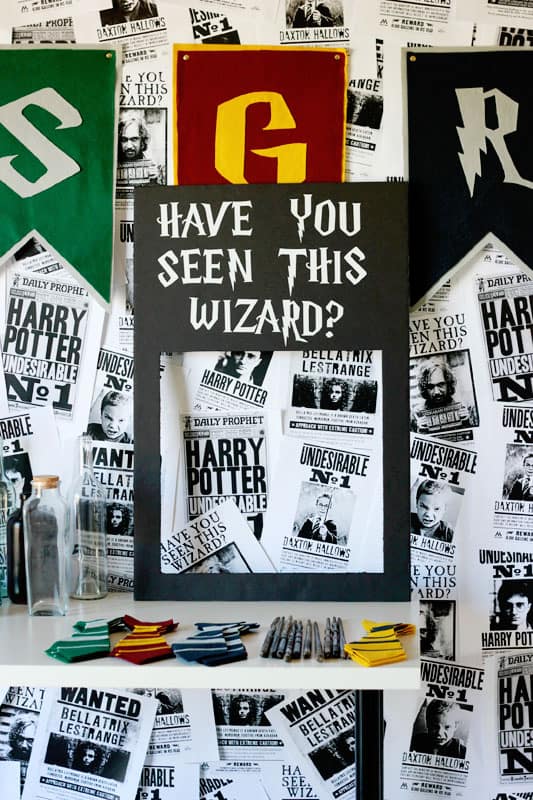 The only thing left to add are the balloons. We grabbed a couple in the different house colors and bundled them around the house for added effect.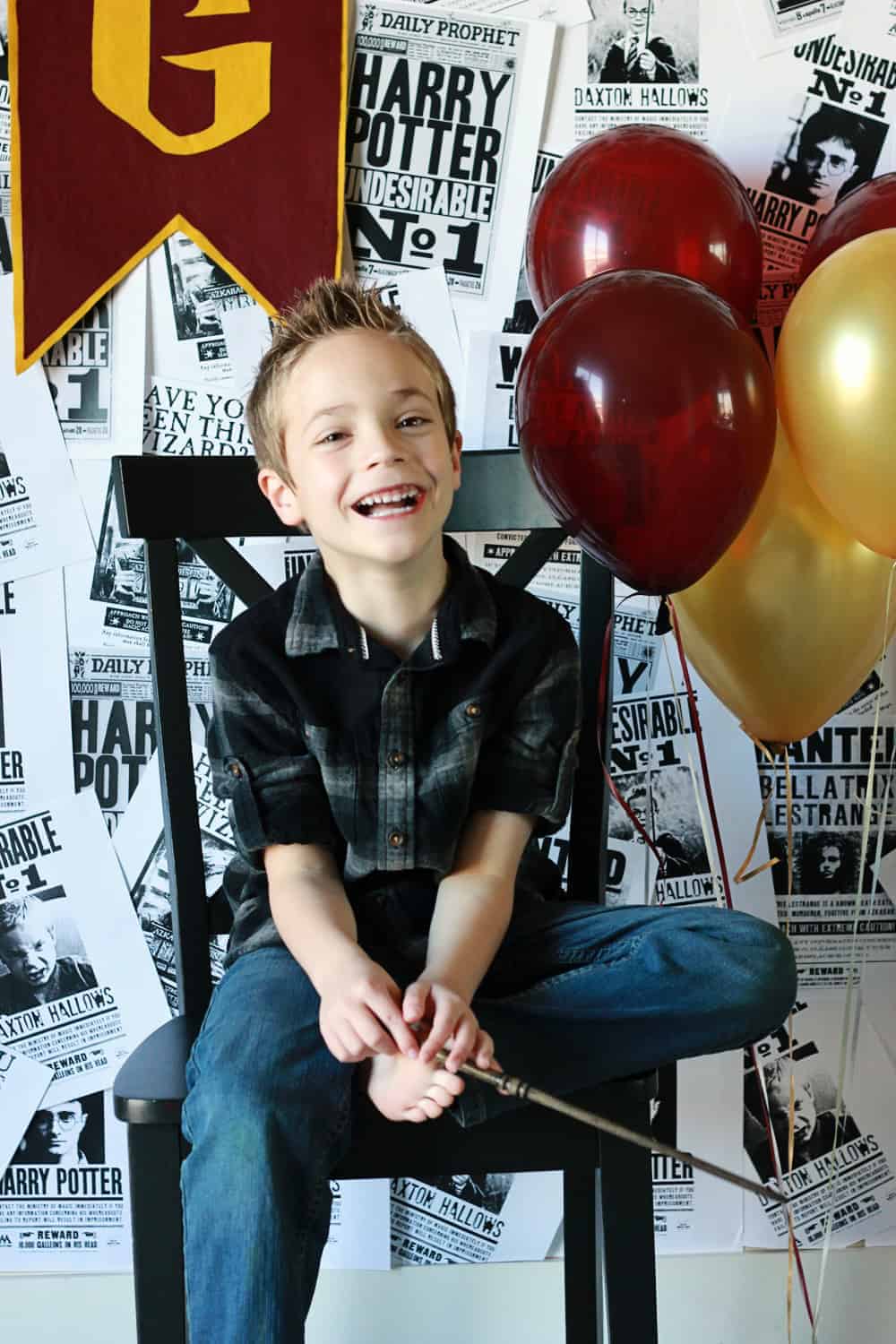 And that, my friends, is how we threw one kick ass Harry Potter Party. It's simple, quick, cheap, and amazing! Leave a link below to your favorite party so I can take a look and share on my social media!
Like this post? You will love my: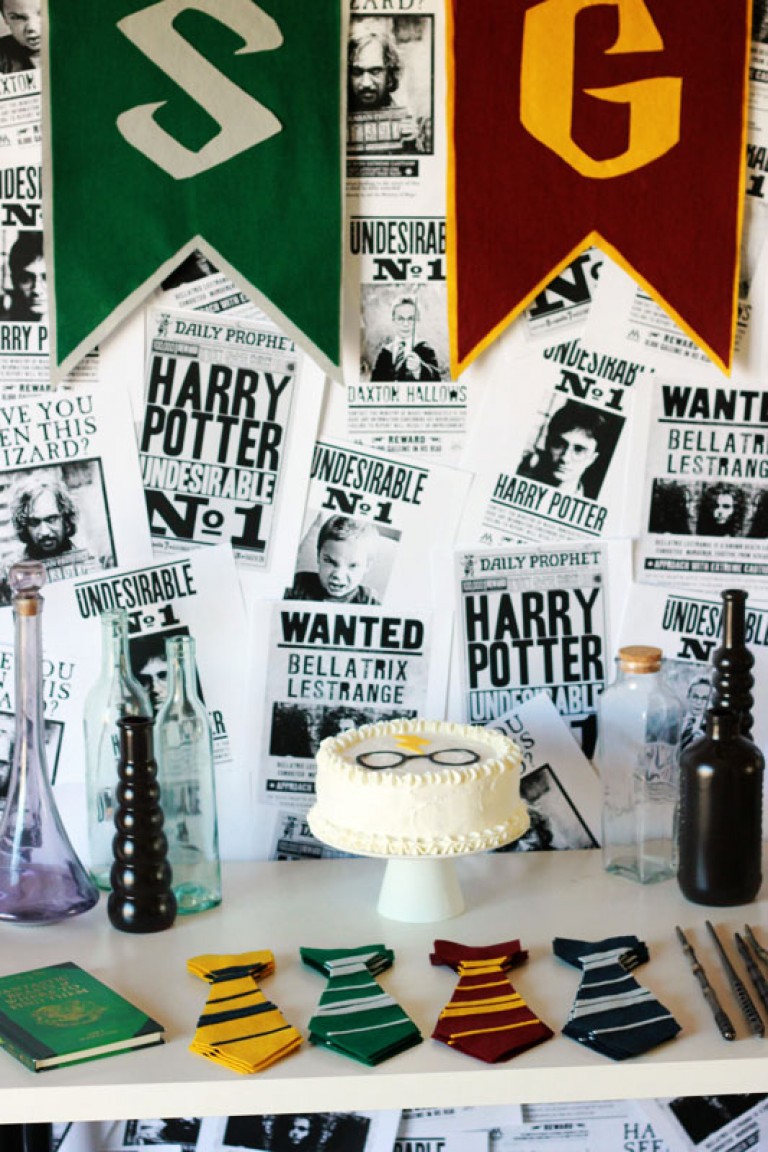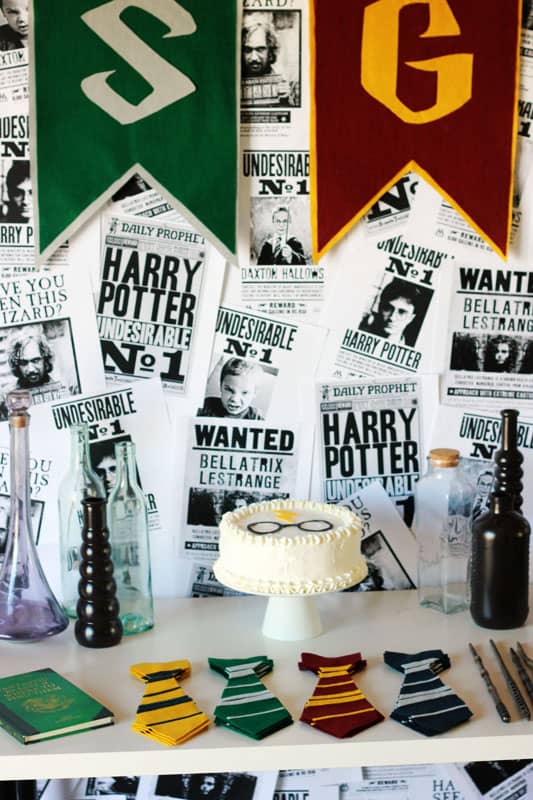 Still hungry? Follow One Sweet Appetite on Facebook, Instagram and Pinterest for more great recipe ideas!