Lasagna Stuffed Shells. This easy dinner recipe is made with sausage, ricotta cheese, spinach, and your favorite pasta sauce! Perfect for busy weeknights or to stick in your freezer.
This recipe is my FAVORITE. It has everything you could ever want in a comfort food dish.
Pasta.
Cheese (so much cheese).
Sauce.
And it is easy. Easy recipes are coveted in my household. The last thing I want to do after a long day of work is come home and spend hours in the kitchen. This one takes a whopping 30 minutes to whip up.
Did I mention it is also freezer friendly?
Easy Lasagna Stuffed Shells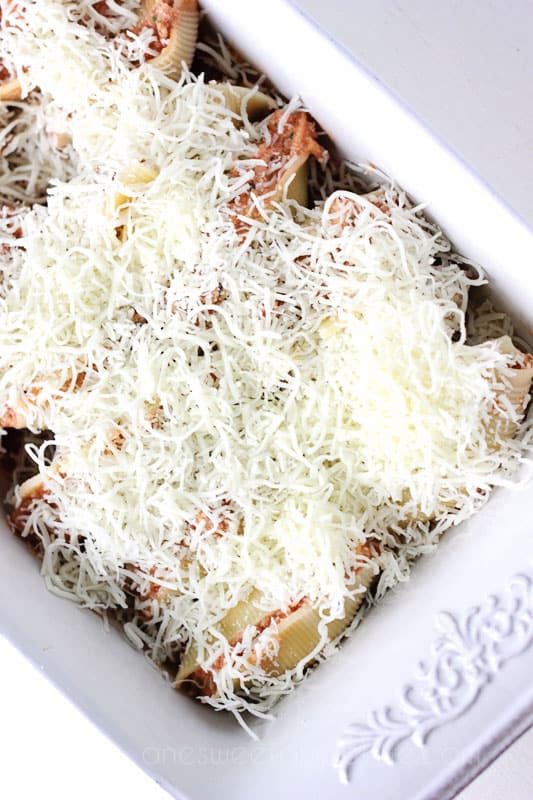 Ingredients for Lasagna Stuffed Shells:
Jumbo pasta shells
Ricotta
Mozzarella
Parmesan
Egg
Spinach
Spaghetti sauce
Sausage or ground beef
Tips to make perfect lasagna stuffed shells:
Use fresh mozzarella.
Pre-shredded cheese does not tend to melt quite as well. With the fresh version you get that ooey gooey melted cheese that you always see in restaurants.
Seriously delish!
You can also try substituting Italian sausage for a breakfast or spicy variety to change up the flavor profile or leave the meat out all together.
These also freeze VERY well.

How to freeze stuffed pasta shells:
We make a double batch and put half into disposable tin pans.
Cover tightly with heavy duty foil, label, and place in a zip top bag.
Freeze until you are ready to use.
Pull it out when you've got nothing on the menu and the family is begging for something delicious. I suggest leaving it in the refrigerator overnight to slightly thaw. Follow the baking directions from there.
We also use this same idea to take meals to friends and family when they need a little extra something (think new babies, surgeries, birthdays…).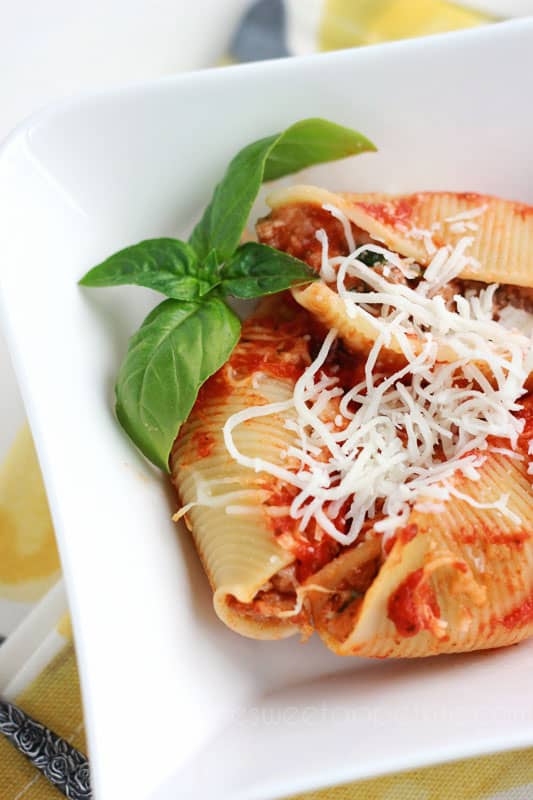 Like this recipe? You will love my Thanksgiving Stuffed Shells, Chicken Alfredo Stuffed Shells, and Mozzarella Stuffed Meatballs! Classic Lasagna Recipe
Baked pasta is one of my new go-to's thanks to this dish!
I like to serve it with a light salad (think Olive Garden style) and a little bread!
Try slicing a store bought french loaf- slice it thick, brush on a little butter, and sprinkle with some chopped green onions. Wrap that sucker in tin foil and toss in the oven for 15 minutes or until it is nice and toasty.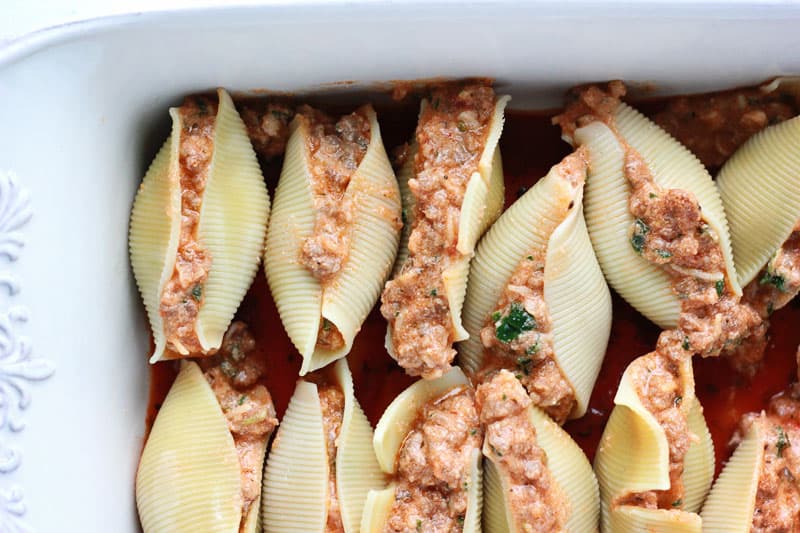 Lasagna Stuffed Shells
Lasagna Stuffed Shells. This easy dinner recipe is made with sausage, ricotta cheese, spinach, and your favorite pasta sauce! Perfect for busy weeknights or to stick in your freezer.
Ingredients
20 jumbo pasta shells
3/4 cup ricotta cheese
1 cup mozzarella cheese, shredded
1/4 cup Parmesan cheese, shredded
1 large egg
1/4 cup frozen spinach, thawed and drained
2 cups of your favorite spaghetti sauce
1 lb sausage or hamburger
Instructions
Bring a large bottle of water to a boil. Add your pasta and cook according to the package directions. Drain the noodles and set aside.
Preheat your oven to 350 degrees. Spread 1/2 cup of your tomato sauce in the bottom of a 9x9 dish.
Add the uncooked sausage to a hot pan and cook until browned. Stir in 1 cup of your tomato sauce and set aside.
In a small bowl stir together the ricotta, 1/2 a cup of mozzarella, Parmesan, egg, and spinach. Stir the mixture in with your sausage.
Spoon a hearty amount of the filling into each shell. Place into your prepared baking dish and continue until all are filled. Smother with the remaining 1/2 cup of sauce and generously sprinkle with mozzarella.
Cover with foil and bake for 20 minutes. Uncover and continue to bake for an additional ten minutes or until the cheese is melted and bubbly.
Freeze Instructions:
Follow the instructions above until just before baking. Cover securely with heavy duty foil or a freezer container.
Take your stuffed shells out of the freezer the day before you plan on cooking them. Let them slightly thaw in the refrigerator.
Bake at 350 degrees, covered, for 45 minutes. Remove the foil and bake an additional 20 minutes.
Notes
*If you like a more saucy pasta, add 1 extra cup onto your shells. This is also a good idea if you plan on freezing these for later.
Recommended Products
As an Amazon Associate and member of other affiliate programs, I earn from qualifying purchases.
Pin for later:
Still hungry? Follow One Sweet Appetite on Facebook, Instagram and Pinterest for more great recipe ideas!