Did you see the veggie packed pasta sauce I posted earlier this week? It is the perfect weeknight meal and great with almost any pasta. The only thing missing? Garlic bread! Or in this case… easy garlic knots!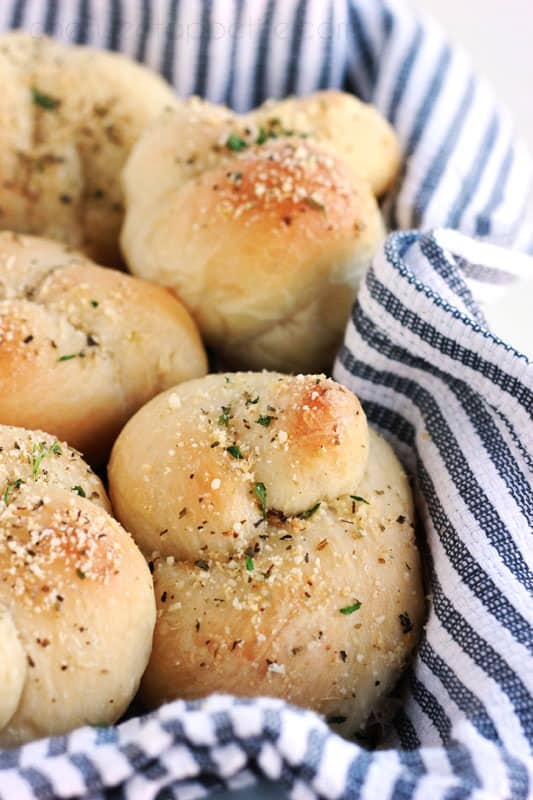 Truth be told, I have made these over a dozen times. I am all about super simple sides and this one ranks pretty high on the list. It all starts with some frozen rolls from my freezer, grab a few simple ingredients from the pantry, and some melted BUTTER. Because everything tastes better with butter, right? And cheese. Which, coincidentally, these have too! I like to pick up some of the fresh grated parmesan at our local super market. Seriously so delish and the perfect way to add a little flavor.
If you happen to be local and a JAZZ fan you can maybe spot these on a quick commercial that will appear before a few of the games. I was lucky enough to be asked to make a few recipes for Harmons grocery store and couldn't let the New York style pizza sit alone on the tray. These were used as filler and quickly demolished by the camera crew after we wrapped. They couldn't believe how quick and easy they were and scribbled down the recipe to take home.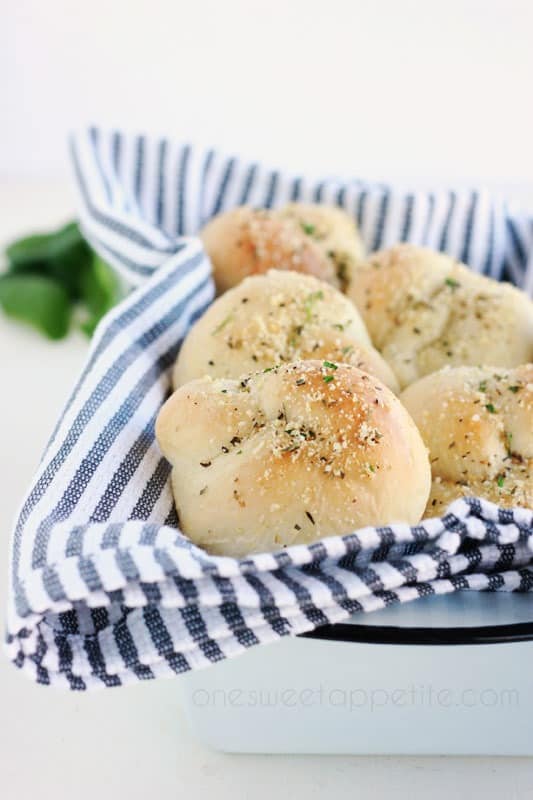 Easy Garlic Knots
Ingredients
3 tablespoons grated parmesan cheese
1/2 teaspoon salt
1-1/2 teaspoons garlic powder
1/2 teaspoon oregano
1/2 teaspoon basil
1/2 teaspoon parsley
12 frozen rolls
1/4 cup butter, melted
Instructions
Whisk the parmesan, salt, garlic powder, basil, and parsley in a small bowl. Set aside.
Remove rolls from the freezer until just thawed. Roll into 4 inch long ropes and tie into knots. Place on a greased pan and allow to rise until doubled.
Bake in the oven at 350 degrees for 8-10 minutes or until golden on top.
Brush with melted butter and sprinkle with garlic seasoning.