This easy Garlic Butter Recipe is the BEST. Incredibly simple to make and tastes amazing on everything. Use it on french bread, grilled cheese, baked potatoes and so much more!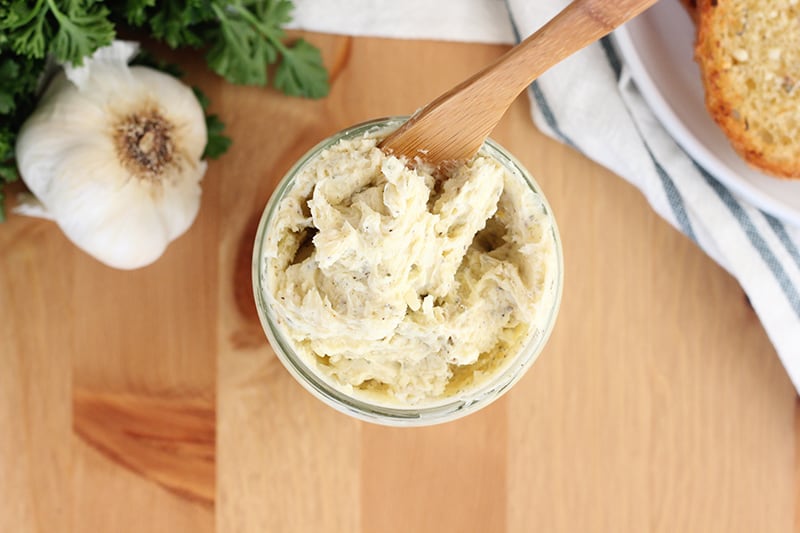 We used to buy those pre-made garlic bread loaves in the grocery store. You know the ones? They come in a foil wrapper and you pop them into the oven?
While they are tasty in a pinch, I wanted to create my own version of garlic butter that would knock your socks off.
That is this garlic butter recipe. It is an easy spread to assemble and is packed with bold flavor. The secret? Fresh garlic, Italian seasoning, and salted butter.
When combined with a few other pantry staples you get a garlic butter recipe that is out of this world!
Step by Step Instructions:
All of the magic starts with butter. You want it to be soft before you start. This will ensure that the ingredients incorporate easily and give you a smooth spread.
How to quickly soften butter:
While there are many ways to accomplish this task, my favorite ways to soften butter are as follows:
Cut it into small chunks. Pull the butter straight from the refrigerator. Cut into small squares and let it sit at room temperature for about 10 minutes.
Cover with a heated bowl. I have been known to stick a bowl in the microwave for about 3o seconds. From there I cover the butter and let it sit for 2 ish minutes.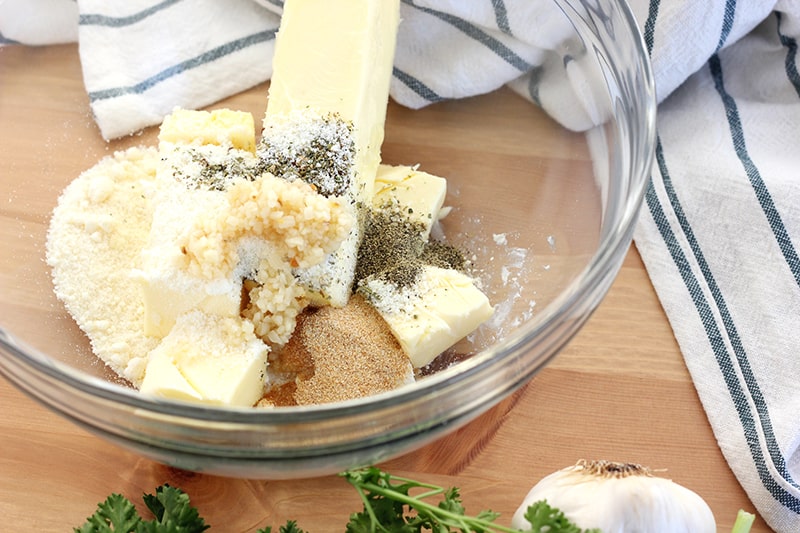 Once your butter is soft you will gather all of the remaining ingredients. For this recipe we are using:
butter
minced garlic
grated Parmesan cheese
garlic powder
Italian seasoning
and pepper
Place all of the ingredients into a medium mixing bowl. From here you can either mix by hand or use an electric mixer on low speed to stir until smooth.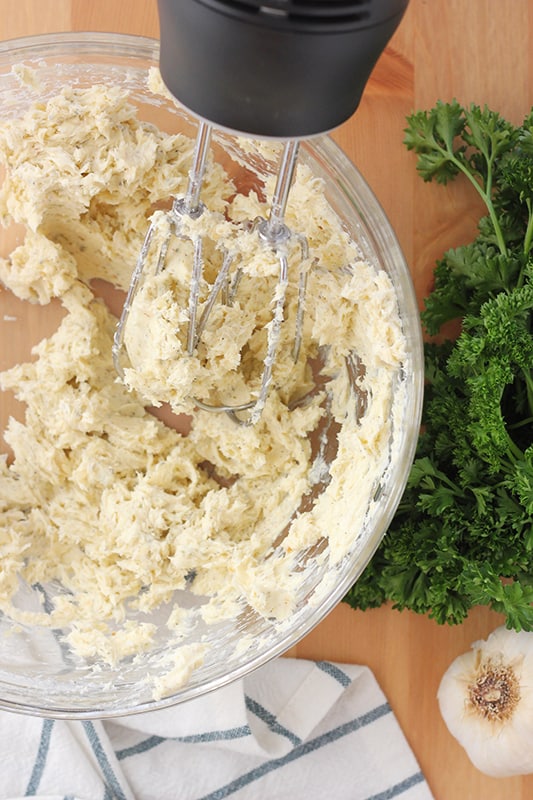 Transfer your butter to a container and use as needed. I like to place mine in a mason jar and store in the refrigerator.
How long does homemade garlic butter last?
If stored properly, homemade garlic butter will last 14 days in the refrigerator. I do not suggest keeping it at room temperature unless you plan on using it fairly quickly. I would suggest before 3 days.
Can you freeze garlic butter?
Yes! Freezing garlic butter is super simple. This recipe makes 1 cup of butter. You can freeze it all together or break it down into smaller portions. Place in a freezer safe container or zip top bag and place in your freezer. Pull out when you are ready to use and let it come to room temperature.
How do you use garlic butter?
The very first thing I always thing when it comes to garlic butter is GARLIC BREAD.
A quick and easy garlic bread recipe:
Slice 1 loaf of French bread into slices.
Spread one side of each slice with garlic butter.
Lay, butter side up, on a foil lined tray.
Bake at 425 degrees for 5-10 minutes or until the edges are crisp.
But do not limit yourself to this one recipe. Garlic butter pairs well with so many things. Here are a few of our favorites:
baked potatoes
grilled cheese
sauces
steak
fish
Like this recipe? You will love my:
Homemade Garlic Butter
This easy Garlic Butter Recipe is the BEST. Incredibly simple to make and tastes amazing on everything. Use it on french bread, grilled cheese, baked potatoes and so much more!
Ingredients
1 cup salted butter softened
1 tablespoon garlic minced
1/4 cup grated Parmesan cheese
2 teaspoons garlic powder
1 teaspoon Italian seasoning
1/2 teaspoon ground pepper
Instructions
Combine all of the ingredients in a medium bowl. Whisk together with a hand mixer until combined and smooth. 

Keep leftover garlic butter in an air tight container in the refrigerator. 
Nutrition
Serving: 1tablespoon | Calories: 111kcal | Carbohydrates: 1g | Protein: 1g | Fat: 12g | Saturated Fat: 8g | Polyunsaturated Fat: 4g | Cholesterol: 32mg | Sodium: 120mg
Pin for later:
Still hungry? Follow One Sweet Appetite on Facebook, Instagram and Pinterest for more great recipe ideas!
Reader Interactions