These Chicken Bacon Ranch Stuffed Shells are the perfect weeknight dinner recipe. Made with shredded chicken, ranch seasoning, and crispy bacon and smothered in a homemade alfredo sauce. Sure to be your new family favorite recipe.
Make it a meal and serve these shells with Roasted Brussels Sprouts (family favorite!) or a Chopped Salad.
RECIPE FEATURES
Easy Dinner Recipe: This is LOVED by our entire family and is the perfect way to use up leftovers.
Make-Ahead Dinner: You can assemble these shells in advance and have them ready for the oven. Perfect for busy weeknights.
Freezer Friendly: Double the recipe and have a pan on hand for busy nights when you don't feel like cooking.
My love for pasta runs deep. You all know that I have a soft spot in my heart for all of the carbs, but especially stuffed shells. My Lasagna Stuffed Shells are made on the regular here in the One Sweet Appetite home but this chicken ranch version may slide into our #1 spot.
It has EVERYTHING. Cooked chicken is shredded and tossed with cheddar cheese, spinach, green onion and stuffed into cooked pasta shells. A homemade ranch Alfredo is poured over the top and everything is sprinkled with bacon pieces. The only way I can even begin to describe it?
SO GOOD. Like, get in my belly right this second delicious. I could eat the sauce on anything and everything. Pin this recipe, print it out, and add it to your must-make list!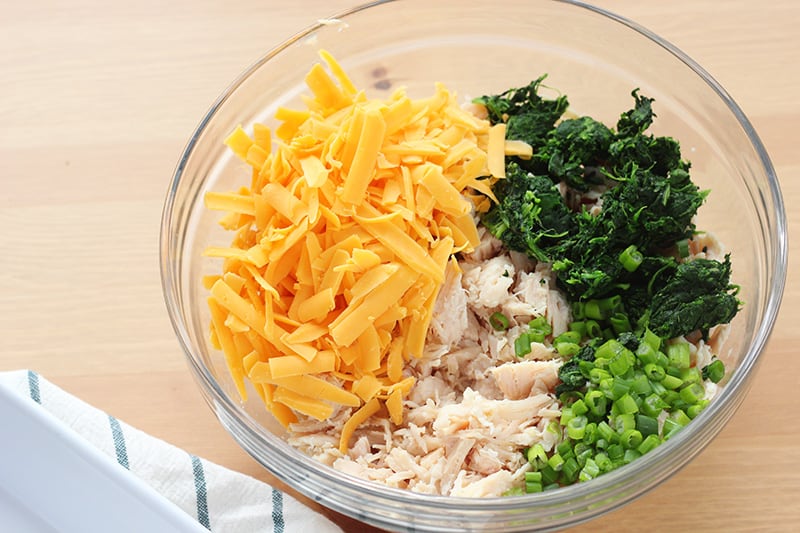 CHICKEN STUFFED SHELL RECIPE INGREDIENTS
Before you get rolling you'll need to have an idea of what goes into this recipe. Check out the list below and some tips to make it an even quicker assembly. You will be a pro cook in no time!
Jumbo pasta shells (affiliate): These have always been one of my favorites to cook with. Absolutely perfect to pack full of filling. Be sure to cook these in salted water and let them cool a bit before handling.
Chicken: Cooked shredded chicken. We always use either leftover chicken from a previous dinner, rotisserie chicken (can't beat the $5 Costco chicken), or canned chicken.
Spinach: Did you know you can buy pre-chopped frozen spinach? That works AMAZING in this recipe and makes prep even easier.
Cheese: Our go-to is cheddar, but you can play around with your favorite variety.
Green onion: Specifically the green ends. They are a smidgen sweeter and have a more mild flavor that works oh-so-well with the ranch sauce.
Bacon: Cooked crumbled bacon, either from breakfast or pre crumbled at the store. We actually purchase a giant bag of crumbled bacon (affiliate) from Costco and it is such a time saver!
Breadcrumbs: This adds a delightful crunch to the top of your pasta.
STUFFED SHELLS SAUCE
Could you buy a pre-made container of alfredo and stir in the ranch? Yes. Should you? No. This is so stinken easy to make and the flavor is 100x better. You will NEVER go back to jarred alfredo sauce again.
Butter: If you can, opt for salted butter. It helps to elevate the flavors and blend everything together.
Flour: A bit of all-purpose flour creates what is called a roux which thickens the sauce.
Parmesan Cheese: If you have the options, pick up a block of cheese, not the pre shredded. It is so delicious and melts perfectly. Never use grated parmesan.
Milk: 2% milk or higher. You could even use half and half or heavy cream if you'd like.
Ranch Seasoning Packet: This sauce is SO good on it's own. You will want to make it for every pasta dish.
HOW TO MAKE STUFFED SHELLS WITH CHICKEN
It is no surprise that the star of the show is the Alfredo. Cream, rich, and a slight ranch flavor. It kicks this pasta dish up a notch and makes it drool worthy. Let's dive into the secret of how to make Alfredo sauce.
Start by gathering all of the ingredients. The key components are butter, flour, milk, and cheese. Stick with Parmesan if you want that classic Alfredo flavor.
Melt butter in a medium saucepan. Whisk in equal amounts of flour. Cook 1-2 minutes or until bubbly. Make sure you whisk it consistently.
Slowly stir in the milk. Simmer 1-2 minutes or until it is just slightly thickened. Make sure you keep whisking to keep it from burning on the bottom.
Remove the sauce from the heat. Stir in the Parmesan cheese and ranch dressing mix.
Serve with your favorite pasta!
DOUBLE THE SAUCE
Want a more creamy pasta? Double the sauce recipe. Leftovers can be stored in the fridge for 2 to 4 days and is amazing used as a pizza sauce!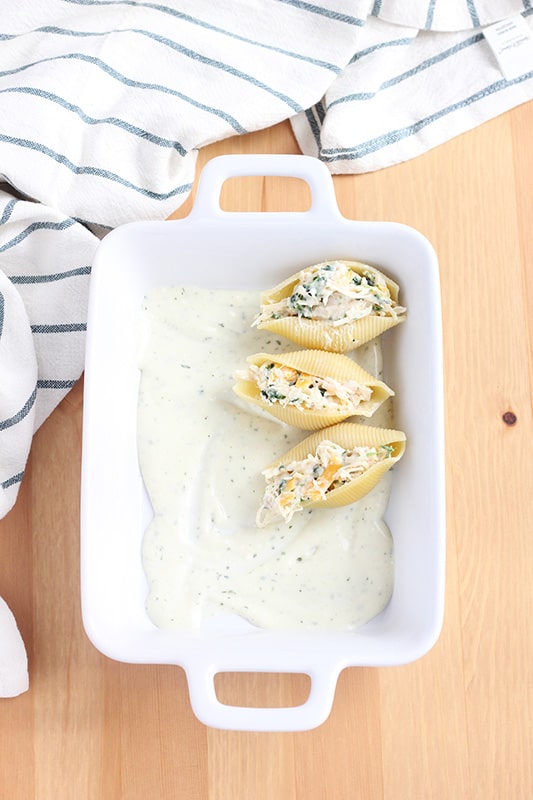 RECIPE TIPS AND FAQS
KITCHEN TIP: If you like your pasta on the saucy side, consider doubling the Alfredo in this recipe. We have made it as stated and with a little extra sauce. We are a house divided! Half love the original version and half the super cheesy Alfredo topped dish. You can't go wrong either way.
Can Chicken Bacon Ranch Stuffed Shells be made ahead?
Yes.The secret to making this dish ahead of time is storing the assembled shells and the sauce separately. Do not add the sauce until you are ready to cook.
Once you are ready to cook, heat the sauce in the microwave for 30 seconds to 1 minute. If you find the sauce is too thick, add a touch of milk.
Pour over the pasta and cook as directed.
Can you freeze this recipe?
Yes. Stuffed shells freeze amazingly well. Cover before baking and keep stored in an airtight container. Add an additional 10 minutes to the baking time when ready to make.
How long do leftovers last?
Leftovers will last 3 to 4 days if stored covered in the refrigerator. Heat in the microwave in single serve portions when ready to eat.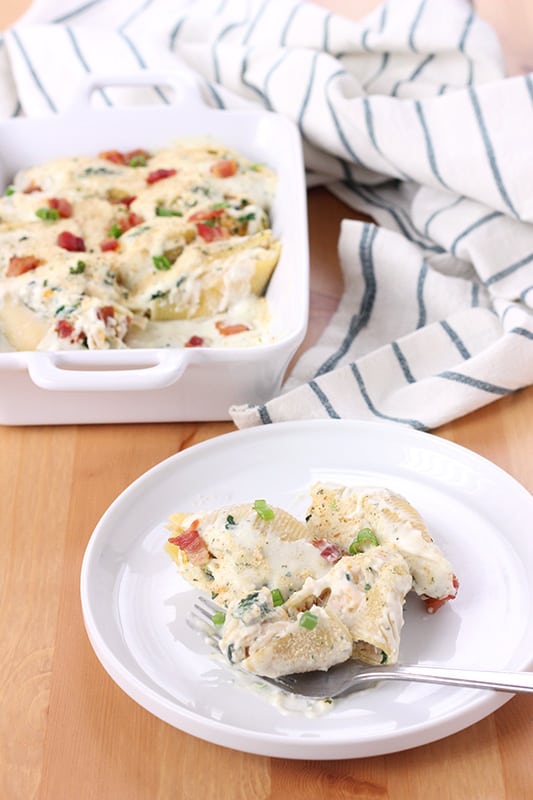 MORE PASTA RECIPES YOU WILL LOVE
Still Hungry? Follow One Sweet Appetite on Instagram, Pinterest, and Facebook!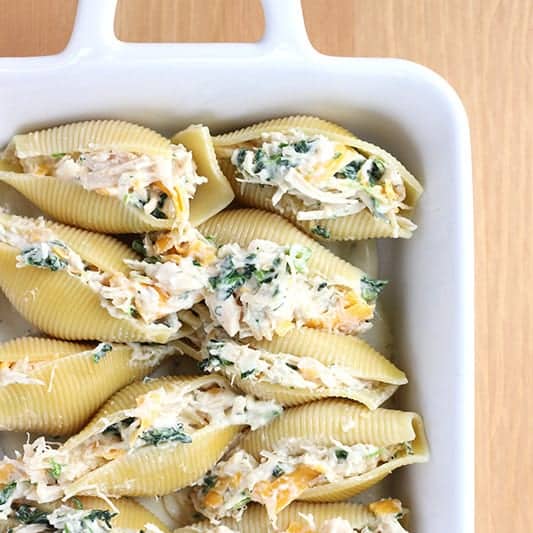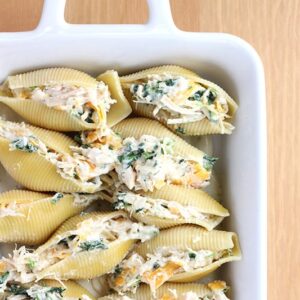 Ranch Chicken Stuffed Shells
These Chicken Bacon Ranch Stuffed Shells are the perfect weeknight dinner recipe. Made with shredded chicken, ranch seasoning, and crispy bacon and smothered in a homemade alfredo sauce. Sure to be your new family favorite recipe.
Ingredients
24 uncooked large pasta shells
2 cups cooked chicken shredded
1 cup frozen spinach thawed and chopped*
1 cup shredded cheddar cheese
1/2 cup diced green onion
1/4 cup breadcrumbs optional
cooked bacon pieces optional
For the sauce:
1/4 cup butter
1/4 cup flour
1 cup shredded Parmesan cheese
1 cup whole milk
1 1oz Ranch seasoning mix
Instructions
Preheat your oven to 350 degrees. Mist a 9×13 pan with cooking spray and set aside. 

Cook the pasta shells aldente according to the package directions.

While the pasta is cooking, prepare the sauce. 
For the sauce:
Melt the butter in a medium saucepan. Whisk in the flour until a paste is formed. Cook 1-2 minutes, stirring frequently.

Whisk in the milk. Cook on low heat until just slightly thickened. remove from the heat and stir in the Parmesan cheese. until melted. Stir in ranch packet.
Building the shells:
Combine the shredded chicken, spinach, cheddar cheese, green onion, and 1/2 cup of sauce in a medium bowl. Fill each pasta shell with a heaping tablespoon of the chicken mixture and place in your 9×13 pan.

Pour remaining sauce evenly over shells. Sprinkle with breadcrumbs and bacon if using, cover, and bake 25-30 minutes or until heated through. Remove cover and cook an additional 5-10 minutes or until bubbly. 
Notes
*Be sure to squeeze as much moisture from the thawed spinach as possible. Like your pasta extra saucy? Consider doubling the Alfredo in this recipe. 
Nutrition
Serving: 1Servings | Calories: 530kcal | Carbohydrates: 107g | Protein: 37g | Fat: 22g | Saturated Fat: 11g | Polyunsaturated Fat: 9g | Cholesterol: 73mg | Sodium: 468mg | Fiber: 7g | Sugar: 4g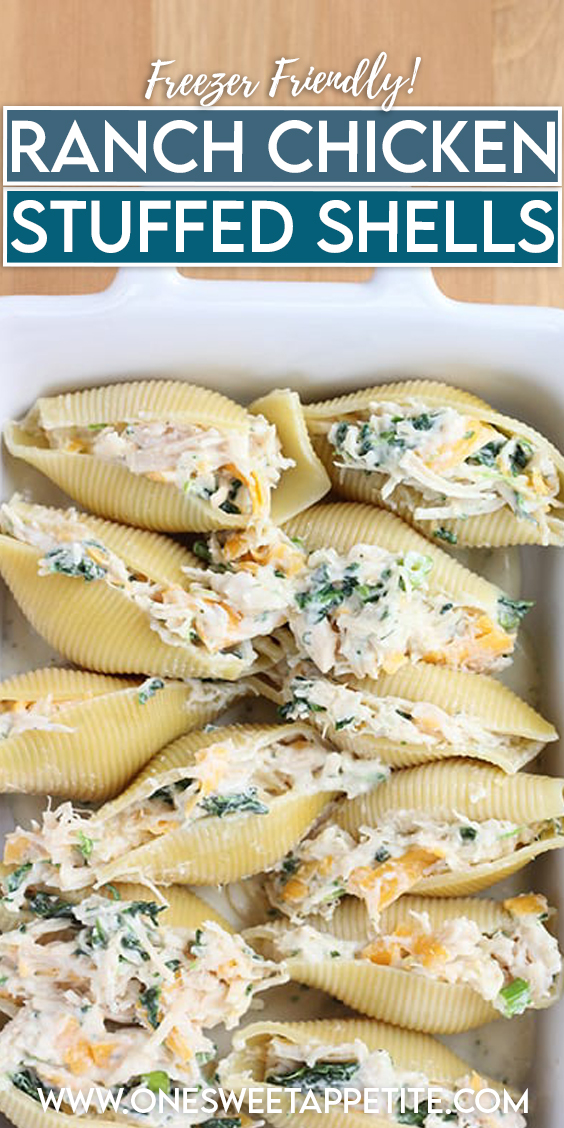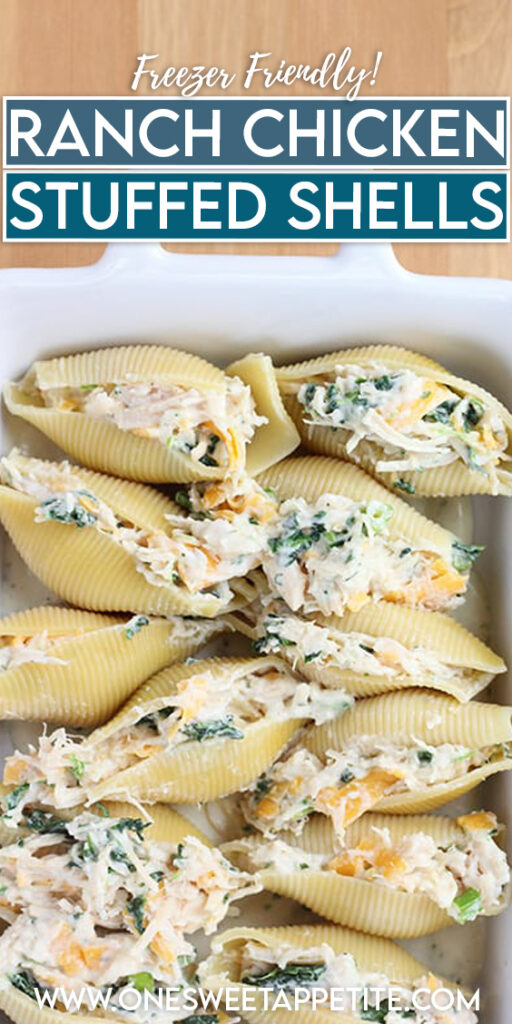 Reader Interactions