This Perfect Iced Tea is a great way to cool down during these warm summer days.

Finding simple drinks to help keep hydrated is key to my survival during the summer. I guzzle water like it's going out of style, but sometimes I just need a little something more to help me get the right amount of daily liquid. This recipe is perfect. So simple and delicious. When my mom first told me how to make it I was a little blown away. I mean, just TWO ingredients and you've got a pitcher of tea ready for honey, sugar, or fresh lemon.

I can remember my mom and grandma sitting in our backyard squeezing lemon into their tall glasses of tea while watching all of us girls swim in the pop up pool. I'd beg and beg for sips throughout the day and couldn't help but sneak more of my grandmas. That lady was heavy handed with the sugar which is exactly how I like it.
Did any one else grow up with one of those pools? You know the ones. Above ground and a pain to fill with those plastic liners. I remember when my brother thought it was a good idea to use the roof as a diving board. We are SO lucky we didn't break anything and also lucky my parents never found out. Pretty sure they would have had a heart attack. Darn kids, am I right?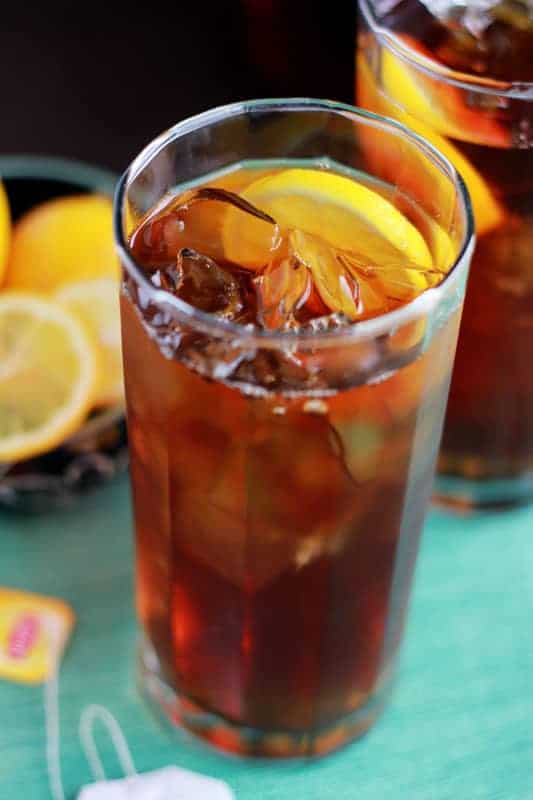 Perfect Iced Tea
Ingredients
8

tea bags

4

cups

simmering water

4

cups

cold water

lemon slices

optional
Instructions
Place your tea bags in a large glass pitcher. Pour over the 4 cups of simmering water and steep fro at least 5 minutes.

Remove the bags and stir in the remaining water with the lemon slices. Chill and serve over ice.
(Visited 1,941 times, 1 visits today)
4