Thirsty for a refreshing sip of sunshine? Look no further than this easy iced tea recipe. Bursting with vibrant flavors and cooling goodness, this concoction will make your taste buds dance with delight. Whether you're lounging by the pool, hosting a backyard bash, or simply craving a delicious chill-out, our iced tea recipe is the perfect companion.
Searching for more refreshing beverages? I've got you! You'll want to try my Fruit Punch, Mint Limeade, and Horchata recipes!
Why You'll Love This Ice Tea Recipe
Two Ingredients: You only need two very simple ingredients!
Easy to Customize: Add sugar for a southern sweet tea, skip the lemon slices for a more bold flavor, or let it steep longer!
Refreshing and Long Lasting: This drink will last up to four days if stored properly! Perfect to make ahead.
Finding simple drinks to help keep hydrated is key to my survival during the summer. I guzzle water like it's going out of style, but sometimes I just need a little something more to help me get the right amount of daily liquid. This recipe is perfect. So simple and delicious.
When my mom first told me how to make it I was a little blown away. I mean, just TWO ingredients and you've got a pitcher of tea ready for honey, sugar, or fresh lemon. Refreshing, crisp, and slightly sweet flavor. Overall, iced tea is a refreshing and versatile beverage that can be enjoyed in various flavor profiles, from light and delicate to bold and robust.
Homemade Iced Tea Ingredients
I mentioned above, I used only two very basic ingredients. Here is what you will need to make this simple drink recipe:
Tea Bags: I like to use black tea. Lipton, don't come for me, is cheap and makes a nice balanced tea.
Water: You will need both hot and cold water. The hot water is used to help steep the tea, which is where you get the flavor, while the cold water helps to chill things down.
Lemon: Optional, but lemon slices really help add a delightful freshness to the tea.
What Type Of Tea Is Best For Iced Tea?
When it comes to choosing the best tea bags for making iced tea, there are a few popular options that are known for delivering great flavor and convenience. Here are some tea bag varieties commonly used for making iced tea:
Black Tea: Black tea is a classic choice for iced tea due to its robust flavor and ability to stand up to ice and other flavorings. Popular black tea brands for iced tea include Lipton, Twinings, and Yorkshire Tea.
Green Tea: Green tea offers a lighter and more delicate flavor compared to black tea. It can be a refreshing choice for those who prefer a milder taste in their iced tea. Brands like Bigelow and Tazo offer green tea bags specifically for iced tea.
Herbal Tea: Herbal teas, such as chamomile, mint, or fruit blends, can be a flavorful and caffeine-free option for iced tea. Celestial Seasonings and Tiesta Tea offer a wide range of herbal tea bags suitable for making refreshing iced beverages.
Remember, personal taste preferences may vary, so feel free to experiment with different tea bag brands and flavors to find the one that suits your palate and desired strength of flavor.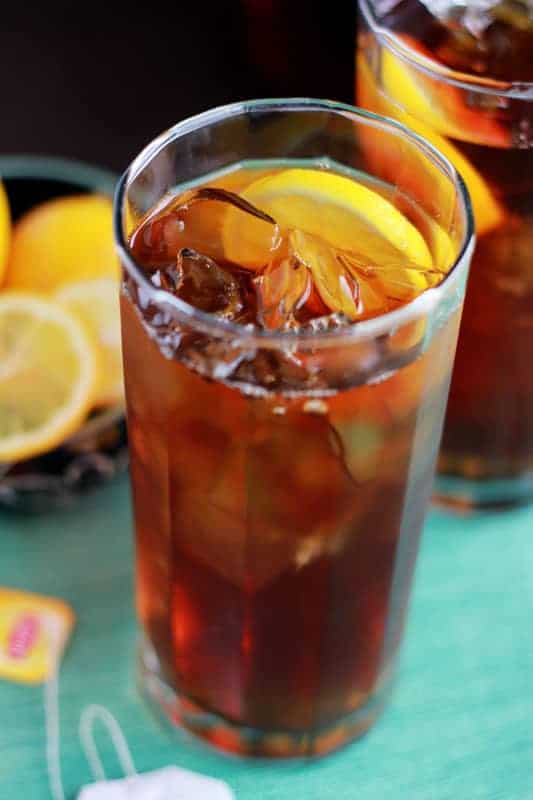 How To Make Iced Tea
This recipe could not be easier to make. The hardest part is waiting for it to chill so you can enjoy! Here is how you make iced tea at home:
PREP: Place the tea bags in a large glass pitcher.
STEEP: Pour over 4 cups of simmering water and steep fro at least 5 minutes to allow the tea to infuse out into the water.
MIX: Remove the bags and stir in the remaining water with the lemon slices, if using. Gently stir.
CHILL: Chill for an hour or two and serve over ice.
Helpful Tools
Pitcher: I use a pitcher (affiliate) for serving, because I find it easier and less space consuming. This one specifically is beautiful with the different edges and design.
Tea: I really like Lipton (affiliate). It's inexpensive which means you can make a lot for a fraction of the cost of store bought tea.
Glasses: Tall tea glasses (affiliate). These are so cute and also have an outer layer which helps keep things cool longer.
Recipe Notes:
Can I use loose leaf tea for iced tea?
Yes, you can absolutely use loose leaf tea for making iced tea. In fact, using loose leaf tea can often result in a more flavorful and nuanced iced tea compared to tea bags. Using loose leaf tea allows you to experiment with different flavors and blends, and it can be a rewarding experience to explore the world of loose leaf teas for your homemade iced tea.
How long should I steep the tea for iced tea?
The steeping time for iced tea can vary depending on the type of tea and your personal taste preferences. Black tea will typically take around 3 to 5 minutes. Green tea is a little more delicate and takes only 2 to 3. Remember that these time ranges are just general suggestions, and you can adjust the steeping time based on your personal taste preferences.
Should I sweeten the iced tea?
Whether or not to sweeten iced tea is a matter of personal preference. Some people enjoy the natural flavors of tea without any added sweeteners, while others prefer a touch of sweetness to enhance the taste.
Can I make flavored iced tea?
Yes, you can definitely make flavored iced tea! Adding flavors to your iced tea can create a delightful twist and enhance the overall taste experience.
My favorite way is to infuse with fruits. You can add fresh slices of citrus, berries, peaches or even pineapple to your brewed tea for added flavor.
Can I make a large batch of iced tea in advance?
Absolutely! Making a large batch of iced tea in advance is a convenient way to have refreshing beverages on hand throughout the day or for gatherings. Keep stored in a pitcher inside the refrigerator for up to four days.
Note: If you plan to store the iced tea for an extended period, it's recommended to keep it without ice to prevent dilution. You can add ice to individual servings when needed.
More Refreshing Drink Recipes
Still Hungry? Follow One Sweet Appetite on Instagram, Pinterest, and Facebook!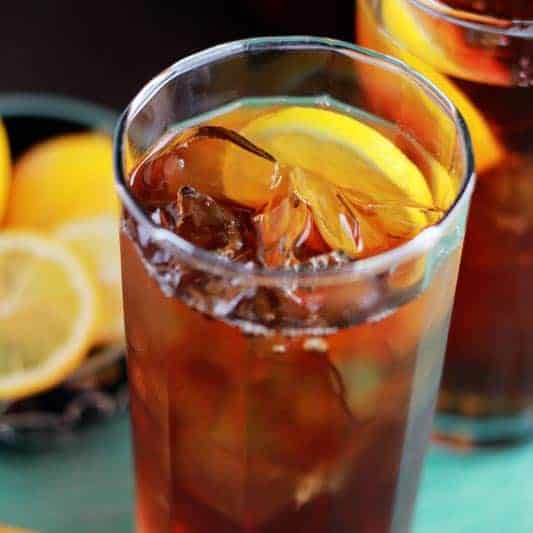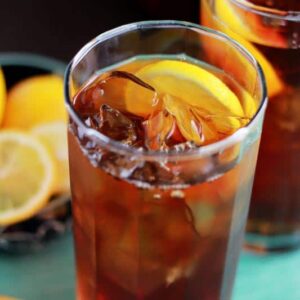 Perfect Iced Tea
This perfect iced tea recipe gives you a refreshing summer drink you can enjoy all year! Made with 3 simple ingredients and in under 10 minutes!
Ingredients
8 tea bags
4 cups simmering water
4 cups cold water
lemon slices optional
Instructions
Place the tea bags in a large glass pitcher. Pour over the 4 cups of simmering water and steep fro at least 5 minutes.

Remove the bags and stir in the remaining water with the lemon slices. Chill and serve over ice.
Nutrition
Serving: 8cups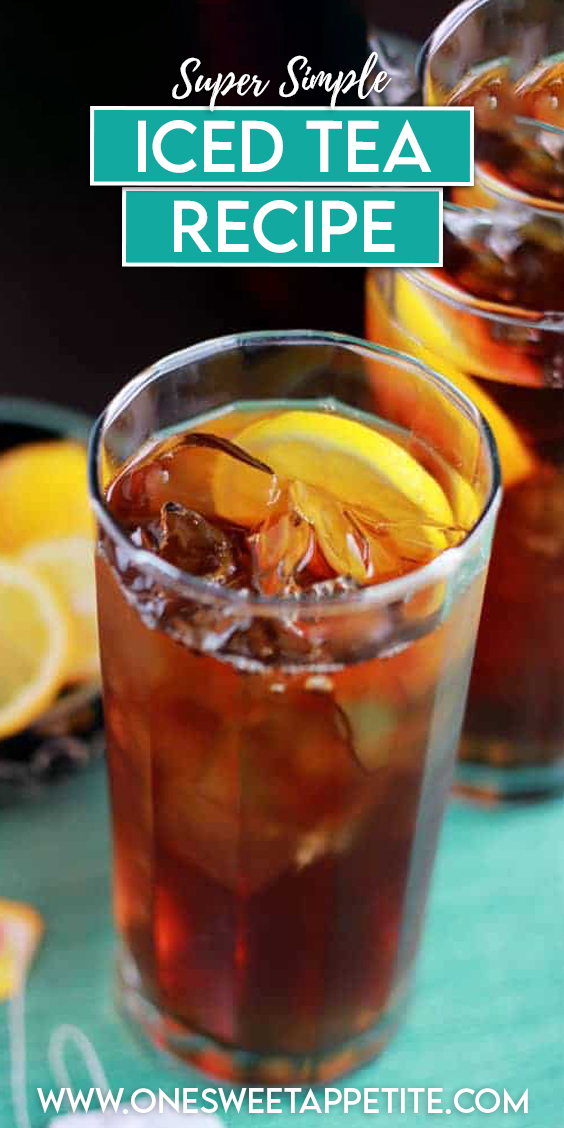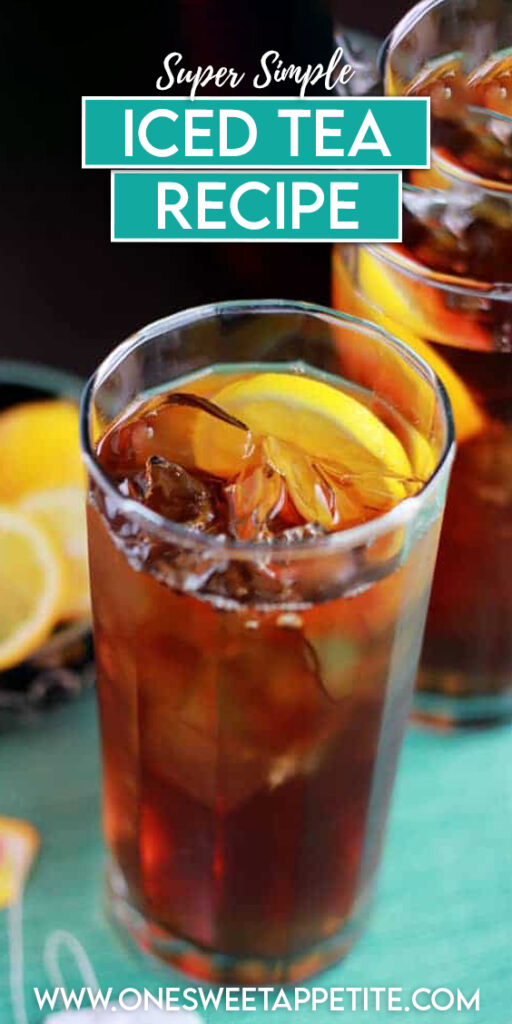 Reader Interactions