This Easy Horchata Recipe is a refreshing Mexican drink that is ideal for pairing with spicy-flavor packed meals. Made with rice, milk and cinnamon leaving you with a somewhat sweet drink that is hard to resist.
Looking to add a little pep to this recipe? Try my Horchata Latte! It's a delicious twist on a classic coffee recipe.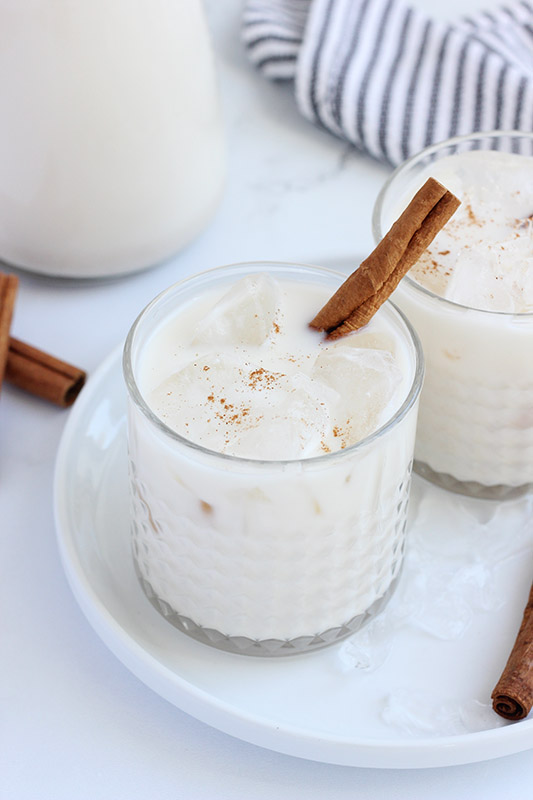 RECIPE FEATURES
Easy Recipe: Only a handful of ingredients, most you probably already have on hand, and minimal prep.
Customizable: You can easily switch this to a dairy free version or adjust the amounts of spices.
Family Favorite: Requested frequently and easy to make in advance.
If you have never heard of Horchata, you are missing out on this sweet rice milk drink. It is a popular beverage at most Mexican restaurants in the US and is the perfect way to cool your mouth after a spicy meal. It is incredibly refreshing and I have yet to meet another person that did not immediately fall in love.
Is this an Authentic Horchata recipe? I like to think so. I did a lot of research and it is very similar to the recipe my grandparents used. The base is made with soaked rice, cinnamon sticks, and almonds.
This would be delicious served along my one pot burrito bowl recipe!
WHAT ARE HORCHATA INGREDIENTS?
For my recipe, I like to stick with a milk based drink. However, you can easily make a switch or two for a lactose-free version. If you can, I suggest you try with the traditional version before making any changes. Nothing beats the refreshing and creamy flavor.
Rice: Specifically, white rice. Any variety within that will work (ong grain, jasmine, basmati, short grain…).
Cinnamon Sticks: Whole cinnamon sticks are soaked with the rice overnight. This softens them to help them blend with the rice, adding flavor to the drink.
Almonds: This is optional, but I find it adds a very subtle nutty flavor that is delicious.
Evaporated Milk: Cans of evaporated milk can be found in the baking aisle of most grocery stores.
Milk: Whole milk, or anything 2% or above.
Vanilla: Optional, and remember a little will go a long way.
Sugar: I like to use granulated sugar in my recipe, because that is what I grew up with. Alternatively you can use a simple syrup or sweetened condensed milk.
Water
HOW TO MAKE HORCHATA
SOAK THE RICE: Start by washing the rice and soaking it overnight with the cinnamon sticks. You can technically start this any time. I find it is easiest to start the process before bed so I don't have to think about it while it soaks.
BLEND: Once the rice mixture has soaked in water for a minimum of 5 hours you are ready to blend. Drain the water and add the rice, cinnamon sticks, and evaporated milk to a blender. Blend until the rice has fully ground and a smoother mixture is formed.
STRAIN: Using cheesecloth, or a fine strainer, strain the mixture 2x and add to a pitcher.
TOP OFF: Stir in the remaining milk, water, and vanilla if you are using. Taste and add sugar accordingly.
NOTE: You can technically use the water from the rice bath. However, I find this leaves you with a more chalky texture.
WHAT DO YOU SERVE HORCHATA WITH?
Here's the deal, this easy rice milk drink is good with almost anything. We like to serve ours with any mexican inspired dish. Try it with my Margarita Chicken, Southwestern Salad, Chicken Enchiladas, or Grilled Chicken Fajitas.
It makes enough to serve a crowd, so whip up a batch or two for any gathering or get together.
TIPS AND FAQS
What does horchata taste like?
Horchata is very rich, smooth, and creamy. Depending on how much sugar is added it can be sweeter and the added almonds give it a great earthy flavor. It reminds me of cinnamon milk.
How long does homemade horchata last?
Good news is that this recipe will last up to 8 days if stored properly! That means you can make a large batch for all of your gatherings in advance and pull it out when ready to serve!
How do you store this recipe?
Keep the horchata stored in an airtight container, pitcher, or jar inside the refrigerator. Since it contains milk, you will need to keep it chilled.
Can this be dairy free?
Yes! You can make this dairy free. Our favorite way is to use coconut or almond milk in place of the dairy called for in the recipe.
What type of rice do you use in horchata?
Any variety of white rice will work in this recipe (ong grain, jasmine, basmati, short grain…).
MORE DELICIOUS DRINKS
Still Hungry? Follow One Sweet Appetite on Instagram, Pinterest, and Facebook!
Homemade Horchata
This Easy Horchata Recipe is a refreshing Mexican drink that is ideal for pairing with spicy-flavor packed meals. Made with rice, milk and cinnamon leaving you with a somewhat sweet drink that is hard to resist.
Ingredients
1 cup white rice rinsed
2 cinnamon sticks
1/2 cup sliced almonds optional
1 can 12oz evaporated milk
1½ cups milk
3 cups water
1 teaspoon vanilla extract optional
2/3 cup sugar
Instructions
Place the rice, cinnamon, and almonds in a small dish. Fill with water to cover the rice completely. Cover and soak at least 5 hours.

Drain the water from the rice mixture and transfer the rice, cinnamon, and almonds to a blender.

Pour in the evaporated milk and pulse until the rice is ground and the texture is somewhat smooth.

Strain the mixture using a fine strainer or cheesecloth 2x.

Pour the strained liquid into a large pitcher.

Stir in the remaining 1-1/2 cups milk, 3 cups of water, and vanilla extract.

Add 1/3 cup sugar. Taste and add additional sugar as needed.

Serve over ice.
Notes
Looking for a dairy free version? Substitute the milks with coconut or almond milk. I enjoy the slightly nutty/earthy flavor added by the almonds, but they can be left out if needed.
Nutrition
Serving: 1g | Calories: 238kcal | Carbohydrates: 38g | Protein: 7g | Fat: 7g | Saturated Fat: 2g | Polyunsaturated Fat: 5g | Cholesterol: 10mg | Sodium: 63mg | Fiber: 1g | Sugar: 29g
Equipment
Reader Interactions