With summer just around the corner, there's no better way to beat the heat than with a refreshing Watermelon Margarita. This easy-to-follow recipe is a delicious twist on a classic cocktail, featuring fresh watermelon juice and a zesty lime kick. Whether you're hosting a backyard BBQ or just want to enjoy a cool drink on a hot day, this watermelon margarita is the perfect choice. So grab your blender and let's get started!
Searching for something with a little less kick? Be sure to browse all of my Non Alcoholic Drink Recipes.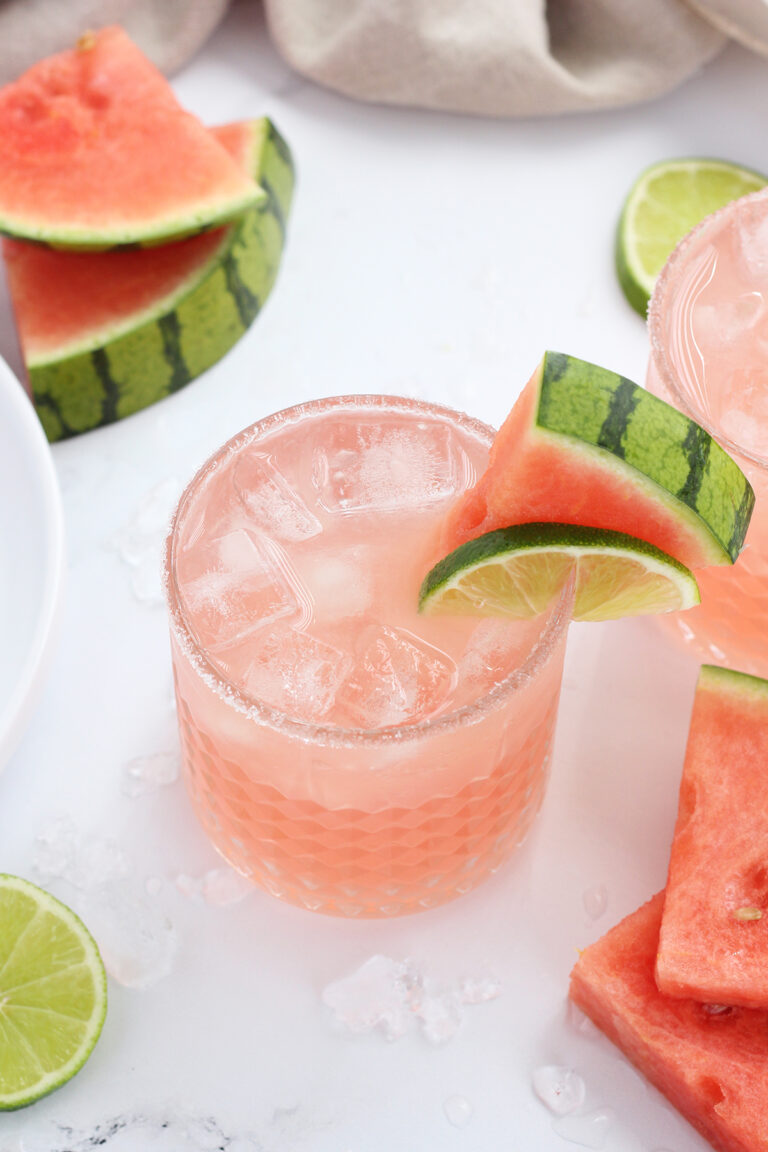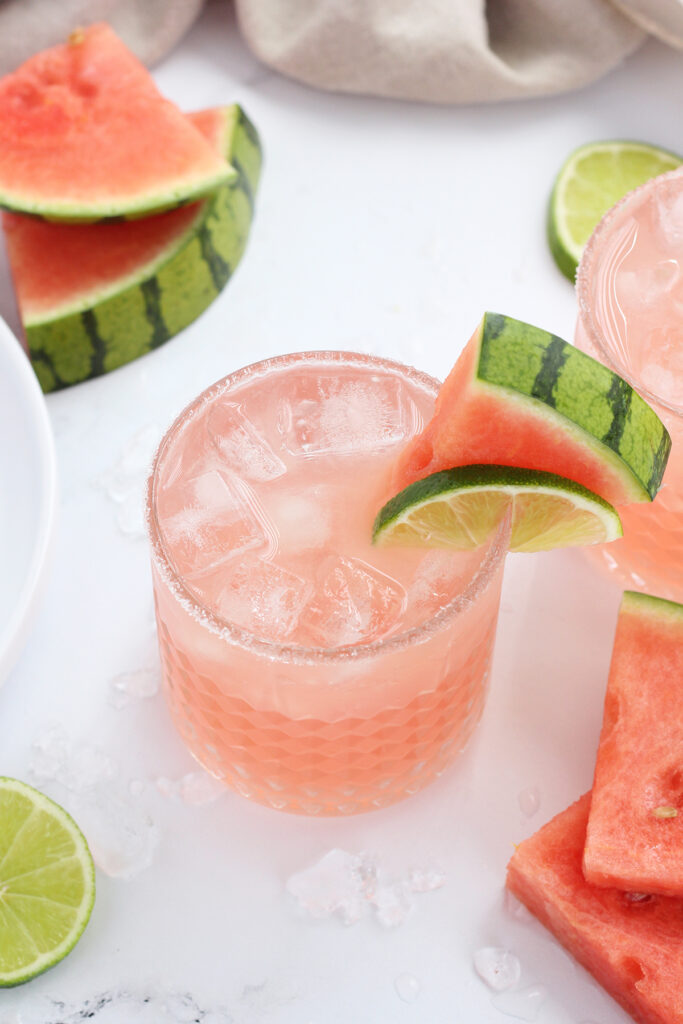 This post includes a recipe for alcohol. Drink responsibly. One Sweet Appetite and it's authors are not responsible for the actions of our readers should they choose to make this recipe and consume it. Please drink responsibly.
Recipe Features
Quick and Easy: Start to finish, this recipe takes less than five minutes! You'll be sipping away in no time.
Customizable: I love when you can adjust a cocktail to fit your tastes! If you aren't into tequila, swap it for vodka. No Orange liqueur? A splash of orange juice will work in a pinch!
4 Ingredients: You only need four very basic ingredients!
My 15th wedding anniversary is this year. To celebrate we decided to save up and go on a cruise. It was glorious. Of course, one of my favorite parts was the cocktails! We became best friends with the tequila bartender who introduced me to this little slice of heaven: The watermelon margarita.
This incredibly refreshing cocktail is sweet and fruity with just a hint of citrus. It is the perfect drink for anyone that enjoys a slightly more sweet margarita and can be customized so many ways! Try it as written then adjust it to add spice, tajin, or even mango!
Basic Margarita Ingredients
This recipe is incredibly simple and basic. You don't need many ingredients to whip one up and can make it on the rocks or blended! Here is what you will need to get started:
Tequila: I prefer a silver tequila, like Jose Cuervo Blue Agave or Patron Roca Silver.
Orange Liqueur: Do you need to splurge for a more expensive brand? Nope. In fact, you can sub this for a splash of orange juice if you wanted to. I like Grand Monarch. Not too pricey and makes a good addition.
Lime Juice: Fresh is best. I always pick up one or two limes to keep on hand for a quick cocktail mix.
Watermelon Juice: Ok, did I know that watermelon juice was a thing before I made this cocktail? No. Apparently it's super common, especially in the summer months! I used Simply Watermelon Juice and it was SO GOOD.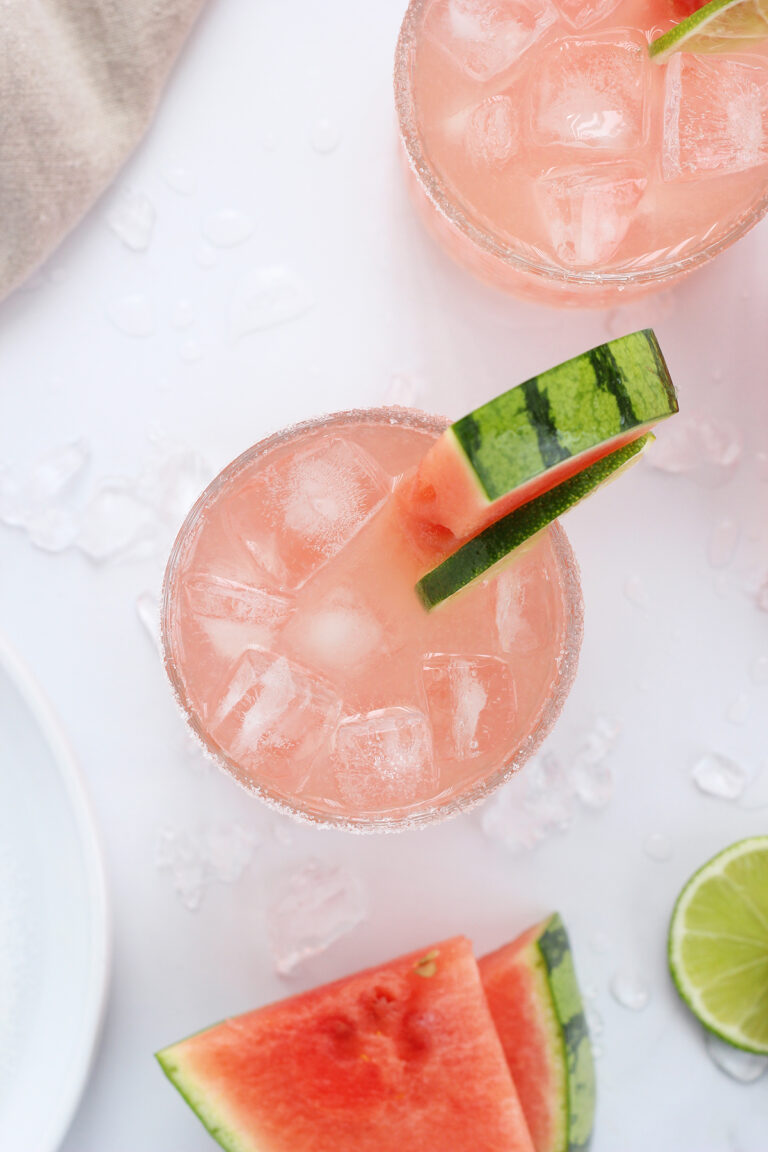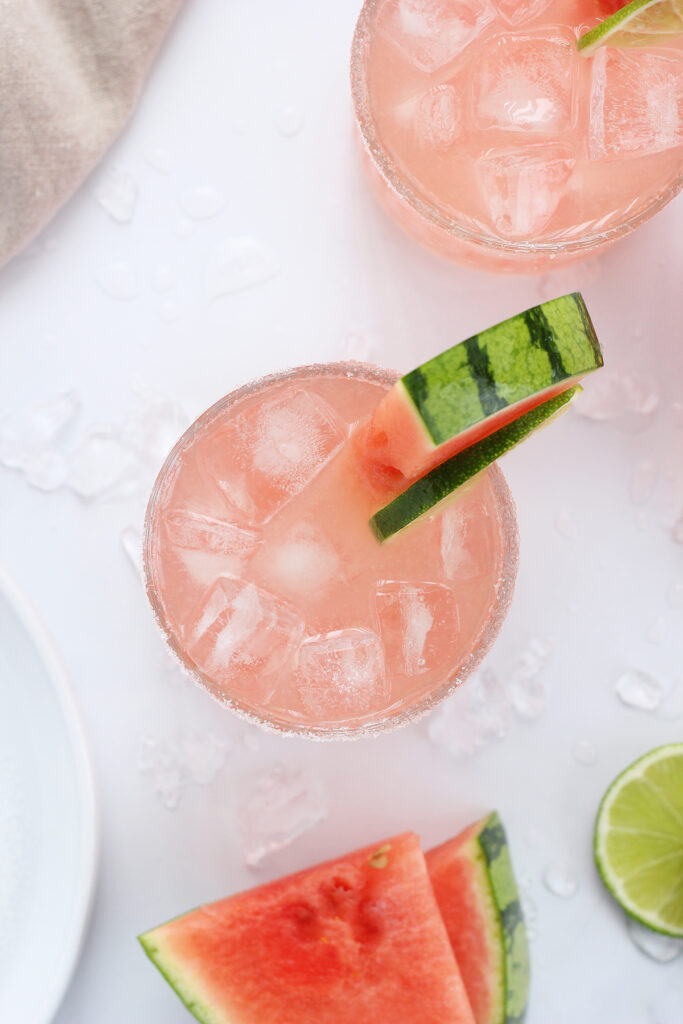 How To Make A Watermelon Margarita
If you're new to the world of cocktail making, the margarita could not be simpler! All you need to do is shake, pour and enjoy! This version is called "on the rocks"
PREP: Fill a cocktail shaker with ice. I like to fill the glass I plan on using with ice as well, to help get it nice and chilled.
SHAKE: Add tequila, orange liqueur, and lime juice. Shake 30 seconds or until mixed.
ENJOY: Strain the margarita into a salt rimmed and ice filled glass. Top with watermelon juice and enjoy.
Once you have your balance of flavors dialed in, you can start to mix the watermelon juice in the shaker with the other ingredients.
For a blended version, simply add all of the ingredients with 1-2 cups of ice in a blender. Pulse until slushie consistency and enjoy!
Helpful Tools
Cocktail Shaker: A shaker (affiliate) is used to properly mix all of the ingredients. No shaker? No problem! Just use a mason jar.
Pebble Ice Machine: Necessary? Nope. But a pebble ice machine (affiliate) is my new all-time favorite kitchen appliance!
Margarita Glasses: You absolutely HAVE to look at these adorable margarita glasses (affiliate). I just ordered a set and can't wait to use them in my next margarita recipe!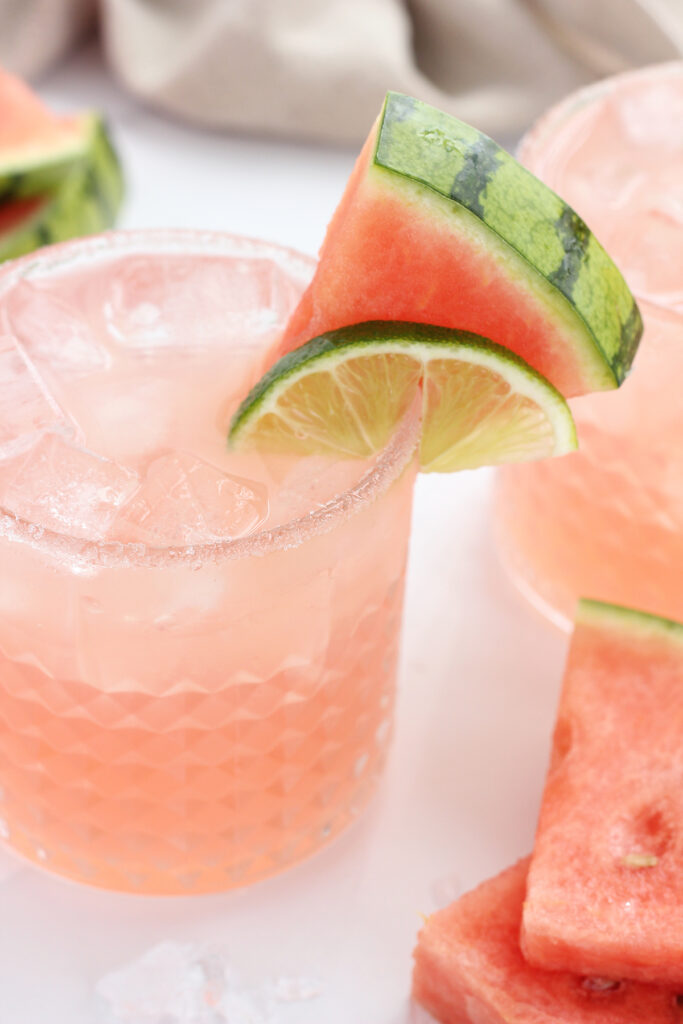 Recipe Notes:
How do I make watermelon juice for the margarita?
Believe it or not, you can find quality watermelon juice in most grocery stores right in the juice aisle. However, you can also just pop the fruit straight into the blender and pulse until smooth.
Can I make a pitcher of margaritas ahead of time?
Yep! Homemade margaritas will last up to three days in the refrigerator. However, if you are blending your own juice I recommend only keeping this recipe stored for one day.
How do I make this a virgin margarita?
Easy peasy! To make a virgin watermelon margarita, simply combine 2 oz orange juice, a squeeze of lime juice and watermelon juice.
Can this be blended?
Of course! To make this a frozen watermelon margarita add all of the ingredients to a blender with 1 to 2 cups of ice and blend to a slushie consistency.
Can I add other fruits?
If you'd like, of course! However, this is incredibly delicious as is. Try adding a few slices of jalapeno before mixing for a sweet and spicy flavor.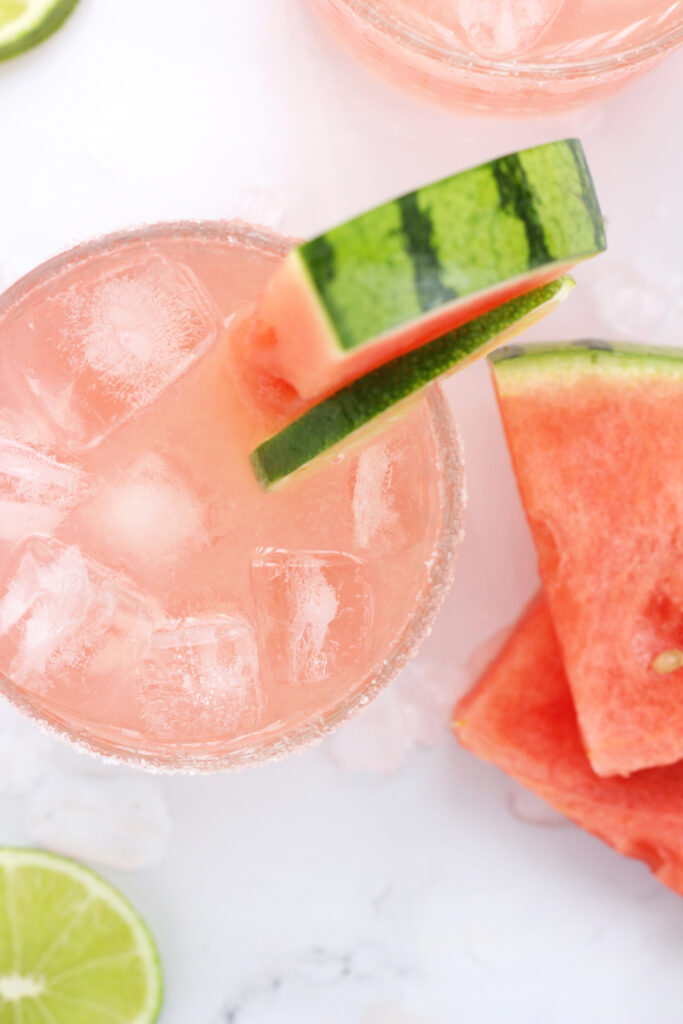 Still Hungry? Follow One Sweet Appetite on Instagram, Pinterest, and Facebook!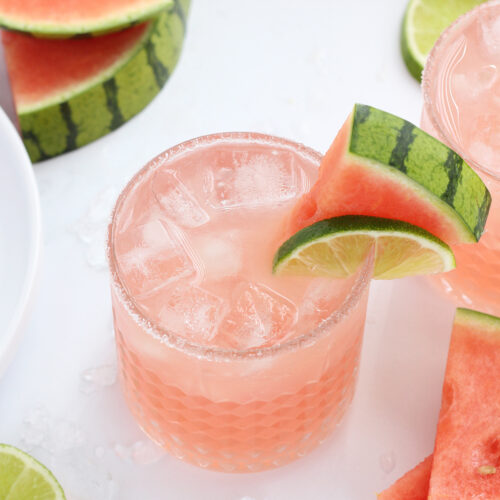 Easy Watermelon Margarita
With summer just around the corner, there's no better way to beat the heat than with a refreshing Watermelon Margarita.
Ingredients
3 oz tequila
1/2 oz orange liqueur
juice of half a lime
3/4 cup watermelon juice
Instructions
Fill a cocktail shaker, or jar with a secure fitting lid, with ice.

Add the tequila, orange liqueur, and lime juice to the shaker with the watermelon juice.

Shake vigorously for 30 seconds, or until combined and chilled

Strain into a glass filled with ice and enjoy!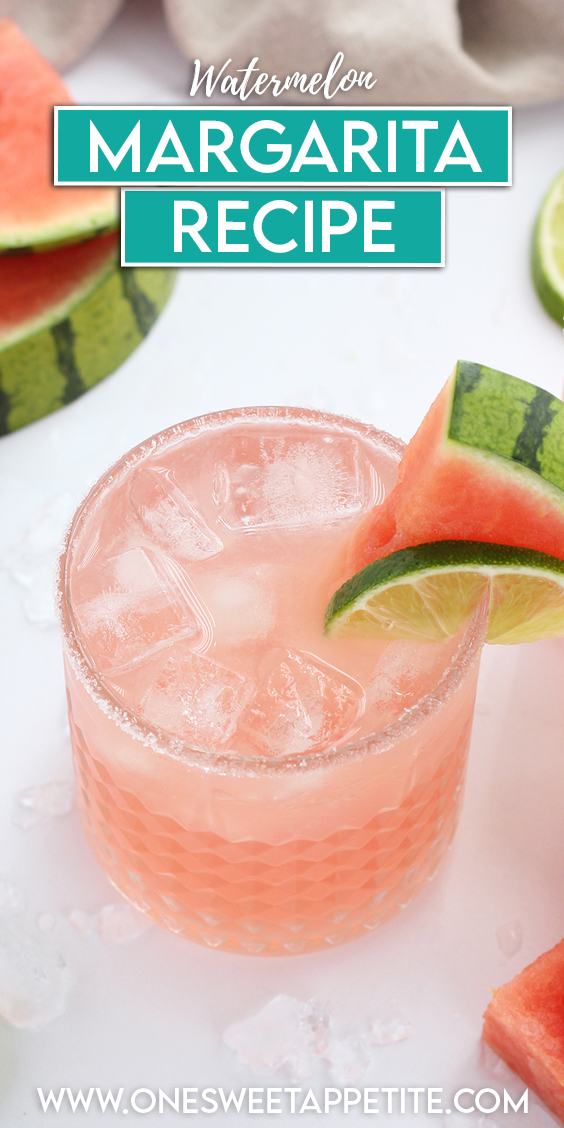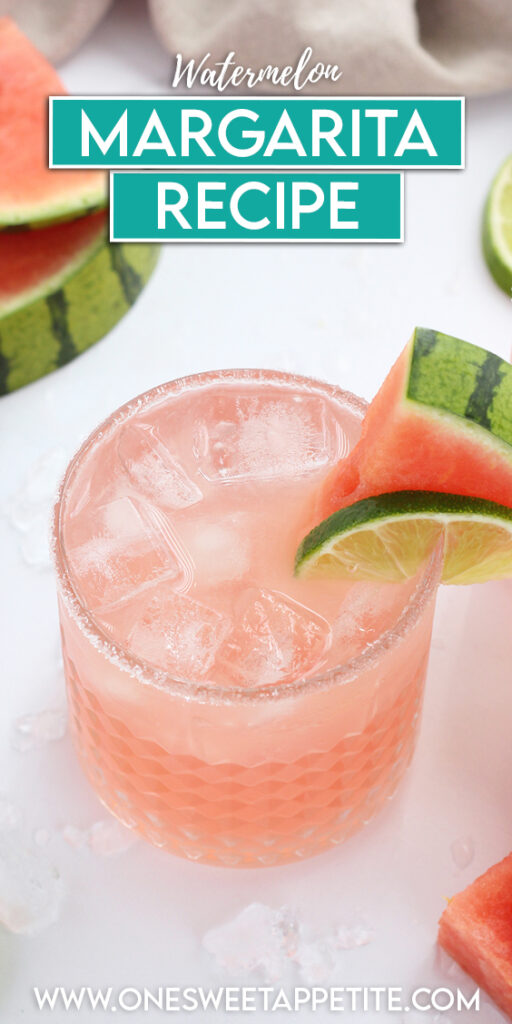 Reader Interactions