The flavor of the classic steak sandwich turned mini with these easy ground beef Philly Cheesesteak sliders! A family favorite recipe with minimal ingredients! Perfect for busy weeknights.
I'm a sucker for a good cheesesteak. If you like this recipe you HAVE to try my Cheesesteak Sloppy Joes. Unbelievably easy and a family favorite!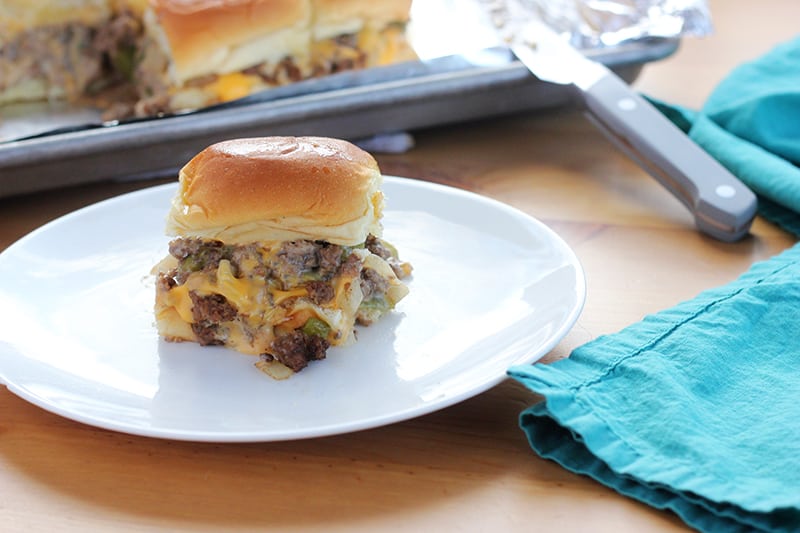 RECIPE FEATURES
Quick and Easy: Ready in under 40 minutes!
Weeknight Dinner Recipe: We pull this one out whenever we aren't sure what to make for dinner. Always a hit.
Family Favorite: One of the top requested recipes in our rotation.
Confession, I am a sucker for a super easy dinner idea. Like, they are my bread and butter. During the week I don't have time to fuss in the kitchen for hours to make an impressive meal. Which is why I LOVE this dish.
This Philly Cheesesteak Sliders recipe is one of a kind. You can take the full 40 minutes and make it all at once OR you can prep the beef and onion ahead of time and toss it in the freezer for a quick grab!
CHEESESTEAK INGREDIENTS
When we first made this recipe the ingredients were kept simple. I did not add any seasoning beyond salt and pepper. After making this a dozen times and testing combinations we found the PERFECT balance.
Ground Beef
Onion and Peppers
Ketchup
Worcestershire sauce
Cornstarch
Beef Broth
Salt and Pepper
Hawaiian Rolls
Provolone or American Cheese
Butter
Garlic
To help inspire flavor, I reached back into my memory from my very first visit to both Pat's and Geno's. If you've been to Philly, you'll recognize these as the two famous Philly Cheesesteak places in the city! One boasts the use of provolone while the other recommends American Cheese. Both work for this sandwich.
They also can't compare to the original. If you're ever in the city I suggest stopping by both! Pat's is my personal fave.
HOW TO MAKE CHEESESTEAK SLIDERS
PREP: I like to prep this recipe and measure ingredients before beginning. This makes the process run so much smother. It also helps avoid accidentally forgetting ingredients. Preheat the oven and line a baking tray.
COOK: Brown the beef, onion and peppers in a large skillet. Add the sauce and slice the rolls. Spread the meat mixture over the bottom half of the bread and top with cheese.
BAKE: Brush with garlic butter and bake, lightly covered, for 20 minutes.
ENJOY: Enjoy warm.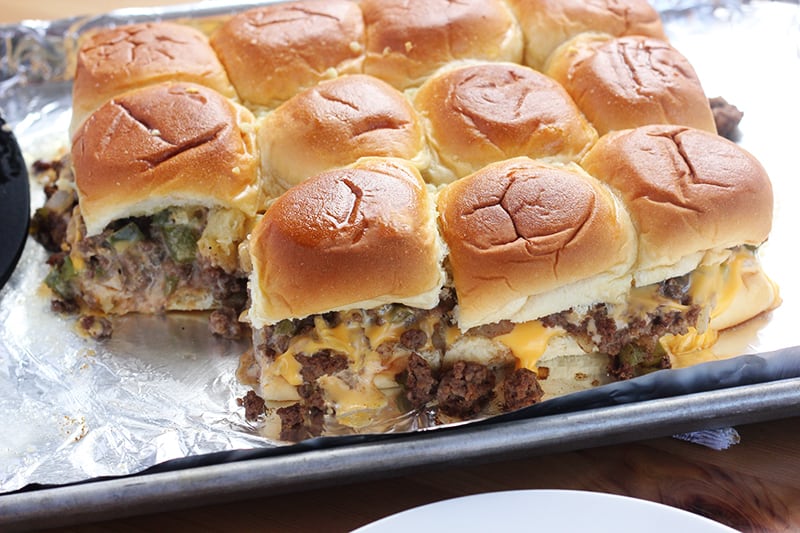 HELPFUL TIPS
Here's the deal, I really like to just toss the onion and pepper into the beef right away. I feel like it cuts down on the cooking time and leaves one less dish to clean. You definitely can cook both of these sperate if you'd like.
Hawaiian rolls are our go-to but any roll will do.
Try adding mushrooms to this dish for even more fun flavor.
RECIPE FAQs
What's the best cheese for Philly cheesesteak sliders:
Here's the deal, if you visit one of the classic staples in Philadelphia you are given the option of Provolone, Cheese Whiz, or American Cheese. SO, there is no right answer here. A lot of people lean towards provolone. I, personally, prefer American. The choice is up to you!
What to do if the tops of the rolls brown too quick?
These do brown rather quick, which is why I suggest loosely covering the top with foil before baking. This helps warm them through without burning the rolls.
Can these be made ahead?
Yes, and no. You can cook the beef mixture up to two days in advance. Keep it stored in the refrigerator until ready to build the sandwiches.
Once ready to eat, spread the mixture over the sliced rolls and brush with melted garlic butter. Bake 20 minutes at 350 degrees or until heated through.
Can I use steak instead of ground beef?
Yes. Thinly sliced steak can be used in place of the ground beef. Be sure to cut back the cooking meat time accordingly.
What sides go with Philly cheesesteak sliders?
We like to serve these sliders with french fries, onion rings, chips or pasta salad. Other ideas are banana peppers, pickles, or additional toppings like sliced tomatoes and sweet peppers.
MORE MUST-TRY SANDWICHES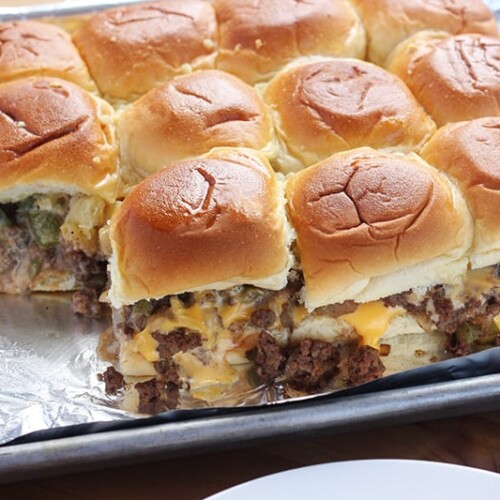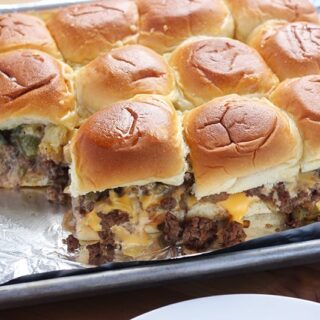 Ground Beef Philly Cheesesteak Sliders
The flavor of the classic steak sandwich turned mini with these easy ground beef Philly Cheesesteak sliders! A family favorite recipe with minimal ingredients! Perfect for busy weeknights.
Ingredients
1 lb ground beef
1 onion chopped
1 green pepper chopped
1 tablespoon ketchup
1 tablespoon Worcestershire sauce
1 tablespoon cornstarch
1 cup beef broth
1/2 teaspoon each salt and pepper
12 count Hawaiian Rolls
Provolone or American Cheese
4 tablespoons butter
1 clove garlic
Instructions
Preheat the oven to 350 degrees.

Add the ground beef, onion, and pepper to a large skillet over medium heat. Cook until the beef is browned and the onion and pepper is soft, about 2 to 4 minutes.

In a medium measuring cup, whisk together the ketchup, Worcestershire, salt, pepper, cornstarch, and beef broth.

Pour the liquid over the beef and peppers. Cook 3 to 5 minutes, or until the liquid has thickened.

While the meat mix is finishing, slice the Hawaiian rolls in half lengthwise. Place the bottoms in a half sheet pan (or 9×13).

Add the meat mixture to the bottom rolls. Top with cheese followed by the top of the rolls.

Whisk together the melted butter and garlic. Pour over the top of the sliders.

Lightly cover with foil and bake 20 minutes.

Notes
Pick a premium ground beef like ground chuck or sirloin.
Nutrition
Serving: 1g | Calories: 260kcal | Carbohydrates: 19g | Protein: 15g | Fat: 14g | Saturated Fat: 7g | Polyunsaturated Fat: 5g | Trans Fat: 1g | Cholesterol: 63mg | Sodium: 335mg | Fiber: 1g | Sugar: 6g
Reader Interactions