If I would have been on top of my posting game I would have posted these baked Philly cheese steak egg rolls before the super bowl. They really are more of an appetizer and would have been the perfect snack to munch on while you watched Katy Perry and Missy Elliot… Er… I mean the Seahawks and Patriots. You will have to excuse my tardiness and find another great reason to whip these up. Steak, onions, peppers, and CHEESE all packed into a delicate egg roll wrapper… What's not to love?!
Really, these just happened to be one of those random ideas that turned into a brief moment of genius. I love egg rolls and I love a good cheesesteak, so I thought why not combine the two for the ultimate experience? Luckily my husband agreed but he quickly put a kibosh on the deep frying. I may or may not have a terrible track record in the kitchen with hot oil and grease fires. For the record… Do NOT use water on those suckers. It does not end well. There is a small chance I'm also banned from using super sharp knives and the mandolin slicer without supervision. Remind me to tell you about that later.
OK, I am getting off track. Back to the point… Since I couldn't fry these suckers I opted for the next best thing… BAKING. Couldn't be that hard, right? After I stuffed the wrappers full of steak filling I rolled them tight and placed them onto a baking tray. I pulled out my handy dandy coconut oil spray (buy Pompeian. Seriously. It's the only nozzle that doesn't clog and is a staple in my kitchen!), gave both sides a quick mist, and stuck them right into my preheated oven. Turn them half way through and you've got a crispy snack that's ready to eat.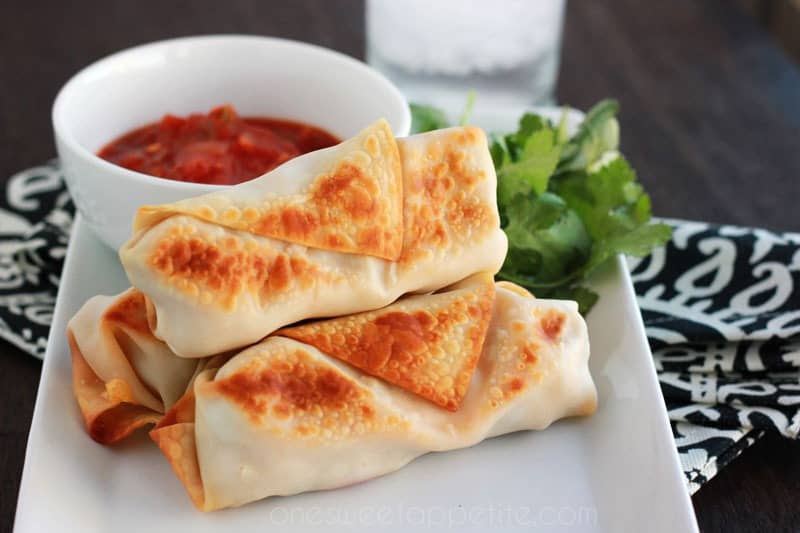 They are hot when you pull them out of the oven so precede with caution. Use salsa, ranch, or jalapeno sauce for a quick dip and enjoy!
You might also like my Philly Sliders!
Baked Philly Cheesesteak Egg Rolls
Ingredients
1 tablespoon Pompeian Extra Light Olive Oil
1/2 red onion, chopped
1 each green and red pepper, chopped
1 lb steak of your choice or roast beef, thinly sliced
salt and pepper
1 package egg roll wrappers
American cheese slices, pepper jack, cheddar, or cream cheese
Pompeian coconut oil spray
Instructions
Preheat your oven to 425 degrees. Line a baking tray with foil and set aside.
Season your meat with salt and pepper. Set aside.
Heat the oil in a medium sauce pan. Stir in the onion and peppers. Cook 5 minutes or until the veggies begin to sweat.
Stir in your thinly sliced meat and continue to cook until meat is no longer pink. Remove from the heat and drain any liquid.
Lay out one egg roll wrapper. Lay half a slice of your preferred cheese and a large spoon full of your steak and veggie mixture. Wrap as tightly as you can and place on your baking tray. Continue until all of the filling is used.
Lightly spray both sides of your egg rolls with cooking spray. Bake 10-15 minutes, turning halfway through, until crisp on both sides.