This post was updated on by Jesseca
Slow Cooker French Dip Sandwich. A large beef roast, beef broth, spices, and beer combine in the slow cooker to make this easy dinner recipe.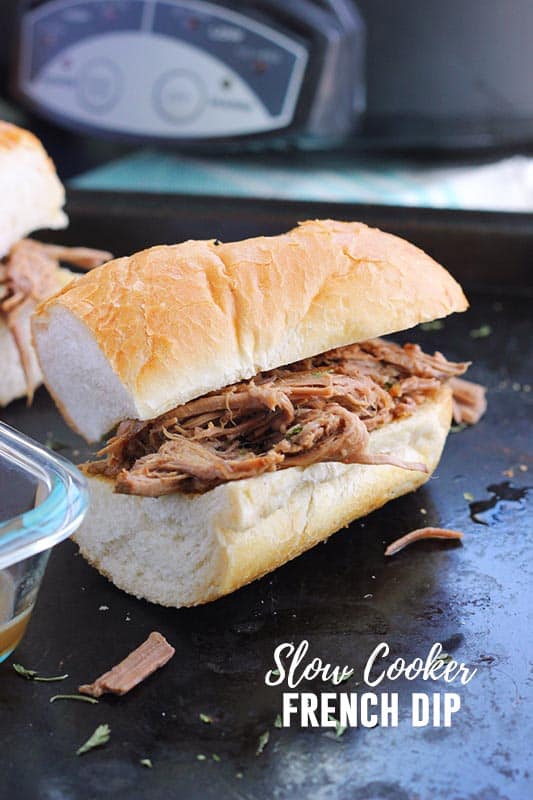 I made a New Year's resolution with myself to write at least one post a week here on the good ol' blog. Over the last few months we have had so many big changes and my beautiful website has been a bit neglected. I love it so and couldn't stand the thought of not coming back and rocking this new year. One time a week is totally do-able. Especially since we eat dinner every. single. day. So, while everyone else was out there making goals to kick butt at the gym, I'm over here like "Let's eat MORE food!!"
We are HUGE fans of the slow cooker and I knew I wanted to incorporate it a little more. I have started working a full time job (besides the site) and looooooove the idea of dump-and-go meals. Anything that I can prep in under 10 minutes and have warm and ready for me when I walk through the door is A-OK in my book. So I rolled up my sleeves and started hunting the web for the best of the best. There are about a million ideas out there but these tasty sandwiches caught my eye. Mainly because it took the traditional French Dip and swapped the deli slices for a pot roast.
Slow Cooker French Dip
The prep work is minimal and the end result is perfection.
How to make a French Dip:
Toss all of your ingredients in the slow cooker before you head out the door.
Let all of the flavors blend together for 8 long hours.
Strain the juices (save those for dipping!), shred the meat, toast the buns, and enjoy!
I have to admit, my eight year old especially loves these sandwiches which is a big surprise. He is a "no sauce!" kind of guy so the fact that he actually dips his in the juices is a big deal. He gives these two thumbs way up and suggests you all head to the store to make this delicious meal ASAP!
Slow Cooker French Dip Sandwich
Ingredients
3

lb

roast*

1/2

tsp

salt

1/4

tsp

pepper

1/2

tsp

garlic salt

1/2

tsp

onion salt

1

(10.5 oz)

can beef broth

1

(10.5 oz)

beef consommé

1

can

good quality beer

1

Tbsp

Worcestershire sauce

1

tsp

garlic, minced

2

Tbsp

butter, soft

French rolls
Instructions
Mix together the salt, pepper, garlic salt, onion salt in a small dish. Sprinkle over the roast.

Place the roast in your slow cooker. Add the beef broth, consomme, beer, Worcestershire sauce, and garlic. Cook on low for 8 hours.

Strain the juice into a container and save fore later.

Shred your meat. Cover with foil to keep warm.

Slice your rolls in half, spread with butter, toast under the broiler.

Add meat to the bread. Serve with a side of the broth for dipping.
Recipe Notes
*I use whatever roast is on sale.
*Use a dark beer for the best flavor.
(Visited 299 times, 1 visits today)
1