These are the best Homemade Pumpkin Cupcakes! Made with an incredibly light and moist pumpkin cake that is topped with the creamiest whipped frosting. A flavor combination that is perfect for fall!
If you are looking for even more fall flavor, you will love my Pumpkin Granola, Pumpkin Spice Coffee Creamer, and Pumpkin Oatmeal!
This post was originally published October 7, 2012. It has since been updated to include fresh photos and helpful tips.
RECIPE FEATURES
Bakery Worthy: These cupcakes are honestly something you would find in a bakery. So moist, full of flavor, but not too sweet.
Make Ahead: These can be made up to 3 days, but can be frozen for 3 months.
Family Favorite: Our teenage gives these two thumbs way up and requests them for every holiday celebration.
My love for pumpkin runs deep. I look forward to the official start of fall so I can start baking all of my favorite recipes, but these cupcakes land firmly towards the top of the list. They are simple to make, no mixer required, and bakery worthy.
The cake is almost irresistibly on it's own, the spices and pumpkin blend beautifully together, but add the lightly whipped cream cheese frosting and you have a combination that is honestly heaven.
PUMPKIN SPICE CUPCAKE INGREDIENTS
Pumpkin is the stand out flavor in these cupcakes, as it should be, but there is also a delicious blend of spices to help give you that delicious pumpkin pie flavor. Truly recipe gold giving you a moist and light cupcake that has the most tender crumb. Here is what you will need for the cupcakes:
Flour: I have only ever made this recipe with all-purpose flour. That being said, I think you could substitute half of the flour called for with a whole wheat flour.
Spices: Cinnamon, nutmeg, ginger, cloves, and allspice. If you want to simplify this you can substitute 2-3 teaspoons of pumpkin pie spice.
Leavening Agents: Both baking powder and baking soda are used to give these cupcakes a delightfully light texture. Always be sure to double check the expiration dates of both and replace after being open for a year.
Sugars: White, or granulated, sugar along with the slight molasses flavor of brown sugar. These two mix to perfection.
Oil: Could you use butter? Yes. But I find you get a much more moist cake by using vegetable oil.
Eggs: Two large eggs at room temperature.
Pumpkin: One cup of pureed pumpkin. Use pure pumpkin and avoid pumpkin pie filling.
Buttermilk: No buttermilk? No problem! Add 1 tablespoon of lemon juice into the bottom of a measuring cup. Fill with milk up to the one cup line. Allow to sit for five minutes before using.
THE BEST CREAM CHEESE FROSTING
WARNING – You will eat tons of the frosting before it makes it to the cupcakes. I'm not a big cream cheese fan but this is beyond amazing. You will have to go in prepared to test your willpower because the second that sweet smell hits the air you will be tempted to dip into the bowl for a taste.
Butter: Slightly softened butter works best. I leave mine out of the refrigerator for roughly 30 minutes. Still chilled, but not cold.
Cream Cheese: Only 3 oz. is needed to get the cream cheese flavor without letting the tang take over. Let this warm to room temperature before adding to the recipe.
Powdered Sugar: Also known as confectioners sugar, this is key to adding enough sweetness and structure that the frosting becomes spreadable without becoming overly sweet.
Vanilla: A dash of vanilla extract helps to bring all of the flavors together.
Cream: My secret ingredient. A few tablespoons of cream added to the frosting, as well as a little extra mix time, makes this frosting so light and delicious.
PUMPKIN CUPCAKES WITH CREAM CHEESE FROSTING
PREP: Preheat the oven to 350 degrees and line two cupcake tins with paper liners. Set aside for later.
MIX: Whisk the dry ingredients together in a small bowl or measuring cup and set aside. Add the sugars, oil, and pumpkin into a mixing bowl and whisk until combined. Stir in the eggs and vanilla extract. Slowly stir in the dry ingredients and buttermilk until the batter comes together.
BAKE: Fill the cupcake liners 2/3 full with batter and bake for 18-20 minutes, or until a toothpick poked into the center comes out clean.
FROST: Let the cupcakes cool completely. Whisk the frosting ingredients together and pipe or spread onto the baked cupcakes.
HELPFUL TOOLS
Cupcake Liners: I'm a big fan of neutral cupcake liner (affiliate) colors. I feel like the star of the show should be the cake itself, but you can find dozens of color options (affiliate).
Scoop: I'm obsessed with my cookie scoop (affiliate). I use it for cookies BUT I also use it to evenly fill cupcake liners. This ensures perfect sized cupcakes every single time.
Airtight Container: Extend the life of your cupcakes by keeping them stored in a large airtight container (affiliate).
Recipe Notes:
What is the difference between pumpkin puree and pumpkin pie filling?
Pumpkin puree is one ingredient; pumpkin. Pumpkin pie filling contains additives and spices that will not work in this recipe.
Can I use pumpkin pie spice?
Yep! If you want to skip measuring all of the spices individually you can add 2 to 3 teaspoons of pumpkin pie spice.
How long do these pumpkin cupcakes last?
If stored properly, these cupcakes will last up to 3-4 days. That makes them ideal for a make-ahead dessert.
Can I freeze this recipe?
Yes. Freeze the cupcakes without the frosting. Place in a freezer safe container or bag and freeze for 2-3 months. When you are ready to serve, thaw inside the refrigerator overnight then bring to room temperature to frost.
Cream cheese frosting is best fresh. When you freeze the cream cheese will sperate.
Do these cupcakes need to be refrigerated?
Unfrosted, these cupcakes can be stored at room temperature. Once they have been frosted it is best to keep them in an airtight container inside the refrigerator.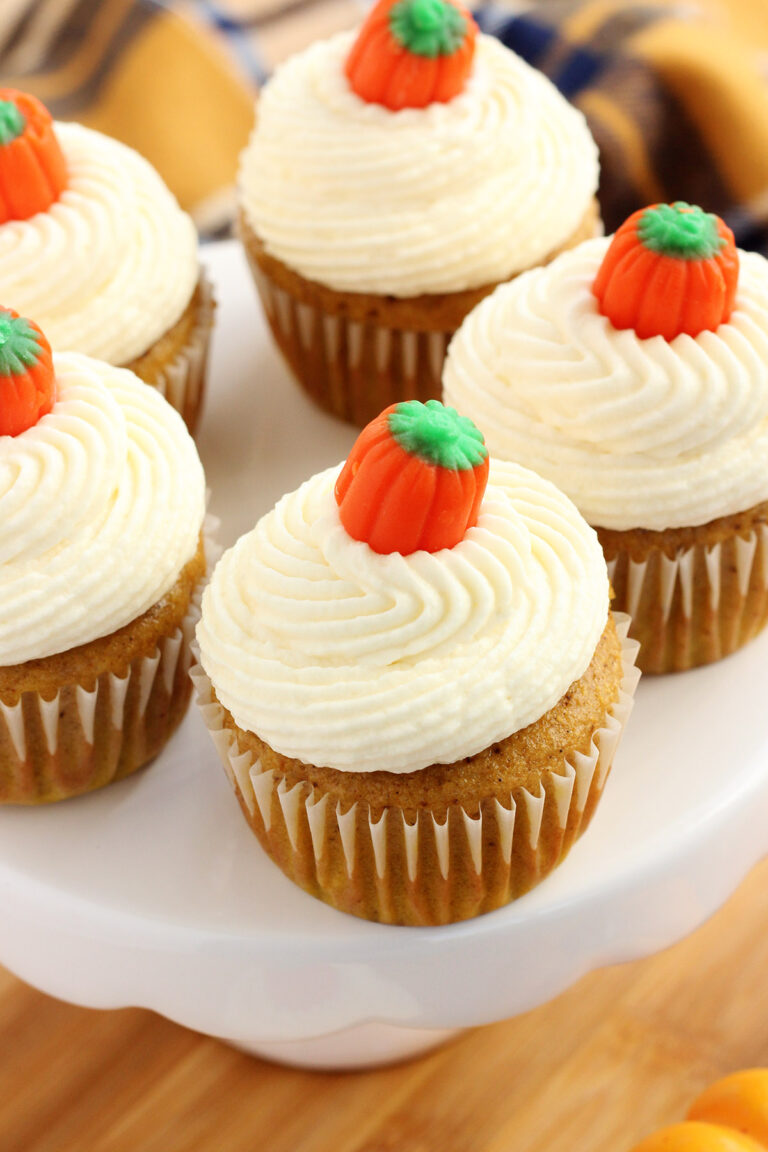 MORE MUST-TRY PUMPKIN RECIPES
Still Hungry? Follow One Sweet Appetite on Instagram, Pinterest, and Facebook!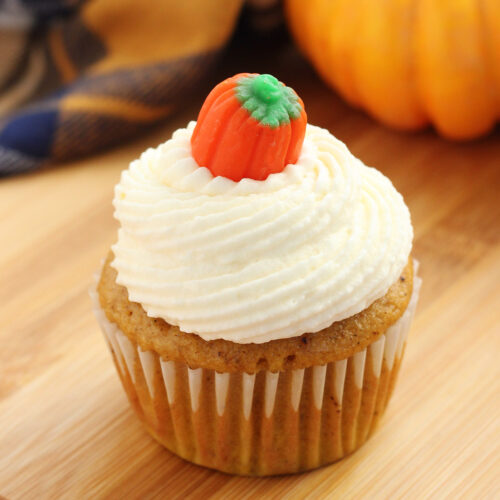 Pumpkin Pie Cupcakes
Pumpkin Cupcakes! This sweet moist pumpkin cake is topped with a lightly whipped cream cheese frosting giving you a match made in pumpkin spice heaven! The perfect fall dessert recipe.
Ingredients
Pumpkin Cupcakes
2½ cups all-purpose flour
1 tablespoon baking powder
1 teaspoon cinnamon
1/2 teaspoon baking soda
1/2 teaspoon salt
1/2 teaspoon nutmeg
1/2 teaspoon ginger
1/2 teaspoon cloves
1/2 teaspoon allspice
1 cup granulated sugar
1/3 cup packed brown sugar
1/2 cup oil
1 cup pumpkin puree
2 large eggs
3/4 cup Buttermilk
Cream Cheese Frosting
1½ cup butter softened
3 oz cream cheese softened
1 teaspoon vanilla extract
3 cups powdered sugar
2 tablespoons heavy cream
Instructions
Pumpkin Cupcakes
Preheat the oven to 350 degrees.

Line 2 cupcake tins with paper liners and set aside.

In a large bowl whisk together the flour, baking powder cinnamon, baking soda, nutmeg, ginger, cloves, allspice, and salt,. Set aside.

In a separate bowl combine the oil pumpkin and both sugars. Whisk until fully combined, about 30 seconds. Add the eggs, one at at time, followed by the dry ingredients and buttermilk.

Divide the batter between your prepared cups, filling about 2/3 full. Bake for 18 to 20 minutes, or until a toothpick pressed into the center of a cupcake comes out clean.
Cream Cheese Frosting
Place the butter and cream cheese into the bowl of a stand mixer fitted with the paddle attachment.

Stir, on low speed, until the two have combined and are slightly fluffy, about 1 minute.

Add the powdered sugar, one cup at a time, mixing well to combine with the butter.

Add the cream and vanilla extract, scraping the sides of the bowl.

Stir on medium speed for 3 minutes, or until the mixture is fluffy and soft.

Pipe or spread onto cooled cupcakes.
Nutrition
Serving: 24cupcakes
Reader Interactions