Fall is quickly approaching so let's celebrate with a batch of these delicious Baked Pumpkin Donuts!
I first made this recipe way back in 2012. In fact, it was one of the very first to appear here on the site! Most of the early treats I made slowly were forgotten or pushed to the back of my mind so imagine my surprise when these suddenly shot into my top TEN most viewed! The funny thing was that I had originally made them in a muffin tin and they didn't resemble donuts AT ALL. They were more like pumpkin lumps…
>insert super embarrassed face here<
SO I decided it was time to remake them!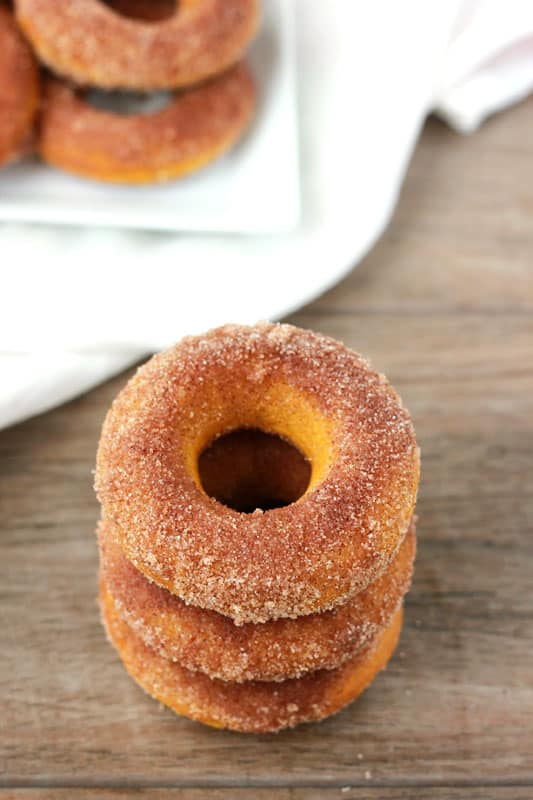 Holy crap, these are delicious! Like, melt-in-your mouth pumpkin flavor with the sweet addition of a cinnamon and sugar coating. It took all of the willpower I had not to eat all 18 of these things as they came out of the oven. I had four woofed down in the first few minutes and decided my waist would appreciate if I slowed down. PLUS I was probably going to need some for pictures.
Baked donuts are always a little more cake-like. Don't expect the raised fried dough you're used to, but also don't expect to hear any complaints from anyone you serve these too.
Baked Pumpkin Donuts
Ingredients
1-1/2

cups

all-purpose flour

1-1/2

teaspoons

baking powder

1/2

teaspoon

baking soda

1/2

teaspoon

salt

1/2

teaspoon

pumpkin pie spice

1/2

cup

sugar

1/4

cup

unsalted butter

softened

1

large egg

1-1/2

cups

pumpkin puree

1/2

teaspoon

pure vanilla extract

2

tablespoons

milk

For the topping:

1/2

cup

granulated sugar

2

teaspoons

ground cinnamon

4

tablespoons

butter

melted
Instructions
Preheat your oven to 350 degrees. Lightly mist your donut pan with non stick spray.

Whisk together the flour, baking powder, baking soda, salt, and pumpkin pie spice in a small bowl. Set aside.

Combine 1/2 cup sugar with the butter in the bowl of an electric mixer. Stir with the paddle attachment on low speed until fluffy. Scrape the sides of the pan and add the egg, pumpkin, vanilla, and milk.

Fold in the dry ingredients.

Spoon or pipe into your prepared pans filling each space 1/2 full. Bake 12-15 minutes or until a toothpick comes out clean.

While the donuts are baking whisk together the remaining 1/2 cup sugar with the cinnamon.

Brush each baked donut with melted butter and roll in the cinnamon sugar mixture.
PS, you might like…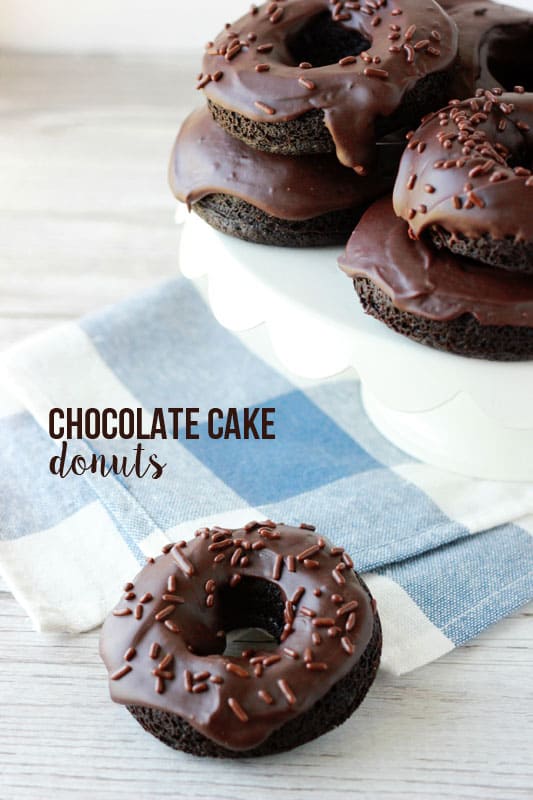 This post may contain affiliate links. I include these links to help you find specific products that are used in my recipes. If you purchase an item from the link on One Sweet Appetite, I will receive a small commission helping keep my recipes free for you.
One Sweet Appetite is a participant in the Amazon Services LLC Associates Program, an affiliate advertising program designed to provide a means for sites to earn advertising fees by advertising and linking to amazon.com
(Visited 2,421 times, 1 visits today)
6