This post was updated on by Jesseca
This Quick Taco Salad Recipe is made with seasoned ground beef, chopped lettuce, and all of your favorite taco toppings! It is ready in under 20 minutes making it the perfect weeknight dinner!
If you are anything like me, you probably search for super easy weeknight dinner recipes on the regular. I like my dinners to be super simple, tasty, and family approved.
The last one can be quite the challenge. I have a nine year old that will eat almost anything… The challenge really is finding those dinners where he asks for seconds.
This SALAD was the very first that he quickly devoured and asked for more. No surprise there. He is a huge fan of tacos and this tastes exactly like the tortilla wrapped goodness.
Quick Taco Salad Recipe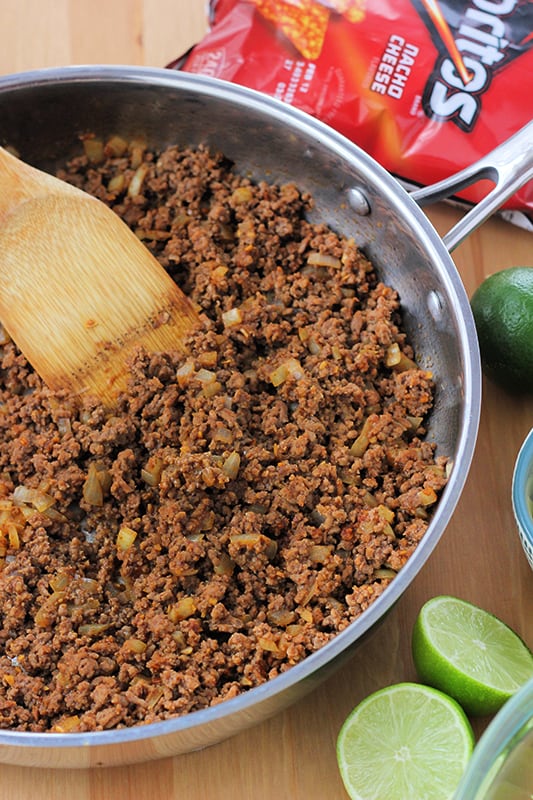 Did I mention this easy dinner was on the table in just about 20 minutes?
Full disclosure, I do chop my onions ahead of time and freeze them. It saves so much time when you are swarmed with a hungry family ready to eat. Grab a bag out of the freezer and add it to your recipe. Easy as pie and super handy.
What goes into a taco salad?
Taco salads are basically made up of ground beef and your favorite taco toppings. Which is what makes it so amazing. Everyone in the family can build their own making sure that everyone is a happy camper!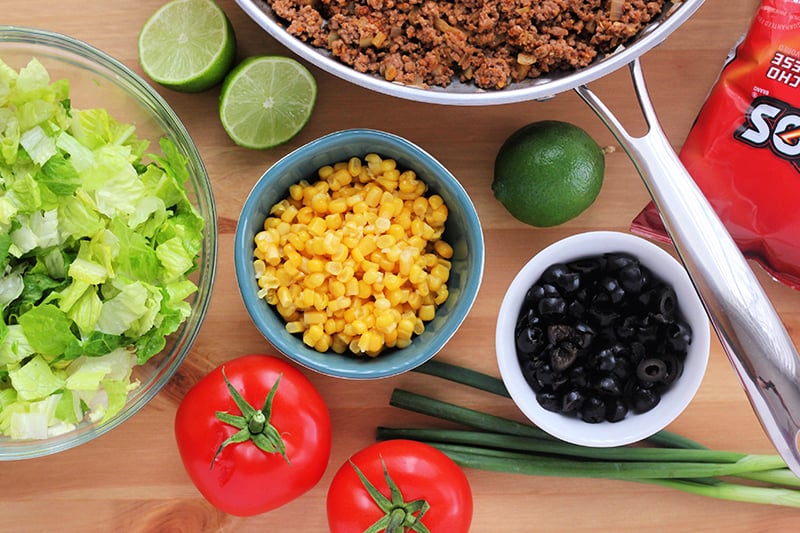 What are the best toppings for a taco salad?
Anything and everything. A few of our favorite go-to's have been cheddar tortilla chips (cool ranch is a good alternative), shredded cheese, diced tomatoes, black beans, olives, and corn. You can easily top with sour cream, guacamole, lime juice, or any other number of traditional taco toppings!
What type of salad dressing do you use on a taco salad?
Traditionally, you would use a Catalina salad dressing. Catalina dressing has a sweet tomato flavor and pairs well with the toppings. However, we really like to use a homemade ranch dressing. Similarly, you could use my cilantro lime ranch dressing for a fun twist.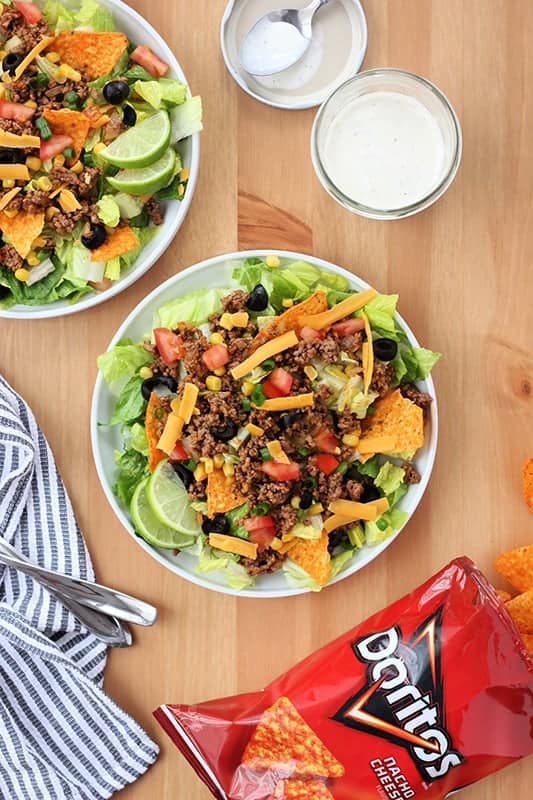 Like this recipe? You will love my Taco Pizza, Taco Dip, and Taco Stuffed Peppers!
How to make a quick and easy taco salad recipe:
Quick and Easy Taco Salad Recipe
Made with seasoned ground beef, chopped lettuce, and all of your favorite taco toppings! This easy salad recipe is ready in under 20 minutes making it the perfect weeknight dinner!
Ingredients
1 lb ground beef
1 cup diced onion
1 (1oz) packet taco seasoning
1/4 cup water
2 large heads of romaine lettuce, chopped
2 medium tomatoes, diced
2 cups shredded cheddar or pepper jack cheese
1 cup canned corn, drained
1/2 cup sliced olives
green onion
1 large bag cheddar cheese tortilla chips
Ranch dressing
Instructions
Heat a large skillet over medium heat.
Add your diced onion and ground beef. Cook until the onion is translucent and the beef is crumbled and browned.
Stir in the taco seasoning and water. Heat through (about 2 minutes).
Build your salads with the remaining ingredients. Top with ranch dressing or catalina style dressing. 
Notes
Additional topping ideas include black beans, chili beans, jalapenos, sour cream, guacamole, or cilantro lime ranch dressing
Recommended Products
As an Amazon Associate and member of other affiliate programs, I earn from qualifying purchases.

Pin for later: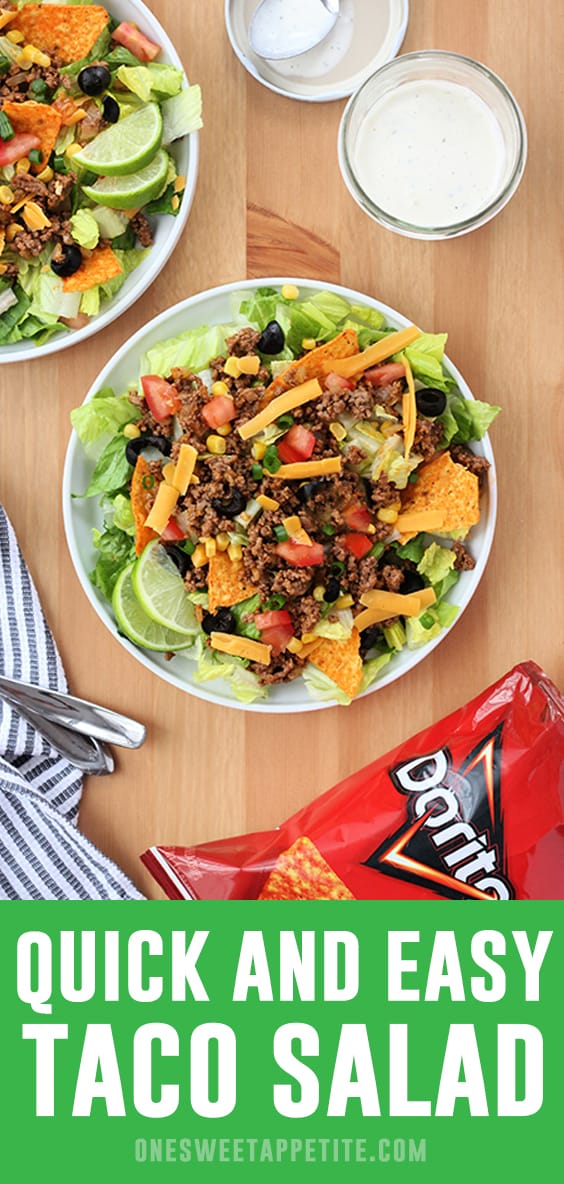 \Still hungry? Follow One Sweet Appetite on Facebook, Instagram and Pinterest for more great recipe ideas!
(Visited 623 times, 1 visits today)
8