This is the BEST party punch recipe and is perfect for any occasion! Whether you're hosting friends at home or just want to jazz up your weekend hangout, this party punch recipe is your ticket to beverage bliss. Make it non-alcoholic or give it a little boozy finish. Everyone will love this punch recipe.
Looking for a drink that packs a punch? Try one of my punches with alcohol! Here are a few of my favorites: Christmas Punch Recipe, Sparkling Holiday Punch, Apple Pie Moonshine, and Sparkling Peach Sangria.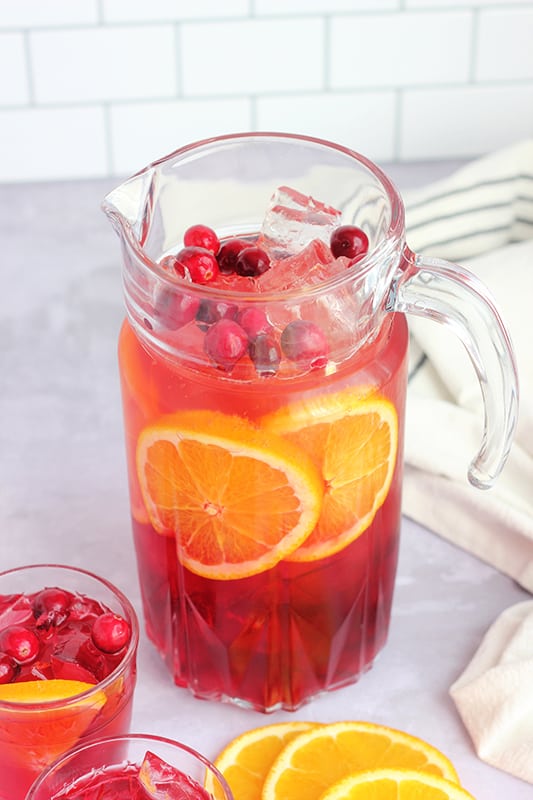 This post includes a recipe for alcohol. Drink responsibly. One Sweet Appetite and it's authors are not responsible for the actions of our readers should they choose to make this recipe and consume it. Please drink responsibly.
Why You'll Love This Party Drink
4 Ingredients: The base recipe calls for only FOUR ingredients and takes less than 10 minutest to whip up.
Easy to Customize: The juices in this recipe can be swapped and changed for similar products.
Beautiful Display: Fresh fruit slices give this an elegant display perfect for any gathering.
This is the best recipe for punch. It is quick to make, filled with flavor, and loved by everyone. It also happens to be super easy. The last thing I want to do while prepping for a party is spend more than five minutes prepping a drink.
This is the perfect punch for kids, since it is booze free, and also loved by adults. Which lands this drink firmly at the top for a non-alcoholic Christmas Punch. I keep these ingredients in the pantry all year long for last minute entertaining, and it is always a hit.
Looking for another crowd worthy drink? We get rave reviews from our Sherbet Punch!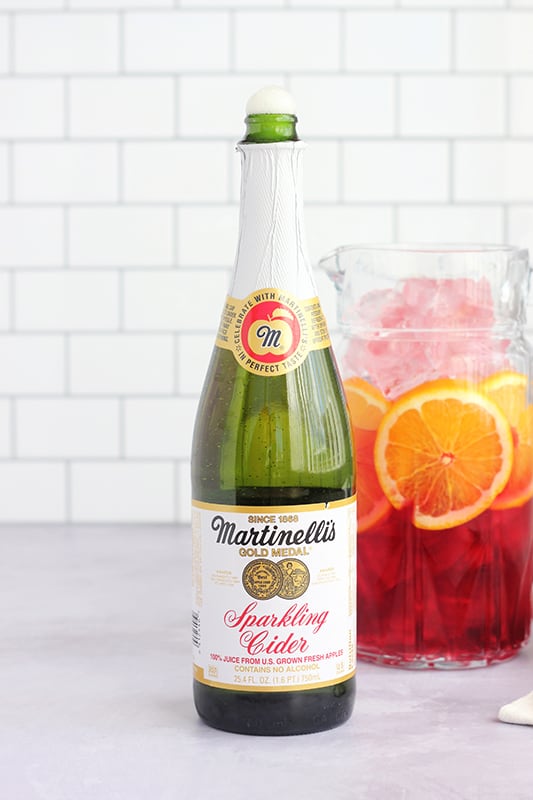 Party Punch Ingredients
This punch is perfect for holidays, birthdays, and really any gathering. The bold flavor of cranberry really pairs perfectly with the sparkling cider and ginger ale. Loved by kids and adults, you just cannot go wrong. EVERYONE will be asking for the recipe. Here is what you will need to get started:
Fruit Juice: We feel that cranberry juice gives it a bold punch of flavor that is a perfect pair with cider and ginger ale.
Sparkling Cider: Sparkling apple cider is preferred.
Ginger Ale: While I love a non-alcoholic punch with ginger ale, this can also be substituted for lemon lime soda.
If you love cranberry, be sure to try my Cranberry Champagne Cocktail. Only 2-ingredients and easy to make into a mocktail.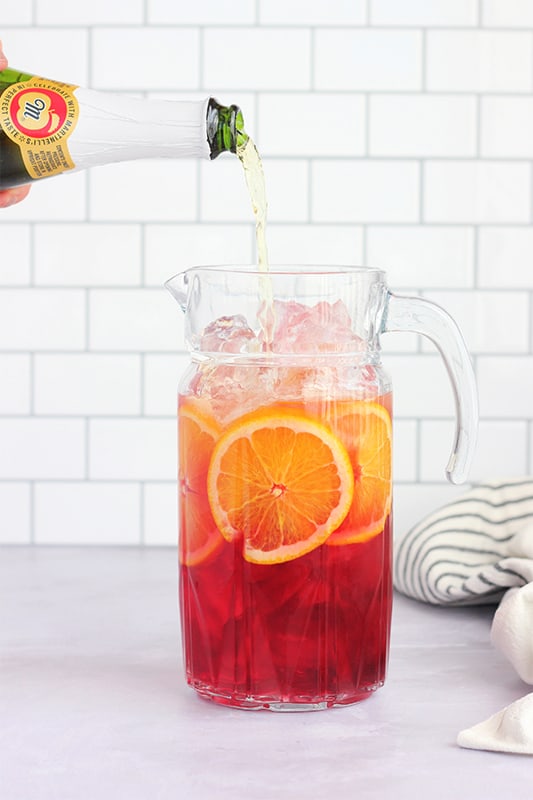 Easy Recipe For Punch
Entertaining does not have to be stressful. I keep a list of easy punch recipes on hand, but always come back to this three ingredient fave.
Picture this: The tartness of cranberry juice strikes the perfect balance with the sweetness of sparkling apple cider, creating a harmonious dance of fruity notes on your palate. But that's not all – the zingy ginger ale adds a sparkling kick, elevating the refreshment factor to new heights. To top it off, a squeeze of lemon juice lends a hint of citrusy zing that ties everything together. The result? A delicious, effervescent blend that's both tangy and sweet, with a refreshing twist.
PREP: Chill all of your ingredients overnight.
ICE: Add your ice to a large punch bowl or pitcher.
MIX: Stir the cranberry juice, sparkling apple cider, ginger ale, and lemon juice with the ice.
SERVE: Garnish with orange slices and cranberries.
Helpful Tools
Pitcher: For this recipe, it tastes best the longer it sits. Luckily, these little juice pitchers (affiliate) come with lids and are the perfect size for the side door in the refrigerator!
Measuring Cups: A quality set of liquid measuring cups (affiliate) are an amazing addition to any kitchen! I'm a fan of these angled cups for so many reasons, but mostly because it's so easy to see that liquid line as it fills.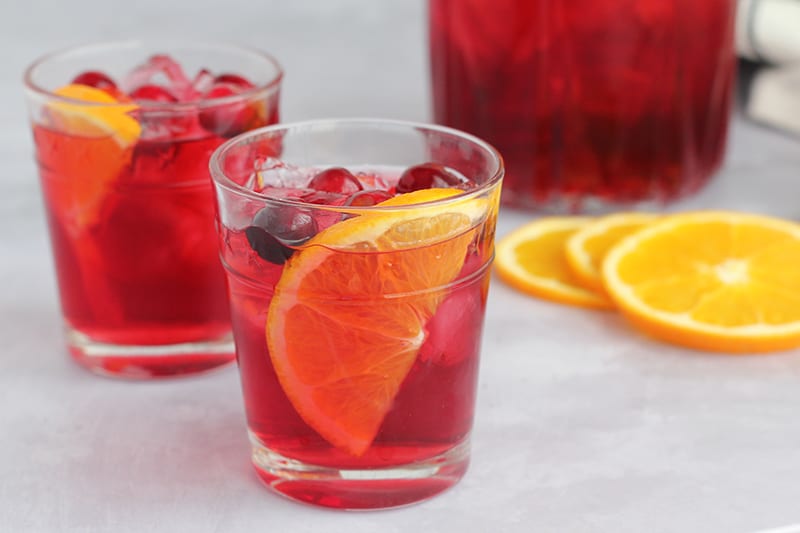 Tips To Make Perfect Punch
Chill all of your ingredients before mixing. Even though we mix this drink over ice, it is less likely to melt and water down the drink if you start with the juices chilled.
Pick a bold base flavor. We started with cranberry blackberry as a base BUT we also really really love pomegranate blueberry. The two bold juices are where a majority of your flavor is going to come from. You can experiment with any juice but make sure it has a strong flavor and you pick a good brand. Since this drink has only a few ingredients you want to make sure they are quality.
Garnish with fresh fruit or mint. Adding fresh orange slices, cranberries, or mint gives a very elegant look to your simple recipe.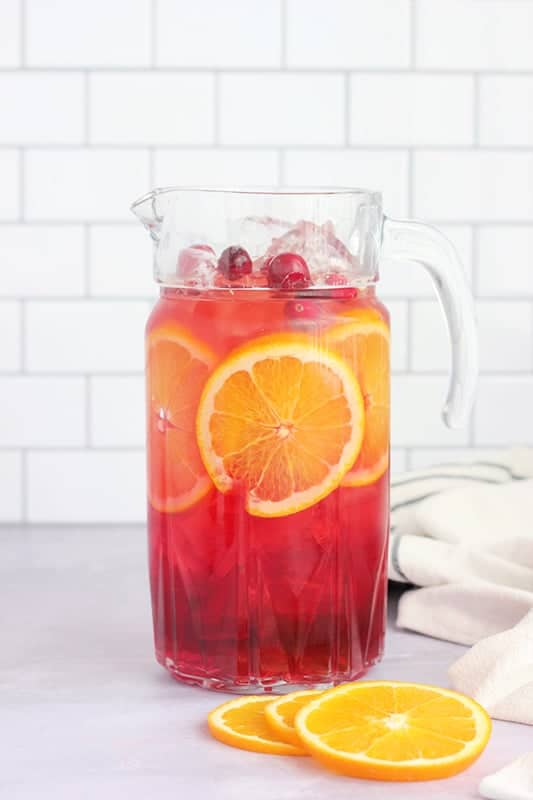 Recipe Notes:
Can you double this recipe?
Serving a crowd? This recipe is incredibly easy to double. I've included a little toggle in the recipe card that will adjust the ingredients for you.
Can I add alcohol to this punch?
Want to turn this into an easy party punch WITH alcohol? No problem!Adding alcohol to punch is fairly simple. You pick your choice of mix in (vodka is popular) and can do one of two things:
Add a shot to your glass and top off with your punch.
Or stir in 12 oz of vodka right into the punch bowl. I suggest you try blueberry vodka.
Can this be made in advance?
No. This punch is best made just before serving to help keep that bubbly freshness. You should, however, chill the ingredients well before mixing.
MORE NON-ALCOHOLIC DRINK RECIPES
Still Hungry? Follow One Sweet Appetite on Instagram, Pinterest, and Facebook!
More Favorites from One Sweet Appetite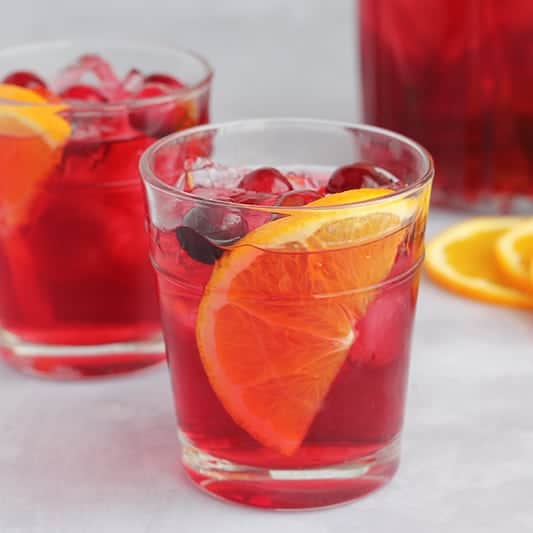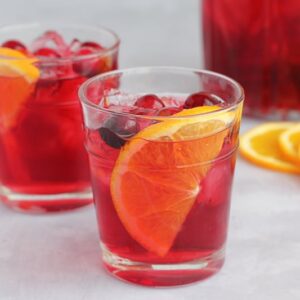 Easy Party Punch Recipe
This easy party punch recipe makes a delicious drink that is perfect for any occasion! Made with cranberry juice, sparkling apple cider, and ginger ale and easy to customize to your taste!
Ingredients
4 cups cranberry juice *see notes
3 cups sparkling apple cider
4 cups ginger ale
1/4 cup fresh lemon juice
Ice
orange slices and fresh cranberries optional
Instructions
Chill all of your ingredients overnight.

Add your ice to a large punch bowl or pitcher. 

Stir the cranberry juice, sparkling apple cider, ginger ale, and lemon juice with the ice. 

Garnish with orange slices and cranberries. 
Notes
*We prefer to use cranberry blackberry juice OR pomegranate blueberry. *For an alcoholic version of this drink mix in 1-1/2 cups of quality vodka.
Nutrition
Serving: 1cup | Calories: 124kcal | Carbohydrates: 31g | Protein: 1g | Sodium: 16mg | Fiber: 1g | Sugar: 27g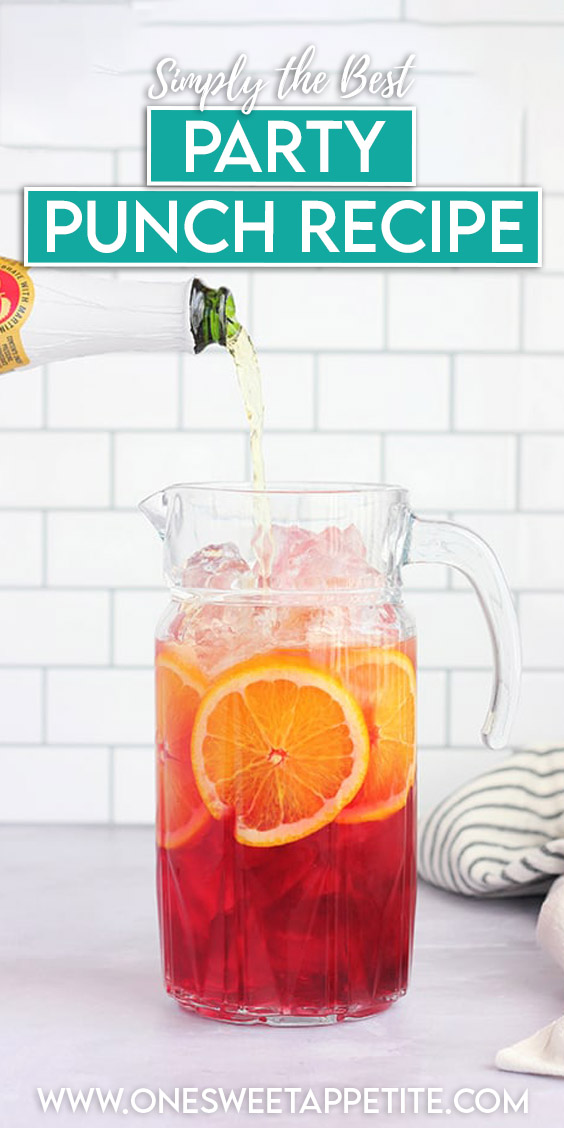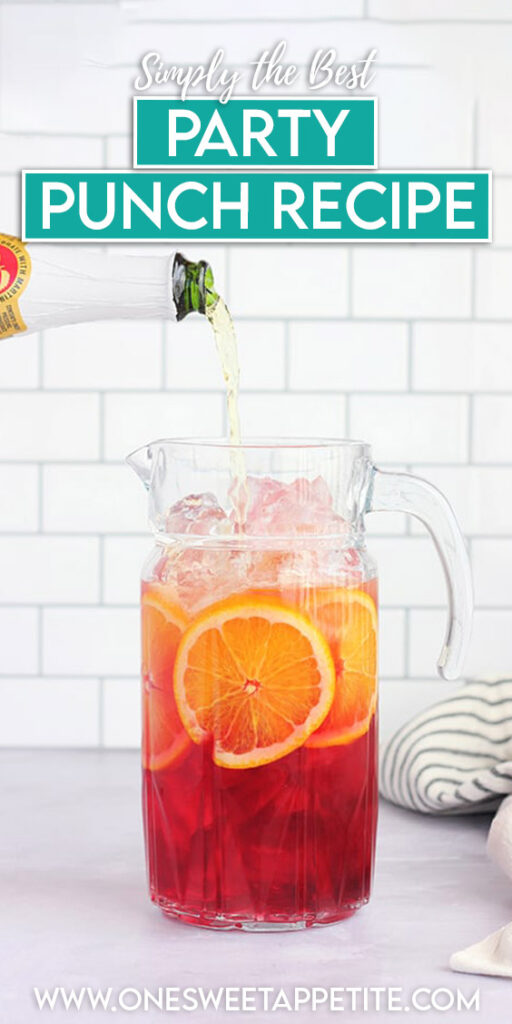 Reader Interactions