This easy Eggnog Buttercream Frosting is perfect for all of your holiday cakes and cupcakes. Creamy, delicious, and tastes like a spiced glass of eggnog! Even non-eggnog drinkers can't help but love this frosting.
Try this frosting on your favorite cakes and cookies! Delicious on Gingerbread Cookies, Chai Cupcakes, or Gingerbread Cake!
RECIPE FEATURES
Rich and Creamy: Rich eggnog flavor with a light and creamy texture. This is perfect for piping onto cookies or spreading over your favorite cakes.
No-Fail: Perfect for beginner bakers and professionals alike, this will give you bakery results every single time.
Holiday Favorite: Amazing holiday flavor thanks to the eggnog and spices!
This is the best eggnog buttercream frosting. The classic holiday drink is a staple in our home, especially when my mom is visiting. She cannot get enough of the creamy beverage. In fact, we've used it in French Toast and as a sweet dip, but this frosting is definitely a favorite.
The rich flavor of eggnog paired with nutmeg and rum extract is dreamy on cakes, sweet breads, and cookies. 10/10 rating from even my eggnog haters. Try swapping your classic sugar cookie frosting for this version and you will have everyone begging for the recipe!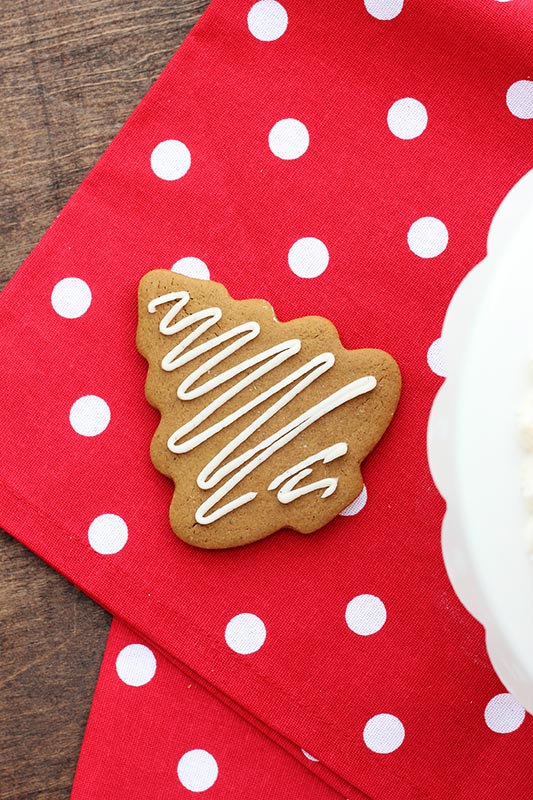 EGGNOG BUTTERCREAM FROSTING INGREDIENTS
This is a slightly altered version of my vanilla buttercream version. I adjusted the ingredients just enough to add more eggnog, without the need to add too much sugar. The end result is the perfect balance of sweet and a bold flavor that is irresistible. Here is what you need to get started:
Butter: The best way to start the recipe is with unsalted butter that is at room temperature. I suggest removing the butter from the refrigerator about 30 minutes to one hour before you are ready to start. This lets it soften just enough.
Ground nutmeg: My secret ingredient. A tiny sprinkle of nutmeg helps to give you even more holiday flavor and simultaneously boos the eggnog. Don't skip this one.
Powdered sugar: Why powdered sugar vs granulated? Powdered sugar is super fine and dissolves into the butter, leaving you with a smooth finish. Granulated would leave the frosting gritty and hard to spread.
Eggnog: There are so many versions lining the cooler shelves in our grocery store. So, which is the best? We find that Horizon Organic Low Fat Egg Nog is our favorite. Rich, creamy, and full of flavor without an overpowering spice.
Extracts: A touch of vanilla extract helps to enhance the flavor, and rum extract, although optional, gives it a boost that takes it from good to great.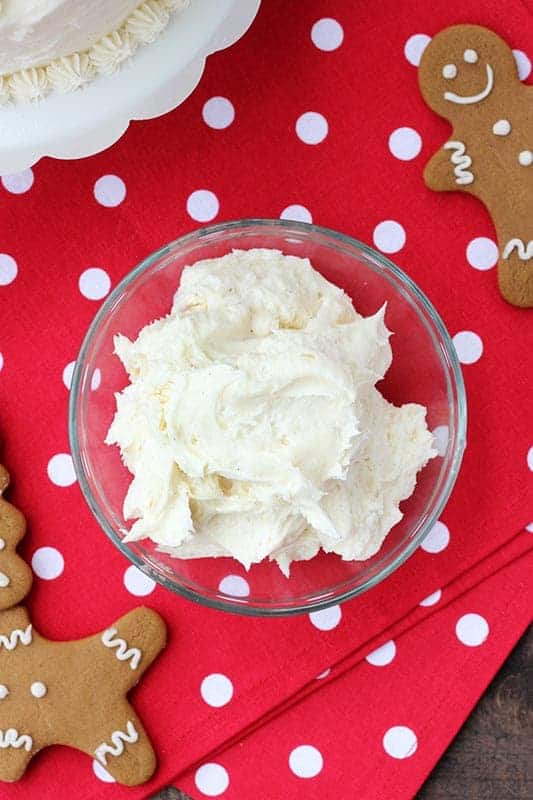 HOW TO MAKE FROSTING WITH EGGNOG
Even if you tend to veer away from anything eggnog we strongly encourage you to give this a try. The pinch of nutmeg gives the buttercream just the perfect hint of holiday cheer and if you're feeling a little brave we suggest adding a dash or two of rum!
PREP: Before you begin, be sure to set out the butter to let it soften slightly. I find that it can be helpful to cube the butter as well.
CREAM: Place the butter, vanilla, rum extract (if using) an nutmeg into the bowl of an electric mixer that is fitted with the paddle attachment. Mix on medium speed until the butter is creamy and the nutmeg is combined fully. Scrape the sides.
SUGAR: Add the powdered sugar, one cup at a time, mixing fully between each addition. Scrape the sides of the bowl.
EGGNOG: With the mixer set to low speed, slowly pour in the eggnog. Turn the mixer to medium speed and allow to whip for 5 minutes.
ENJOY: Spread or pipe onto your favorite baked goods.
Tip: If your frosting is too thick, add an additional tablespoon or two of eggnog. Whip a few more minutes until your frosting is the perfect spreading consistency.
HELPFUL TOOLS
Mixer: Can this be made by hand? Yes, but it is difficult. I suggest investing in either a handheld mixer (affiliate) or a stand mixer (affiliate). If you bake even once a month these will come in handy!
Silicone Spatulas: My most suggested kitchen tool. Silicone spatulas (affiliate) are heat proof which makes them great for baking AND cooking.
Airtight Container: Making this in advance? Keep it stored in a large airtight container (affiliate).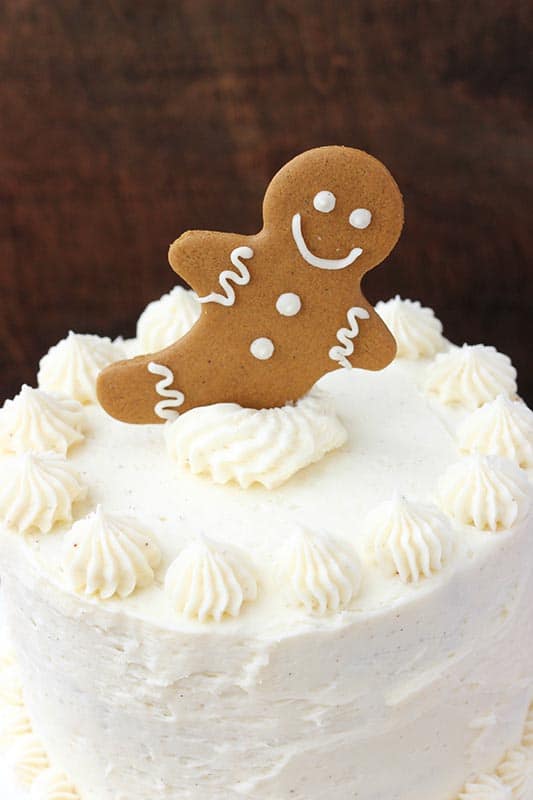 Try some of these other holiday favorites: Pumpkin Eggnog Dip, Eggnog Dip, Gingerbread Pancakes!
Recipe Notes:
What is the difference between frosting and buttercream?
Frosting contains no butter while buttercream is made with butter only.
Frosting is typically made with shortening or cream cheese in place of butter. This gives you a relatively bland base to build on making it ideal for flavoring. It also produces a stiffer result making it perfect for piping fine detail and flowers.
Buttercream has a smooth, rich, and creamy butter flavor that is hard to resist. There are a few different types of buttercream (classic, meringue, French…) but we will get into those later.
Can I thin this frosting for spreading?
If your frosting is too thick, add an additional tablespoon or two of eggnog. Whip a few more minutes until your frosting is the perfect spreading consistency.
What is the best way to store homemade buttercream?
The best way to store eggnog frosting is to place it into an airtight container. Cover and keep inside the refrigerator.
When ready to use, let come to room temperature and mix. Spread or pipe onto your baked goods.
How long will this recipe last?
Because of the added eggnog in this recipe, it should be used within two to three days of making.
Eggnog Buttercream
Perfect Holiday Eggnog Buttercream. Combine soft butter with powdered sugar, chilled eggnog, a pinch of nutmeg, and rum extract for a decadent frosting recipe ready for your favorite cake. 
Ingredients
1 cup butter softened
2 teaspoon pure vanilla extract
1/4 teaspoon ground nutmeg
4 cups powdered sugar
1/4 cup eggnog
1 tablespoon rum optional
Instructions
Whisk together your butter, vanilla, and nutmeg in the bowl of an electric mixer until smooth.

Add the powdered sugar one cup at a time.

Slowly pour in the eggnog and whisk until fluffy.

Add rum if using. Stir until combined.
Notes
Buttercream too stiff? Add additional eggnog, one tablespoon at a time, until the desired consistency is reached. 
Nutrition
Serving: 2tablespoons | Calories: 287kcal | Carbohydrates: 37g | Fat: 16g | Saturated Fat: 10g | Polyunsaturated Fat: 5g | Trans Fat: 1g | Cholesterol: 44mg | Sodium: 125mg | Sugar: 36g
Equipment
Reader Interactions