Do you have a Tai Pan by you? It's one of my favorite stores. Mainly because I can get a million new dishes and props for dirt cheap, but the biggest reason we go there is for the tiny salted caramels that are by the registers. Those little sweets have become a fun tradition with my and the kid. He knows if he is super patient and good while we shop that he will get to pick one of those caramels as we head out the door. However, if he is bad… mom gets to eat both. I secretly hope he is bad every time.
Something about the salty sweet combo rocks my socks. I've made salted caramel brownies (not posted, sorry!) for dinner parties and salted caramel donuts. Why not create a sauce that can top multiple desserts?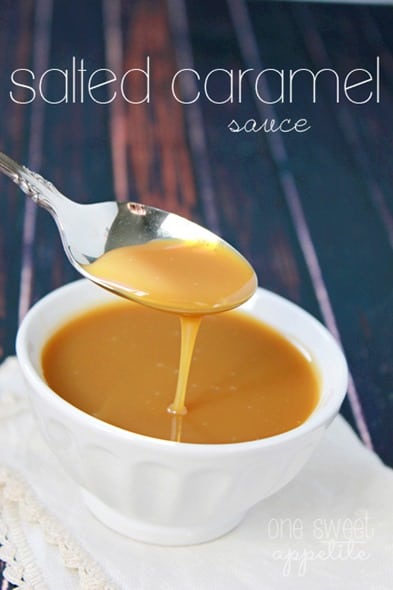 Turn off the heat and let it cool slightly.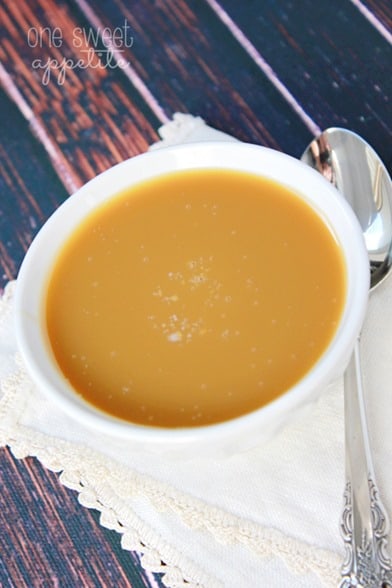 How unbelievably easy is that? I plan on using this for a number of fun recipes, one that's coming up Wednesday and I hinted to on Facebook! Until then you can try it out on donuts, ice cream, cake, vegetables… Ok, maybe not vegetables. I'd sure clean my plate if everything green tasted like salted caramel!
Salted Caramel Sauce
Ingredients
1

C.

light brown sugar

1/2

C.

half-and-half

4

T

butter

1

T.

vanilla extract

1-1/2

t.

fleur de sel
Instructions
Combine the brown sugar, half-and-half, and butter in a sauce pan. Cook on medium low heat, whisking the entire time, for 6 minutes or until it slightly thickens. Stir in the vanilla and salt.

Turn off the heat and let it cool slightly.
(Visited 3,698 times, 1 visits today)
0