This is my absolute favorite Homemade Caramel Popcorn recipe! The perfect sweet snack recipe made with only 6 ingredients; popcorn, brown sugar, honey, butter, baking soda, and vanilla!
Looking for more quick dessert recipes to satisfy your sweet tooth? Be sure to try my 2 Ingredient Brownies, Puppy Chow Recipe, and Oreo Mug Cakes!
This recipe was originally published October 18, 2012. It has since been updated to include fresh photos and helpful tips.
RECIPE FEATURES
Easy: This is a no-fail candy recipe. No need to keep track of temperature or fuss over the stove!
Minimal Ingredients: You only need 6 simple ingredients, most of which you probably already have in your pantry!
Customizable: Try adding in your favorite spices, like cinnamon or pumpkin pie spice, for a twist on flavors.
This recipe. Oh, man. There are so many good things I could say about it. It is soft, buttery, and the perfect sweet snack. Bonus? This caramel corn recipe is made without corn syrup! So stinken easy and amazingly delicious. Keep this one stashed in your favorites because it is a game changer!
In fact, we bust it out for every holiday. Ideal for giving to friends or neighbors for almost any occasion, like Halloween, Thanksgiving, or Christmas!
HOMEMADE CARAMEL CORN INGREDIENTS
Almost everything you need for this recipe are items you probably already have in your pantry. The best part? This caramel corn made in the microwave uses NO CORN SYRUP. Here is what you will need to get started:
Popped popcorn: 12 cups of popped popcorn. I like to use the Costco brand. It is lightly salted and has less butter, which makes it easier for the caramel to stick.
Brown sugar: The slight molasses flavor of brown sugar is the perfect start to the caramel coating. I opt for light brown sugar, although dark brown will work too.
Honey: Because there is no corn syrup in this recipe, honey is used to help create the perfect caramel texture.
Butter: Here is the deal, I like salted butter. It gives a delicious salted caramel taste. However, unsalted butter works equally well and tastes just as delicious.
Baking soda: Baking soda creates air bubbles which gives the caramel a softer texture. Always double check the expiration date to make sure you are using a fresh container for the best results.
Vanilla
BEST RECIPE FOR MICROWAVE CARAMEL CORN
PREP: Pop the popcorn a shift out any unpopped kernels.
MICROWAVE: Place the brown sugar in a large microwavable bowl. Dot pats of butter on top and drizzle with honey. Microwave for 30 seconds. Stir well and heat 2 minutes. Stir and heat once more for 2 minutes.
STIR: Carefully pour the hot caramel over the top of the popcorn. Toss to coat each piece.
BAKE: Line a baking tray with parchment paper and lightly mist with baking spray. Spread the caramel popcorn onto the tray in an even layer. Bake 30 minutes, stirring once halfway through.
ENJOY: Enjoy the popcorn straight from the oven or after it cools.
Recipe Notes:
How long does caramel corn last?
Homemade caramel corn is easy and inexpensive to make! This makes it an ideal gift for giving, but how long will it last? When stored properly, caramel corn can last for two to three months! As it ages it will start to lose some of the crispness, so I suggest using within the first few weeks. 
Why is my caramel corn chewy?
This recipe should not turn out chewy. IF you find that it is too soft, place it back into the oven for 15 minutes.
Why do you add baking soda to caramel?
Baking soda creates a chemical reaction with the brown sugar and honey creating tiny air bubbles. You'll see a big foam when you start to stir in into the mix. The air bubbles are what helps create a softer caramel texture, keeping the caramel firm but not rock solid.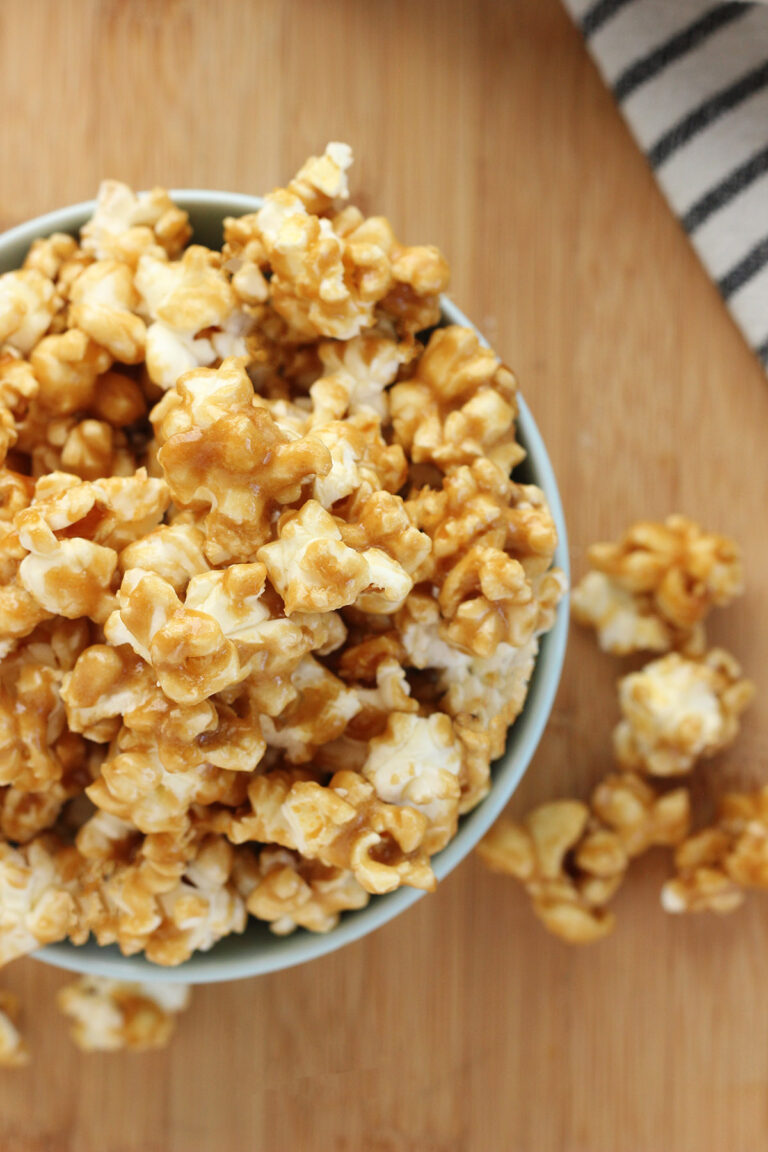 MORE MUST-TRY CANDY RECIPES
Still Hungry? Follow One Sweet Appetite on Instagram, Pinterest, and Facebook!
Best Caramel Popcorn Recipe
This is my absolute favorite Homemade Caramel Popcorn recipe! The perfect sweet snack recipe made with only 6 ingredients; popcorn, brown sugar, honey, butter, baking soda, and vanilla!
Ingredients
12 cups popped popcorn
1 cup brown sugar
1/4 cup honey
1/2 cup salted butter
1/2 teaspoon baking soda
1 teaspoon vanilla
Instructions
Shift out any unpopped kernels from the popcorn and place into a large mixing bowl. Set aside for later.

Line a baking tray with foil, or parchment paper, and preheat the oven to 200 degrees.

Place the brown sugar into a large glass bowl. Chop the butter into cubes and place on top of the sugar. Dizzle the honey over the top of the sugar and butter.

Place the glass dish into the microwave. Heat for 30 seconds.

Mix until the melted butter is combined with the sugar. Place back into the microwave and cook for 2 minutes. Stir and cook for 2 minutes more.

Stir in the baking soda and vanilla.

Carefully pour the caramel over the popcorn and mix until it is well coated.

Transfer the popcorn onto the foil lined tray and bake for 30 minutes, stirring once halfway through.

Cool completely and store in an airtight container.
Nutrition
Serving: 0.75cup | Calories: 105kcal | Carbohydrates: 15g | Fat: 5g | Saturated Fat: 6g | Polyunsaturated Fat: 4g | Monounsaturated Fat: 4g | Trans Fat: 0.3g | Cholesterol: 20mg | Sodium: 64mg | Potassium: 480mg | Fiber: 21g | Sugar: 25g | Vitamin A: 236IU | Vitamin C: 0.03mg | Calcium: 26mg | Iron: 5mg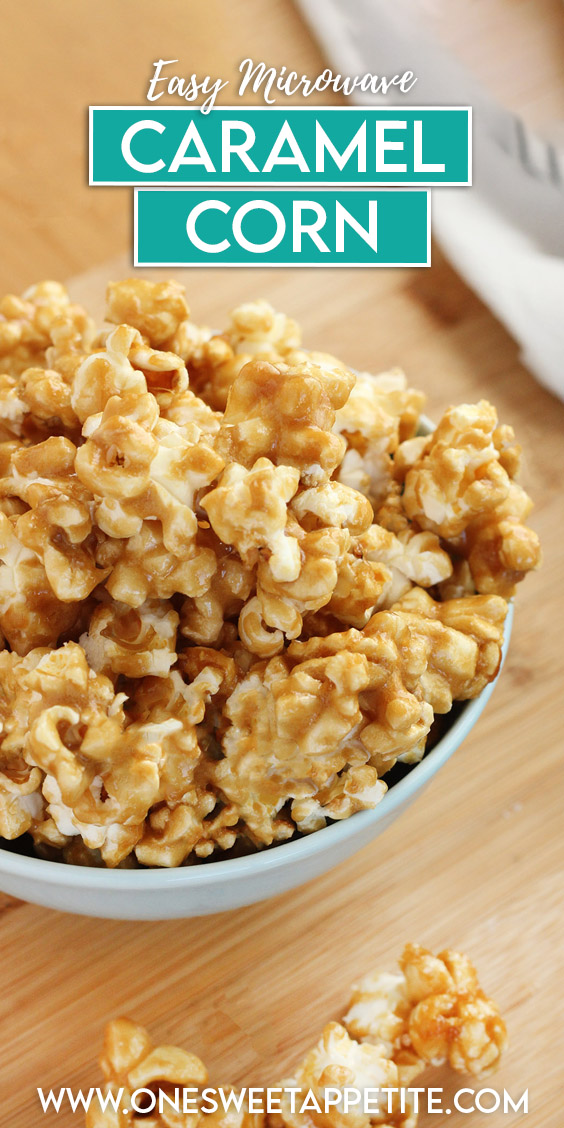 Reader Interactions