Get ready to be the life of the dessert table with these mouth-watering caramel cheesecake bars! Trust me, one bite and your taste buds will be doing the happy dance. Perfectly creamy with a gooey caramel topping, this easy-to-make treat is the ultimate indulgence. And let's be real—who can resist that combo?
Love a good cheesecake bar? Same! This recipe is actually delicious with other toppings like my Butterscotch Sauce, Strawberry Sauce, and Blueberry Jam!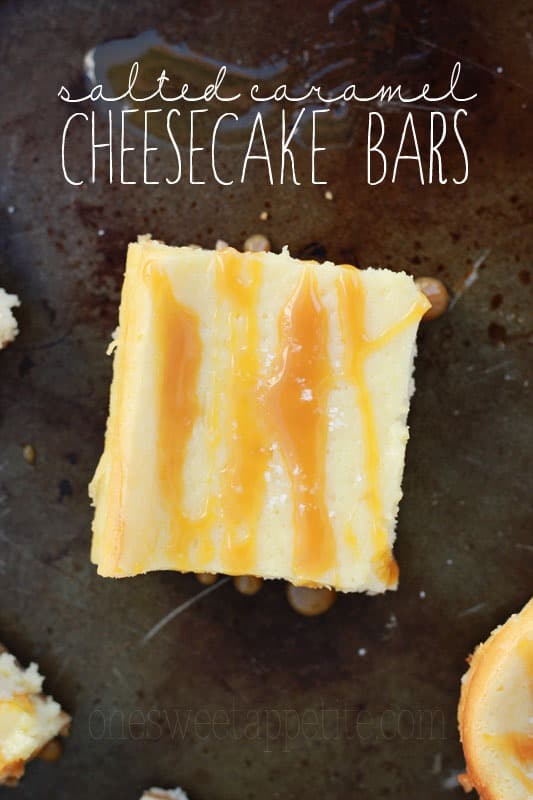 Why You'll Love These No-Fail Cheesecake Bars
Sweet Tooth Fix: If you're craving something that hits the sweet spot, a caramel-topped cheesecake bar is like a double whammy of deliciousness.
Giftable Goodness: Looking for a homemade gift that screams "I care"? Wrap up these bars, and you're basically Cupid, but for food.
Minimal Skills Required: No need to be a pastry chef. If you can mix and layer, you can make these epic bars.
These cheesecake bars are the reason I have gone up two pant sizes and I'm not even sorry. The very first time I made the recipe I fell in love. Now, I am asked to make it for every single family event. I have made them as a strawberry, blueberry, and pumpkin version. But salted caramel is by far my favorite.
Imagine taking a bite and the first thing you encounter is that flaky, slightly salty fleur de sel. It's like the red carpet for your taste buds, setting the stage for the stars of the show. Then comes the caramel drizzle—gooey, rich, and oozing with buttery sweetness. And just when you think it can't get any better, you hit the cheesecake layer. Creamy, tangy, and velvety smooth, it's like the ultimate supporting actor that elevates everyone else's performance.
Caramel Cheesecake Bar Ingredients
Let's dive into the ingredient list. It's simple and produces an amazing bar with minimal effort. You can't go wrong with this beginner cheesecake recipe!
Butter and Cookies: This is for the crust base. I like to use graham crackers for that traditional graham crust, but you can use almost any cookie.
Cream Cheese: The key to a delicious perfect bar is using quality cream cheese. I truly feel like Philadelphia is the best, but use your favorite brand.
Sugar: Just a touch to balance the tang of the cream cheese.
Eggs: Eggs bring in that creamy, dreamy texture we all swoon over. They're the ones making sure your cheesecake is more velvety smooth while also providing stability.
Milk: Milk helps dilute the cream cheese just enough to make it easier to mix. The result? A cheesecake texture smoother than a jazz playlist.
Vanilla: Extract helps to bring all of the flavors together while simultaneously enhancing.
Caramel: You can use store bought, but I highly recommend trying a homemade version. It's simple to make and so delicious.
Caramel Cheesecake Bars Recipe Tips
Use room temperature ingredients. I can't stress this enough. Room temperature ingredients will blend together smoothly and help keep your batter from being overly lumpy.
Avoid over mixing. Over mixing the batter can cause you cheesecake to crack. Mixing with the paddle attachment on medium low speed will give you a creamy batter ready to be baked.
Chill completely before cutting. Once your cheesecake has cooled to room temperature, refrigerate. You want the bars to be completely cooled before slicing.
Helpful Tools
9×9 Baking Pan: (affiliate) This is your stage, baby! Make sure it's non-stick or lined with parchment for a smooth exit later on.
Electric Mixer (affiliate): Think of it as your backup band for whipping cream cheese and eggs into a frenzy. You can go manual, but why tire out that precious stirring arm?
Rubber Spatula (affiliate): The unsung hero for scraping down the sides of your mixing bowl, ensuring everything is evenly mixed. It's like a stagehand, but for your kitchen.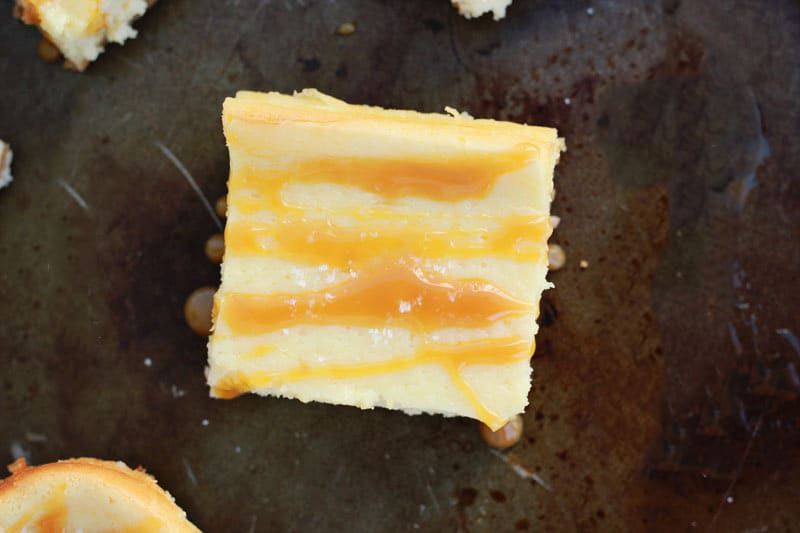 Recipe Notes:
Can I use low-fat cream cheese?
Sure, but remember, cheesecake is a treat, not a salad. You'll sacrifice some creaminess, but it'll still be a hit—like a movie sequel that's not quite as good as the original.
How do I know when they're done?
If the center jiggles like a well-choreographed dance routine—just slightly—it's showtime. Also, a toothpick test can be your trusty stage manager here.
Can I freeze these?
Absolutely, just wrap 'em up tighter than a burrito and stash them in the freezer. Think of it as releasing the director's cut later.
Why is my cheesecake cracking?
Overmixing or overbaking is usually the culprit. Try to mix only until the ingredients are combined.
What can I use instead of graham crackers for the crust?
Cookie crumbs, pretzels, or even oats can be the understudy. Get creative, but keep it complementary.
How long do cheesecake bars last?
These beauties can chill for up to a week, sealed in an airtight container. I do recommend storing the bars without the sauce and adding just before serving.
More Caramel Recipes To Try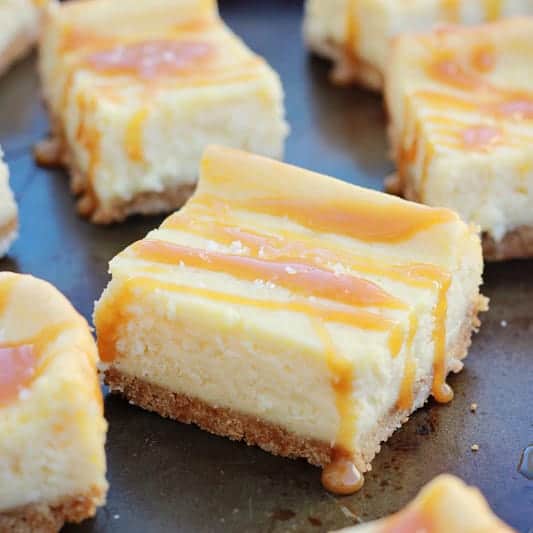 Salted Caramel Cheesecake Bars
Get ready to be the life of the dessert table with these mouth-watering caramel cheesecake bars! Trust me, one bite and your taste buds will be doing the happy dance. 
Ingredients
Crust
1/4 cup butter melted
3/4 cup finely crushed graham crackers
1/4 cup flour
2 tablespoons sugar
Cheesecake
1½ (8 oz) package cream cheese softened
2/3 cup sugar
4 eggs
1 tablespoon milk
1 teaspoon vanilla
Caramel
1 cup light brown sugar
1/2 cup half-and-half
4 tablespoon butter
1 tablespoon vanilla extract
1½ teaspoon fleur de sel
Instructions
Crust
Preheat the oven to 375 degrees. Mist a 9×9 square pan non-stick spray. Set aside.

Stir the butter, graham crackers, flour, and 2 tablespoons of sugar together with a fork. Press into the bottom of the prepared pan. Bake for 8 minutes or until light brown.
Cheesecake
Combine the cream cheese and 2/3 cup sugar to a mixing bowl. Beat with a hand mixer until combined fully.

Scrape the sides of the bowl with a rubber spatula. Add the eggs, milk, and vanilla extract. Slowly stir just until combined fully.

Pour over the warm crust,

Bake 20 minutes or until the center looks like it has set. Cool until room temperature and refrigerate for at least 2 hours if not overnight.
Caramel
Combine the brown sugar, half-and-half, and butter in a sauce pan.

Cook on medium low heat, whisking the entire time, for 6 minutes or until it slightly thickens. Stir in the vanilla and salt.

Turn off the heat and let it cool slightly. Drizzle over your cooled bars and serve.
Nutrition
Serving: 9bars
Reader Interactions