Salted Caramel Cheesecake Bars – Creamy cheesecake bars with a buttery graham cracker crust and topped with salted caramel sauce … This is the perfect Cheesecake Bars Recipe!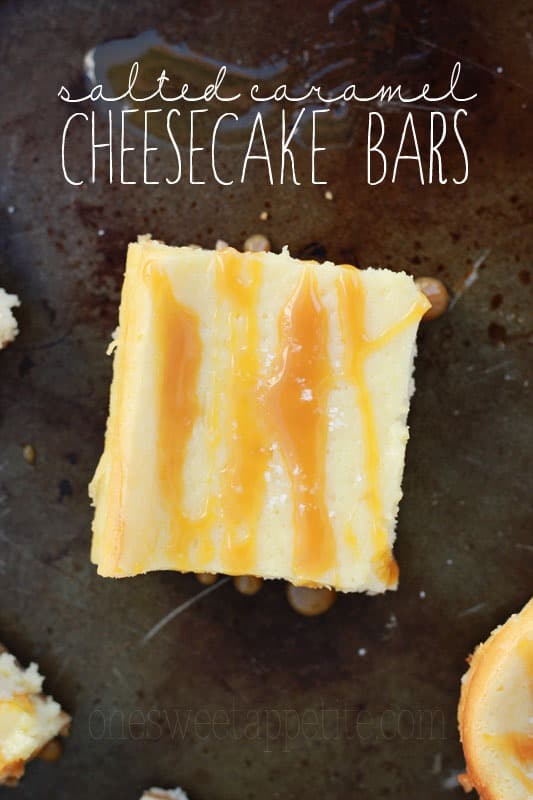 These cheesecake bars are the reason I have gone up two pant sizes.
I am not even kidding. The very first time I made the recipe I fell in love. Now, I am asked to make it for every single family event.
I have made them as a strawberry, blueberry, and pumpkin version. But salted caramel is by far my favorite.
I start with the base of a buttery graham cracker crust. Top that with a creamy decadent cheesecake filling, and top with a homemade caramel.
The big finish? Sprinkle with fleur de sel for an elegant flavor.
Do not skip that last step! The salt is what boosts the flavors of this entire dessert. It helps blend things together and gives you the very best cheesecake bars.
What is Fleur De Sel?
Fleur De Sel is a finishing salt with a light and moist texture. Its delicate flavor is perfect for desserts! It gives the boost you need while avoiding overpowering the dish.
What kind of cookies should I use in my cheesecake crust?
I love this question and get it frequently. You can really use any crunchy cookie for a crust base. Here are a few of our favorites:
Oreo's or any other chocolate wafer cookie
Graham crackers
Vanilla Wafer Cookies
Gingersnaps
Animal crackers
Cereal
Pretzels
Ice cream cones
What are the best cheesecake toppings?
Cheesecake is amazing all on its own, but if you would like to add a fun topping I suggest:
Berry pie topping (blueberry, strawberry, blackberry…)
Caramel Sauce
Fresh fruit
Cookie crumbles
Chocolate sauce
Strudel topping
Tips to make no-fail cheesecake bars:
Use room temperature ingredients. I can't stress this enough. Room temperature ingredients will blend together smoothly and help keep your batter from being overly lumpy.
Avoid over mixing. Over mixing the batter can cause you cheesecake to crack. Mixing with the paddle attachment on medium low speed will give you a creamy batter ready to be baked.
Chill completely before cutting. Once your cheesecake has cooled to room temperature, refrigerate. You want the bars to be completely cooled before slicing.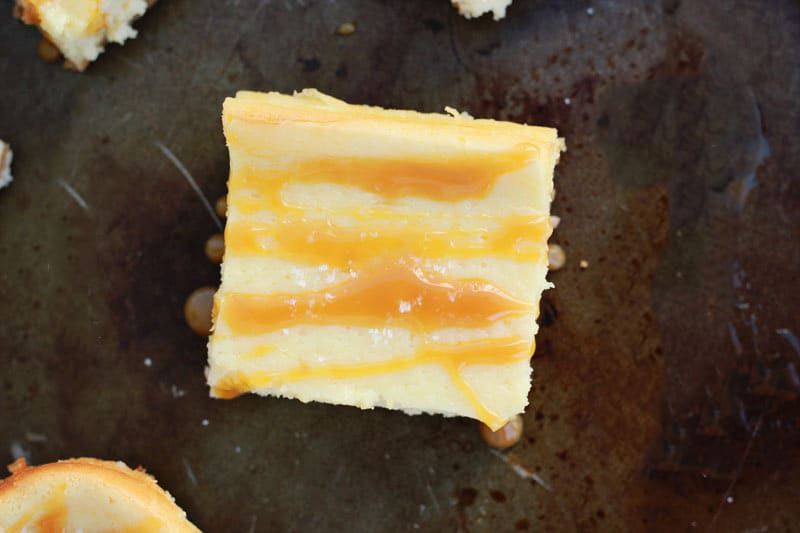 Like this recipe? You will love mu:
How to make Salted Caramel Cheesecake Bars: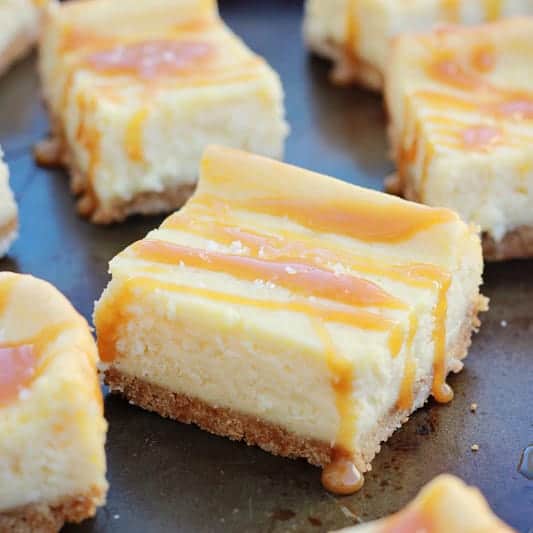 Salted Caramel Cheesecake Bars
Ingredients
For the bars:
1/4 cup butter melted
3/4 cup finely crushed graham crackers
1/4 cup flour
2 tablespoons sugar
1 1/2 8 oz package cream cheese softened
2/3 cup sugar
4 eggs
1 tablespoon milk
1 teaspoon vanilla
For the Caramel:
1 cup light brown sugar
1/2 cup half-and-half
4 tablespoon butter
1 tablespoon vanilla extract
1-1/2 teaspoon fleur de sel
Instructions
Preheat your oven to 375 degrees. Mist a 9×9 square pan non-stick spray. Set aside.

Stir the butter, graham crackers, flour, and 2 tablespoons of sugar together with a fork. Press into the bottom of you prepared pan. Bake for 8 minutes or until light brown.

Cream together the cream cheese, 2/3 cup sugar, eggs, milk, and vanilla in the bowl of an electric mixer. Pour over your warm crust,

Bake 20 minutes or until the center looks like it has set. Cool until room temperature and refrigerate for at least 2 hours if not overnight.

Combine the brown sugar, half-and-half, and butter in a sauce pan. Cook on medium low heat, whisking the entire time, for 6 minutes or until it slightly thickens. Stir in the vanilla and salt.

Turn off the heat and let it cool slightly. Drizzle over your cooled bars and serve.
Nutrition
Serving: 9bars
Reader Interactions