These Traeger Smoked Ribs follow the 3-2-1 method and are a fool proof way to get tender fall-off-the-bone ribs every single time. Perfect recipe for beginners and a summer staple in our home.
Serve these ribs with Mac N Cheese, Pasta Salad, or Cornbread for a full meal the entire family will LOVE.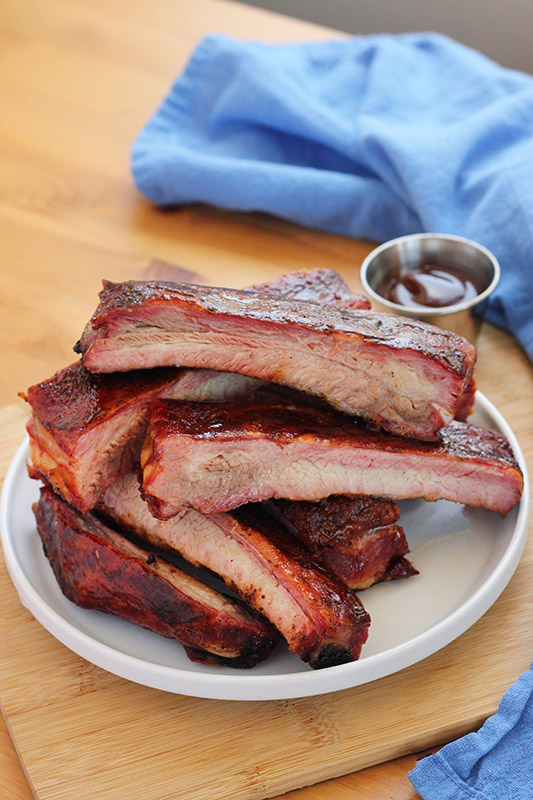 RECIPE FEATURES
I am SO excited to share this smoked pork ribs recipe today. It is one I have been perfecting and it is drool worthy. I think we spent well over $150 in ribs over the last few months testing type, length of cooking, and seasoning. You just cannot go wrong with this recipe.
The 3-2-1 method is something that has been around for a while and recently has grown in popularity, thanks to the ease and fool-proof results. You get super tender ribs that practically fall off the bone every single time. It's time to fire up the smoker and give this recipe a try!
SMOKING RIBS FOR BEGINNERS
I like to keep my recipes super simple. This one falls right in line and takes less than 10 minutes to prep and move over to the grill. After 3 hours you transfer to a foil pack with a sprinkle of brown sugar, splash of apple juice, and butter. Wrap up tightly and back to the smoker for 2 hours. Lastly, you'll transfer back directly to the grates for the final hour. Here is what you need:
HOW TO SMOKE RIBS ON A PELLET GRILL
This recipe gives you a flavor packed rib that has sauce, but is not saucy. Don't get me wrong, you will definitely get messy. The sauce ratio is simply perfection and heightens the flavor vs taking over.
HELPFUL TOOLS
SMOKED RIBS RECIPE TIPS
What is the 3-2-1 method of smoking ribs?
The 3-2-1 method is a slow cook process for cooking ribs on your smoker, or Traeger. The idea is that the first low temperature cook of 3 hours locks in the smoke flavor, the next 2 hours is wrapped with a touch of sugar and butter to help them fall apart, and the last hour is brushed with a light layer of sauce for that perfect finish.
What are the best pellets to use?
We have been liking cherry and apple pellets when smoking pork, but you can use pecan and peach for additional delicious flavor.
When are ribs done smoking?
To make sure you have that perfect fall off the bone tenderness you want to cook the ribs to an internal temperature of 225 – 250°F
What is the bend test for ribs?
The bend test is the perfect way to test the doneness of your ribs, and I thank my brother in law for showing me this! Here's how you do it:
Hold one rack of ribs from the short end side with a pair of tongs. If the other end bends towards the ground and cracks start to form, your ribs are ready to eat!
What is the best barbecue sauce for ribs?
This is such a tricky question. For this recipe, you should only use barbecue sauce sparingly. Which means you can use whichever your favorite flavor is.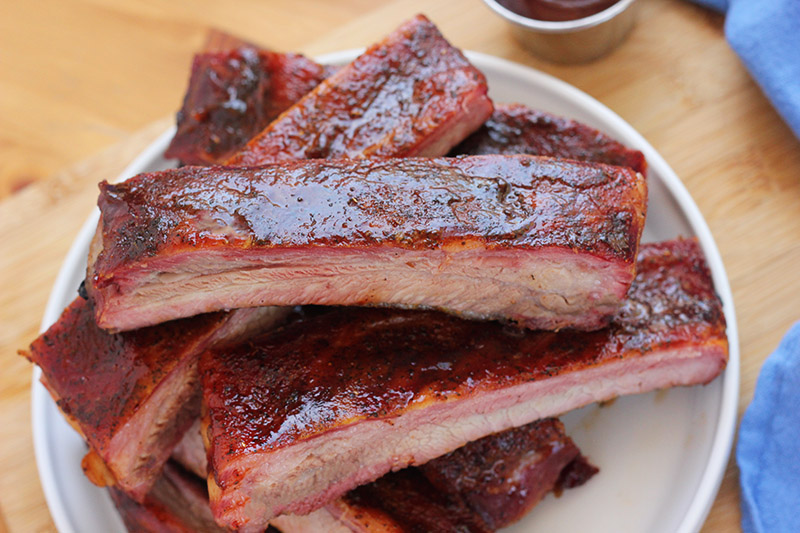 MORE SMOKER RECIPES TO TRY
Still Hungry? Follow One Sweet Appetite on Instagram, Pinterest, and Facebook!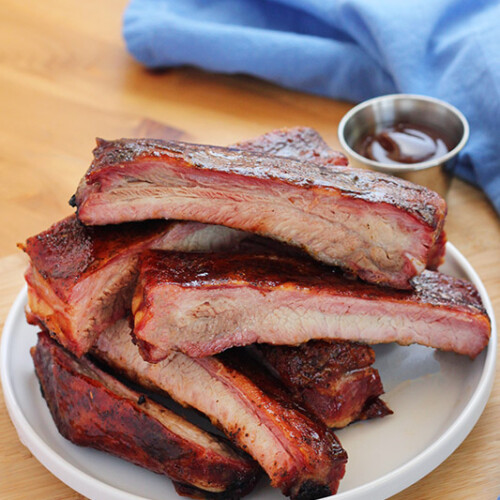 Traeger Smoked Ribs
These Traeger Smoked Ribs follow the 3-2-1 method and are a fool proof way to get tender fall-off-the-bone ribs every single time. Perfect recipe for beginners and a summer staple in our home.
Ingredients
2 racks spare ribs or baby back
1/4 cup mustard
1/4 cup rib dry rub
2 Tablespoons brown sugar
4 Tablespoons butter
1/2 cup apple juice
Instructions
Preheat the smoker to 250°F with your preferred pellets.

Remove the membrane off of the bone side of the ribs, if this wasn't previously done by the butcher.

Pat the ribs dry with a paper towel and coat with mustard.

Apply the dry rub to both sides, making sure to cover well.

Place the ribs, top side down, onto the smoker. Let them cook for 3 hours.

Prep the next step by taking 2 long strips of heavy duty aluminium foil and laying on the workstation.

After the 3rd hour, remove the rack and place bone side down directly on top of the foil pieces.

Sprinkle the top side with brown sugar, butter, and a drizzle of apple juice around the edges, using the foil to keep contained.

Wrap the ribs tightly and place back onto the grill, top side down, for 2 additional hours.

After the second hour, remove the ribs from the foil.

Place the ribs, meat side up, directly onto the grate of the smoker. Lightly brush with barbecue sauce.

Cook one more hour or until the temperature reaches 190°-205°, or they pass the bend test.
Nutrition
Serving: 1g | Calories: 356kcal | Carbohydrates: 18g | Protein: 21g | Fat: 38g | Saturated Fat: 14g | Polyunsaturated Fat: 16g | Trans Fat: 1g | Cholesterol: 123mg | Sodium: 551mg | Fiber: 1g | Sugar: 15g
Reader Interactions