Dishing out the ultimate "crock pot mac and cheese" for ya today. Why hover over the stove when you can let the slow magic happen and still get that creamy, dreamy goodness? Your tastebuds, couch, and binge-watching plans will thank you. Oven, who? Effortlessly delicious dinner with minimal prep? Yes, please!
Want to make it a meal? I've got ya! Try serving this dish with my crispy ranch chicken for a protein boost, meatloaf for the ultimate comfort meal, and a side of veggies to round out the meal!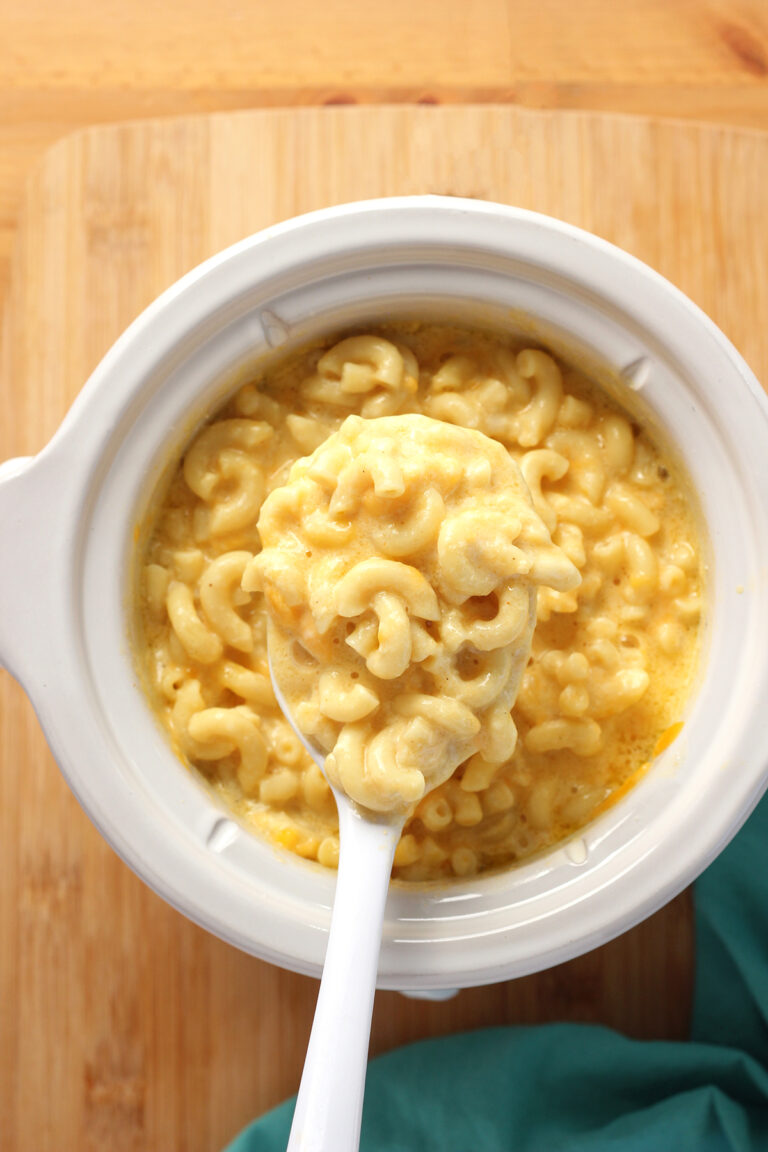 Why You'll Love This Slow Cooker Pasta
Effortless Cooking: Toss the ingredients in, set it, and forget it! With a slow cooker, there's no need to hover over the stove or stir constantly.
Consistent Creaminess: Slow, even cooking ensures that every bite is consistently creamy and dreamy, with the flavors melding together perfectly over time.
Free Up Kitchen Real Estate: Hosting a shindig or just making a multi-course meal? Your stove and oven can get pretty crowded. Using the slow cooker for mac and cheese means one less pot on the stove, giving you more space for other culinary masterpieces.
I live for a good slow cooker recipe. Nothing helps a busy weeknight like coming home to dinner ready to eat. This macaroni recipe falls right in line with my go-to recipes and is full of cheesy goodness.
Think of tender pasta soaked in a velvety, rich cheese sauce that's absorbed all the cheesy goodness over those slow cooking hours. There's an underlying hint of warmth and comfort, combined with the unmistakable tang and savoriness of perfectly melted cheeses. Every bite is a harmonious dance of textures and flavors, making it a soul-hugging, smile-inducing experience. It's like getting a big, cheesy hug from the inside out!
Slow Cooker Macaroni And Cheese Ingredients
This recipe is tried and true. The ultimate comfort recipe and so easy to customize in so many ways. I like to add cooked broccoli, chopped bacon, and crispy chicken for a full meal that the entire family will love. Here is what you need to get started:
Noodles: Of course, my go-to is the classic macaroni noodle. However, this slow cooker pasta works with small shells, rotini, or cavatappi!
Butter: Salted butter enriches the dish with a creamy, rich flavor. It's that comforting, velvety backdrop to the cheesey goodness.
Seasonings: Staples like salt and pepper, but also the addition of onion powder, garlic powder, and the optional addition of creole seasoning for a little kick.
Cheese: You can stick with all cheddar, but if you want to shake things up I suggest trying a mix and match of cheese flavors. I like white cheddar and pepper jack!
Milk: Both 2% and evaporated milk. Evaporated milk has had about 60% of its water removed, making it richer and creamier than regular milk. This results in a lusciously smooth and velvety cheese sauce.
Eggs: Egg acts as a binding agent, helping to hold the cheese, milk, and pasta together.
Searching for a quick bake? Try this delicious basil penne!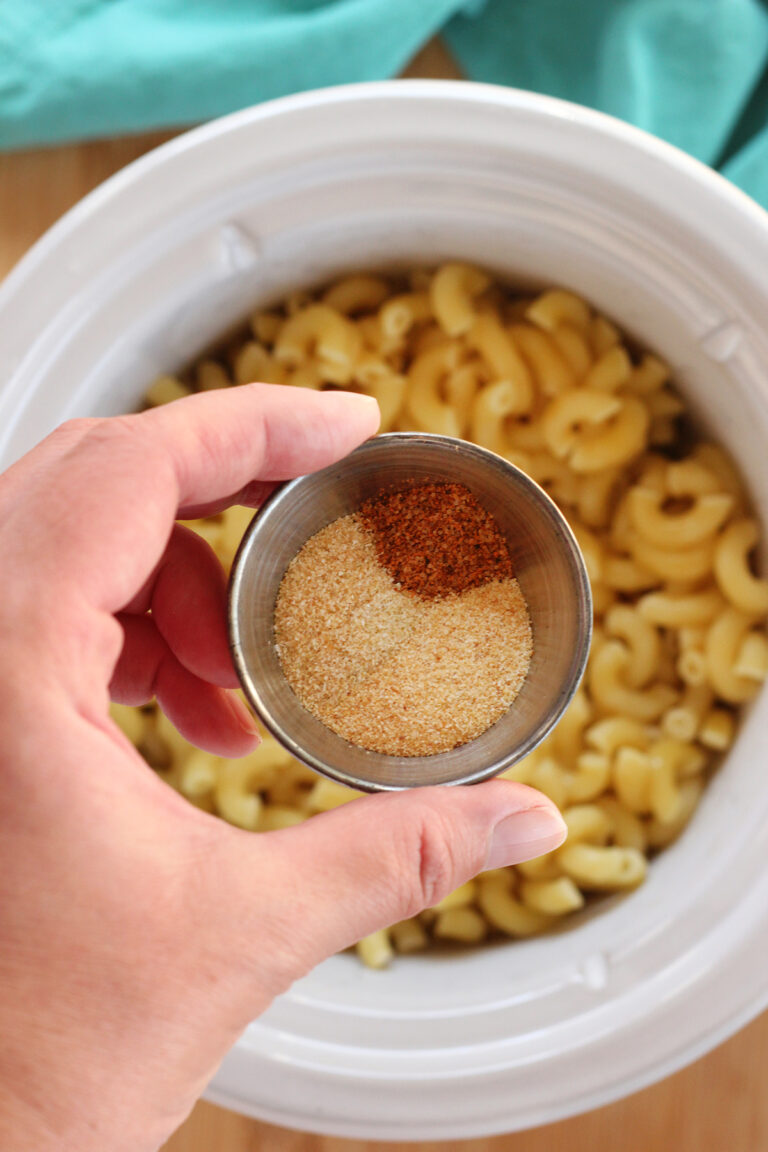 Easy Crock Pot Mac And Cheese
PREP: I like to pre cook my noodles, but not so much that they are soft. Almost al' dente but not quite. This helps give them a head start to the cooking process and ensures you aren't left with crunchy noodles.
SACUE: Once the noodles are cooked, drain and add to the slow cooker. In a separate bowl, stir together the milks, eggs, and seasonings with the cheese soup. Pour over the top of the noodles.
CHEESE: Pro tip, use fresh grated cheese for the best gooey mac. Mix the cheese into the noodles, cover, and cook on low for 2 to 3 hours, or until the sauce is thickened and the noodles are soft.
ENJOY: Serve the mac immediately with your favorite toppings and sides.
Helpful Tools
Silicone Spatula (affiliate): This is a game changer for stirring and scraping every ounce of that heavenly cheese sauce from the pot's sides. Silicone is gentle on your slow cooker, avoiding scratches, and it's heat-resistant!
Cheese Grater with Container (affiliate): Freshly grated cheese melts better and more evenly than pre-packaged shreds. A grater with a built-in container? That's mess-minimizing gold right there.
Slow Cooker with a Programmable Timer (affiliate): An absolute must-have. A timer ensures your mac and cheese cooks to perfection without turning mushy. Plus, some models switch to a "keep warm" setting after cooking, so it's ready when you are!
Recipe Notes:
Can I use different types of cheese?
Absolutely! Mix and match to find your fave combo. Cheddar, Gouda, and Monterey Jack are popular picks.
Do I need to cook the pasta beforehand?
Yes and no. I like to pre cook my noodles. However, you can toss uncooked pasta in and let the crock pot work its magic. Just be sure to add a little extra milk.
What can I add for a little extra flair?
Spice it up with some jalapeños, bacon bits, or even lobster for a fancy twist!
My sauce looks a bit curdled. What went wrong?
Overcooking or high heat can cause this. Ensure you're cooking on low and stir occasionally for that creamy consistency.
How should I store leftovers?
Store in an airtight container in the fridge for up to 3 days. Reheat gently to avoid separation.
Can I make this recipe gluten-free?
Totally! Just swap out regular pasta for gluten-free options and ensure your other ingredients are GF-friendly.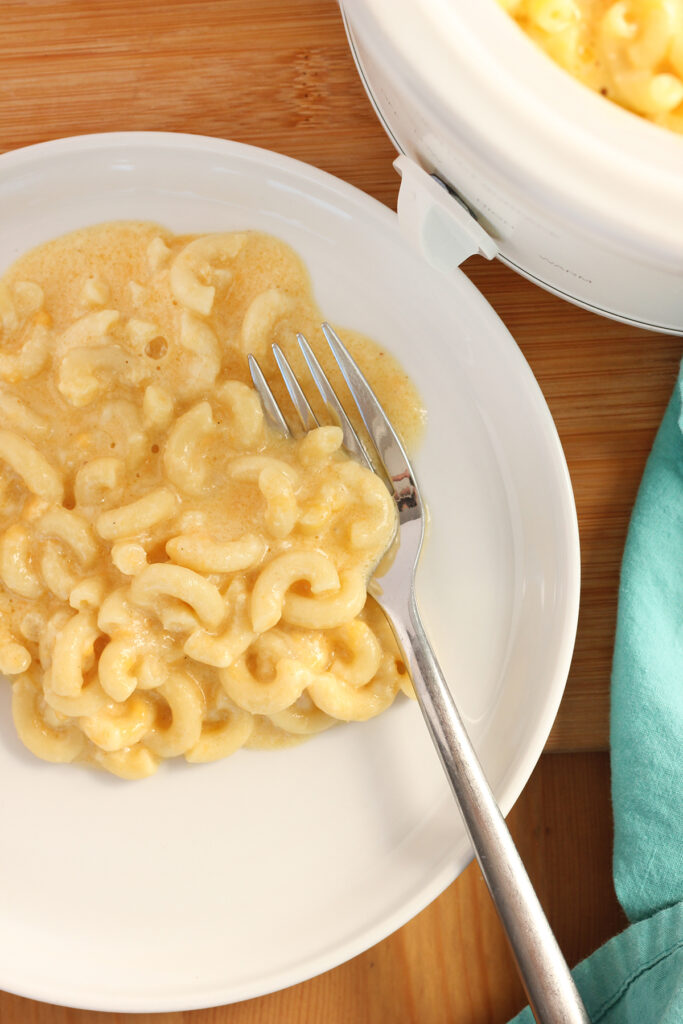 Choosing Your Cheese Wisely: The cheese blend is the heart and soul of your macaroni dish. While sharp cheddar is a popular go-to, don't hesitate to experiment! Combining cheeses can result in a richer flavor profile.
Consider adding a touch of Gouda for smokiness, or a sprinkle of Parmesan for that savory kick. And here's a pro-tip: freshly grated cheese tends to melt more smoothly than pre-packaged shreds. So, invest a few extra minutes in grating for that flawless, velvety finish.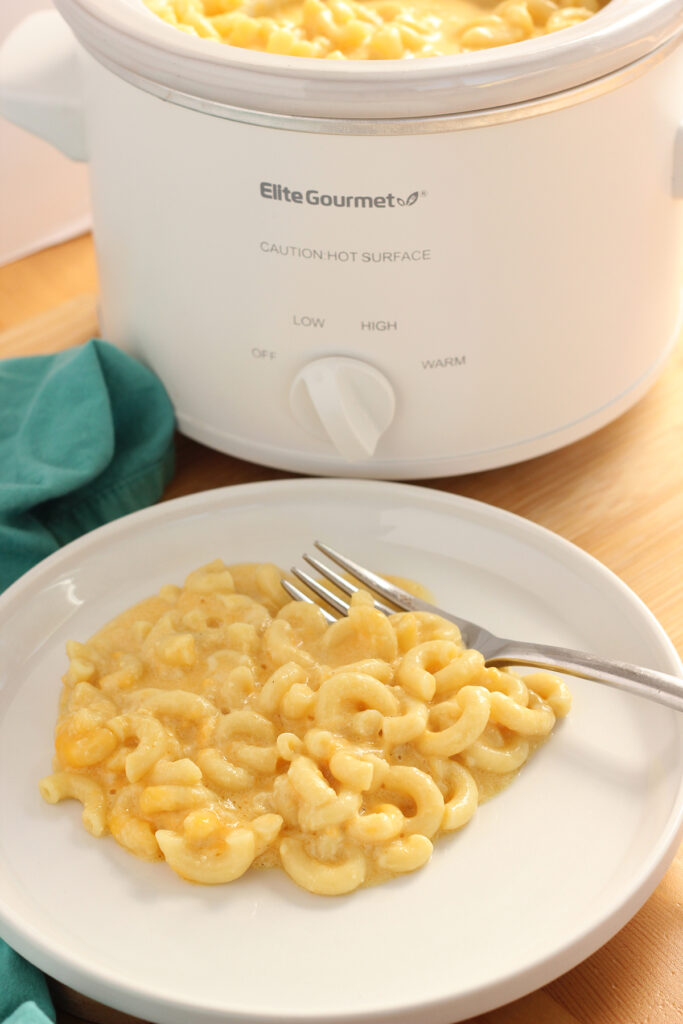 More Slow Cooker Recipes To Try
Ready to level up your lazy-cooking game? I've got a list of must-try slow cooker recipes that'll have your kitchen smelling divine with minimal effort. Because let's be real, who doesn't love delicious food that basically cooks itself? Grab your crock pot and let's dive in!
Still Hungry? Follow One Sweet Appetite on Instagram, Pinterest, and Facebook!
Slow Cooker Macaroni and Cheese Recipe
This easy slow cooker macaroni and cheese uses quality ingredients and gives you an effortlessly delicious dinner with minimal prep!
Ingredients
16 oz macaroni noodles
1/2 cup butter melted
1½ teaspoon onion powder
1 teaspoon garlic powder
1/2 teaspoon salt
1/4 teaspoon pepper
1/2 teaspoon creole seasoning optional
1 (10.5 oz) can cheese soup
1 (12 oz) can evaporated milk
1 cup milk
2 large eggs
16 oz cheese shredded
Instructions
Cook the noodles for 7 to 8 minutes in a pot of salted boiling water. The noodles should be slightly firm. Drain and place into the slow cooker.

Pour the melted butter and seasonings over the noodles. Stir to combine.

In a small bowl, whisk together the cheese soup, evaporated milk, milk, and eggs. Pour over the top of the noodles.

Add half of the shredded cheese and stir to combine. Sprinkle the remaining cheese over the top of the macaroni.

Cover and cook on low for 3 hours, or until the sauce has thickened and the noodles are soft.
Nutrition
Serving: 1g | Calories: 389kcal | Carbohydrates: 31g | Protein: 16g | Fat: 23g | Saturated Fat: 13g | Polyunsaturated Fat: 1g | Monounsaturated Fat: 5g | Trans Fat: 0.3g | Cholesterol: 92mg | Sodium: 428mg | Potassium: 166mg | Fiber: 1g | Sugar: 2g | Vitamin A: 728IU | Vitamin C: 0.1mg | Calcium: 309mg | Iron: 1mg
Related Recipes: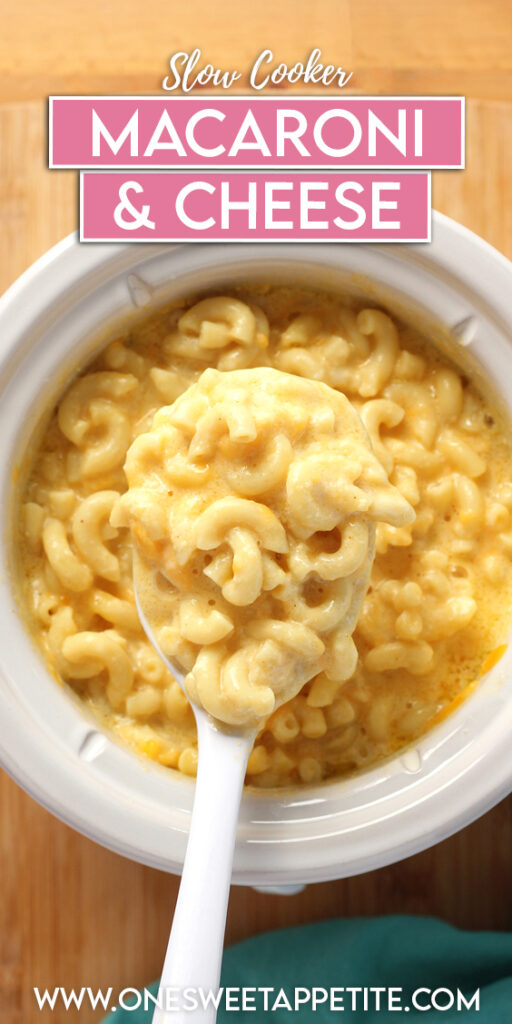 Reader Interactions