This recipe for Orange Sweet Rolls is simple and delicious! The pastry is filled with sugary orange goodness and topped with a sweet orange glaze. Perfect for breakfast or a treat to share!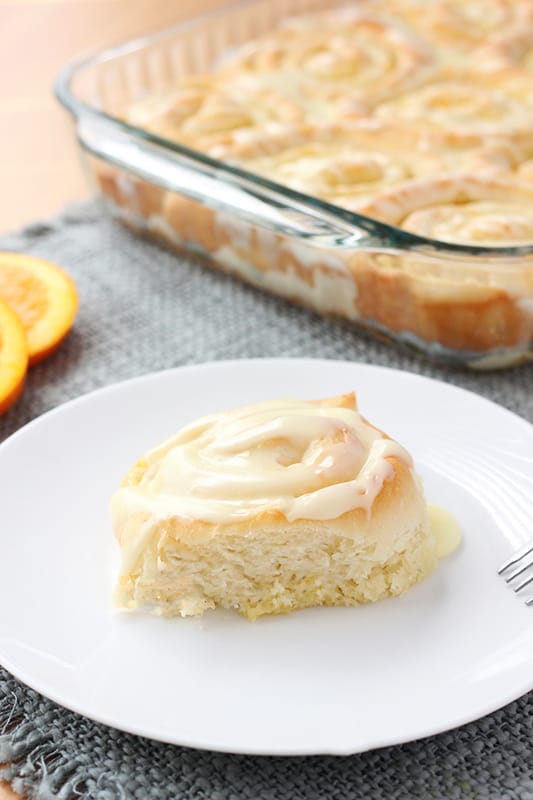 My high school boyfriend actually introduced me to the wonderful flavor of Orange Rolls. Up until that point in my junior year, I did not know this wonderful pastry existed.
The pairing of pastry dough with citrus is addicting and the perfect way to mix up your classic cinnamon roll recipe!
Homemade Orange Rolls – Better than Pillsbury!
Ingredients for Orange Sweet Rolls:
What exactly do you need to make orange rolls? The answer might surprise you. Most items are pantry staples!
Active dry yeast
Water
Butter
Sugar
Egg
Milk
Flour
Orange zest
Orange juice
Vanilla extract
Can you freeze Orange Rolls?
YES. You definitely can freeze sweet rolls. The best method for freezing your sweet rolls is to bake them, allow them to cool completely, and individually wrap in plastic wrap. Place in a labeled zip top bag and freeze solid.
When ready to eat, wrap in a damp paper towel and microwave for 30 seconds to 1 minute. Or until the roll is warmed through. Frost as normal and enjoy!
How to make sweet rolls the night before:
Cinnamon rolls are known as a fun breakfast or brunch recipe. However, the time it takes the dough to rise requires an early start to your day. Luckily, this recipe can be prepped and made the night before which makes it even more appealing! Here's how:
Make the dough all the way through step 3 of the filling.
Once you have divided your dough into 12 pieces, place in a lightly greased 9×13 pan. Cover with plastic wrap and place in the refrigerator overnight.
Remove the rolls from the refrigerator one hour prior to baking.
Bake per the instructions below.
How to know if your yeast is still active:
Using active yeast, or watching your yeast bloom, is a crucial part of any sweet roll recipe. So how exactly do you know if your yeast is still active? Easy, simply pour your yeast into a bowl or cup of warm water. Let the yeast sit for 5 to 10 minutes. If you see bubbles, or a foam, your yeast is alive and ready to go into the recipe!
Make sure to store your yeast in a cool dry place to keep it fresh longer.
Like this recipe? You will love my:
This post was originally published January 22, 2013. It has since been updated to include some of our favorite tips.
Orange Sweet Rolls
Rise Time:
1 hour
30 minutes
Total Time:
2 hours
25 minutes
This Orange Sweet Rolls Recipe is the perfect way to add a little citrus to your morning pastry! Fool proof and perfect for beginner bakers!
Ingredients
For the rolls:
1-1/2 tablespoons active dry yeast
1/3 cup warm water
1/2 cup salted butter, softened
1/4 cup granulated sugar
1 large egg
1 cup milk, room temperature or lightly warmed
3 to 4-1/2 cups All-purpose flour
For the filling:
1 cup granulated sugar
3 tablespoons orange zest
1/2 cup butter, softened
For the frosting:
4 tablespoons butter, soft
2 cups powdered sugar, (plus more if needed)
1/2 teaspoon pure vanilla extract
2-3 tablespoons fresh squeezed orange juice
Instructions
For the rolls:
Stir the yeast into the warm water. Allow to sit for 5-10 minutes or until the yeast has bloomed.
Combine the 1/2 cup butter and sugar in the bowl of a stand mixer. Mix on medium speed until the mixture is light and fluffy and fully combined.
Whisk together the egg and milk. Stir into the butter mixture.
Add the yeast with one cup of flour. Stir on low slowly adding in the remaining flour 1/2 cup at a time. You want the dough to be playdough like texture.
Switch to the dough hook and mix on medium/low speed for 8 minutes or until the dough is smooth.
Lightly grease a medium glass bowl. Place the dough into the bowl. Turn once to coat in the oil. Cover with a clean dry towel and allow the dough to rest until it has doubled in size, about 1-2 hours.
For the filling:
While your dough is rising, combine the 1 cup of sugar with the orange zest. Stir until fragrant and combined.
Once the dough has doubled, punch down. Turn out onto a lightly floured surface and roll into a 9x18 inch rectangle. Spread with 1/2 cup soft butter. Spread the sugar and orange zest mixture over the butter.
Roll the dough, starting at the long side. Gently slice into 12 equal pieces.
Lightly grease a 9x13 pan. Place the rolls, cut side down, into the pan. Cover with a clean towel and allow them to rest for 30 minutes to one hour, or until they have doubled in size.
Preheat the oven to 350 degrees. Bake the rolls for 22-25 minutes, or until they are lightly browned.
For the frosting:
Combine the 1/4 cup butter, powdered sugar, and vanilla in a medium bowl. Whisk until combined. Add orange juice, one tablespoon at a time, until desired consistency is achieved. Spread over your slightly cooled orange rolls.
Recommended Products
As an Amazon Associate and member of other affiliate programs, I earn from qualifying purchases.
Pin for later: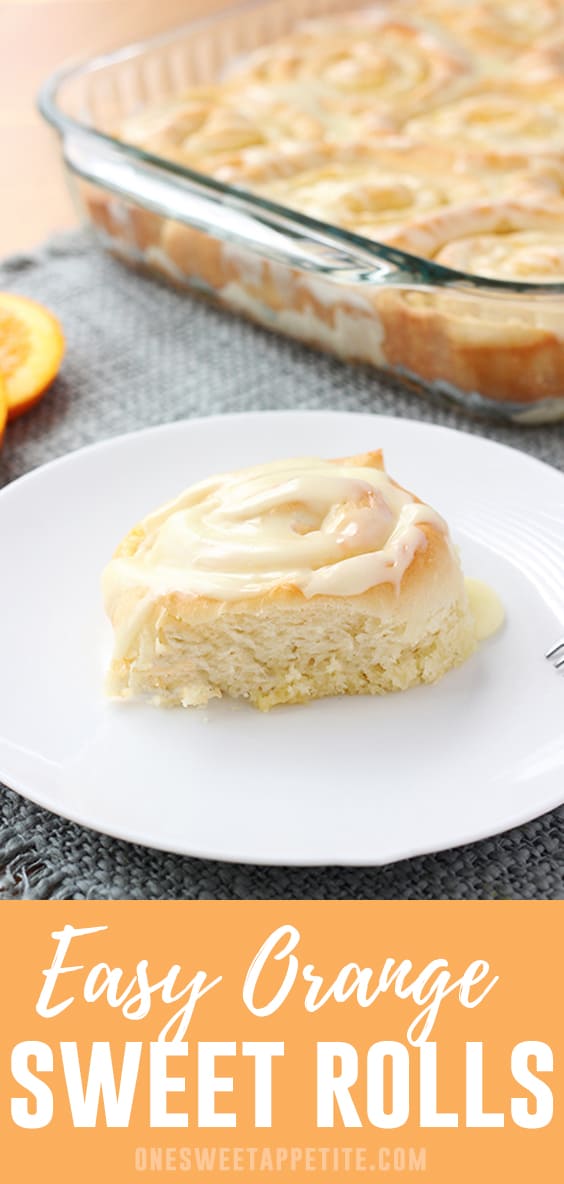 Still hungry? Follow One Sweet Appetite on Facebook, Instagram and Pinterest for more great recipe ideas!