This is, hands down, the BEST Homemade Alfredo Sauce! Say goodbye to lackluster jarred alternatives and embrace the homemade goodness that will have you licking the plate clean and begging for seconds. You won't believe how simple this recipe truly is.
Add some crispy chicken, an Italian side salad, and garlic knots for a restaurant experience all in the comfort of your own home!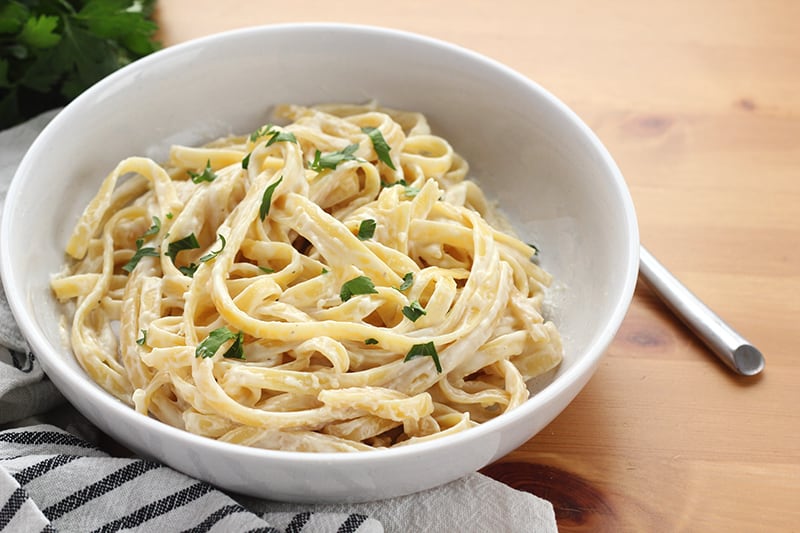 Why You'll Love This Simple Alfredo Sauce
Quick Dinner: From start to finish you're looking at roughly 20 minutes.
Minimal Ingredients: This is a 5-ingredient dinner recipe.
Ultimate Comfort Food: Rich, creamy, and filling!
I LOVE THIS RECIPE.
Well, really I love any Fettuccine alfredo recipe, but this one in particular is sinfully delicious. It's rich, creamy, and full of flavor. Amazing on any pasta. I would even confidently say it challenges the Olive Garden Alfredo recipe. Incredibly similar in flavor and texture but with a more robust flavor profile.
Bonus? There are so many serving options! We love to whip up a batch with chicken and fettuccine noodles, as a sauce for my Alfredo Stuffed Shells, OR mixed WITH the marinara in my lazy pasta bake. You could even whip up a batch and send it to a loved one in a jar for a quick dinner delivery!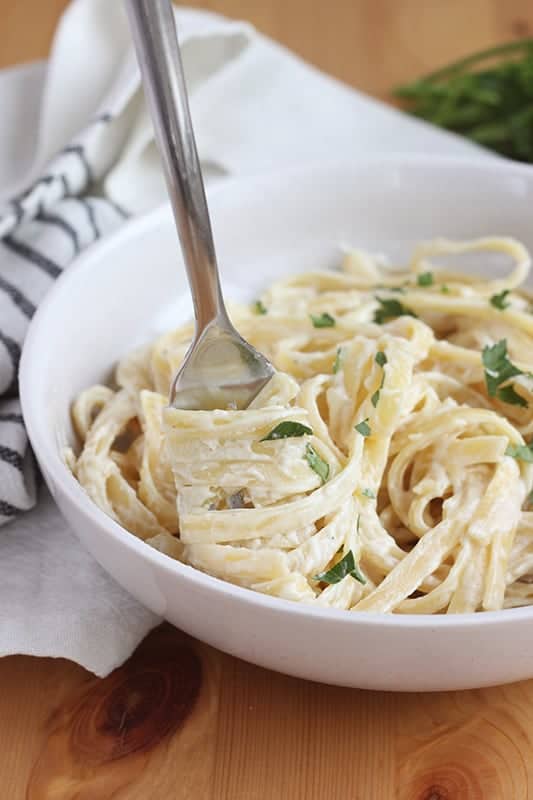 Alfredo Sauce Ingredients
Like many pasta sauce recipes, this one contains minimal ingredients. Each one plays an important roll in the flavor profile. Be sure to use fresh garlic and cracked pepper for the best results.
Butter: I prefer salted butter. That being said, this is going to already be a pretty salty dish with the Parmesan, so you definitely can use unsalted butter.
Garlic: As a garlic lover, I measure garlic with my heart. The more the better. However, I wrote this recipe specifically to balance the garlic with all of the other ingredients. Add more if desired.
Cream: Special note, heavy cream and heavy whipping cream are both essentially the same thing. Both will work for this rich sauce.
Parmesan: Do NOT use the canned grated parmesan. This should be fresh grated or shredded parmesan for the best flavor profile.
Pepper: Just a sprinkle to help elevate the dish.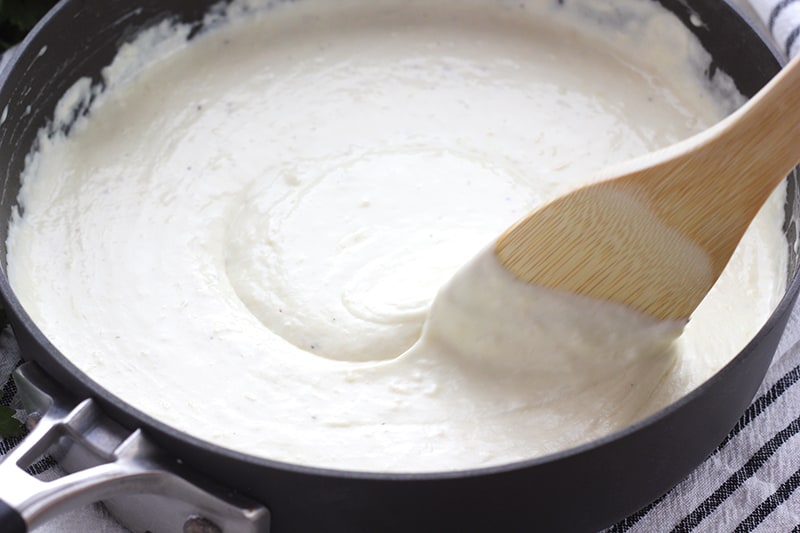 Best Alfredo Sauce Recipe
Cream based sauces could not be more easy to whip up. I like to keep all of these ingredients on hand for a quick weeknight meal that is belly filling and picky eater approved. Here's how to make this recipe:
PREP: Melt the butter in a large skillet over medium heat.
STIR: Stir in the garlic and cook for 1 minute.
SIMMER: Whisk in the cream. Bring to a low simmer and cook for five minutes. Do not boil.
CHEESE: Whisk in the cheese, 1/2 cup at a time, and stir consistently until creamy.
ENJOY: Season with pepper to taste and serve over your favorite pasta.
Helpful Tools
Deep Skillet: This sauce needs a wider cooking area which makes a skillet ideal. A deeper skillet (affiliate) helps to keep all of the ingredients contained as it simmers.
Silicone Whisk: Metal whisks can actually cause damage to your coated pans, which is why I highly recommend silicone whisks (affiliate). They are relatively inexpensive and help keep your pans in tip-top shape.
Grater: This colorful countertop grater (affiliate) is a game changer when it comes to quickly grating a large amount of cheese!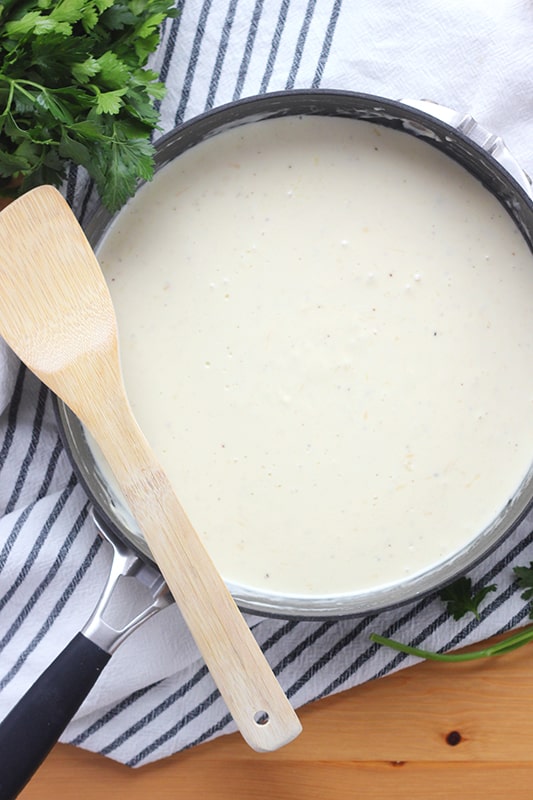 Tips and FAQs:
This easy alfredo sauce recipe is a quick weeknight dinner idea. It is amazing with pasta all on it's own or served with chicken. We even like to toss in some broccoli for a full meal idea. Serve with a side of garlic bread for a carb overload OR Olive Garden copycat zuppa toscana!
Recipe Notes:
Can I use any type of pasta with the homemade Alfredo sauce?
One of the joys of homemade Alfredo sauce is its versatility when it comes to pairing with different pasta shapes. While classic choices like fettuccine or linguine are commonly used, you can experiment with various pasta options to suit your taste or dietary preferences.
Can I substitute heavy cream with a lighter alternative in the recipe?
If you're looking for a lighter option, you can substitute heavy cream with alternatives such as half-and-half, whole milk, or even a combination of milk and Greek yogurt. While the texture and richness may vary slightly, these substitutions can still yield a delicious and creamy sauce with fewer calories. Just keep in mind that lighter alternatives might not thicken as much as heavy cream, so you may need to adjust the cooking time or use a thickening agent like a cornstarch slurry
Can I make the sauce ahead of time and store it?
Yes! Once you have prepared the sauce, allow it to cool completely. Then, transfer it to an airtight container and refrigerate it for up to 3-4 days. When you're ready to use it, simply reheat the sauce gently on the stovetop or in the microwave, stirring occasionally to ensure even heating. You may need to add a splash of milk or cream to adjust the consistency, as the sauce can thicken when refrigerated.
What can I add to the basic Alfredo sauce recipe to enhance the flavor?
To elevate the flavor of your basic Alfredo sauce recipe, there are several delicious ingredients you can add. Here are a few options to consider: more garlic, fresh herbs like parsley or thyme, lemon zest, and even white wine.
How do I prevent the sauce from becoming too thick or too runny?
Add liquid gradually: If the sauce is becoming too thick, you can gradually add small amounts of milk, cream, or pasta cooking water to thin it out. Add a little at a time and stir until you reach the desired consistency.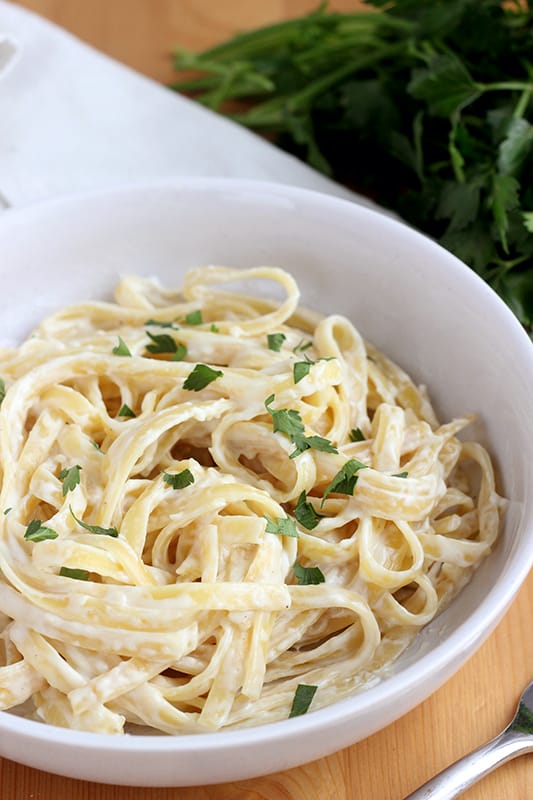 More Delicious Alfredo Recipes
Still Hungry? Follow One Sweet Appetite on Instagram, Pinterest, and Facebook!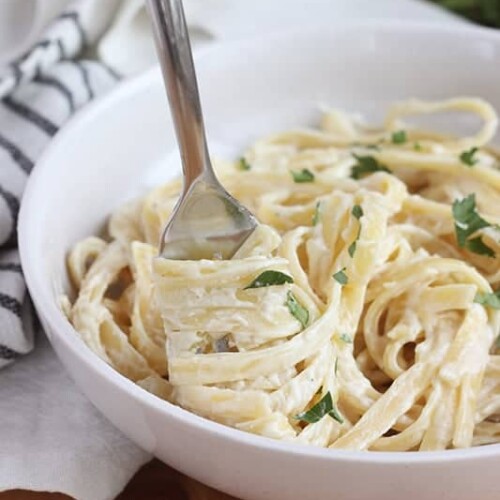 Homemade Alfredo Sauce
This homemade alfredo sauce recipe is better than Olive Garden! Minimal ingredient and big bold flavor. Perfect for pasta night!
Ingredients
1/4 cup butter
1 to 1½ cups heavy cream
2 cloves garlic minced
1½ cups Parmesan cheese shredded
Pepper
Instructions
Melt the butter in a large skillet over medium heat.

Stir in the garlic and cook for 1 minute.

Whisk in the cream. Bring to a low simmer and cook for five minutes. Do not boil.

Whisk in the cheese, 1/2 cup at a time, and stir consistently until creamy.

Season with pepper to taste and serve over your favorite pasta.
Notes
Always use fresh Parmesan, not grated. No cream? No problem! You can whisk in 1 tablespoon of flour with the butter. Substitute the cream with milk.
Nutrition
Serving: 1g | Calories: 474kcal | Carbohydrates: 4g | Protein: 17g | Fat: 44g | Saturated Fat: 28g | Polyunsaturated Fat: 14g | Trans Fat: 1g | Cholesterol: 127mg | Sodium: 786mg | Sugar: 2g
Equipment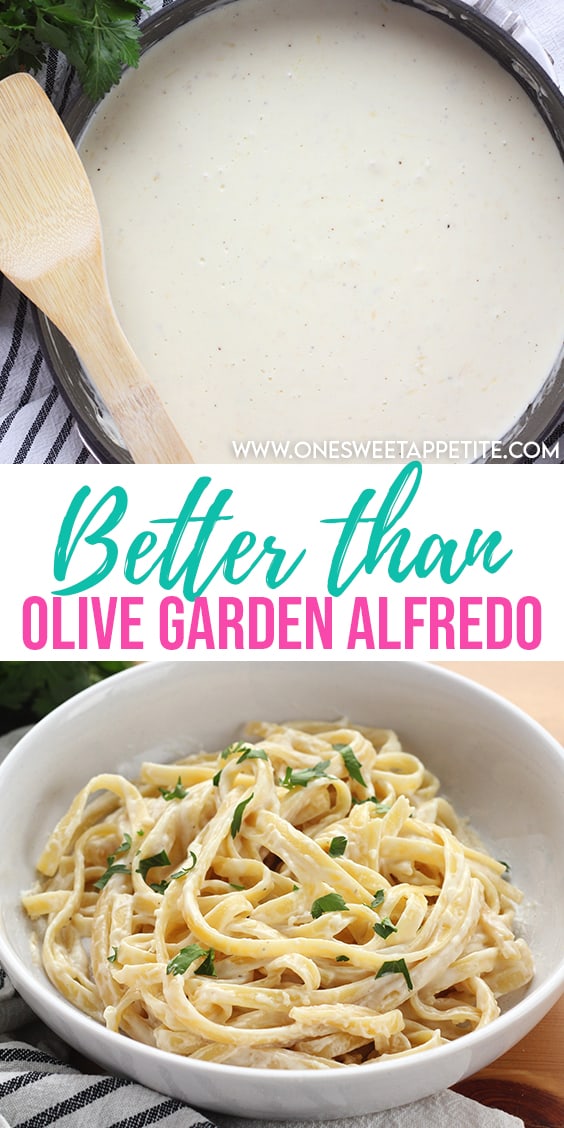 Reader Interactions