This easy Pumpkin Milkshake is the perfect way to get your fix when it's still too warm for baking. Pumpkin blended with a creamy vanilla ice cream and a surprise mix of graham crackers. The best fall treat.
Not ready to give up on summer? Be sure to try my Copycat Wendy's Frosty, Frozen Butterbeer, and Strawberry Frappuccino Recipe.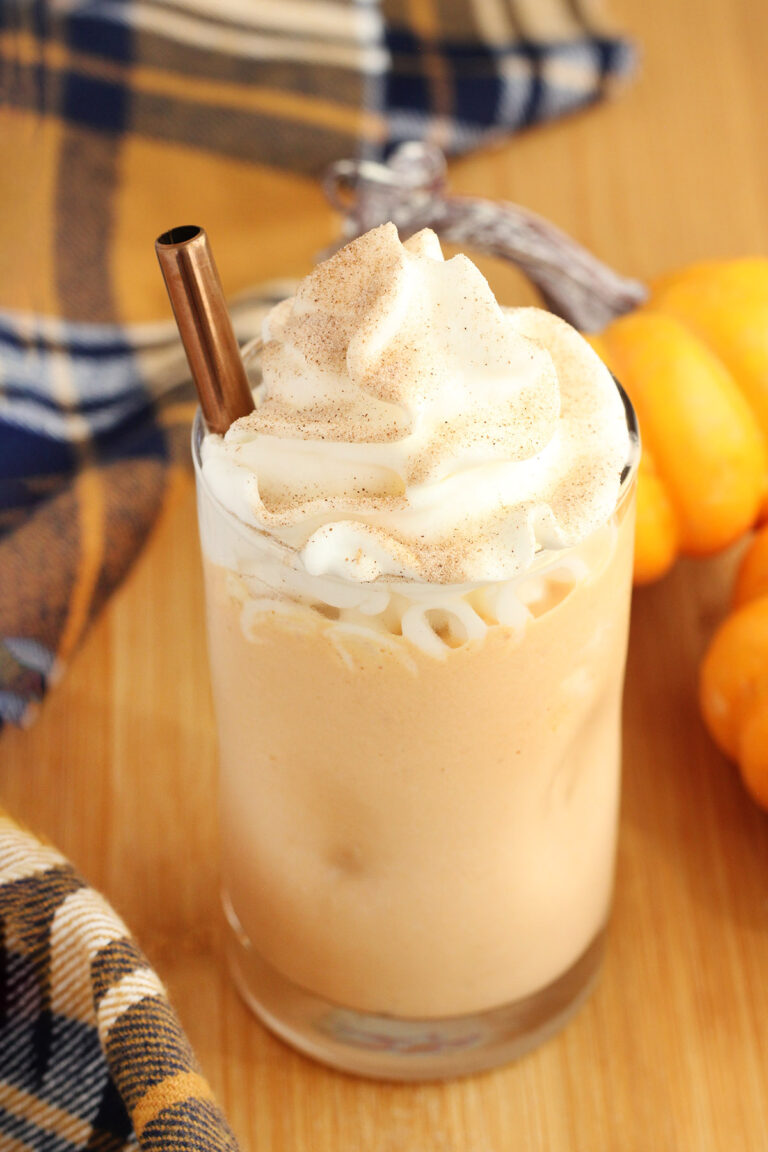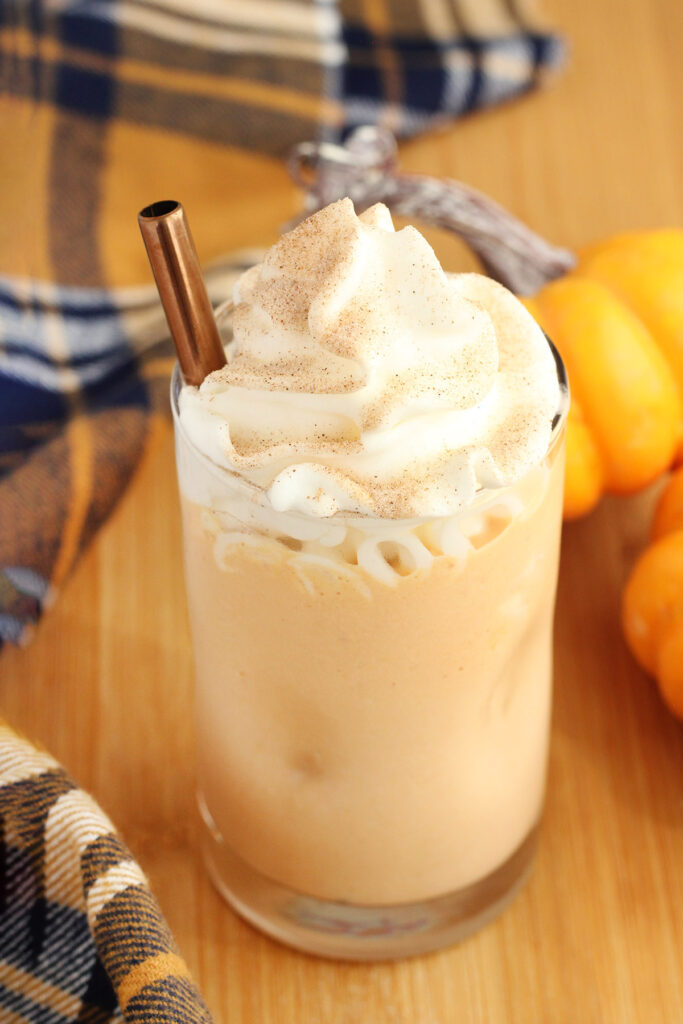 RECIPE FEATURES
Minimal Ingredients: You only need four key ingredients, and a few minutes, to get this serve worthy.
5-Minutes: Dump, blend, serve. There really is not an easier dessert.
Easy to Customize: We like this with or without graham crackers. I've also been known to use Trader Joe's chai ice cream!
Ice cream is king of this castle. My teenager is obsessed with whipping up no-churn versions, but milkshakes are his true love. He's been living off of my strawberry milkshake all summer long, but the temptation of pumpkin has finally won him over. Just a few simple swaps and I created a soda shop worthy shake fit for a teen.
This milkshake screams autumn. I've been dreaming about it since we did this photo session and know that it is going to be a family staple. I may even trade in my pumpkin spice latte for this creamy ice cream version!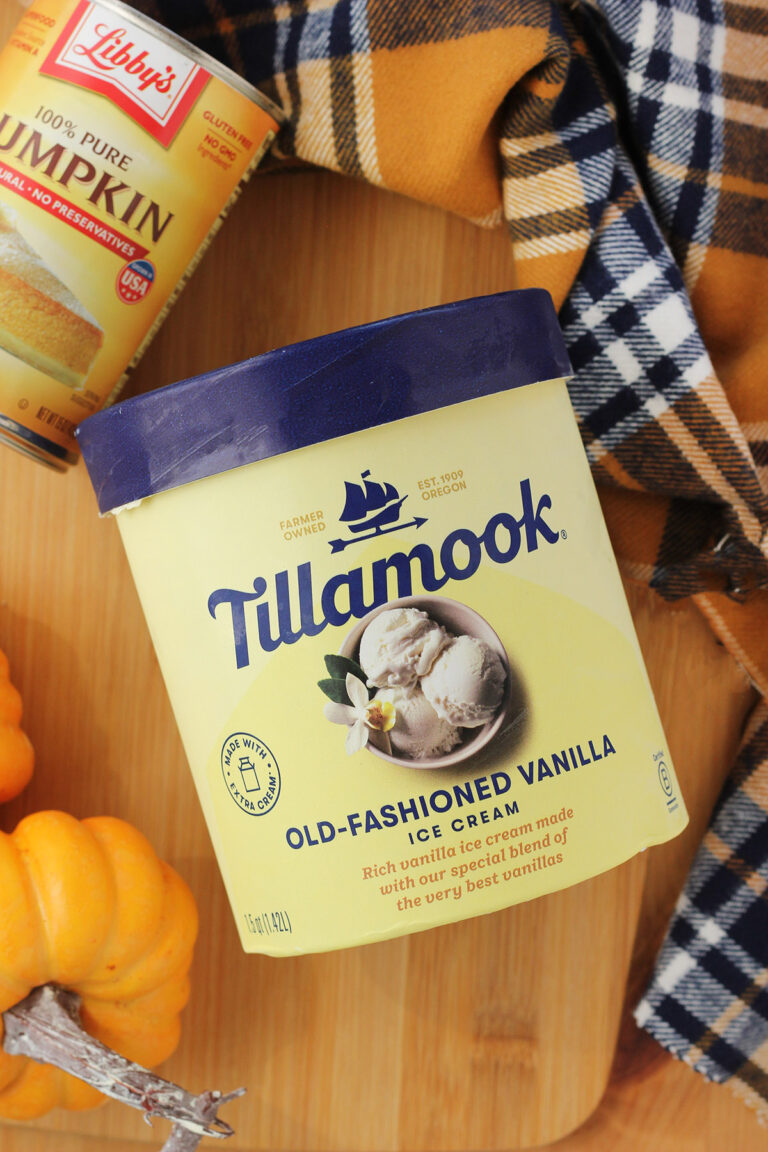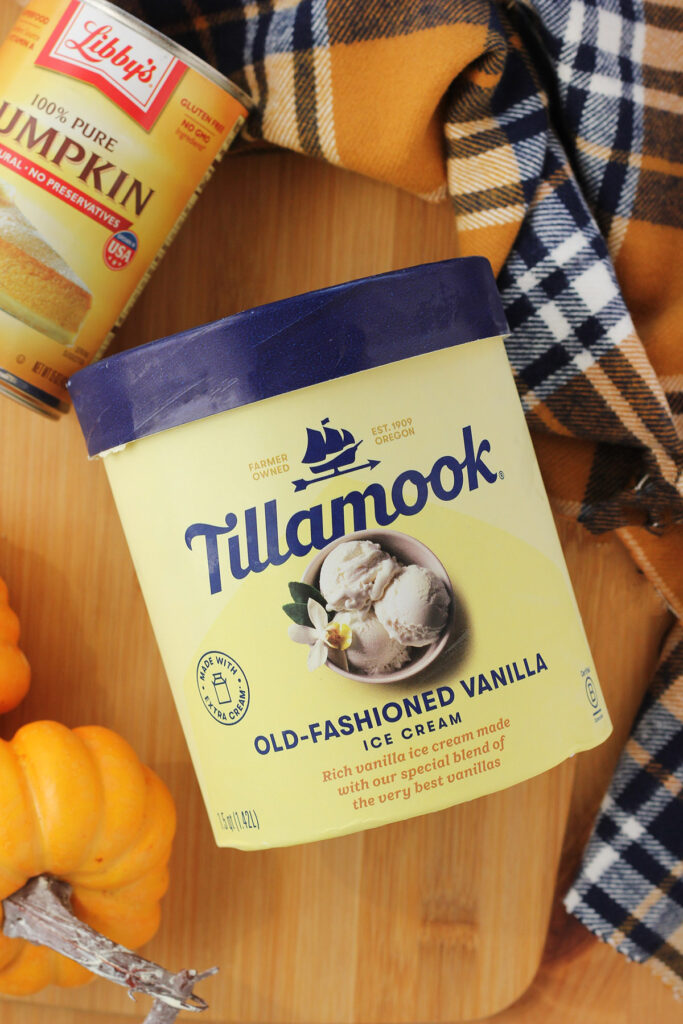 PUMPKIN SHAKE INGREDIENTS
The ingredient list is short. Which means you'll need to reach for quality ingredients. Pick an ice cream you know you love. Here is everything you will need for this recipe:
Ice Cream: I love Tillamook. It's not a secret. Their rich and creamy vanilla ice cream outbeats none. That being said, you can use so many other ice cream flavors in this milkshake! Try it with chai flavored or pumpkin cheesecake!
Milk: I use 2% milk, because that is what we have on hand. Make sure it is cold, which helps keep the shake a smidge thicker.
Pumpkin: Pure pumpkin, not pumpkin pie filling. This is normally found in the baking aisle of your grocer. Bonus? You can freeze any leftovers for later or use them as a quick dog treat.
Spices: Well, really just one. A good sprinkle of pumpkin pie spice will take this shake from good to great.
Toppings: These are optional, but delicious. Try crushing up a graham cracker and mixing it in and adding a good dollop of whipped cream!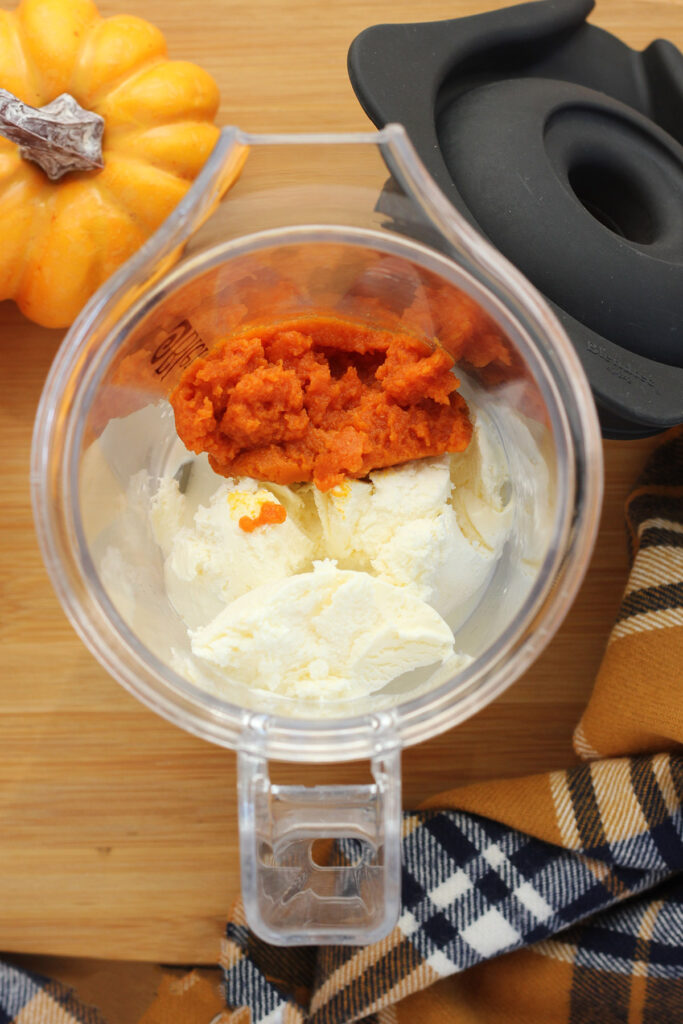 HOW TO MAKE A PUMPKIN PIE MILKSHAKE
Prepare yourself for how easy this recipe is. You will never see a simpler dessert.
PREP: Measure your ingredients into a blender, making sure the liquid is placed in first to help things mix smoothly.
BLEND: Pulse, or blend, for about 30 seconds. Just long enough for things to mix together.
ENJOY: Add your favorite toppings and serve immediately!
HELPFUL TOOLS
Blender: Everything in this recipe is soft, so you don't need a fancy blender. I like this one from Hamilton Beach (affiliate). The price is right and it's perfect for my smoothies and milkshakes.
Glasses: I've had my eye on these tall milkshake glasses (affiliate) for ages! They are soda shop worthy and perfect for any ice cream treat.
Straws: I'm a big fan of reusable straws (affiliate). This set is wider which helps a thick milkshake make its way through the opening.
Recipe Notes:
What is the best ratio of ice cream to milk in a milkshake?
Our favorite is 1/4 cup of milk for every 1 cup of ice cream. This keeps your milkshake thicker but still thin enough to sip through a straw.
Do you have to have a blender to make a milkshake?
Nope. I find using a blender to be easier, however you can simply add the ingredients into a tall glass and mix with a spoon until combined.
Can I double this recipe?
Definitely. I recommend making this recipe in two batches IF you plan on making more than double.
How can I thicken a milkshake?
The best way to make a thick milkshake is to use more ice cream than milk. Try to keep the rations of 1/4 cup milk for every one cup of ice cream.
MORE MUST-TRY PUMPKIN RECIPES
Still Hungry? Follow One Sweet Appetite on Instagram, Pinterest, and Facebook!
Pumpkin Milkshake
This easy Pumpkin Milkshake is the perfect way to get your fix when it's still too warm for baking. Pumpkin blended with a creamy vanilla ice cream and a surprise mix of graham crackers. The best fall treat.
Ingredients
1/2 cup milk
2 cups vanilla ice cream
1/2 cup pumpkin puree
2 teaspoons pumpkin pie spice
2 graham crackers optional
Instructions
Add the milk, ice cream, pumpkin, and pumpkin pie spice to a blender.

Blend 30 to 45 seconds, or until the ingredients are combined fully.

Divide the milkshake between two glasses. Add crushed graham crackers if desired.
Nutrition
Serving: 1serving | Calories: 392kcal | Carbohydrates: 52g | Protein: 8g | Fat: 18g | Saturated Fat: 10g | Polyunsaturated Fat: 1g | Monounsaturated Fat: 4g | Cholesterol: 65mg | Sodium: 219mg | Potassium: 494mg | Fiber: 3g | Sugar: 37g | Vitamin A: 10192IU | Vitamin C: 4mg | Calcium: 274mg | Iron: 1mg
Reader Interactions