This easy Zuppa Toscana recipe tastes exactly like Olive Garden's most popular soup. Made in one-pot with crumbled sausage, crispy bacon, and potatoes that are all simmered in a creamy broth. This is our favorite Olive Garden copycat recipe!
This delicious soup recipe was originally published December 17, 2013. It has since been updated to include helpful tips and fresh photos.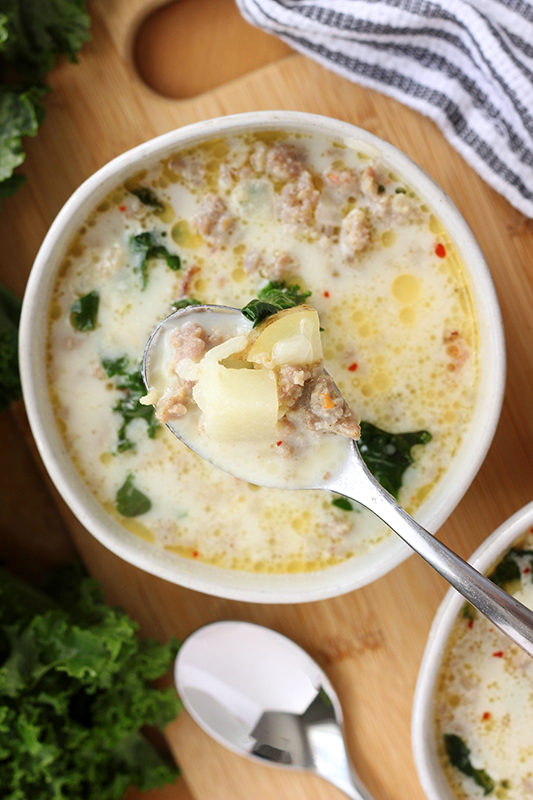 Recipe Features:
Copycat Recipe: This Olive Garden Copycat Recipe tastes exactly like the original, if not better!
Ultimate Comfort Food: Warm soup that is filled with sausage, potatoes, and cream- The ultimate comfort dinner or appetizer.
Easy Substitutions: I use Italian sausage, but you could substitute with your favorite variety. Half and half can be swapped with cream and kale can be left out or replaced with fresh spinach.
While everyone else goes to Olive Garden for the pasta… I am over there stuffing my face with breadsticks and soup. THIS version of their sausage and kale soup is amazing. It has got a great light consistency and the kale is cooked to perfection. Nothing warms your belly on a cold night better! It is delicious served with fresh rolls or bread sticks. I should note, we like to use spicy sausage but it is just as yummy with regular.
What is Zuppa Toscana?
Zuppa soup translates to "Tuscan Soup," but it is not traditionally Tuscan. It's more of an american fan favorite made popular by the restaurant Olive Garden. Made with with sausage, potatoes, garlic, and kale in a creamy broth. It's belly warming and full of flavor with minimal cooking effort. A win for cold winter nights or when you're searching for a quick and filling dinner.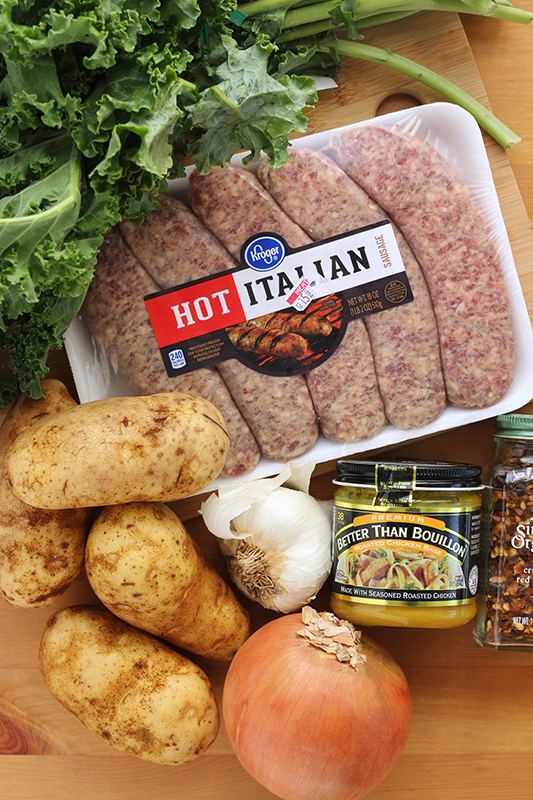 Olive Garden Zuppa Toscana Ingredients
Sausage: I reach for mild Italian sausage. We add red pepper flakes to the soup which gives it a slight kick. If you like a more spicy soup try a spicy sausage.
Garlic: Fresh minced garlic is always the best.
Chicken Broth: I keep Low Sodium Better Than Bouillon (affiliate) on hand. It has a lower salt level which gives me more control when seasoning.
Potatoes: Waxy potatoes tend to hold up better in soups. I like to use Yukon Gold, which fall right around the middle as far as waxy potatoes go.
Bacon: This one is optional, but such a delicious addition.
Kale: No kale? No problem. You can leave it out or replace with spinach.
Half and Half: I have also used cream in place of half and half with success.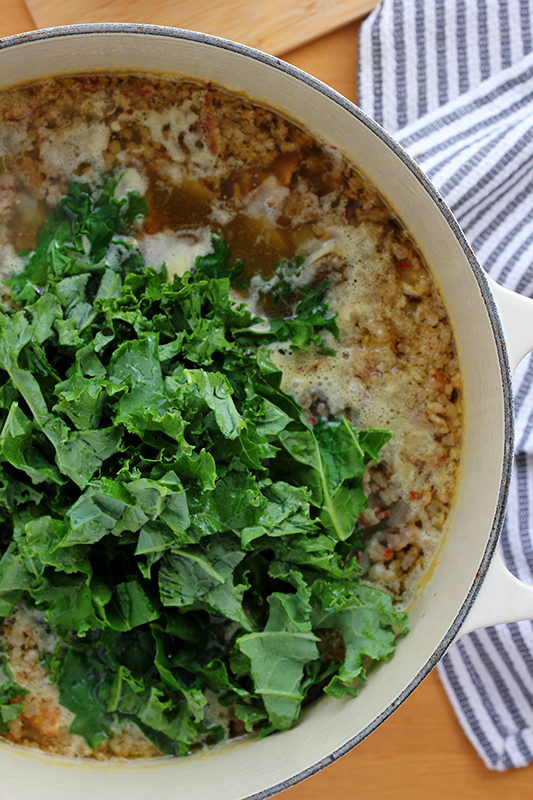 How to make the BEST Copycat Zuppa Toscana
Gather your ingredients and prepare your cooking area. I find it is easiest to do all of your measuring and chopping beforehand.
Brown sausage in a large pot with the onion and bacon, I like to use my 5.5 quart Dutch oven (affiliate). It's large enough to fit all of the ingredients and super simple to clean later.
Stir in red pepper flakes, garlic, chicken broth, water, and potatoes. Bring to a simmer.
Simmer for 30 minutes or until the potatoes start to soften.
Stir in kale and half and half. Cook 10 more minutes.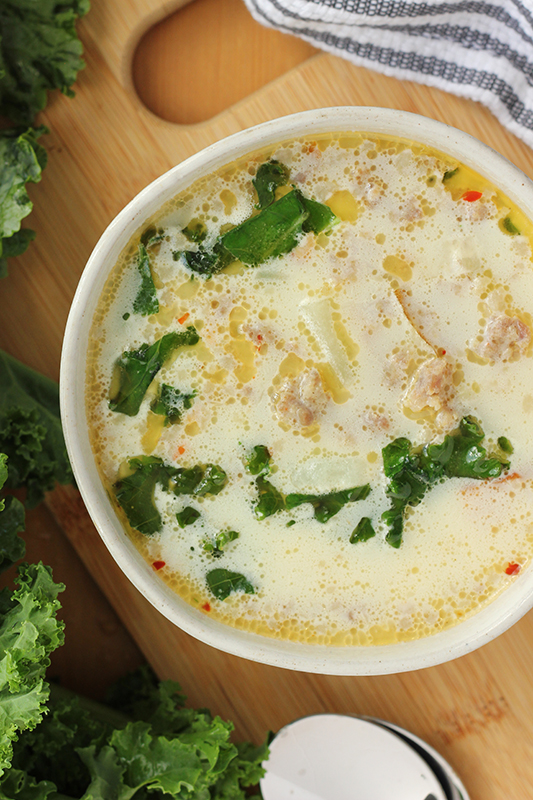 Recipe Tips and FAQ's:
Can you freeze this soup?
Yes. You can freeze this soup recipe for up to 3 to 6 months. However, the potatoes tend to break down once frozen and reheated. You will end with a slightly thicker soup thanks to the breakdown of starches with the same great flavor. In addition, it is also better to hold off on adding the kale and half and half until you reheat the frozen soup.
How long does this recipe last?
This easy soup recipe will last 3 to 4 days if stored properly in the refrigerator. I suggest investing in a high quality airtight container. (affiliate)
How to make zuppa toscana thicker?
While traditionally served more brothy, it is incredibly simple to thicken this soup for a more hearty dish. Mix 2 tablespoons of cornstarch with 1/4 cup of the warm broth. Add to the soup and stir well. Heat for 5 to 10 minutes as it thickens.
Is Zuppa Toscana Healthy?
This recipe is gluten free and grain free. When served with a side salad it can be a good way to fill your belly with more vegetables.
You can also make this keto-friendly by substituting cauliflower in place of the potatoes.
Can you make this zuppa toscana in a slow cooker?
Yes. Start by cooking the sausage, bacon and onion in a large skillet. Transfer to your slow cooker. Add the garlic, potatoes, broth, and water. Cook on low for 4 to 6 hours. Add the kale and cream 1 hour before serving.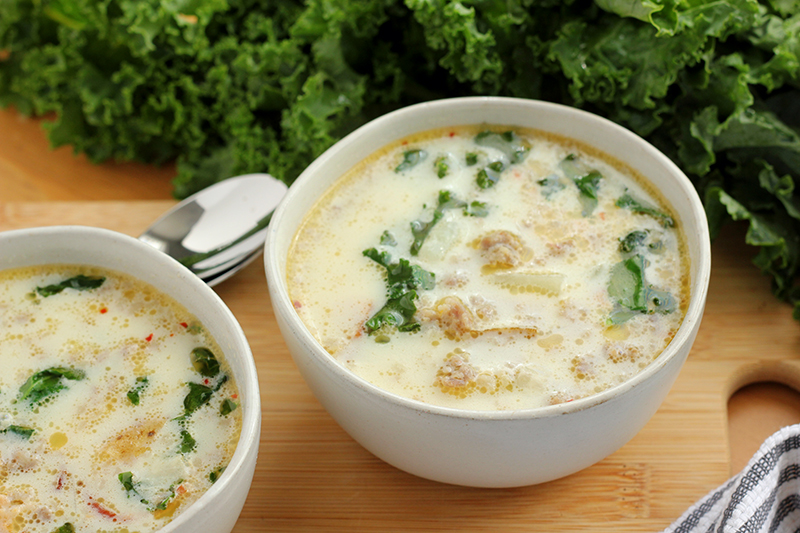 Related Soup Recipes
More Copycat Recipes
Still hungry? Follow One Sweet Appetite on Facebook, Instagram and Pinterest for more great recipe ideas!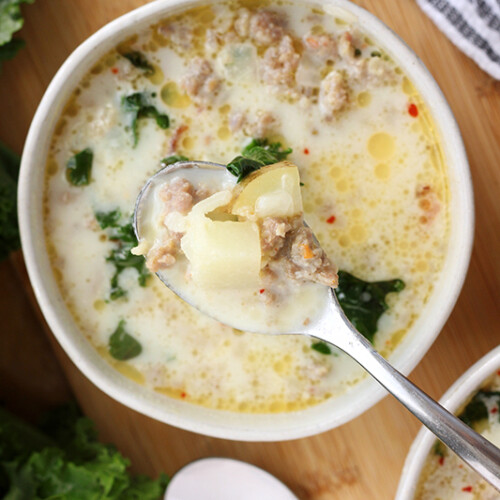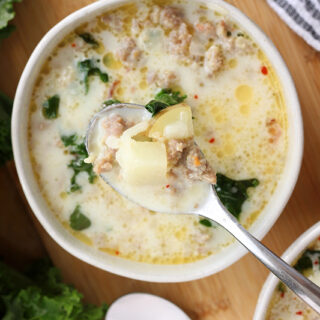 Zuppa Toscana Recipe
This easy Zuppa Toscana recipe tastes exactly like Olive Garden's most popular soup. Made in one-pot with crumbled sausage, crispy bacon, and potatoes that are all simmered in a creamy broth. This is our favorite Olive Garden copycat recipe!
Ingredients
1 lb Italian sausage
4 strips of bacon diced
1/2 large onion chopped
1-2 teaspoons crushed red pepper optional
3 garlic cloves minced
3 ( 14.5 oz) cans chicken broth
1¾ cups water
3 large potatoes washed but not peeled and cubed
4 cups kale thinly sliced
1 cup half and half
Instructions
Heat a large dutch oven or pot over medium heat.

Add the sausage, bacon, onion and red pepper flakes, if using. Cook and crumble for 5 to 8 minutes or until the sausage is browned and the onion is soft and translucent.

Stir the minced garlic into the meat mixture and cook one additional minute.

Pour the broth, water, and potato cubes into the pot. Bring to a simmer and cook for 30 minutes, or until the potatoes begin to soften.

Mix in the chopped kale and half and half. Cook an additional 10 to 15 minutes, or until the kale is soft and the soup is heated through.
Notes
I like to use a 5.5 quart dutch oven for this recipe.
Substitute the 1/2 and 1/2 for heavy cream for a more hearty soup.
Top the soup with freshly grated parmesan cheese if desired.
This soup can be a little greasy. If you let the soup cool for a few minutes the grease will move to the top. You can spoon it off.
Nutrition
Serving: 1Servings | Calories: 423kcal | Carbohydrates: 44g | Protein: 25g | Fat: 28g | Saturated Fat: 12g | Polyunsaturated Fat: 19g | Cholesterol: 67mg | Sodium: 1107mg | Fiber: 5g | Sugar: 7g
Pin for later: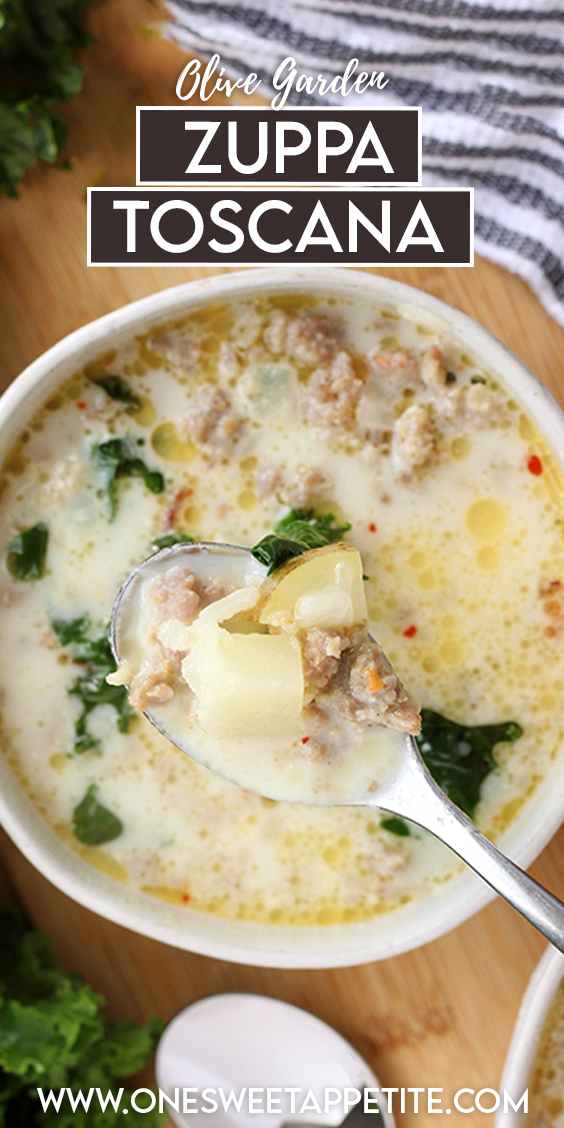 Reader Interactions