These easy Apple Pie Jello Shots are made with simple ingredients and are filled with apple spice flavor. Perfect for parties and the best fall flavored Jell-O shot.
Want to add even more fall flavors to your cocktail menu? Be sure to try my Pineapple Upside Down Cake Shots, Apple Pie Moonshine, Apple Cider Mimosas, and Apple Cider Sangria!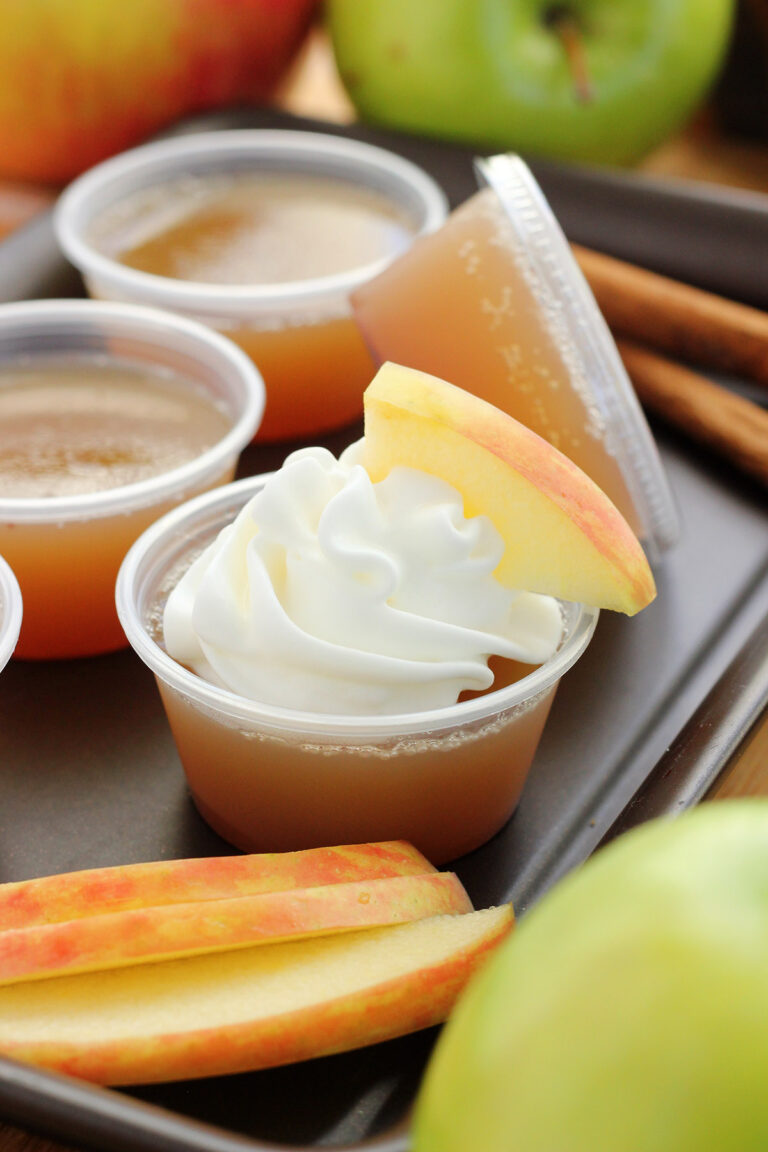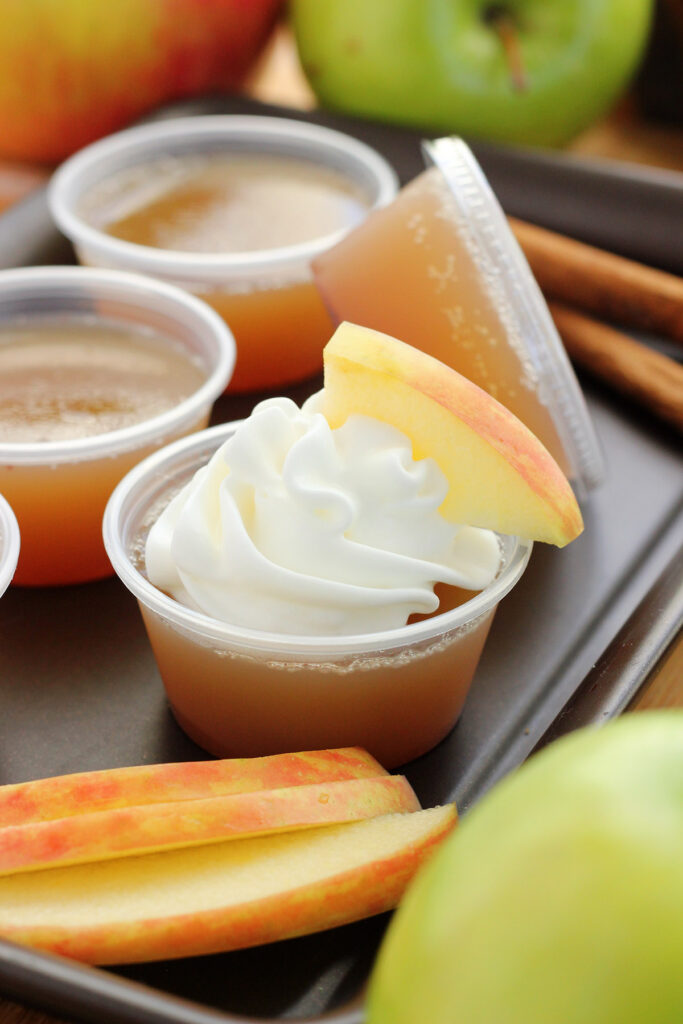 This post includes a recipe for alcohol. Drink responsibly. One Sweet Appetite and it's authors are not responsible for the actions of our readers should they choose to make this recipe and consume it. Please drink responsibly.
This post is not sponsored and in no way affiliated with Jell-O or the Kraft Heinz brand.
RECIPE FEATURES
3-Ingredients: You don't need much to make these fall shots. And the flavor is AMAZING.
Perfect for Parties: This is a go-to party cocktail.
Make-Ahead: Make these and keep them stored for up to five days!
I love a good cocktail, and have over 25 cocktail recipes right here on the site, but this warm apple pie jello shot is close to the top of my favorites list. I don't do shots often, so when I do I like them to taste amazing and go down smoothly. You definitely get that with this super easy jello shot.
Made with either vodka or whiskey and full of apple flavor. Jello shots are so easy to make. With just a handful of ingredients, and less than 10 minutes, you will have a party worthy cocktail everyone will fall in love with.
APPLE JELLO SHOT INGREDIENTS
Three ingredients with so many variations. This recipe could not be easier to make. Here is what you will need to get started.
Apple Cider: OR apple juice with a sprinkle of apple pie spice. Cider will give you a warm apple spice flavor, while apple juice will be more bold crisp apple. But both work in this recipe.
Gelatin: I opted for a plain gelatin, since I used apple juice and the apple flavor is a little more difficult to come by. If you want to use water, swap this with a 3oz box of apple flavored jello.
Vodka OR Whiskey: Here's the skinny. Both green apple vodka and apple crown tasted great in this recipe. I liked the vodka more, my husband liked the crown. You can't go wrong either way.
Optional, Caramel Sauce: Want to make these caramel apple shots? Substitute 1/4 cup of the juice called for with caramel drink syrup or top with a homemade caramel sauce.
HOW TO MAKE APPLE PIE JELLO SHOTS
PREP: Measure the apple cider into a large pot and sprinkle the gelatin over the top. Allow to bloom for 5 minutes, or the suggested time on the package.
HEAT: Turn the heat up to medium/high and bring the mixture to a rolling boil. Remove from the heat and let cool for 15 minutes.
MIX: Stir in the alcohol and divide between your shot containers.
CHILL: Cover and chill at least 4 hours, or until solid.
HELPFUL TOOLS
Small Cups: Using small plastic cups with lids (affiliate) is super handy with this recipe. Perfect for parties and disposable, which means nothing to keep track of after the party.
Liquid Measuring Cup: I am obsessed with my OXO liquid measuring cups (affiliate). The angled cups are so easy to fill and get the exact amount you need.
Paper Jello Shot Cups: If plastic isn't your thing, I've got you! These paper cups (affiliate) work just as well. They don't have lids, but will travel well inside an airtight container.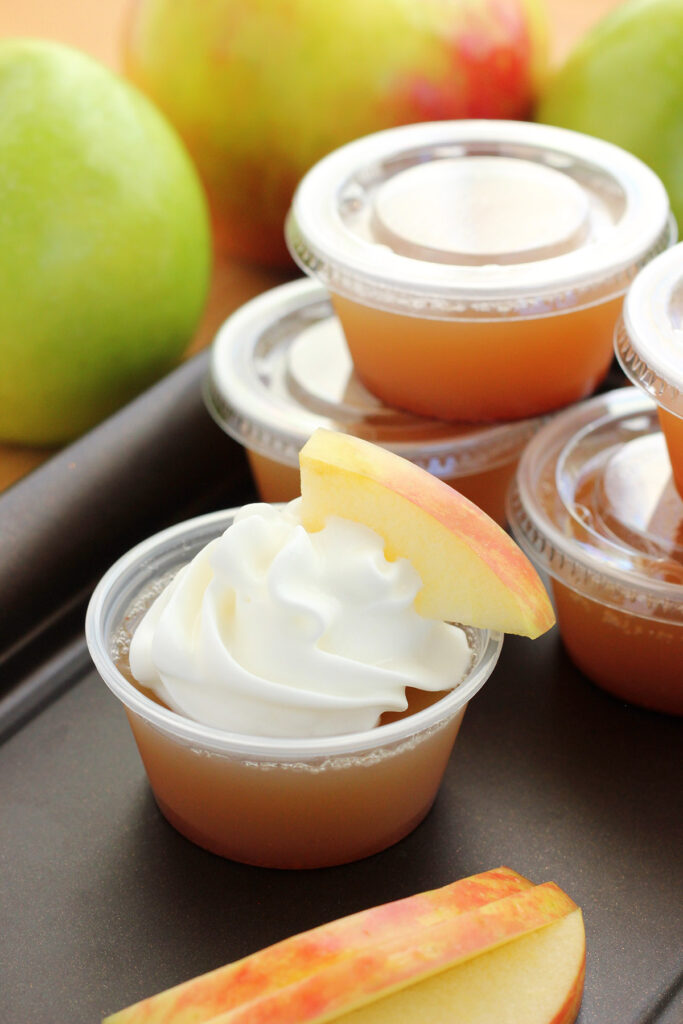 Recipe Notes:
Can I use apple juice in place of apple cider?
Yep. I tested this recipe with both apple cider and apple juice. While I find cider to be the best, you can also make these with apple juice and a sprinkle of apple pie spice (about 1 teaspoon).
Can jello shots be made in advance?
Jello shots are a great party favor because they can be made in advance. If stored properly inside the refrigerator, these will last between three to five days!
What is the best way to store jello shots?
Store these shots covered inside of the refrigerator until ready to serve.
Can these be non-alcoholic?
Yes. If you're looking for a fun non-alcoholic jello shot simply replace the alcohol with equal parts of juice. Great for non-drinking friends.
Can I use whiskey in place of vodka in jello shots?
Yes! In fact, we've made these with apple vodka AND apple whiskey. Both work well and are extremely tasty. If it's in season, I recommend trying Crown Apple Whiskey in place of the vodka in these fall jello shots.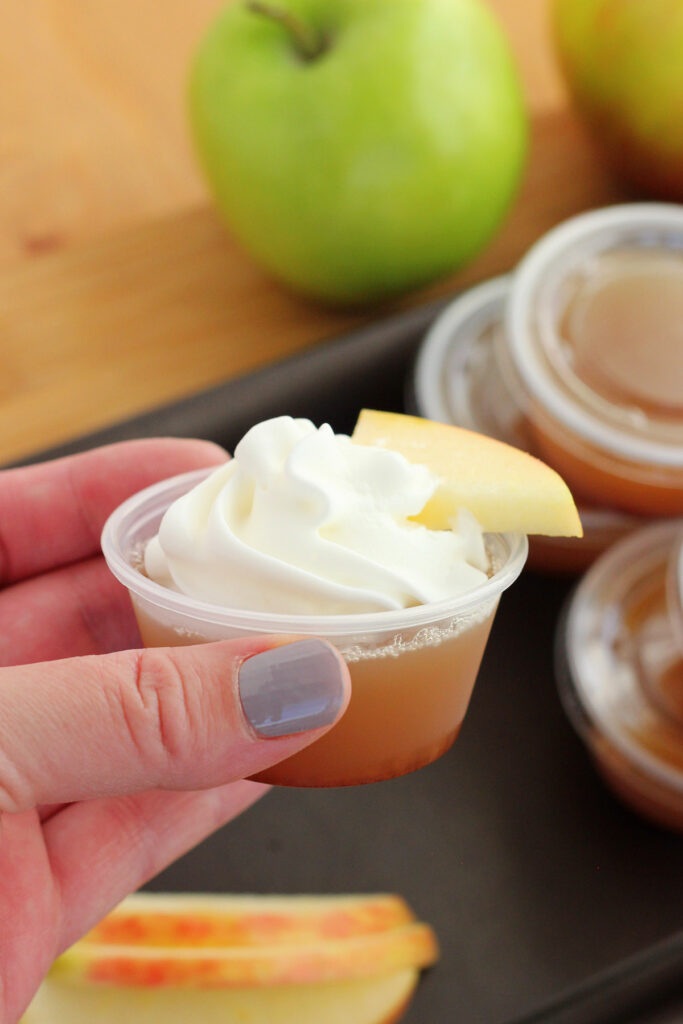 MORE MUST-TRY FALL COCKTAILS
Still Hungry? Follow One Sweet Appetite on Instagram, Pinterest, and Facebook!
Apple Jello Shots
These easy Apple Pie Jello Shots are made with simple ingredients and are filled with apple spice flavor. Perfect for parties and the best fall flavored Jell-O shot.
Ingredients
2 cups apple cider or apple juice
1 packet unflavored gelatin 2-1/2 teaspoons
1 1/2 cups apple flavored vodka OR apple flavored whiskey
Instructions
Pour the apple cider into a large pot and sprinkle with the gelatin.

Let the mixture sit for 5-10 minutes, or until the gelatin begins to bloom.

Turn the heat to medium/high and bring to a full boil

Remove from the heat and allow to cool slightly, about 15 minutes.

Stir in the alcohol of choice and divide between 20 shot cups.

Cover and chill until solid, about 3-4 hours.
Notes
Recipe adapted from The Spruce Eats basic jello shot recipe. If you use apple juice, mix in 1/2-1 teaspoon apple pie spice with the liquid.  You can substitute 1/4 cup of the juice for caramel syrup for a caramel apple shot. Whisk in with the alcohol. 
Nutrition
Serving: 1shot | Calories: 53kcal | Carbohydrates: 3g | Protein: 0.1g | Fat: 0.03g | Saturated Fat: 0.01g | Polyunsaturated Fat: 0.01g | Monounsaturated Fat: 0.002g | Sodium: 1mg | Potassium: 24mg | Fiber: 0.05g | Sugar: 2g | Vitamin A: 0.2IU | Vitamin C: 0.2mg | Calcium: 2mg | Iron: 0.03mg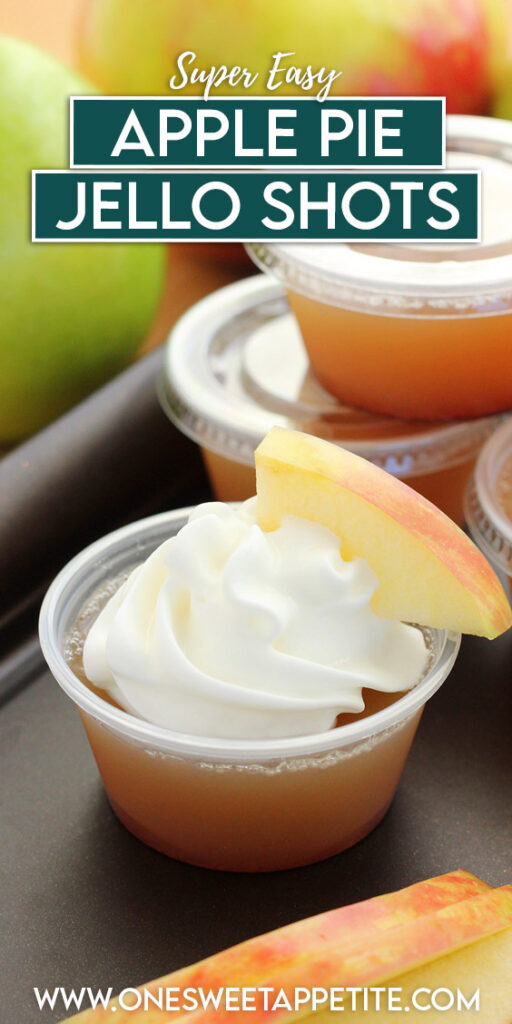 Reader Interactions