Get ready to elevate your morning coffee and dessert game with "The Ultimate Homemade Caramel Syrup Recipe!" This liquid gold is a multi-tasker—perfect for drizzling over pancakes, waffles, and ice cream, or stirring into your favorite coffee. Say goodbye to store-bought and hello to this quick and easy, flavor-packed delight.
Wondering what to serve this insanely delicious syrup with? Try one of my 30+ Pancake, Waffles, and French Toast recipes!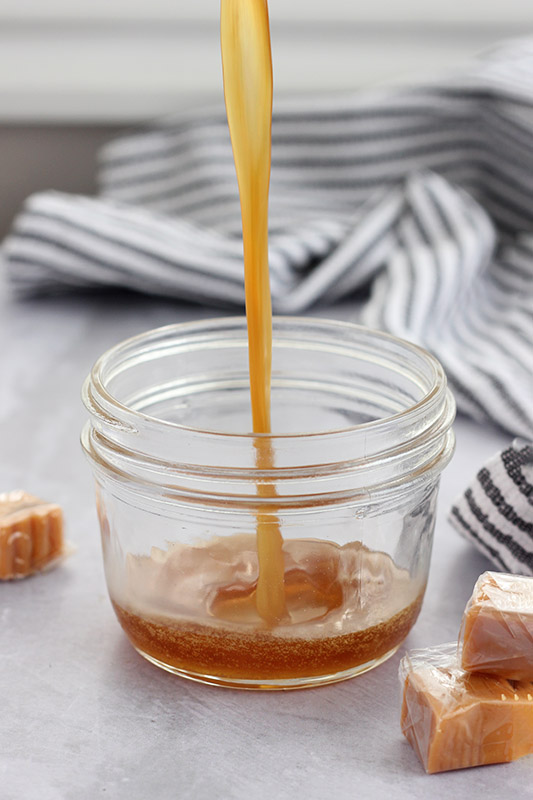 Why You Will Love This Caramel Syrup Recipe
Quick and Easy: This recipe is ready in minutes making it the perfect caramel syrup recipe for pancakes, waffles, french toast, or coffee.
Minimal Ingredients: You only need 4 basic ingredients to whip this up.
Family Favorite: This has quickly replace maple syrup in our house.
I did not even realize you could make your own flavored syrups until a few years ago. It is surprisingly simple and the perfect way to jazz up your pancakes or waffles. Just by switching the topping you can take your breakfast from good to great. Insanely easy to make and just a few simple ingredients. This caramel syrup is delicious on top of just about anything!
The syrup thickness is spot on and the flavor is a light caramel with a hint of butter goodness. You won't be disappointed when you give this one a try.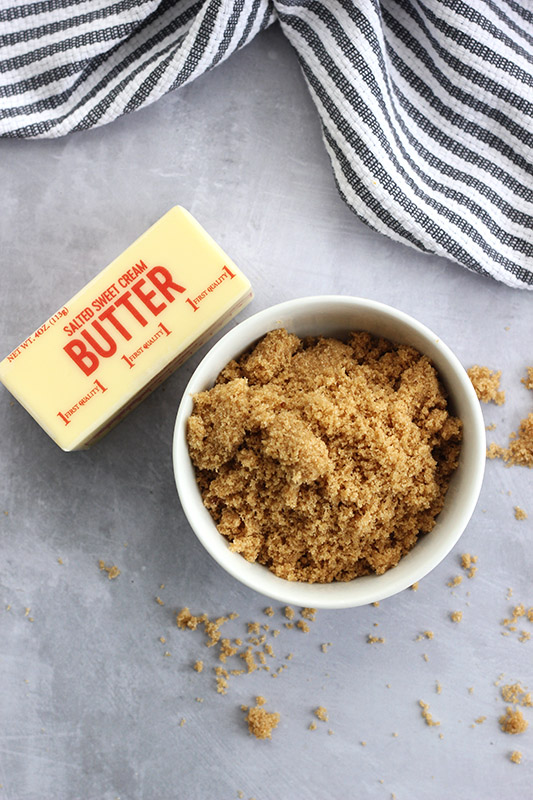 Caramel Syrup Ingredients
The chances of you already having everything you need for this recipe on hand is very likely. I wanted a caramel syrup recipe without corn syrup and that is exactly what we created. Let's break things down and remember that exact measurements can be found in the recipe card below.
Butter: Salted butter. There. I said it. Salted butter is what takes this syrup from good to great. If you only have unsalted on hand you can add a pinch of salt to the pot.
Brown Sugar: We prefer the more mild flavor of light brown sugar. However, dark brown will give you a deeper rich flavor that is equally delicious. Use whatever you have on hand.
Water: Tap water is what helps give this a thinner consistency that is ideal for pancake syrup. If you want it slightly thicker, reduce the water to 3 tablespoons. If you're looking for a coffee syrup increase the water to 5 to 6 tablespoons.
Vanilla Extract: Skip imitation vanilla. It gives recipes a chemical aftertaste that is avoided with pure vanilla extract.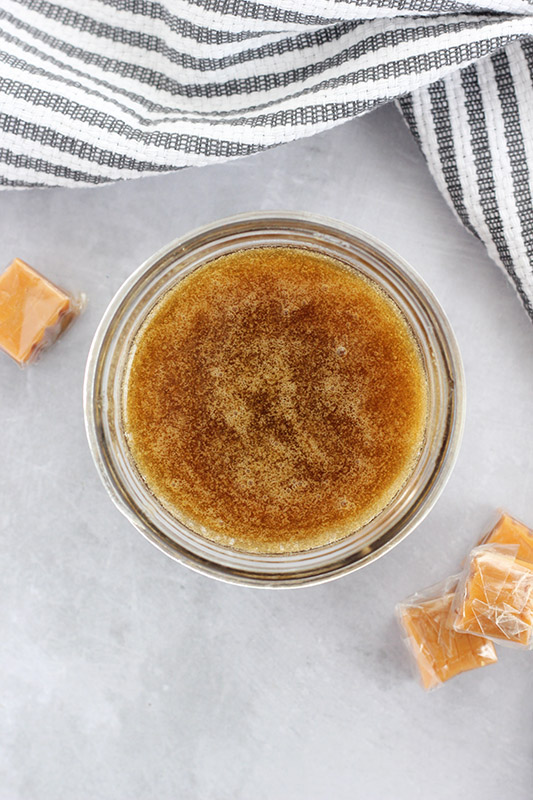 How To Make Caramel Syrup For Pancakes
Ok, while I specifically call out breakfast foods, remember that this recipe is great for ALL types of treats. We like this caramel syrup recipe for ice cream, pancakes, waffles, French toast, and coffee. Don't limit to just one treat. Keep it on hand to jazz up all of your favorites.
Combine the Ingredients: You'll start by measuring and mixing all of the ingredients, except the vanilla, into a pot. It helps to slice the butter into 1 tablespoon portions for a quick even melt.
Cook: Bring the mixture to a boil and let that simmer for 2 to 3 minutes. Remove from the heat and stir in the vanilla.
Serve: Once the sugar has dissolved you are ready to serve.
When the syrup is warm you will see a bit of foam on top. Simply mix it in and enjoy.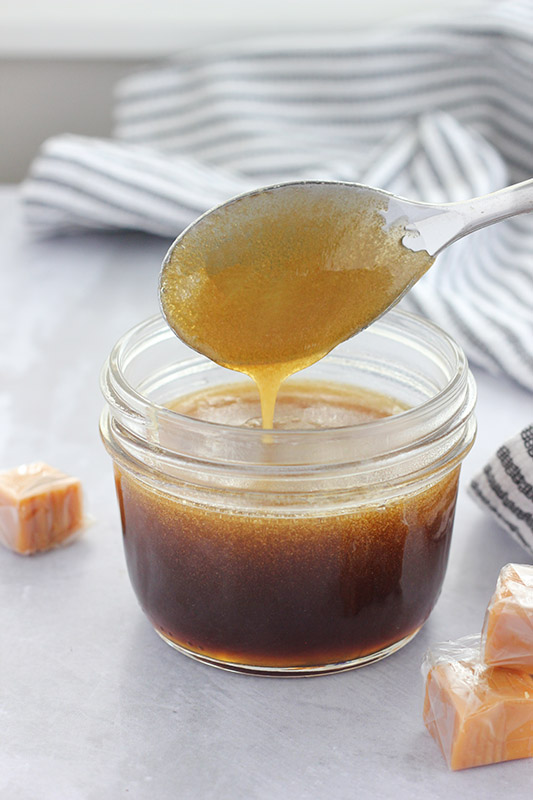 Recipe Notes:
How is caramel syrup different from caramel sauce?
Caramel syrup will be much thinner than a caramel sauce. Syrup is ideal for breakfast foods and coffee, while a sauce is made more for desserts like cakes and ice cream.
How long does this syrup last?
This syrup will last up to two weeks if stored properly, although you will be lucky if there are any leftovers!
How do you store caramel syrup?
Keep any leftovers stored in an airtight container inside the refrigerator. I use a mason jar so we can easily remove the lid and heat in the microwave for 10 to 15 seconds before serving.
Can I double this recipe?
This recipe is SO GOOD that you are going to want to have it on hand always. The good news is that you can easily double, or even triple, the recipe and keep it stored in an airtight container in the refrigerator.
Why did my syrup turn out grainy?
Sugar crystals are the party crashers here. Make sure everything is fully dissolved before bringing it to a boil.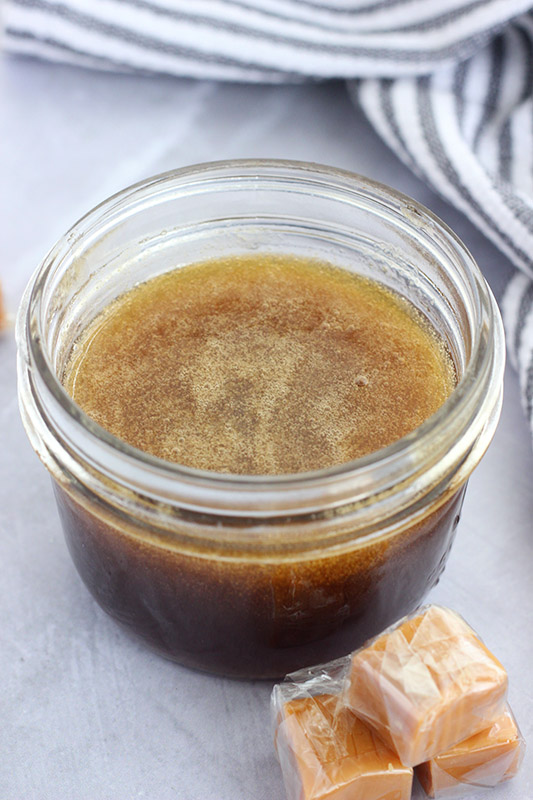 Still Hungry? Follow One Sweet Appetite on Instagram, Pinterest, and Facebook!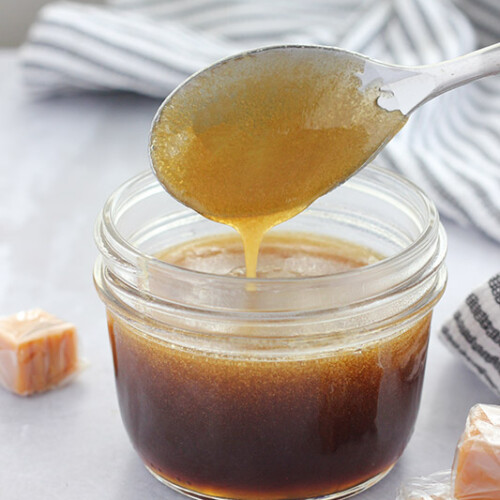 Caramel Syrup Recipe
This homemade caramel syrup recipe uses only 4 basic ingredients and is the BEST. The light caramel flavor is perfect for drizzling on pancakes, waffles, ice cream, and even coffee!
Ingredients
1/4 cup salted butter
1/2 cup light brown sugar
1/4 cup water
1/2 teaspoon pure vanilla extract
Instructions
Add the butter, brown sugar, and water to a large pot and stir together.

Bring to a boil.

Lower the heat to a simmer and cook for 2 to 3 minutes.

Remove from the heat and stir in the vanilla extract.

Serve with your favorite breakfast foods or as a coffee sweetener.
Notes
For a thinner syrup, stir in an extra 2 tablespoons of water. For a thicker syrup, reduce the water to 3 tablespoons. Keep leftovers stored in an airtight container in the refrigerator for up to 2 weeks.
More Delicious Breakfasts To Try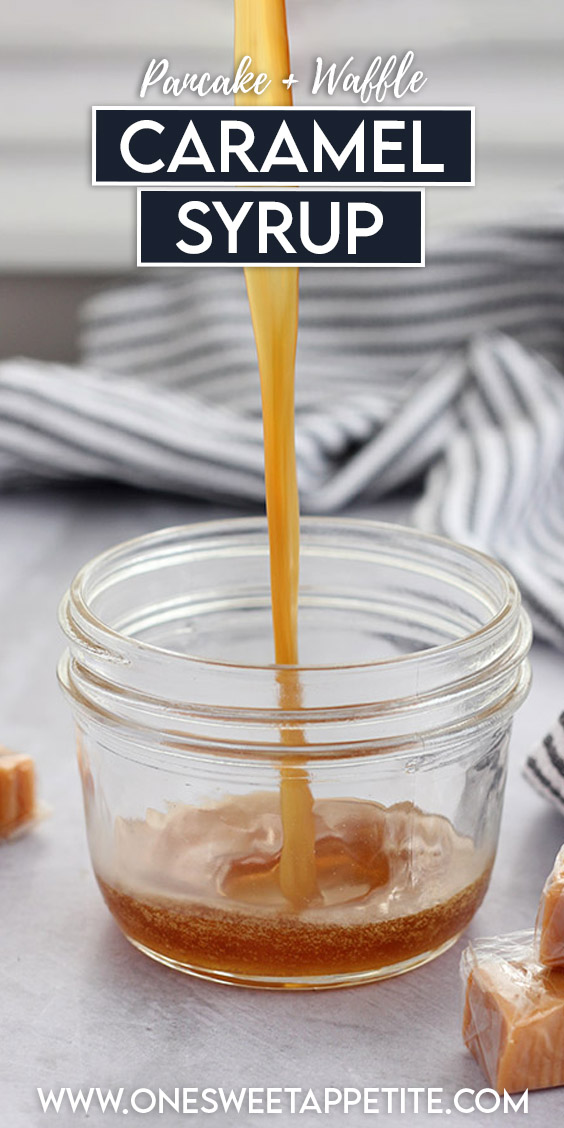 Reader Interactions