This Balsamic Pork Loin is the perfect Sunday dinner.
Brought to you by Pompeian's Organic Balsamic Vinegar.
I know what you're thinking… TWO pork recipes in a row?! I'm going pig crazy. But the truth is I'm falling in love with easy marinades and there is no better way to use them than with other white meat.
The secret ingredient in this particular meal really is Pompeian's Organic Balsamic Vinegar in the marinade. It tenderizes the meat, adds a bold flavor, and makes a melt in your mouth roast that is so hard to resist. The goodness doesn't stop there. All of the leftover marinade gets tossed with your veggies glazing them to perfection.
Naturally gluten free and non-allergenic, new Pompeian Organic Vinegars are perfectly suited for vinaigrettes, marinades, dressings and sauces. Additionally, all Pompeian Organic Vinegars carry the Non-GMO Project Verified seal. Pompeian Organic Vinegars are available in three varieties, including:
Organic Red Wine Vinegar: Produced by using organically grown grapes from the Emilia Romagna region of Italy, these select grapes are harvested at peak maturity in order for the red wine vinegar to maintain the complex flavor characteristics of the grapes. This vinegar is sulfite free and naturally gluten free. Ideal for salad dressing, marinades and sauces, it's a perfect companion to Pompeian's premium olive oils for a delicious vinaigrette.

Pompeian's Organic Red Wine Vinegar contains the mother, which is the dark, cloudy substance formed from naturally occurring pectin and apple or grape residues found in organic, unfiltered and unpasteurized vinegars.
Unlike other vinegars on shelf, unfiltered, unpasteurized organic vinegar with the mother can be consumed on its own as part of a daily diet as the mother contains healthy bacteria filled with a high volume of polyphenols (antioxidants).
Recent research has shown Organic Red Wine Vinegar with the mother contains an even higher volume of polyphenols than Organic Apple Cider Vinegar with the mother. Consuming two tablespoons of Pompeian Organic Red Wine Vinegar with the mother daily offers the maximum benefit from the high volume of polyphenols, which improve digestion, boost the immune system, combat cholesterol, prevent dandruff, sooth sore throats, keep skin healthy, and reduce excess fat in cells, promoting weight loss.

Organic Balsamic Vinegar (which we are using today!): Made from select, organically grown grapes from Modena, Italy, and harvested at the ripest moment ensures the highest level of flavor. It is produced in the time-honored tradition of Modena. The grape juice is slowly cooked and then placed in barrels for refining and aging, which adds a complex flavor. This vinegar is caramel color free, naturally gluten free and is perfect for salad dressings, marinades and to drizzle on vegetables.
Organic Apple Cider Vinegar: Pompeian's first apple cider vinegar is the result of the natural fermentation of organic apples produced in the Emilia Romagna region of Italy. Pompeian does not filter or pasteurize this vinegar in order to maintain its natural and genuine benefits, and to preserve the presence of the "mother" in the product, which is desired for its many health benefits and is a good addition to your daily diet. This delicious vinegar can be used as a marinade, drizzled over grilled vegetables or in salad dressings.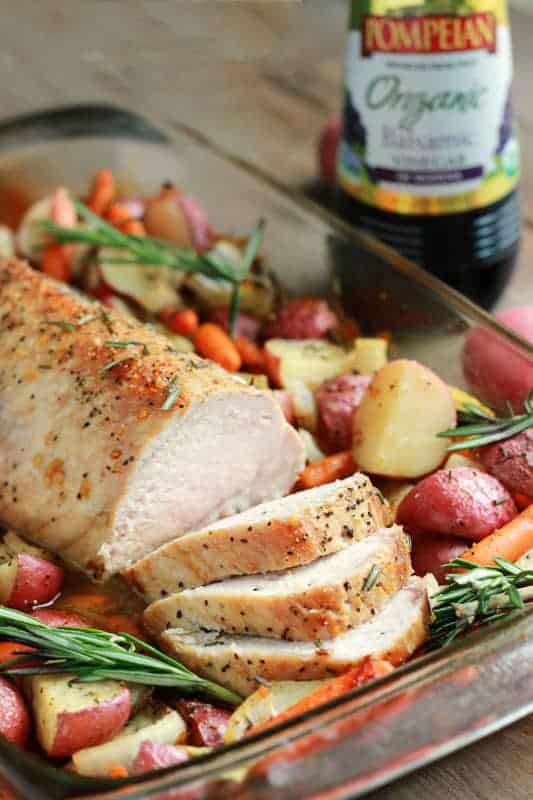 Balsamic Pork Loin
Ingredients
1/4

cup

Balsamic Vinegar

I recommend Pompeian's Organic Balsamic Vinegar

1/4

cup

white wine

2

cloves

garlic

minced

1/2

cup

olive oil

1/3

cup

honey

salt and pepper

1.5-2

lb

pork loin

1

cup

baby carrots

1/2

lb

baby potatoes

quartered

1

medium onion

sliced

fresh rosemarry
Instructions
Combine the vinegar, wine, garlic, oil, and honey in a large Ziploc or container with a secure lid. Whisk to combine.

Add the pork to the marinade and refrigerate two hours or up to overnight.

Preheat your oven to 350 degrees and mist a 9x13 pan with cooking spray.

Place the carrots, potatoes, and onions in the pan. Empty the marinade into the pan and toss to coat.

Place the pork loin in the middle of the pan and generously season with salt, pepper, and rosemary.

Bake 1 hour or until the roast reaches 160 degrees. Rest ten minutes and enjoy.
Pompeian also recently introduced a new Organic Extra Virgin Olive Oil Spray, which is ideal for salads, pasta and drizzling. This premium, full-bodied extra virgin olive oil uses olives that are grown under conditions that protect the environment as well as the fruit and its natural antioxidants.
PS, you might like…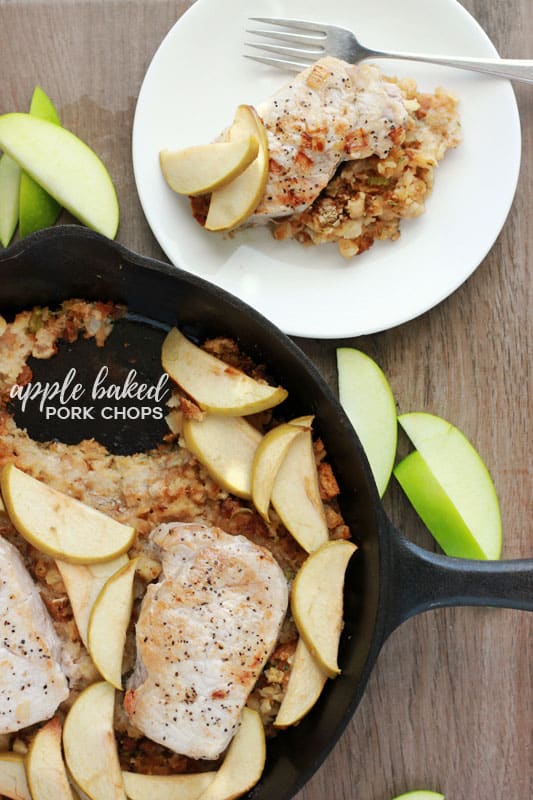 This post may contain affiliate links. I include these links to help you find specific products that are used in my recipes. If you purchase an item from the link on One Sweet Appetite, I will receive a small commission helping keep my recipes free for you.
One Sweet Appetite is a participant in the Amazon Services LLC Associates Program, an affiliate advertising program designed to provide a means for sites to earn advertising fees by advertising and linking to amazon.com
(Visited 1,910 times, 1 visits today)
6