This is by far the easiest, and most flavor packed, Slow Cooker Turkey Breast Recipe. Made with only three ingredients and five minutes of prep. Add this to your Thanksgiving menu asap!
Serve this delicious turkey with some of our favorite side dish recipes. We especially love classics like Green Bean Casserole, Roasted Brussels Sprouts, and Easy Thanksgiving Stuffing.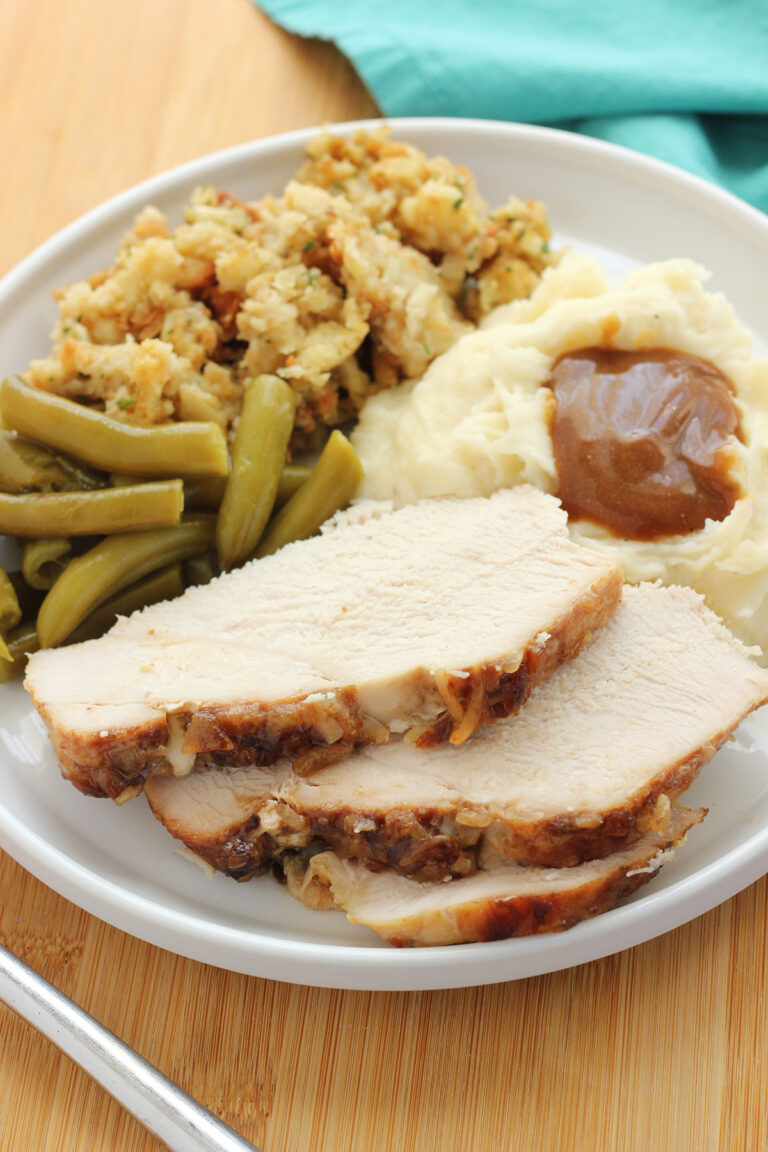 Why You'll Love This Slow Cooker Recipe
Juicy Crock Pot Turkey: You will be blown away with how juicy this turkey breast recipe is. Simple and delicious.
3 Ingredients: Only THREE ingredients!
Perfect Holiday Recipe: Perfect for Thanksgiving, Christmas or New Years!
This slow cooker turkey breast could not be easier OR more delicious. I am so huge on making my meals as easy as possible. Especially when you are working on a larger fine dining experience, like Thanksgiving dinner. Using the Crock Pot takes away so much of the guess work and leaves you with a flavor packed juicy bird every single time.
By far the easiest, and my favorite, way to cook a turkey dinner. Perfect for first timers and enough juices to make the most amazing gravy to finish the meal.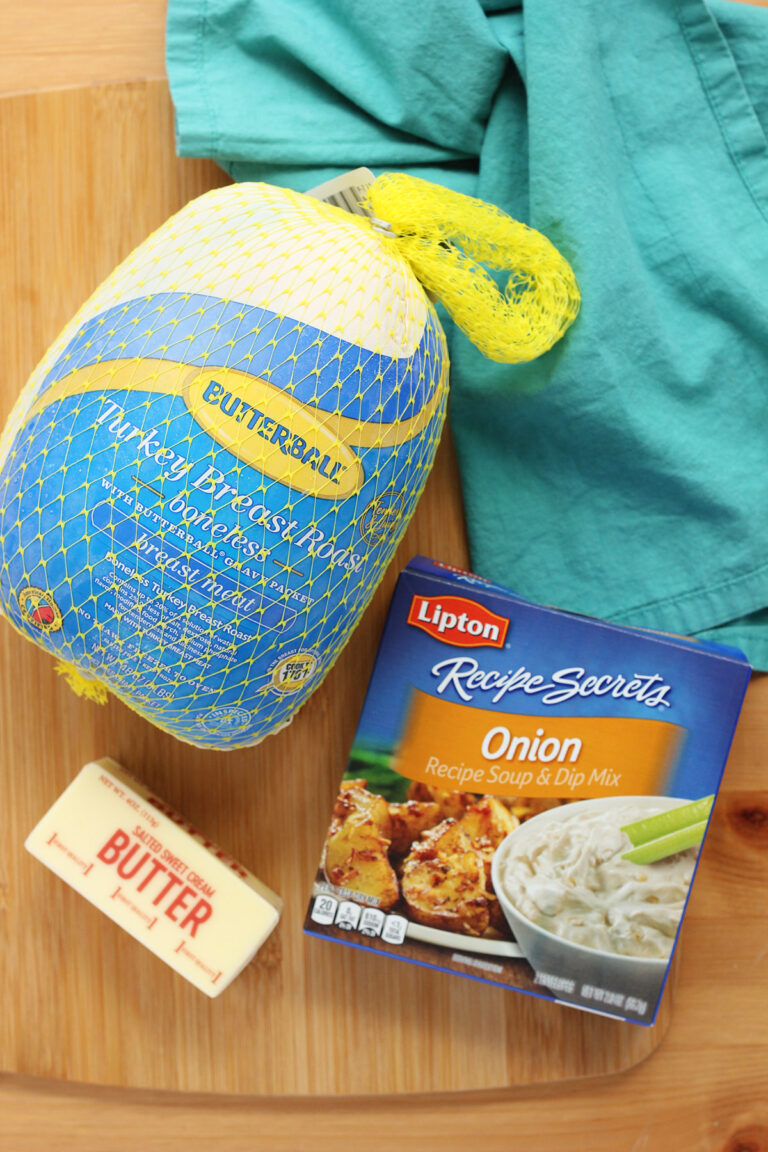 3 Ingredient Slow Cooker Turkey Breast
Turkey breasts tend to be on the more lean side, since a lot of that juicy dark meat is located in other parts of the bird. The secret to keeping things nice and moist, without brining, is in the slow cooker. AND you only need three ingredients.
Turkey: Here is the deal, you can use this recipe with a boneless or bone in breast. It works perfect for both. I opt for boneless, mostly because that is the most accessible for me all year long. They also come in convenient 3 pound portions, which is perfect for my family of 3. Especially when we are hopping for leftovers.
Dry Onion Soup Mix: Ok, hear me out. You will be blown away with how much flavor comes into the bird from this super simple seasoning. Could you ditch this and use real onions and your favorite seasoning mixes? Of course. Do I think you absolutely need to try it with onion soup? YES.
Butter: Salted butter, cut into small squares and placed all over the bird before cooking.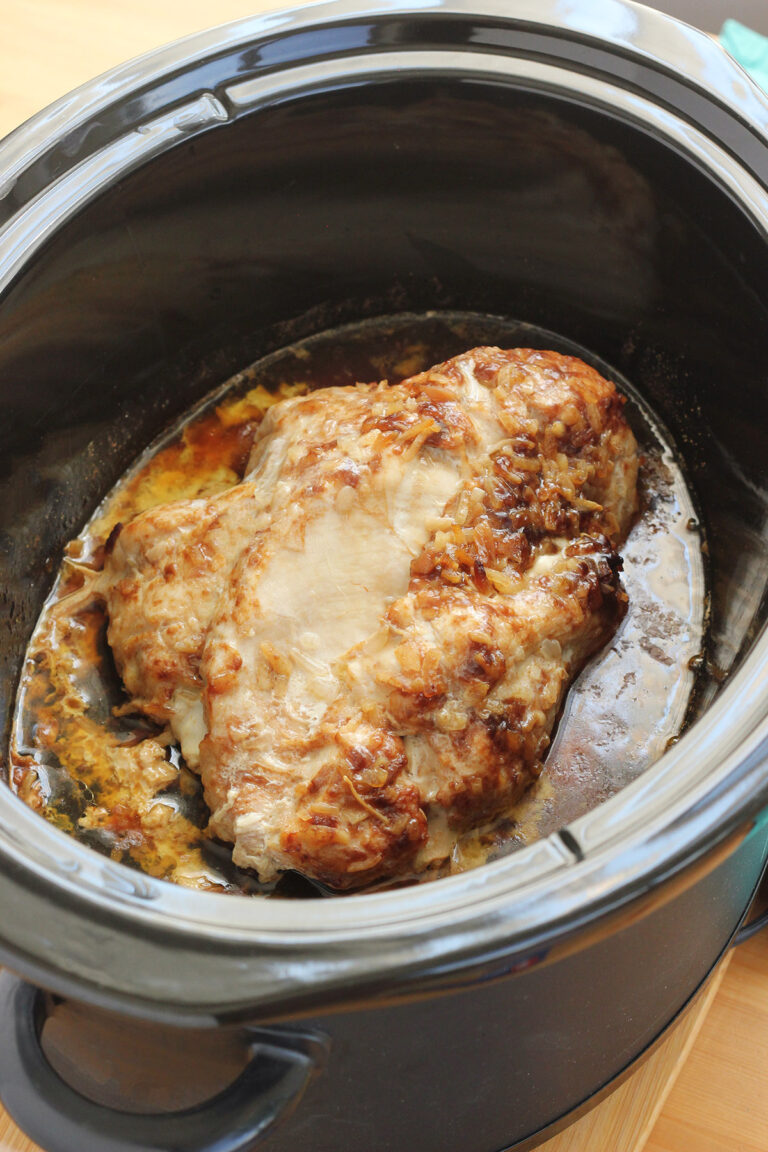 How To Make A Turkey Breast In A Slow Cooker
PRO TIP: Save all of the juices to make the most amazing turkey gravy! It's so simple to make and one of the best parts of the meal, in my opinion.
PREP: Thaw your turkey breast in the refrigerator. This typically takes 1-2 days, so try to set a timer or reminder, a few days prior to when you are planning to serve this.
SEASON: Place the turkey breast, breast side down, into the crock pot. Sprinkle with one packet of dry onion soup mix and dot with butter.
COOK: Set the slow cooker on the low setting and allow the bird to cook for 4-6 hours, or until the internal temperature reaches 165°F.
Helpful Tools
Slow Cooker: This recipe works best with a larger cooker. I use a 7 quart crock pot (affiliate) which happens to fit everything perfectly.
Meat Thermometer: The very best way to see if your bird is cooked to the perfect temp is with an instant read meat thermometer (affiliate). I use this for almost all of our meat included meals.
Serving Platters: I didn't realize how often I would use my serving platter set (affiliate). It's one of those items you didn't know you needed until you got it.
Recipe Notes:
Should the turkey breast be placed up or down in the crock pot?
The best way to cook a turkey breast is top down inside the pot.
How many minutes per pound do you cook a boneless turkey breast?
Cook this recipe ONLY using the low setting. We have found that cooking roughly one hour per pound gives you a perfectly cooked turkey. I always check the internal temp one hour earlier to make sure the bird does not over cook.
Can this recipe be prepped in advance?
Yes, but there isn't much of a need. This recipe prep takes less than five minutes.
Should I add water?
No. There is no need to add any liquid in with the turkey as it cooks. In fact, adding liquid could dry out your bird.
Can I use other seasonings?
Yes. You could replace the onion soup mix with your favorite turkey seasonings. We sometimes like to add quartered onion and celery as a bed for the turkey to sit on while cooking, but this is not necessary.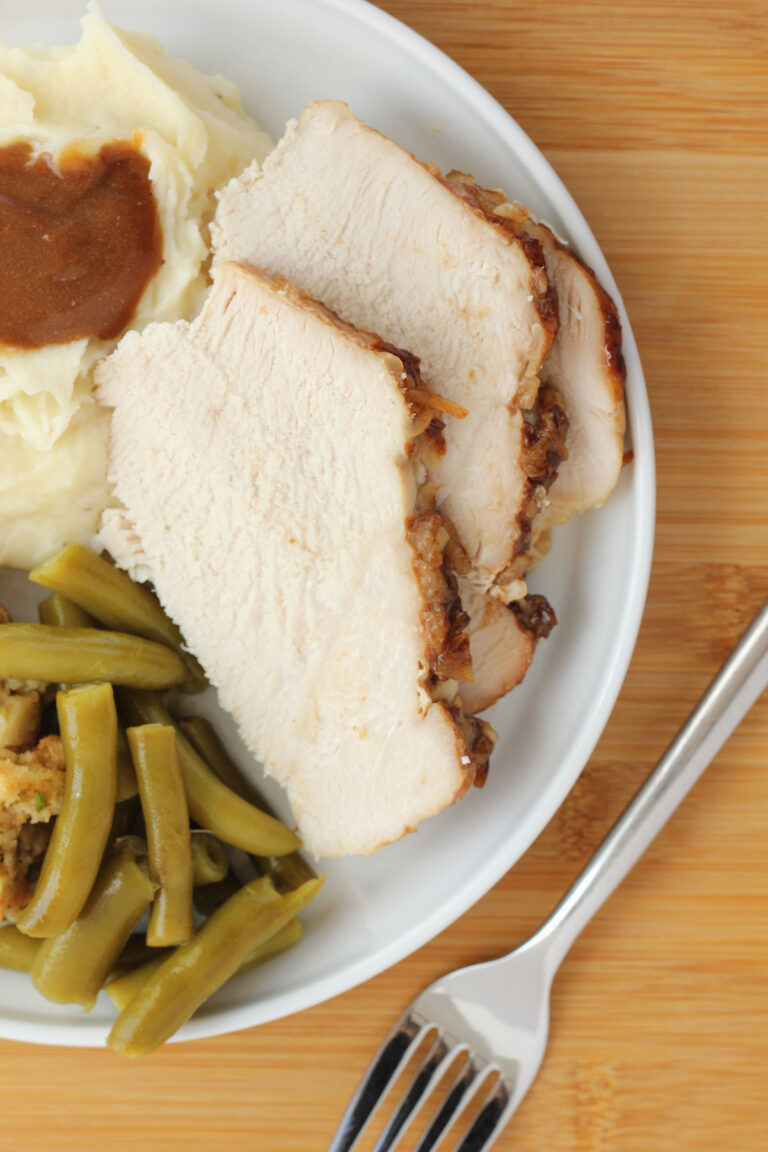 More Must-Try Thanksgiving Recipes
Still Hungry? Follow One Sweet Appetite on Instagram, Pinterest, and Facebook!
Crock Pot Turkey Breast
This is by far the easiest, and most flavor packed, Slow Cooker Turkey Breast Recipe. Made with only three ingredients and five minutes of prep. Add this to your Thanksgiving menu asap!
Ingredients
1 (3lb) turkey breast
1 package dry onion soup mix
1/4 cup butter cubed
Instructions
Place the turkey into a large crock pot, top side down.

Sprinkle with one pack of dry onion soup mix.

Dot the top of the bird with butter.

Cook on low for 3 to 4 hours, or until the internal temperature reaches 165 degrees F.
Notes
We find that 1/2-1 hour cook time per pound of bird works best. Be sure to check the turkey temperature periodically to avoid over cooking. 
Nutrition
Serving: 4g | Calories: 103kcal | Carbohydrates: 0.2g | Protein: 0.2g | Fat: 12g | Saturated Fat: 7g | Polyunsaturated Fat: 0.4g | Monounsaturated Fat: 3g | Trans Fat: 0.5g | Cholesterol: 31mg | Sodium: 112mg | Potassium: 6mg | Fiber: 0.02g | Sugar: 0.02g | Vitamin A: 355IU | Vitamin C: 0.01mg | Calcium: 4mg | Iron: 0.01mg
Reader Interactions