These Banana Crumb Muffins are incredibly moist with the perfect balance of cinnamon and nutmeg. Topped with a heaping amount of crumb topping, these are the BEST way to use overripe bananas!
Looking for more delicious ways to add bananas to your morning? Try my Banana Bread French Toast, Banana Bread Waffles or Sweet Banana Granola.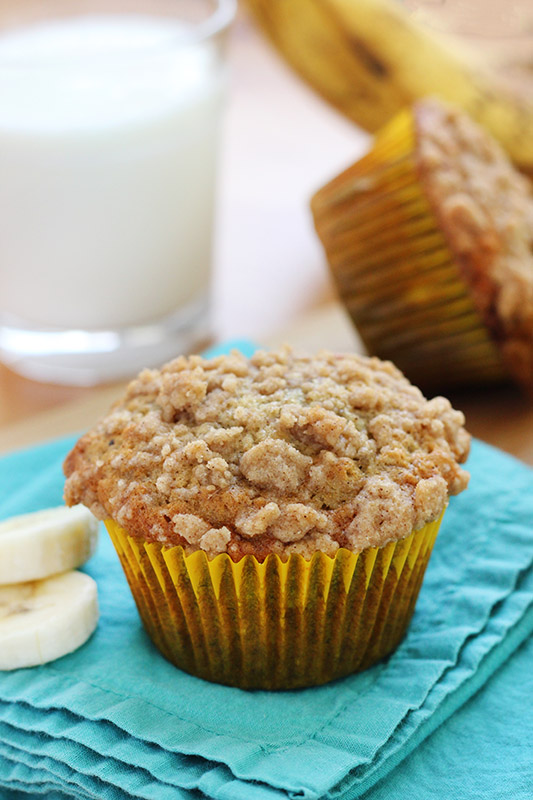 Recipe Features
Easy: Homemade muffins are best mixed by hand. No mixer required!
Make Ahead: These last up to 4 days, if stored properly.
Freezer Friendly: Make an extra large batch of these banana muffins with streusel topping for the freezer! They stay fresh up to 3 months when stored in a freezer bag!
This is one of the easiest recipes to make and gives you the BEST Banana Muffins. The perfect way to use up overripe bananas and a delicious breakfast or treat.
I like to call it my go-to for mornings when I just don't know what to make. It's a muffin the whole family loves AND you can have it ready for the oven in under five minutes.
Want something a little sweeter? Try my Banana Cupcakes with Brown Butter Frosting!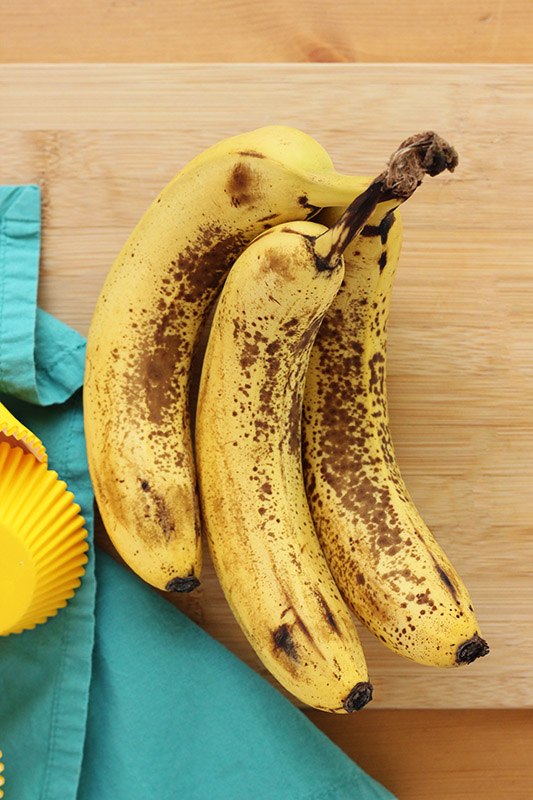 Banana Bread Crumb Muffin Ingredients
The ingredient list consists on fairly basic baking items. That means you probably have most of the ingredients in your pantry and can whip these up now! Here's a breakdown of what you will need to get started:
Flour: I have only tested this recipe with all-purpose flour. However, I am sure you could make it with a 1:1 ratio of whole wheat.
Sugar: Brown sugar for the topping and granulated sugar for the muffins.
Leavening Agents: Always double check the date for your baking powder and baking soda. These are staples that go bad quicker than you'd think. Replace them about every six months.
Spices: The recipe calls for just cinnamon and a touch of nutmeg. However, you could easily add in a dash of ginger and gloves for bolder flavor.
Egg: One large egg is the perfect amount to give the muffins structure.
Oil/Butter: Butter in the crumb topping, oil in the muffin. Can you use butter in the muffin as well? Yes. However, we find that oil gives you a much more tender and moist finish.
Bananas: You want SUPER ripe bananas. The ones in the photo I wouldn't quite use… They need to be slightly darker. When they look almost unusable, that's when you know it's perfect. These overripe bananas pack a strong sweet flavor that takes your muffins from good to great.
Vanilla: Just a touch of vanilla to balance the flavor.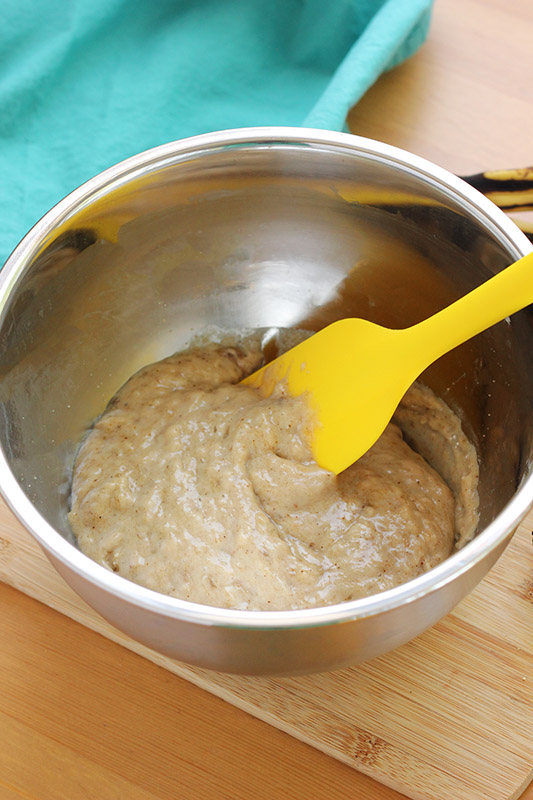 How To Make Banana Muffins With Topping
Pro tip: Did you know you can freeze bananas? When you get a bunch and they start to go soft and brown, it's the perfect time to peel and freeze. I do this for smoothies and also baking. You can keep them frozen for up to six months. Which means you don't have to wait for the fruit to ripen before making this banana crumb muffin recipe!
PREP: Measure the ingredients and line the muffin tray with paper liners. Optionally, you can also mist the cupcake pan with baking spray and skip the liners.
MIX: Mix together the crumb topping and set it aside. For the batter, stir together the oil, sugar, and bananas with a whisk until fully combined. Add the egg and vanilla. Once that is stirred together you can mix in the dry ingredients.
SCOOP: Spoon, or scoop, the batter into the prepared muffin pan. Fill 2/3 full with batter and sprinkle a hefty amount of topping onto each.
BAKE: Bake the muffins at 375 degrees for roughly 18 minutes, or until a toothpick comes out clean when poked into the center.
Like many banana bread recipes, this muffin tastes even BETTER with time. I often make them the night before so we can get that full banana flavor the next morning for breakfast.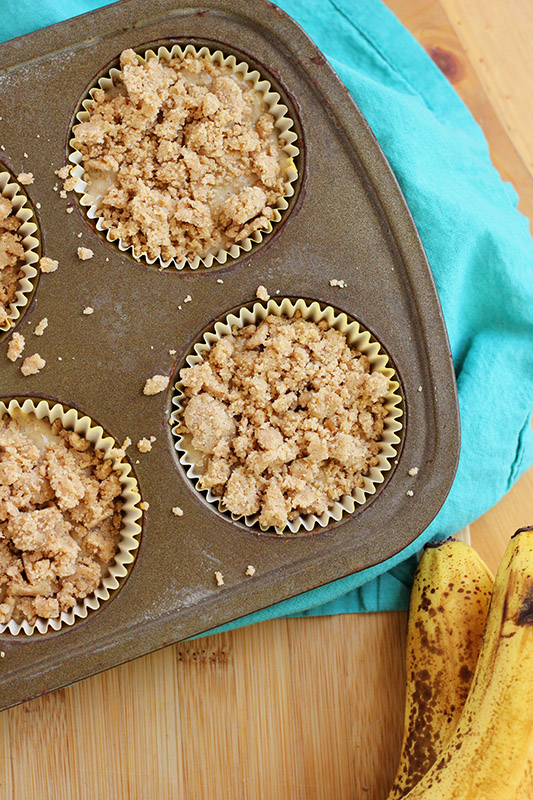 Recipe Notes:
Why do you use overripe bananas in muffins?
Using brown bananas in banana bread is key to a flavorful finish. The natural sweetness in the fruit is ideal for muffins and the browner they turn the more the starches are converting to sugar. Brown spots are GOOD. You also get a more rich and bold banana flavor.
How long do these homemade muffins last?
Most muffins made with fruit will last 3 to 4 days.
Can you freeze banana muffins?
Yes! Bake and cool the muffins completely. Transfer to freezer safe containers or zip top bags. Freeze for up to 6 months.
When ready to enjoy, let come to room temperature on the counter OR microwave for 30 seconds.
Can you add things to banana muffins?
Yes! While these muffins are incredibly delicious on their own, they are also tasty with the addition of walnuts or chocolate chips!
What is the best way to store muffins?
We find that these muffins stay fresh and moist when stored in an airtight container or ziptop bag.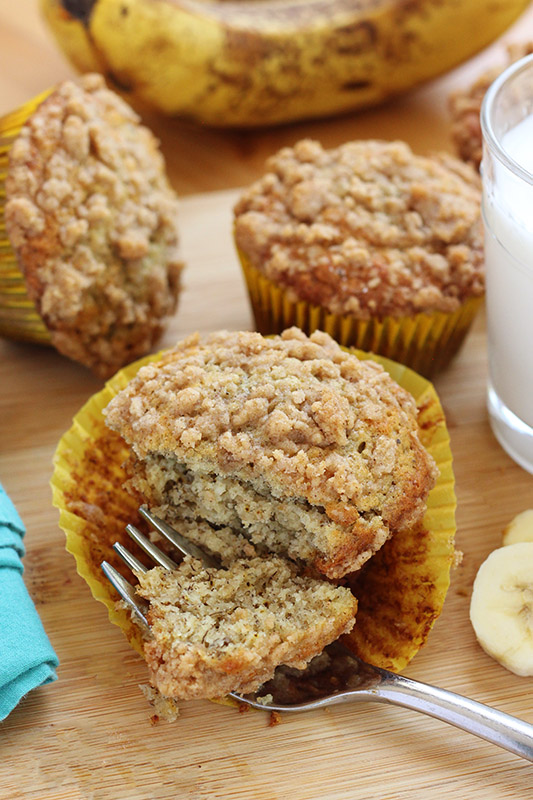 MORE MUST-TRY MUFFIN RECIPES
Still Hungry? Follow One Sweet Appetite on Instagram, Pinterest, and Facebook!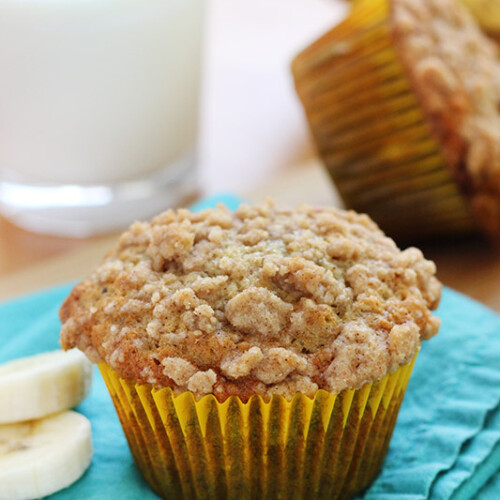 Banana Crumb Muffins Recipe
These Banana Crumb Muffins are incredibly moist with the perfect balance of cinnamon and nutmeg. Topped with a heaping amount of crumb topping, these are the BEST way to use overripe bananas!
Ingredients
Topping:
1/2 cup all-purpose flour
1/4 cup brown sugar
1 teaspoon cinnamon
4 tablespoons butter room temperature
Muffins:
1-1/2 cups all-purpose flour
1 teaspoon baking soda
1 teaspoon baking powder
1 teaspoon ground cinnamon
1/2 teaspoon salt
1/4 teaspoon nutmeg
3 large bananas
1/2 cup sugar
1 large egg
1/3 cup oil
1 teaspoon vanilla extract
Instructions
Topping:
Combine the flour, brown sugar, and cinnamon in a small mixing bowl. Stir with a fork until combined.

Add the soft butter and work into the mixture with the fork until crumbles begin to form, about 1 minute.

Set aside.
Muffins:
Preheat the oven to 375 degrees.

Line a 12 cup muffin tin with paper liners or mist generously with baking spray. Set aside.

Whisk together the flour, baking soda, baking powder, cinnamon, salt and nutmeg in a medium measuring cup or bowl. Set aside.

Place the peeled bananas in a large bowl. Generously mash with a fork.

Whisk in the sugar, egg, oil and vanilla until fully combined, about 30 seconds.

Gently stir in the dry ingredients.

Divide the batter between your prepared cupcake pan, filling each cup 2/3 full.

Spoon a generous amount of the topping over each batter filled cup.

Bake 18-20 minutes, or until a toothpick inserted into the center comes out clean.

Notes
Try mixing in a cup of walnuts or chocolate chips for a fun switch up.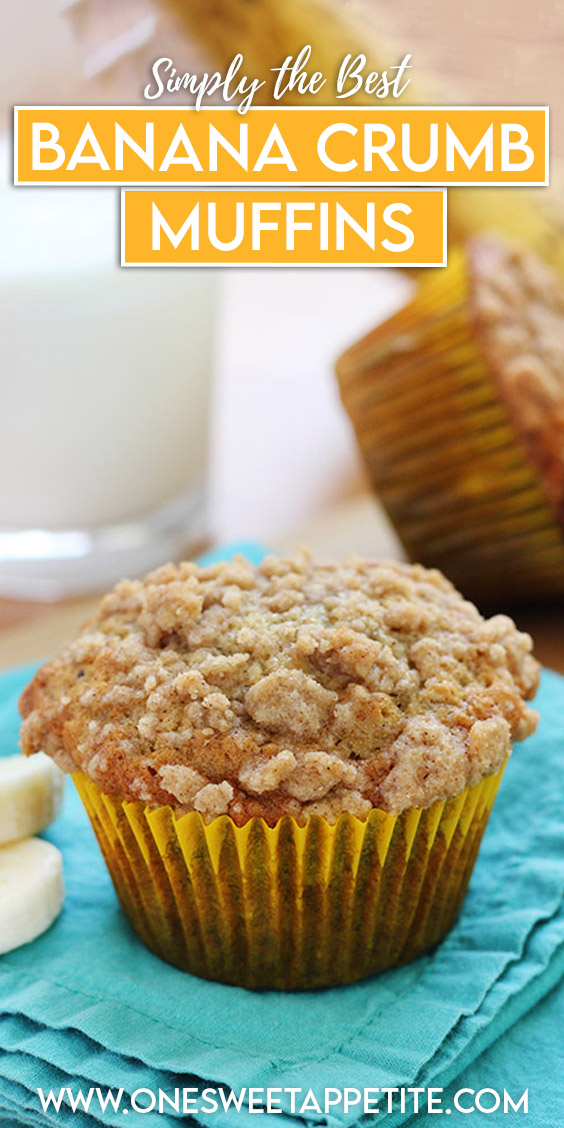 Reader Interactions