This easy Homemade Hot Chocolate is the very best. Made with just a few basic ingredients and giving you the most rich and creamy perfect cup of cocoa! Ready in minutes and perfect for chilly winter nights.
This classic hot chocolate is the base for all of my other cocoa recipes! Be sure to check out my Mexican Hot Chocolate, Spiked Cocoa Recipe, Nutella Hot Chocolate, and Christmas Cocoa!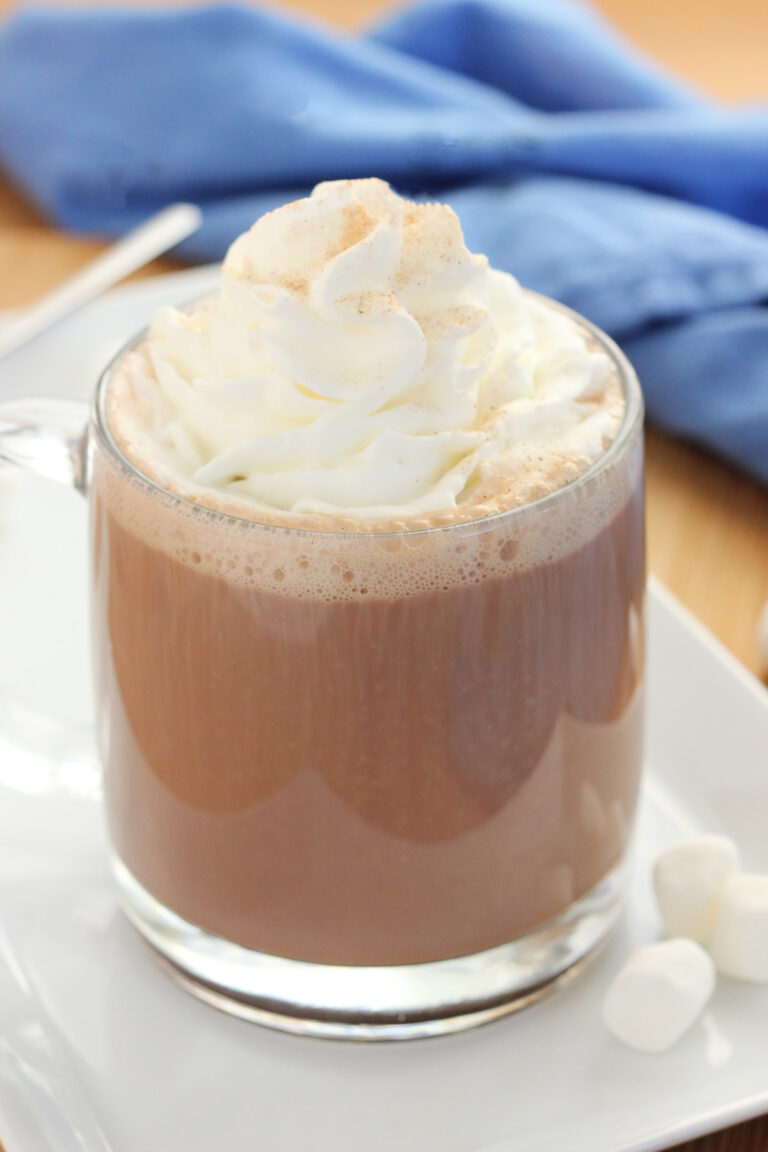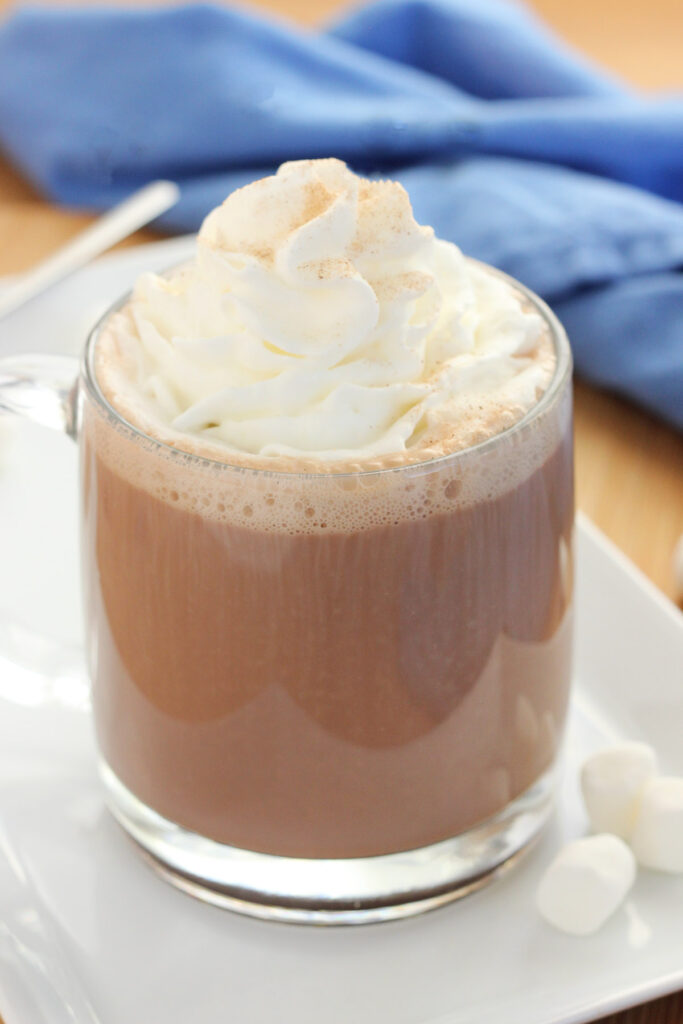 RECIPE FEATURES
There are three drinks I live on in the cooler winter months. You won't see me going a day without caramel apple cider, chai latte, or homemade hot cocoa.
Homemade hot chocolate checks every box. It is creamy with rich chocolate flavor and perfect for curling up on a chilly winter night. It also happens to be the easiest to make, taking a whopping five minutes. Once you try this recipe you'll be tossing out any leftover powder packets you have cluttering your pantry!
HOT CHOCOLATE RECIPE WITH COCOA POWDER
As far as ingredients go. this recipe combines sugar with cocoa and a bit of milk. Once you have your base heated it's time for the secret ingredient. To getting the overly rich finish you'll add a splash of half and half. You'll be blown away how much this adds to the finish and really takes this from good to great. Here is everything you'll need to get started:
HOMEMADE HOT CHOCOLATE RECIPE
PREP: Measure the sugar, cocoa powder, salt and water into a medium sized saucepan.
HEAT: Turn the heat to medium and bring the chocolate mixture to a boil, whisking occasionally. Slowly stir in the milk making sure to stir until it is fully incorporated. Bring to just a simmer, making sure not to boil.
MIX: Remove the cocoa from the heat of the stove and immediately stir in the vanilla extract and half and half.
ENJOY: Divide between your prepared mugs and enjoy!
Like this post? Be sure the check out my 15 Must Make Christmas Brunch Recipes!
HELPFUL TOOLS
TRY THESE OTHER MUST-TRY DRINK RECIPES
Recipe Notes:
How many servings does this recipe make?
This recipe makes 4 small servings or 2 large servings.
Is it better to use classic or Dutch cocoa?
I prefer natural cocoa powder for this recipe, which gives it a lighter sharp flavor that works perfectly with the half and half. If you want a more deep flavor, dry Dutch cocoa and replace the half and half with more milk.
What can I add to hot chocolate?
This recipe doesn't need much added to make it delicious. However, there are a few things you can mix in to change things up! Try adding marshmallows, whipped cream topping, caramel sauce, and even crushed candy canes.
Do I have to use half and half in this recipe?
No. You can substitute the half and half with more milk. However, the half and half does add a creamy finish that is irresistible.
MORE MUST-TRY DRINK RECIPES
Still Hungry? Follow One Sweet Appetite on Instagram, Pinterest, and Facebook!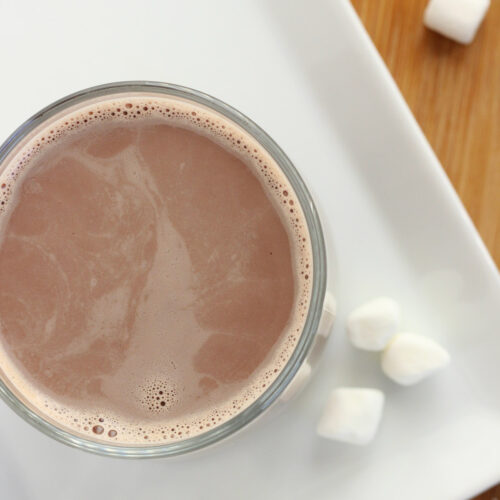 Perfect Hot Cocoa
This Perfect Hot Cocoa Recipe is a great way to share some love this winter! With just a few basic ingredients you can have a sweet cup of perfect hot chocolate ready in minutes! 
Ingredients
2/3 cup granulated sugar
1/3 cup unsweetened cocoa powder
pinch salt
1/3 cup hot water
2 cups milk
1 teaspoon vanilla extract
1 cup half and half or cream
Instructions
Gently whisk the sugar, cocoa powder, salt and hot water in a medium sized saucepan.

Bring the mixture to a boil and slowly stir in the milk.

Heat the mixture until the milk has just heated through and is slightly warmer than drinking temperature, do not boil.

Remove from the heat and stir in the vanilla and cream.

Divide between 4 cups and serve with marshmallows or whipped cream if desired.
Notes
You can use half and half, heavy cream, or whole milk added at the end. All of these help to cool the temperature while adding a wonderful creaminess to the drink. 
Nutrition
Serving: 1Servings | Calories: 300kcal | Carbohydrates: 46g | Protein: 7g | Fat: 12g | Saturated Fat: 7g | Polyunsaturated Fat: 1g | Monounsaturated Fat: 3g | Cholesterol: 36mg | Sodium: 85mg | Potassium: 374mg | Fiber: 3g | Sugar: 42g | Vitamin A: 412IU | Vitamin C: 1mg | Calcium: 224mg | Iron: 1mg
Equipment
Reader Interactions