This simple Banana French Toast recipe uses thick sliced bread that is dipped into a mixture of overripe bananas, eggs, cream, and spices for the perfect breakfast recipe. Grilled to golden brown perfection and filled with sweet banana flavor.
Searching for more flavorful French toast recipes? Give my Overnight French Toast, Samoa French Toast, and Coconut French Toast recipe a try!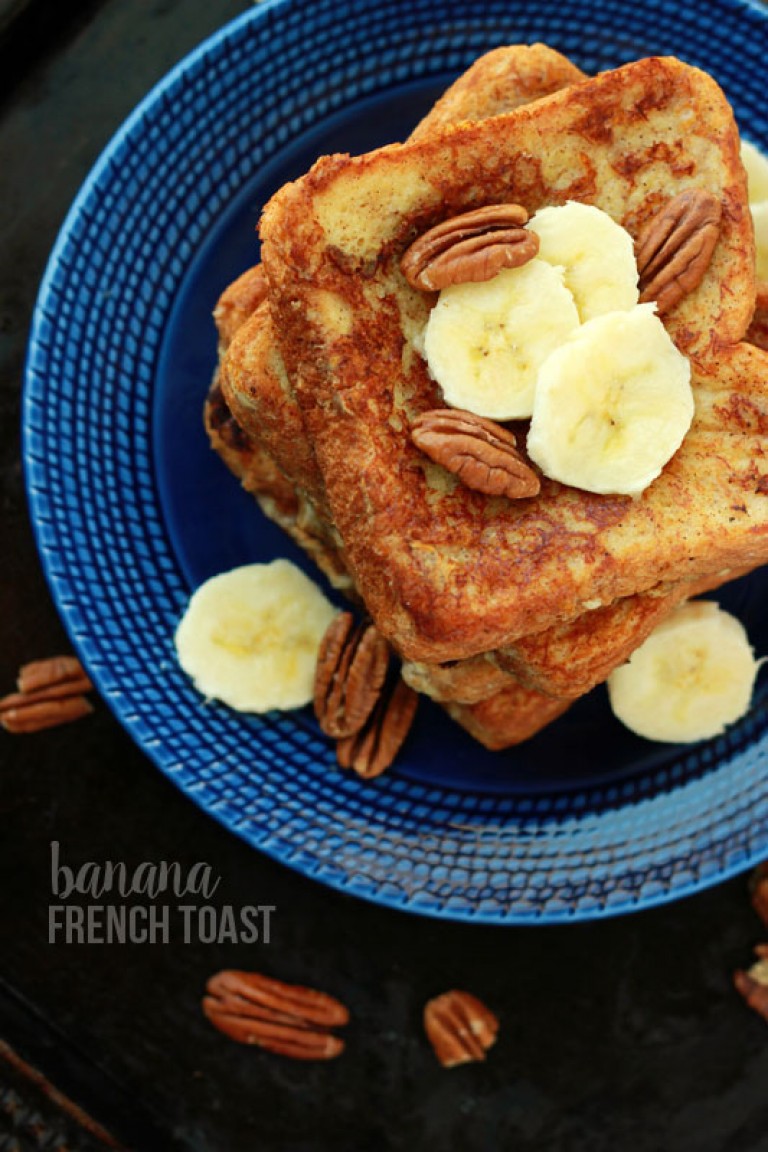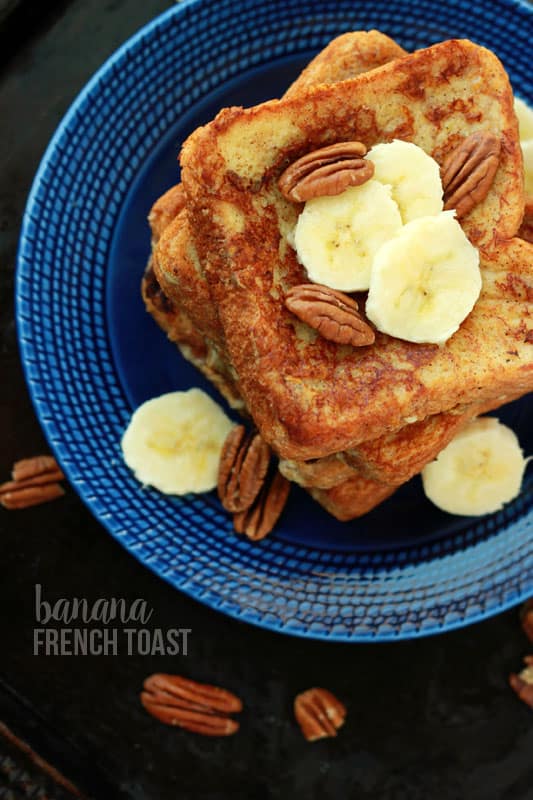 Why You'll Love This French Toast Recipe
Minimal Ingredients: Less than 10 ingredients in this super simple mashed banana French toast.
Freezer Friendly: Cook and cool the French toast. Freeze in zip top bags for later.
Easy to Customize: Play with the spices or type of bread you use for an entirely new flavor.
Breakfast- The most important meal of the day. Which is why it is number one on our favorite list. My nine year old wakes up every single day looking forward to the meal. Which means I need to make sure he gets something extra special in his belly. Enter this: Banana Bread French Toast.
This French toast is one of my favorite breakfast recipes. It is super simple to make, calls for minimal ingredients, and is incredibly delicious. Overripe bananas add a slight sweetness while cinnamon adds a hint of spice. You will love the flavor combination and this recipe will quickly become a go-to breakfast your entire family will love.
Banana French Toast Ingredients
Ever have a bunch of bananas sitting on the counter and wonder what to do? My go-to is normally banana bread, but lately I have been searching for more creative ways to use them. THIS French toast recipe is the perfect way to add a bit of sweetness and flavor to a classic. Bonus? All of the ingredients are pantry staples which means you most likely already have everything you need to make this easy recipe!
Eggs: Large eggs are what give you a wonderful custard base.
Heavy cream: To get that rich delicious flavor I reach for cream. However, you can use milk as a substitute.
Honey: This is my secret ingredient. Honey helps get that crisp golden outside while retaining that soft and chewy center.
Ripe bananas: The more aged your bananas, the better the banana flavor. I let mine get more brown than most people. It also adds a sweetness that is unbeatable.
Vanilla: A touch of pure vanilla extract helps to balance the flavors and produces a slight sweet taste that compliments everything.
Cinnamon: Optional, but a delicious addition.
Thick sliced bread: Here's another secret… Using thick sliced, DAY OLD, bread will help soak up the custard and bake to perfection. The dryer the bread, the better the end results and less soggy your French toast will be.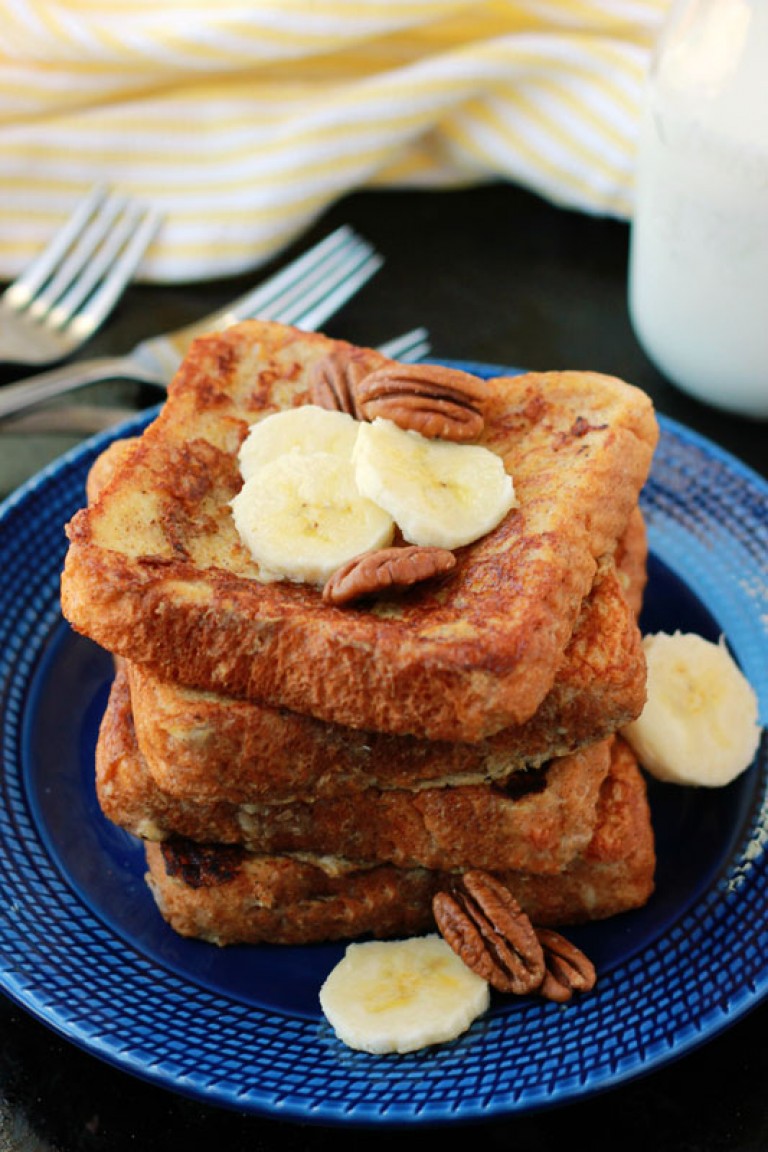 Banana Bread French Toast Recipe
PREP: Prepare the custard by whisking together the eggs, cream, honey, banana, vanilla and cinnamon. I like to use a shallow dish that is wide enough to dip the bread fully.
COOK: Melt butter in a large skillet set to medium heat. Dip a slice of bread into the egg mixture, submerging it fully on both sides. Place in the heated skillet and cook until golden brown on both sides.
ENJOY: Top with fresh banana slices, toasted pecans, and your favorite breakfast syrup.
Helpful Tools
Electric Skillet: Regular pans work great fort his recipe, however I've found that an electric skillet (affiliate) helps to cook more at once. Less time slaving over the stove and more time filling your belly with delicious French Toast.
Silicone Spatula: This set of heatproof spatulas (affiliate) is gold in my kitchen. I can't tell you how many times I've left a plastic spatula on the pan only to find a melted mess. This silicone set doesn't even flinch at the heat!
Butter Dish: Nothing compliments a giant stack of French toast like a slather of butter. This butter dish (affiliate) keeps your butter soft and spreadable.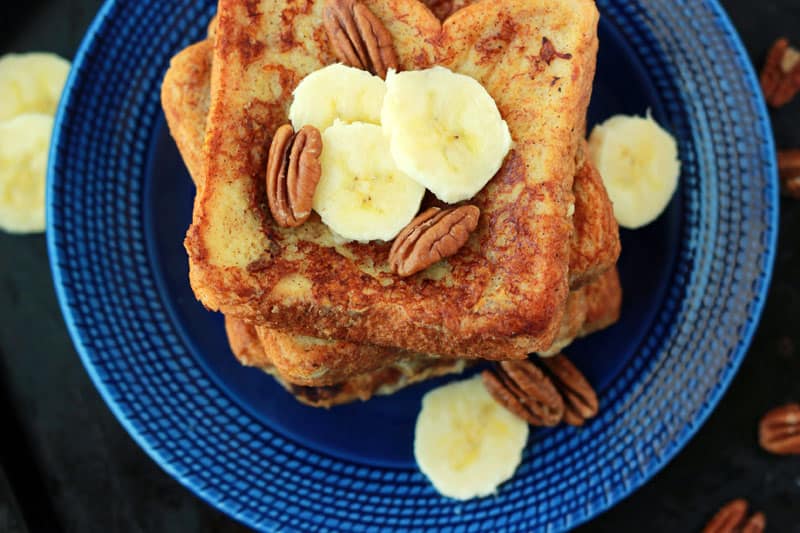 Recipe Notes:
What is the best bread for French Toast?
This recipe tastes best with regular sandwich bread OR French bread. There is a lot of sweetness added from the banana, so keeping to a less sugary bread is key.
How do you freeze this recipe?
After baking allow the French toast to cool completely. Place in a single layer on a tray and freeze for 30 minutes. Remove and place in an airtight container or freezer safe bag for up to 2 months. When ready to eat, microwave for 30 seconds, flip, heat 30 seconds more.
Why Is My French Toast Soggy?
If you find that your French toast is on the soggy side, lower the temperature and cook a tad longer. Most likely the bread has soaked up more of the custard and is taking just a smidge longer to cook.
Can you make French toast in advance?
Serving a crowd or guests and don't want to be tied to the kitchen? I've got you covered! You can make this recipe in advance and keep it warm in the oven until you are ready to serve.
1. Place the cooked French toast onto a baking tray.
2. Keep stored in the oven set to the lowest temperature (some ovens even have a "warm" setting) until ready to serve. This will typically be 170 to 200 degrees.
How do you freeze French toast?
Place the cooked French toast on a wire cooking rack.
Once it has cooled to room temperature, transfer to a freezer safe zip top bag.
Transfer to the freezer.
Frozen French toast can last up to 2 months if stored properly. To reheat, place the French toast in the microwave for 20 to 30 seconds. Flip and heat an additional 15 to 20 seconds.
More Must Try Banana Recipes
Still Hungry? Follow One Sweet Appetite on Instagram, Pinterest, and Facebook!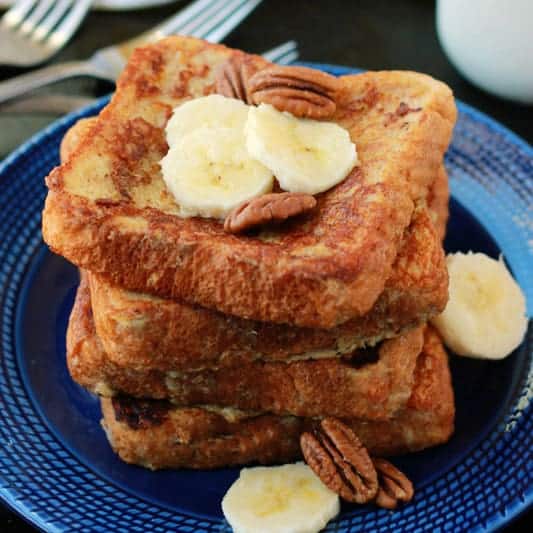 Sweet Banana French Toast
Banana Bread French Toast. Thick sliced bread is dipped in a mixture of overripe bananas, eggs, heavy cream, cinnamon, and vanilla for the perfect breakfast recipe.
Ingredients
3 large eggs
1/2 cup heavy cream
1 tablespoon honey
1/4 cup ripe bananas smashed
1 teaspoon vanilla
1 teaspoon cinnamon
8 slices thick sliced bread
Instructions
Whisk the eggs, cream, honey, banana, vanilla, and cinnamon in a shallow bowl that is wide enough to dip your bread. Set aside.

Melt a teaspoon of butter in a large skillet over medium heat.

Dip one slice of the bread into your egg mixture, turning to fully coat each side.

Place in the heated skillet. Cook until both sides are golden brown, about 2 minutes per side.

Repeat with the remaining bread slices. Serve warm.
Nutrition
Serving: 4people | Calories: 351kcal | Carbohydrates: 39g | Protein: 11g | Fat: 16g | Saturated Fat: 8g | Polyunsaturated Fat: 7g | Cholesterol: 173mg | Sodium: 366mg | Fiber: 2g | Sugar: 10g
Oh, and did I mention that it's National French Toast day?? I'm super excited to share some of these amazing recipes from my Food Blogger friends! This list is A-MAZ-ING so be ready to stop some serious stomach pangs.
Churro French Toast // Dessert Now Dinner Later
Pumpkin Spice Bananas Foster French Toast Bites // Tried and Tasty
Cherry Cheesecake French Toast Roll-Ups // Life Made Sweeter
Eggnog Gingerbread French Toast Bake // A Kitchen Addiction
Eggnog French Toast // Cupcake Diaries
S'mores French Toast // Like Mother Like Daughter
Reader Interactions