This easy Coconut French Toast is a delicious way to upgrade the classic dish. Loaded with coconut flavor and baked for ease. This will easily become a favorite breakfast recipe.
Serve this with a homemade Buttermilk Syrup of Strawberry Whipped Cream for the ultimate meal. OR take it a step further with my insanely delicious Samoa Stuffed French Toast Recipe.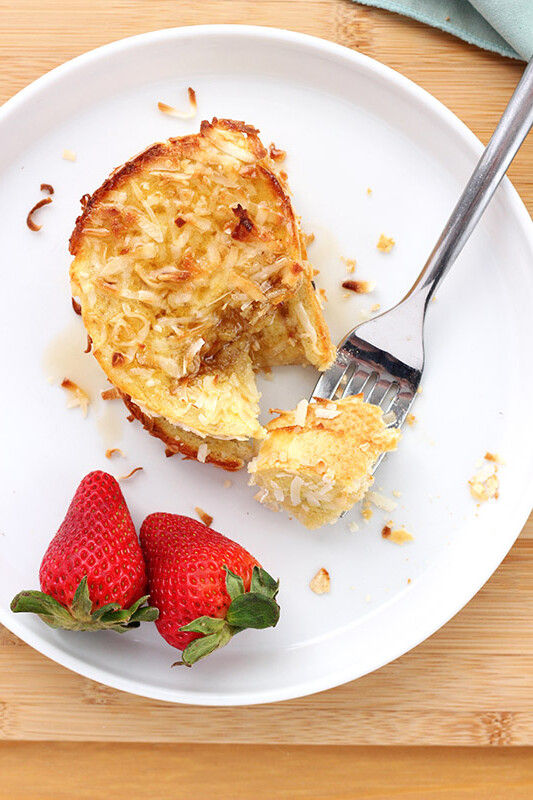 RECIPE FEATURES
EASY: This breakfast is baked, not pan fried, which makes it super easy to whip up for a crowd.
Freezer Friendly: You can make a batch and keep it stored in the freezer for a quick-grab breakfast.
Easy to Customize: You can make it exactly as I wrote, which is our favorite, or use one of the substitution ideas.
You cannot beat a slice of this thick and fluffy coconut crusted French toast. I used my tried and true Cinnamon French Toast recipe but added the most delicious twist. Coconut milk in place of cows milk and a toasty coconut topping. It is divine.
Even my pickiest eater rates this 5 stars, which is amazing for me because you actually BAKE this recipe vs the traditional pan fry. All the slices cook evenly at the same time, which means you spend less time in the kitchen and everyone eats TOGETHER. No more slaving away over the hot stove.
WHAT IS FRENCH TOAST BATTER MADE OF?
The beauty of this brunch recipe is that the recipe list is short. The secret? Using day old bread. It soaks up the custard quickly and bakes to perfection. Here is what you will need to make this delicious breakfast:
Bread: We love making this with day old bread, like the half French loaf leftover from dinner or slices that are maybe just passed their prime. It soaks up the egg mixture and cooks to perfection.
Eggs: Large eggs help give you that creamy batter that bakes slightly crisp on the outside but still soft and fluffy in the center.
Coconut Milk: Here's a secret, you can use coconut milk OR coconut coffee creamer. I've tested it with both with equally delicious results.
Vanilla: Always reach for pure vanilla extract, but if you want a boost of coconut flavor you can try coconut extract.
Honey: My secret ingredient, which is technically optional but oh-so delicious. Honey helps give the outside of the French toast a nice crispness and adds just a touch of sweet.
Cinnamon: Just a pinch.
Shredded Coconut: This is another optional ingredient, but I really recommend giving it a try. The coconut is slightly sweet and toasts to perfection. It is simply dream.
HOW TO MAKE COCONUT MILK FRENCH TOAST
PREP: Preheat the oven and line a baking tray with parchment paper. This is key to help keep the French toast from sticking.
MAKE THE CUSTARD: Whisk together the eggs, milk, vanilla, honey, and cinnamon. Whip it for at least 1 minute to make sure everything is fully combined.
SLICE AND DIP: Slice the bread, if needed, and dip it in the egg mixture on both sides.
ADD THE COCONUT: Immediately dip the bread in the shredded coconut on each side. It should stick fairly well.
BAKE: Bake, flipping halfway through, until toasty and delicious.
Serve this easy breakfast straight from the oven. This is best warm with butter and syrup. In fact, I recommend trying my Caramel Syrup or Butter Pecan Syrup. Dreamy and delicious.
RECIPE TIPS AND FAQS
What is the best bread for French Toast?
This recipe tastes best with regular sandwich bread OR French bread. There is a lot of sweetness added from the coconut, so keeping to a less sugary bread is key.
How do you freeze this recipe?
After baking allow the French toast to cool completely. Place in a single layer on a tray and freeze for 30 minutes. Remove and place in an airtight container or freezer safe bag for up to 2 months.
When ready to eat, microwave for 30 seconds, flip, heat 30 seconds more.
What is the best milk to use in French toast?
Here's the deal, if you use regular coconut milk I suggest adding the honey. Coffee creamer will give you a more coconut-ish flavor but you should leave the honey out, as the creamer is already super sweet.
Do you have to use shredded coconut?
Nope. But the coconut adds a delightful crunch and texture that is out-of-this-world.
MORE FRENCH TOAST RECIPES TO TRY
Still Hungry? Follow One Sweet Appetite on Instagram, Pinterest, and Facebook!
Coconut French Toast
This easy Coconut French Toast is a delicious way to upgrade the classic dish. Loaded with coconut flavor and baked for ease. This will easily become a favorite breakfast recipe.
Ingredients
4 large eggs
1/4 cup coconut milk or creamer
1/2 teaspoon vanilla extract
pinch cinnamon
8 slices bread
1 cup sweetened coconut flakes
Instructions
Preheat the oven to 425 degrees. Line a baking tray with parchment paper or a silicone baking mat for easy cleanup.

Whisk together the eggs, milk, vanilla, and cinnamon for 1 minute, or until fully incorporated in a shallow bowl.

Place the shredded coconut in a shallow bowl or plate.

Dip each side of the bread pieces in the egg mixture followed by the coconut pieces.

Line on the baking tray.

Bake 10 minutes, flipping the pieces halfway through.

Remove when the coconut is lightly browned and the toast is cooked.

Serve warm with butter and syrup
Notes
If using coconut milk add 1 tablespoon of honey to the batter. Leave out if using coconut creamer.
Nutrition
Serving: 1g | Calories: 368kcal | Carbohydrates: 43g | Protein: 13g | Fat: 16g | Saturated Fat: 11g | Polyunsaturated Fat: 5g | Cholesterol: 186mg | Sodium: 441mg | Fiber: 4g | Sugar: 12g
Reader Interactions