I have a love hate relationship with ice cream. I think the general idea is great but my husband isn't a fan of the cold sweets. That means the kid and I usually end up eating all of the calorie loaded dessert on our own. With this flavor… I'm ok with that. In fact, I'm ok not sharing this Caramel Swirl Pretzel Ice Cream with anyone. Ever. It's too good. I'm maybe even guilty of licking up the drips off of my counter. Maybe.
With this recipe you don't need to bust out a big clunky ice cream maker. That's right. NO ICE CREAM MACHINE. Just two base ingredients and a few mix ins. You can see the original recipe for no-machine vanilla ice cream here. Wondering how I pull this off? Here's the recipe:
Caramel Swirl Pretzel Ice Cream
Ingredients
2 cups heavy whipping cream
1 can sweetened condensed milk
1-2 cups pretzels, slightly crushed
1 teaspoon vanilla extract
1/4 teaspoon course salt
1 batch of salted caramel sauce*
Instructions
Whip your heavy cream with an electric mixer until light and fluffy. Set aside.
In a large bowl stir the sweetened condensed milk with the pretzels, vanilla, and salt. Fold in the whipped cream. Pour half of the batter into a freezer safe container. Drizzle a generous amount of caramel sauce over your mixture and swirl in with a knife. Pour the remaining batter over the top and repeat with remaining caramel.
Freeze overnight or until solid.
*Get my recipe for
salted caramel sauce
here
.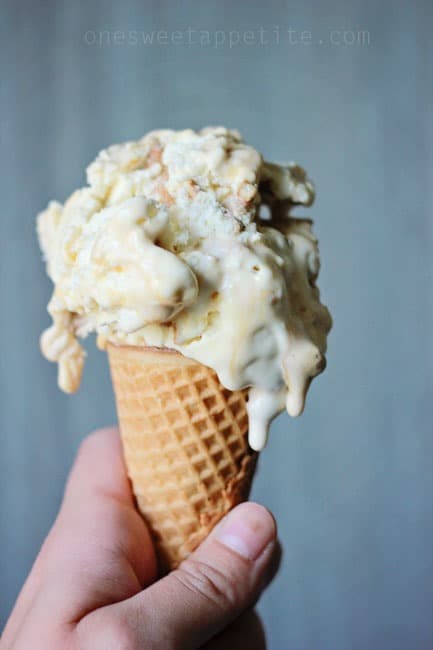 The creamy texture is always a little surprising. It almost seems like something so simple shouldn't taste this great. You have to try this. And try it with different flavors! Add some mint with chocolate chips and you've got one rockin' flavor. OR try graham crackers and lime juice for a key lime! One of my favorites is a simple fudge swirl and the kid loves a good ol' cake batter ice cream.
The other down side? It's messy. My five year old manages to get drips everywhere. Clothes, hands, face, tables, chairs… Whenever he has a scoop we try to keep him confined to a small space. Luckily I picked up some Wet-Nap wipes from Walmart (love those every day low prices) to keep on hand for occasions just like this! The pop up wipes have a permanent spot next to my kitchen sink and I love the individual wrapped hand wipes for my purse! Right now you can snag a coupon for fifty five cents ($.55) off of any Wet-Nap product which means you save AND get to start your Wet-Nap addiction (you can thank me later).
The bottom line is that you need to make this recipe and keep Wet-Nap's on hand to help clean up those messy spills. If you are a fan of the salty sweet combo you'll fall in love with every spoon full. I love the hidden bits of crunch that are added with the pretzels!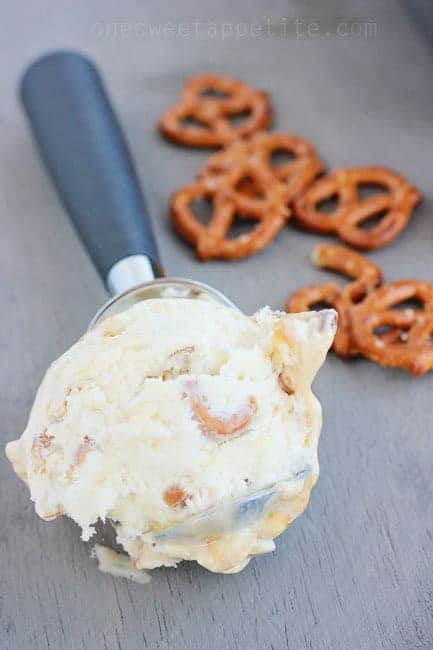 What's your favorite ice cream flavor?